Courtney gets a boob ultrasound. Check out the guy at :45!
Courtney Stodden, the now 17 year-old bride, has insisted that her comically oversized breasts are "rill," and that she hasn't had any other plastic surgery. It's pretty obvious from looking at photos of her as a younger teen that she's had at least a nose job and maybe an eye lift, along with some significant help with her breasts. Courtney is on the Dr. Drew "Lifechangers" show today with her creepy as hell 51 year-old dad husband to "prove" that she hasn't had any work done. Courtney got a sonogram of her boobs while being taped in front a live, disgusted studio audience. She pursed and licked her lips repeatedly, wearing in a little robe and stripper heels before laying down on the examination table to show that she didn't have implants. Thankfully, she was covered by a towel although you know she would have preferred to have been hanging out for all to see.
In the clips available on Dr. Drew's website and TooFab, we get to see Courtney get a sonogram but there's not final word on whether they found implants. For that you'll have to tune in to the show today. It's possible that like Kim Kardshian's ass she doesn't have "implants," but that doesn't prove much. There's a procedure involving fat transfer to the breasts that can achieve similar results. The part where the plastic surgeon judges Courtney's face to see if she's had work done to it is also cut off before we get to his verdict. He'll probably say she's all natural, as she's insisted. All you have to do is look at old photos of her to see that something is not right with that girl.
Courtney and Doug also share some really inappropriate photos of them at home, romping on the bed while Courtney is of course half dressed. Later Doug defends their love and Courtney explains that they got married because "if we dated, he could get put in jail." Exactly.
It's really hard to look away from this train wreck, but I'm still hoping these two don't score a reality show contract. We know they're shopping one.
Surgeon examines Courtney's face.

Doug defends their love. "Why is it wrong or why is it offensive?"

Doug and Courtney share home photos.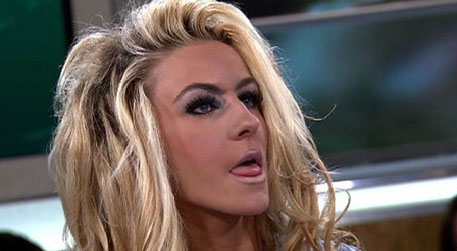 Credit to TooFab for that photo above.