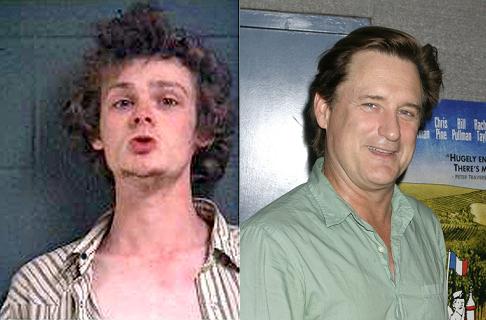 Get out the banjo, here's one you don't hear every day. Actor Bill Pullman's 19-year-old son Jack was arrested for possessing moonshine and assaulting a government official. I was under the impression that moonshine was best left to the Great Depression and old James Taylor songs, but apparently it holds a great deal of appeal to the teenage spawn of semi-famous actors.
Bill Pullman's 19-year-old son has been busted for allegedly possessing moonshine and assaulting a government official.

According to Ashville, N.C., news station WLOS, Jack Pullman and his friend, Allan Gaddy, also 19, were arrested Monday and face numerous charges including resisting officers, assaulting a government official, underage drinking and possession of moonshine. The two were released from jail the following night.

Pullman – who starred in Independence Day, Sleepless in Seattle and many other films – has issued no comment.
[From People]
The Pullman family must be so proud. Times must be tough if young Jack is resorting to the shine. I'm pretty sure even an average, broke teenager can normally get someone to buy them a six pack. But apparently young Jack thought it best to go the homemade route. Moonshine is technically any alcohol brewed illegally, though it's generally pretty foul. According to Wikipedia, it can have a host of unsavory flavors.
…it sometimes contains impurities, off flavors, and toxins such as methanol. The off flavors come from improper brewing, while methanol may result from inexpert distillation or be added by unscrupulous producers to increase the apparent proof. In popular culture, moonshine is usually presented as being extremely strong and in North America is commonly associated with the Southern United States and Appalachia.
[From Wikipedia]
That's just to dissuade anyone in case you thought brewing your own alcoholic beverages would be a good way to pinch a few pennies in these lean times. It isn't going to taste like that cognac you've been craving.
Here's Bill Pullman filming a documentary on location in Ipanema on Tuesday. Images thanks to WENN.