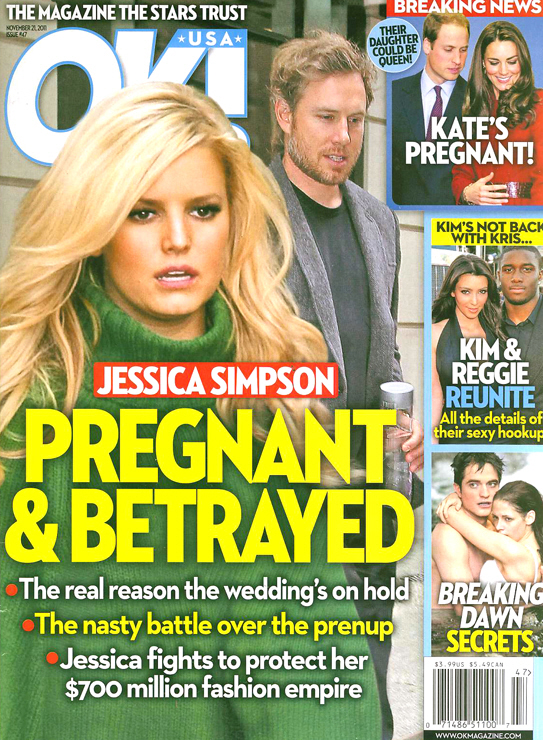 In Touch Weekly and OK! Magazine both have nasty stories about Jessica Simpson and her Yalie K-Fed, Eric Johnson. Even though Jessica has just given a slew of interviews, all claiming that she postponed her wedding to Eric simply because of the pregnancy and because she didn't want to be a "hormonal bride," the tabloids are still running with the whole "Jessica doesn't even know if she really wants to marry Eric" angle. I think she does want to marry him, as much as that pains me to admit. She's getting what she paid for – a dude who will stick be her side as long as the money doesn't run out. Anyway, In Touch Weekly's story is basically about how Papa Joe kind of hates Eric, and Joe "pushes Eric away" and calls Eric a "sperm donor." If Jessica is pushed into making a choice between Eric and her dad, who will she choose? *dun dun dun*
Meanwhile, OK! Mag's cover story is all about MONEY. Specifically, Jessica's largesse and Eric's not-so-much, and whether Jessica will get married with or without a prenup. Here's the story:
A fight over her fortune is holding up Jessica Simpson's wedding to Eric Johnson – and spoiling her baby joy After years of heartbreak and humiliation, Jessica Simpson should be in ecstasy these days. The 31-year-old singer/entrepreneur is fabulously wealthy, of course, with a fashion and music empire worth anywhere from $700 million to $1 billion — and now, to make life complete, she's aglow with her first pregnancy and engaged to a man she deeply loves, former NFL football player Eric Johnson. Ah, but this is Jessica we're talking about, so even at this life pinnacle, there's something to cause her anguish: Eric, who sources say had agreed to a prenuptial agreement, is now backing out and insisting on an equal share in her fortune — which is why, even as Jess' baby bump burgeons, the couple's wedding plans are on hold.

"Eric's completely changed his mind," an insider tells OK!. "He started dragging his feet, refusing to sign the prenup they'd drawn up; now he's laying this whole guilt-trip on her about how he believes in true love and she should, too. A lot of people feel she's been totally betrayed."

ERIC'S HOLDING THEIR WEDDING HOSTAGE
Delaying the wedding while the down-home traditional Jessica is expecting, the insider adds, seems especially callous.

"Eric knows how important it was to her to be married before the baby was born," says the source. "She wanted to rush the wedding so that her child wouldn't be born out of wedlock, and she wouldn't walk down the aisle with this massive bump. And he's basically used that as a bargaining chip."

"The problem is that Jess really loves him and wants to make him happy," adds the insider. "She's such a softy at heart, and she's so sure he's the one, which makes it harder for her to tell him no. She almost went through with it, too, but her sister Ashlee [Simpson] stopped her. Ashlee's going through a terrible divorce herself [with Pete Wentz] and at one time everyone thought they would last forever. If Ashlee and Pete were still together, Jessica probably would have just gone and eloped without a prenup — but her sister's breakup really shocked her."

PAPA JOE IS STEAMED
Fanning the flames, pals say Eric's recalcitrance is infuriating Joe Simpson, Jessica's extremely protective father — and, not incidentally, the architect and manager of Jessica's many enterprises.

"Without Joe's approval, you're as good as gone in the Simpson clan," a longtime Jessica friend tells OK!. "Joe will make damn sure Jessica has an ironclad prenup. He's not about to let some Yale grad get in on the empire he helped to build."

Adds another source close to the family, "Everything Joe does is with Jessica's best interests at heart. He wants her happy and to find that special someone, but she sometimes is completely blind to a guy's bad side. Hello, we all remember John Mayer!"

At best, the relationship between Joe and Eric is tenuous.

"Joe runs hot and cold on Eric," the friend says. "He wants what's best for his daughter and for his business. Sometimes they don't mesh, and sometimes he really questions people's motives. With the whole Kim Kardashian–Kris Humphries divorce debacle, he wants to make sure Jessica is really thinking through the whirlwind romance and making sure everyone is on the same page."

More than halfway through her nine months, Jessica has other concerns besides the wedding-prenup drama.

"She's got a lot on her plate right now," the old friend tells OK!. "Jessica is a bit of a perfectionist, and she's really nervous about the launch of her new show, Fashion Star. She knows she needs a hit show to get back into the spotlight the way she was during [her show with Nick] Newlyweds. Fashion Star is similar to Project Runway, but it's more mainstream, more relatable, which is how Jess feels about her clothing line."

Still, the star realizes that this is a unique time in her life — you only become a first-time mother once — and she's vowing to savor it.

"Jess is enjoying the pregnancy and all the perks that come with it," the pal relates. "No one is telling her she needs to watch what she eats; no one is telling her what to do except get massages, relax watching movies and do things with as little stress as possible."

"It's a nice change for her," adds the friend. "She once made a joke to me that now she knows why Kate Hudson said her favorite thing is when she's pregnant. 'You get to do whatever you want!' "

WILL IT SPLIT THEM UP?
Nevertheless, many of Jessica's friends are worried about how Eric's financial hard-line will affect the future of their relationship.

"It's been really strained, and Jessica has random crying fits," the insider tells OK!. "She can't believe he's not giving her what she wants. But at the same time, she's totally crazy about him."

Bottom line? "Jess wants to have the baby already and start motherhood," her longtime friend says. "And she just doesn't want to mess up the relationship with Eric — not when she's this close to having everything she's always wanted."
[From OK! Magazine]
Jesus, that was a long article. As for its veracity… who are you going to believe, Farty or Farty's unnamed friends and insiders? I tend to believe a little of both. I genuinely think Jessica didn't want to have a shotgun wedding. She wants to only do one thing at a time, and right now is her time to just concentrate on being pregnant and what she's going to eat next. But! I'll also believe that Papa Joe and Eric are having issues, and that the money issue is probably a factor in Eric's relationship with both Jessica and her father. You know that Eric is on Jessica's payroll now, right? He's basically an employee, being paid by the Farty Empire to play golf and fetch things for Jessica. Eh, there are worse things, and maybe he really will stick around.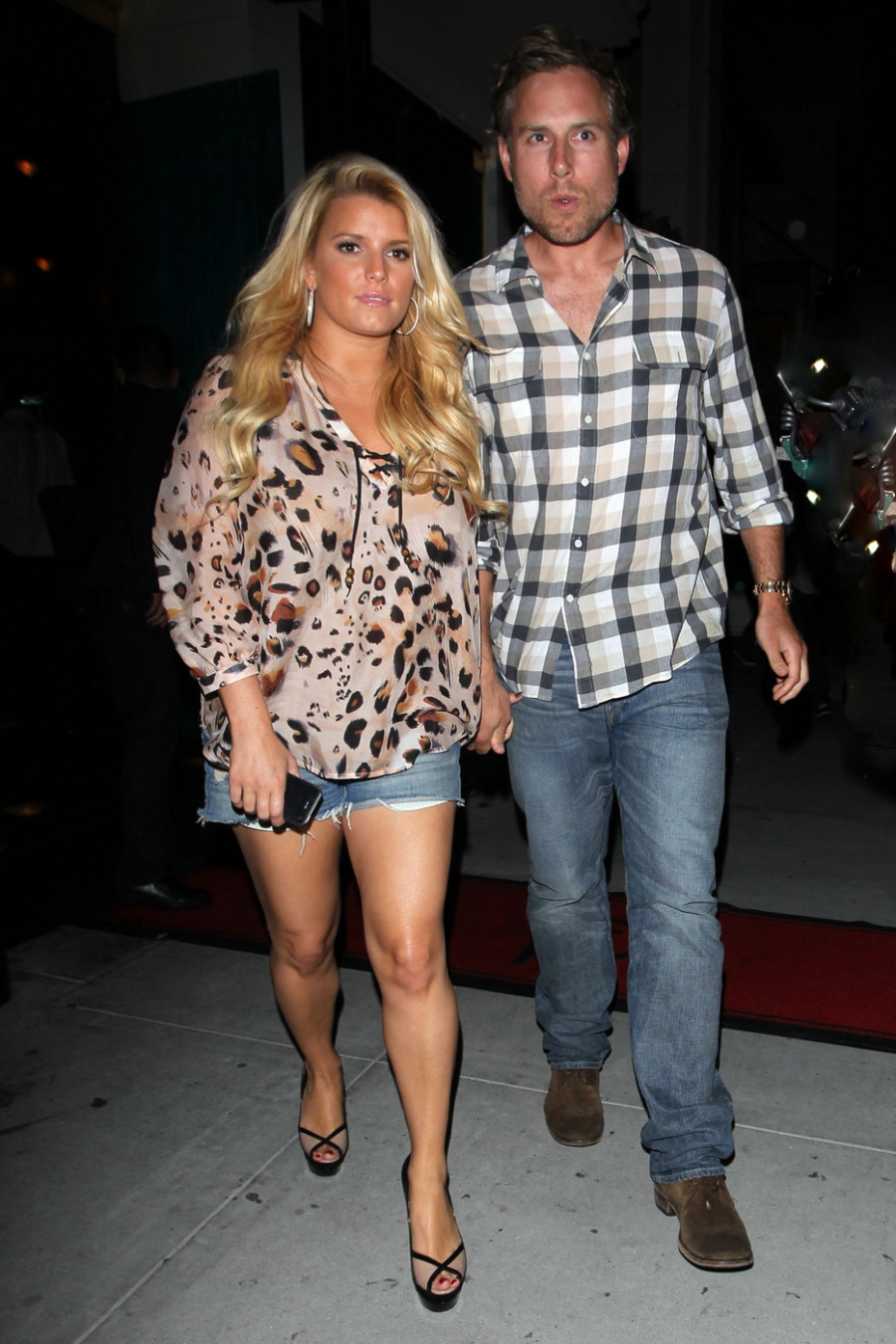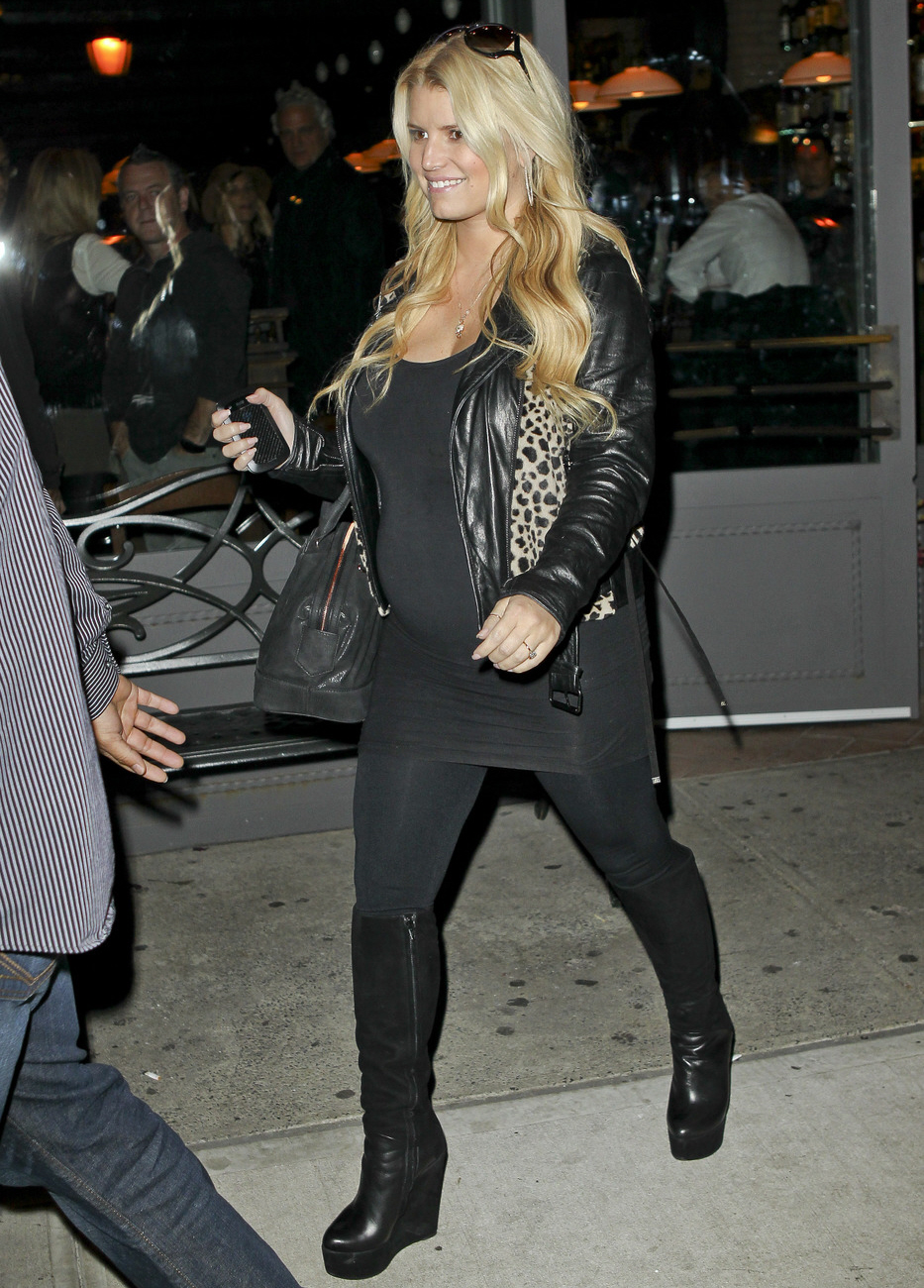 Photos courtesy of Pacific Coast News.