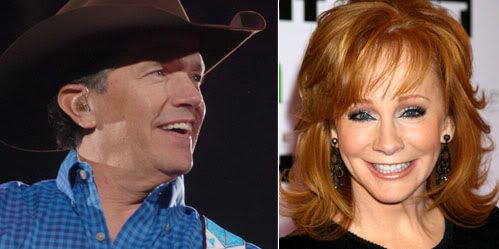 If Country Music Television viewers had their way, we wouldn't be looking at an Obama v. McCain race, we'd be watching a Strait v. McEntire election. When asked which country music star they'd vote for from a list of George Strait, Reba McEntire and other 2008 CMA nominees, George Strait, with 23% of the vote, narrowly squeaked out a win over Reba McEntire with 22% of the vote. The glass ceiling is still intact.
Americans revealed they think George Strait and Reba McEntire are the most favored Presidential picks among top country artists. In a race close enough to demand a recount, "King" George was voted as best-suited to become commander-in-chief with 23% of the overall vote, while the fiery redhead came in a close second with 22% of the overall vote.

Although the race was tight across the board, Strait beat out McEntire among red states* (30% vs. 19%), McCain supporters (26% vs. 20%) and Gen Xers (23% vs. 17%). McEntire narrowly beat out Strait among women (23% vs. 22%, respectively). Her margin of victory was better among Generation Y adults 18-29 (23% vs. 17%), Obama supporters (24% vs. 19%) and blue states* (23% vs. 20%).

"George and Reba are always huge fan favorites on CMT, so it makes sense they would go head-to-head for the Oval Office," said Jay Frank, SVP of music strategy, CMT. "I think George's 50-plus #1 hits may have given him an edge in what is clearly the most important decision the country music fan had to make this season."
[From Breitbart]
Trace Adkins and Alan Jackson tied for third place, with 14%, followed by Brad Paisley and Kenny Chesney with 6%. In more questionable decisions, Carrie Underwood received 4% and Keith Urban 3%. Alison Krauss, Gary LeVox, Martina McBride and Jennifer Nettles had the fewest votes with 2% each. I would have voted for any one of them over Urban or Underwood. I wasn't one of the random 1,096 viewers over 18 that was participated, though.
Wait a minute, someone over 18 voted for Carrie Underwood for President? Well, gee, that just makes this whole endeavor ridiculous and meaningless.
President Strait has even more to celebrate this year. Following in the prestigious footsteps of Marty Robbins, Lorretta Lynn, Alabama, and Garth Brooks, the Academy of Country Music is declaring George Strait, Entertainer of the Decade. In all fairness, Strait should have been given this award years ago and several times over. George Strait was the inspiration behind any award Garth Brooks ever won. It has to be surreal for both of them, in very different ways, that Brooks received such an honor before Strait.
George Strait will receive the Academy of Country Music's Artist of the Decade award in recognition of his nearly 25-year career.

Strait's many hits include "Amarillo By Morning," "Ocean Front Property," "Check Yes or No" and "I Saw God Today."

The ACM will tape a TV special in honor of Strait at the MGM Grand Garden Arena in Las Vegas on April 6 to air at a later date.
[From NY Post]
On April 5, CMT Presidential poll runner-up Reba McEntire will host the 44th annual ACM awards, live from Las Vegas. If they voted on best country music awards show host, Reba would wipe the floor with Strait.