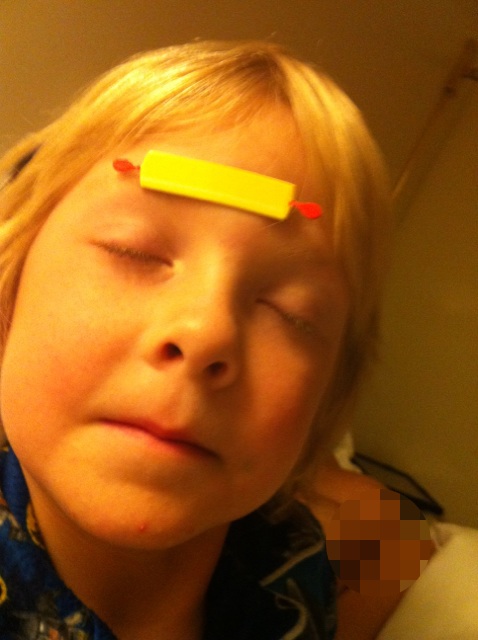 When you're nursing a baby in the first few months you sometimes sit around at home with your boobs hanging out. It's not like you're trying to flash anyone, it's just that you're so exhausted most of the time that it ends up happening and you just don't care. When my son was a few months old I remember my ex sister-in-law giving me the side eye for nursing him. At one point my breast was hanging out afterwards and I just didn't notice at all. I wasn't embarrassed about it, either. I mean, I was with family and it was an honest mistake. When I was just with my husband I would regularly sit around like that for convenience sake.
Anyway Tori Spelling's husband Dean McDermott tweeted a photo of their son Liam, four and a half, with a little sticker on his forehead and the caption "doughhead." McDermott uploaded it to Twitter before he noticed that Tori's giant nursing tatas were totally visible in the background. (To see an uncensored photo, click on the header image on this page. McDermott has since deleted the photo, but he hasn't posted an explanation.) That totally cracked me up! Tori just had her third kid, daughter Hattie Margaret, on October 10th. Here's more about this:
Look before you tweet! Dean McDermott is learning the hard way today (November 17) after he posted a photo which shows wife Tori Spelling's breasts!

In what looks to be an innocent pic, Dean snapped a shot of their son Liam goofing off in their home, but if you look closely, there are a pair of exposed knockers in the background.

One can only assume they belong to the former "Beverly Hills 90210" star and that the Rated R picture was an accident.

No word from Dean on Twitter yet today, but we assume he'll have some apologizing to do.
[From Celebrity-Gossip.net via ONTD]
Well Tori and Dean have their new show coming out in a couple weeks and this gets them a lot of publicity for it. I saw an interview with them on E! a couple days ago (below) and I didn't cover it, because they usually bug me and I find Tori's personality grating. I think this was an honest mistake, though, and that Dean probably caught hell at home for it. I've seen about two episodes of their wedding planning show and that guy is quiet most of the time while Tori takes charge and does most of the talking. I'm surprised they've lasted as long as they have, given how they got their start and how they seem to interact. It's working for them, though, and Dean told E! that he enjoys working with his wife, but that he understands that it's not for everyone.
Tori has been blogging a lot. She recently penned a cheesy love letter to Dean on his 45th birthday, and she also wrote about how her son doesn't like her changing in front of him. I know a lot of people are going to be like "Tori let her son see her boobs!" but I don't see the big deal. Those things serve a purpose.
US has photos of Tori with her new baby daughter.