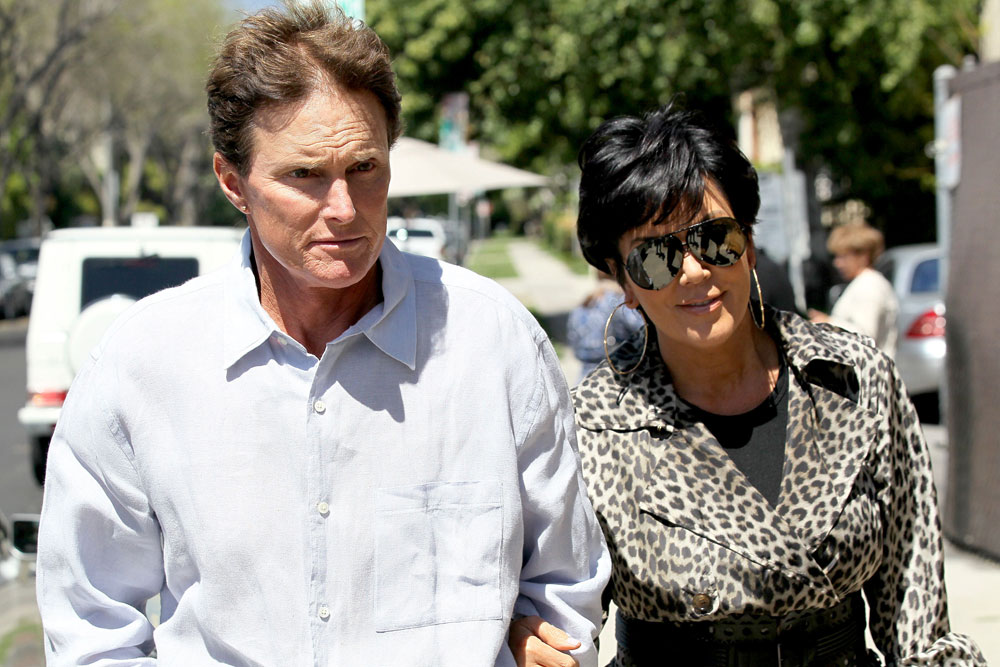 With all the stories of the Kardashians fighting among themselves, is it at all surprising to hear that pimp mama Kris Jenner and her husband, hapless lizard-faced Bruce, are on the rocks? It just sounds like the same old for this family. The National Enquirer has this news, and I would bet they have a solid source for it. They claim that Kris and Bruce are fighting over Kim's divorce and over money, and that Kris has even put Bruce on an allowance! That's ripe.
The Enquirer has learned that the 20 year union of [Kris and Bruce Jenner] – is on the rocks and both of them are ready to throw in the towel.

They've been battling over everything from money to how to raise their offspring. Bruce is tired of Kris making work her priority instead of family, and Kris can't stand Bruce spending time and money on his expensive hobbies like golf and motorcycle racing, say sources.

The couple is even taking sides in daughter Kim's explosive divorce battle with her estranged husband.

Incredibly, Kris, 56, has reportedly demeaned her sports hero husband by putting him on an allowance, and an insider reveals that the glamorous family has now become "totally fractured…"

"Bruce has started standing up for himself, insists Kris cut back on her work and is spending more time away from the house to enjoy time by himself," charged the source.

"He now wants a life away from the TV craziness. As a result, he and Kris are at a crisis point in their marriage.

"He loved being a team with her in the early days of their marriage, but there seems little hope for reviving that between his outside interests and her managing and running the Kardashian empire 24-7.

"They are at a breaking point in the relationship…

"For the first time, he's questioning her decisions about the family and business. And he gave Kim an earful about walking away from her marriage to Kris Humphries too soon.

"And Bruce blames Kris J. for driving Humphries away. But Kris can't stand the basketball player and fully supports Kim plowing ahead with the divorce…"

When Bruce first discovered an Internet campaign trying to get the E! network to dump "Keeping up with the Kardashians," he had a surprising reaction.

"Bruce actually laughed when he saw the petition because he thinks the show is partly to blame for his marital problems," said the source.
[From The National Enquirer, print edition, December 5, 2011]
There's more in there about how it hurt Bruce's feelings when Kris announced that she wanted to change her last name back to "Kardashian" from "Jenner." Those of you who watch the show say that Bruce sometimes meekly disagrees with his wife and kids but that he's shot down every time. If this is true that he wants his wife to cut back on work, and particularly if he's hoping the show will end, it's probably pissing Kris off to no end. She can't deal with another high profile breakup, particularly her own, at this crucial point in her family's media career. I would just love it if Bruce filed for divorce, but he doesn't seem the type to rock the boat at all. If he were, he would have hightailed it out of there a long time ago. So instead he's filling his time with golf and hobbies, and Kris is so controlling that she's even trying to take those small pleasures away from him.
E! has some details of the premiere episode of Kourtney and Kim Take New York. It's all about how Kris H. and Kim were incompatible and seeing the writing on the wall. We know that Kris Humphries is going to be portrayed as the baddie this season, and that Kim oversaw the editing of her show to make sure that happened. Kim knew what she was getting into, and she's a fool if she thinks that the public is going to buy her victim act. She needs a nice compliant doormat husband like her step dad.
These photos of Kris and Bruce out together are from 8/4/11. Event photo is from 1/5/11. Credit: WENN