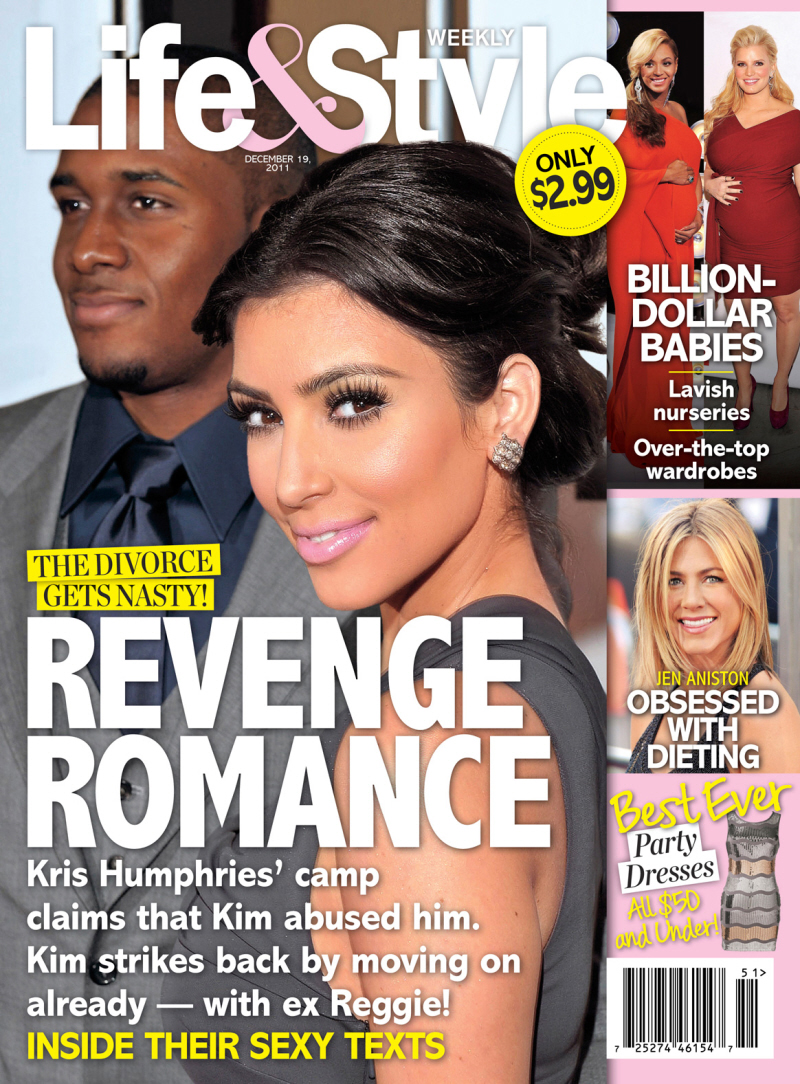 We haven't had a Kim Kardashian story in a few days. It's been nice, hasn't it? CB and I think that while the Kardashians are always going to be and make news, we should still take a break every now and then. Especially now that Team Kardashian is out in full force trying to throw everything they can at Kris Humphries. Ever since Kim filed for divorce on Halloween, there have been rumors about Kim possibly getting back with Reggie Bush. I've always thought that Kim should have stuck around longer for Reggie, but she pushed marriage and he wasn't ready, and they broke up before they really should have. It wouldn't surprise me at all if both Kim and Reggie still had feelings for each other. So… that's what this week's Life & Style is all about – the possibility that Kim and Reggie could reunite:
As Kim Kardashian's divorce from estranged husband Kris Humphries gets nastier, former boyfriend Reggie Bush has been Kim's one source of hope! Life & Style reveals in its new issue, on newsstands now, that the duo have been in regular contact and are moving toward a reunion!

"Reggie reached out to Kim via text shortly after she announced she was filing for divorce to make sure she was okay," a Kardashian family friend tells Life & Style. "They've stayed in touch ever since, texting and talking. Kim was Reggie's first love. He knows she's hurting right now, but when the time is right, he'll swoop in and take care of her."

In fact, an insider tells Life & Style that Kim and Reggie have been in contact regularly via text, phone and Skype. And as Kris Humphries refuses to sign divorce papers and slings claims of fraud at Kim, Reggie has been her understanding shoulder to cry on.

"He's concerned about her; he's making sure she's holding it together," shares the friend. "Reggie always knew that it wasn't going to work [between Kim and Kris], so he's been waiting and watching."
[From Life & Style]
So… just phone calls and Skype. Convenient because the tabloids can't nail down a moment when Reggie and Kim are in the same city. Meanwhile, OK! Magazine also put Kim on the cover, but don't get the impression that Kim really spoke to OK! – she didn't. All of it comes from "insiders" who sound like Kris Jenner. Here are some highlights from OK!'s piece:
Kim Kardashian had hoped she could take the high road. She thought that the controversy would die down if she stayed silent. But then Kris Humphries went public with his accusation that their marriage was built on fraud, saying he would seek an annulment — and Kim's world came crashing down all over again.

"When Kim saw that he was filing for fraud in the annulment she just shook her head," recalls a confidante. "She was just so mad and upset and frustrated."

Kris' accusation that their marriage was a "fraud" made Kim, 31, cry, admits a pal. But knowing it was time to finally speak out, she turned first to her friends. "Kris has his side of what happened, and I have my side of the story," Kim said, according to a close friend. "But we both contributed to the marriage not working out. We both jumped into it too fast. And now we both have to publicly go through the breakup with the whole world judging and watching."

But their marriage was never a fake. Kim really did want to marry Kris, 26, for all the right reasons, say those around her. She wanted a partner and a family — the perfect sort of romantic dream that everyone wants.

"She did not commit fraud," insists an insider. "She truly was in love with him and wanted to live happily ever after. Her heartbreak is genuine."

Kim's fairy tale ended shortly after the wedding hoopla died down. "Kim quickly realized after the honeymoon that she and Kris just weren't compatible, and she had just made the biggest mistake of her life," says a Kardashian relative, who believes that Kim knew she was going to leave Kris before this season of Kourtney & Kim Take New York was finished filming. "I think she knew for a while that she [wasn't going to spend a] lifetime with Kris."

The first insider agrees: "Kim's decision to divorce didn't come out of nowhere — things between her and Kris were horrible from the moment they walked down the aisle. She's really not a fake. She was just on this runaway train with no easy way off. I saw her recently and she's really shook up. The family is worried about how angry Kris is and how far he will go."

Kim's family's fears go beyond Kris damaging their "brand," too. They are all genuinely worried for Kim. "

Kim isn't superhuman. People seem to have this idea that because she's on TV, she's some sort of robot," says the insider. "She's just been through this awful breakup and she's hurting. Now what Kris is doing is making it hurt that much more. The truth is that she's extremely emotional and very sensitive and she is having a very hard time dealing with all this."
[From OK! Magazine]
Whatever. As much as I'm over Kim, I really dislike Kris Humphries too, and I think his claims of "fraud" are just legal maneuvers to grab more of Kim's money. Both Kim and Kris profited so much from this whole debacle, and both are lying about "the real reasons" they're no longer together. Blah.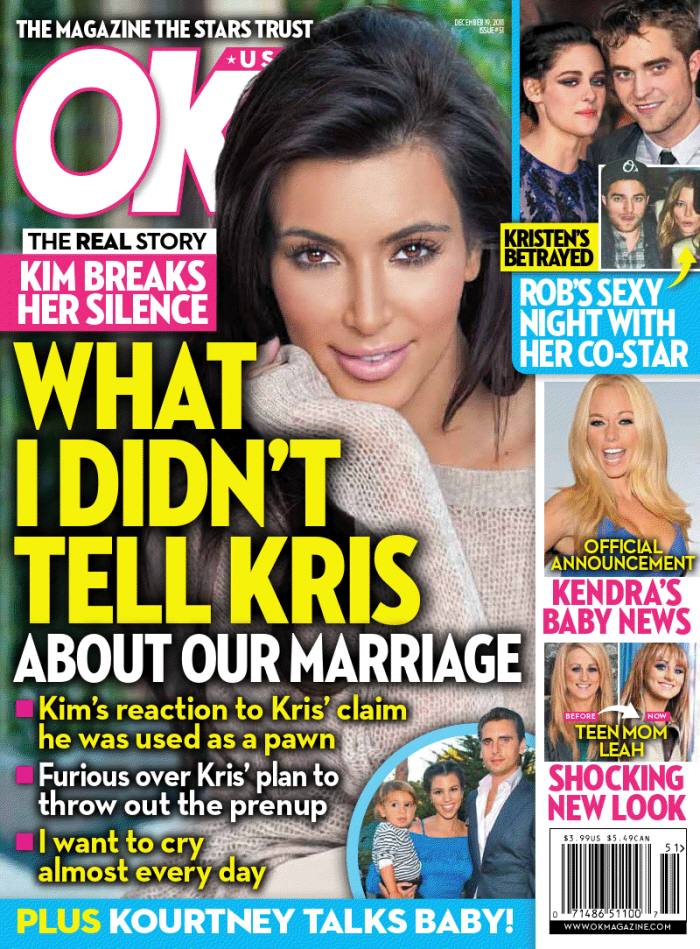 Covers courtesy of the respective tabloids.