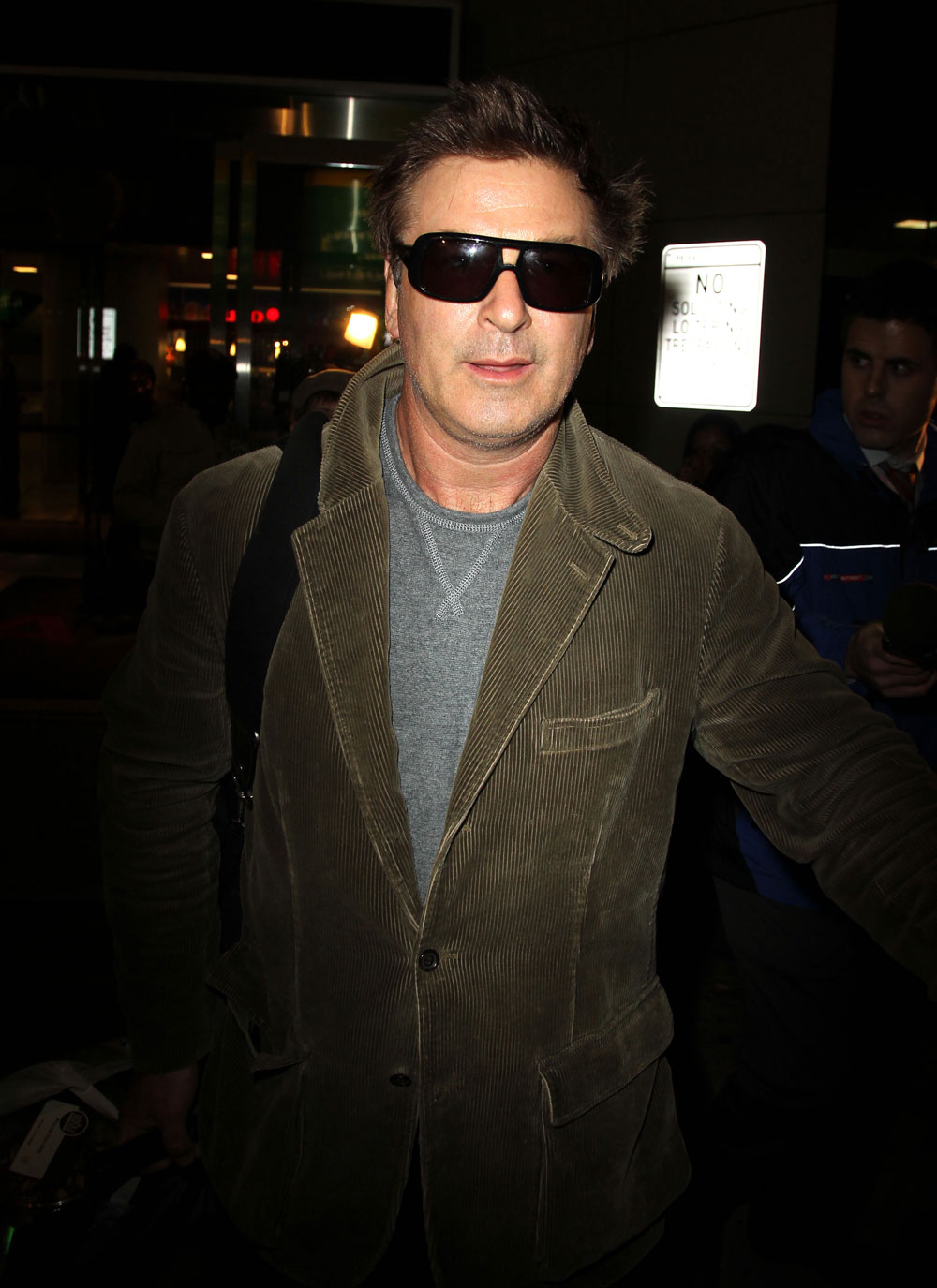 A lot of people assumed that Alec Baldwin was probably in the wrong when he got kicked off an American Airlines flight for playing Words With Friends on his phone. The guy has some well known anger management issues and it's not a stretch to assume that he acted like an entitled ass. Still, flying can be a demeaning experience and it's similarly easy to imagine Alec getting singled out and taunted by a flight attendant. According to Alec, that's exactly what happened. After he live tweeted his experience on the flight, Alec deleted his Twitter account. He later penned an essay for the Huffington Post detailing what happened. The way he explains it, the cabin door was closed, the plane was at the gat and everyone was sitting there, playing with their phones. In his version, one mean flight attendant kept telling him to put his device away, but everyone else was doing it and she was ignoring them. Here's his story:
First off, I would like to apologize to the other passengers onboard the American Airlines flight that I was thrown off of yesterday. It was never my intention to inconvenience anyone with my "issue" with a certain flight attendant.

I suppose a part of my frustration lay with the fact that I had flown American for over 20 years and was brand loyal, in the extreme. The ticketing agents and Admiral's Club staff have always been nothing but abundantly helpful to me, as I have flown hundreds of thousands of miles with the one carrier.

My confusion began when the flight, already a half hour behind schedule, boarded, the door closed, and we proceeded to sit at the gate for another fifteen minutes. I then did what I have nearly always done and that was to pull out my phone to complete any other messaging I had to do before take off. In nearly all other instances, the flight attendants seemed to be unbothered by and said nothing about such activity, by me or anyone else, until we actually were pulling away from the gate.

In this case, while other people were still manipulating their own phones, this one employee singled me out to put my phone away. Afterward, we still sat at the gate. I pulled out my phone again, while others did the same. Again, I was singled out by this woman in the most unpleasant of tones. I guess the fact that this woman, who had decided to make some example of me, while everyone else was left undisturbed, did get the better of me.

However, I have learned a valuable lesson. Airlines in the US are struggling with fuel costs, labor costs, bankruptcies, you name it. It's no secret that the level of service on US carriers has deteriorated to a point that would make Howard Hughes red-faced. Filthy planes, barely edible meals, cuts in jet service to less-traveled locations. One of the big changes, in my time, is in the increase of the post-9/11, paramilitary bearing of much of the air travel business. September 11th was a horrific day in the airline industry, yet in the wake of that event, I believe carriers and airports have used that as an excuse to make the air travel experience as inelegant as possible.

Most of the flight attendants I have ever encountered still have some remnant of the old idea of service. Add to that the notion that in this day and age, many people have a lot of important work to do, by phone, and would like to do so till the last possible minute. But there are many now who walk the aisles of an airplane with a whistle around their neck and a clipboard in their hands and they have made flying a Greyhound bus experience.

The lesson I've learned is to keep my phone off when the 1950′s gym teacher is on duty. That was my fault there, even though this trip was quite a bit different from so many others. But it is sad, I think, that you've got to fly overseas today in order to bring back what has been thrown overboard by US carriers in terms of common sense, style, and service.
[From Huffington Post]
His story kind of resonated with me, to be honest. I'm not saying he was in the right by any means or that he shouldn't have just given in. He should have, he knows the rules and everyone has to follow them. I fly a lot, though, and the flight attendants have the power to make or break your flight. So I don't blame Alec for putting American Airlines on blast, especially if they treated him like that. Again, I'm not saying he should have stood his ground at all. He just should have put the phone away and tried to read a magazine or something. Everyone is supposed to put their devices away, even if they weren't doing it at the time.
American Airlines has issued their own response to this story. They make the claim that Alec was abrasive, that he swore at the flight attendant, and that went to the bathroom and slammed the door while the seatbelt light was still on. Supposedly the cabin crew heard the door slam and got worried.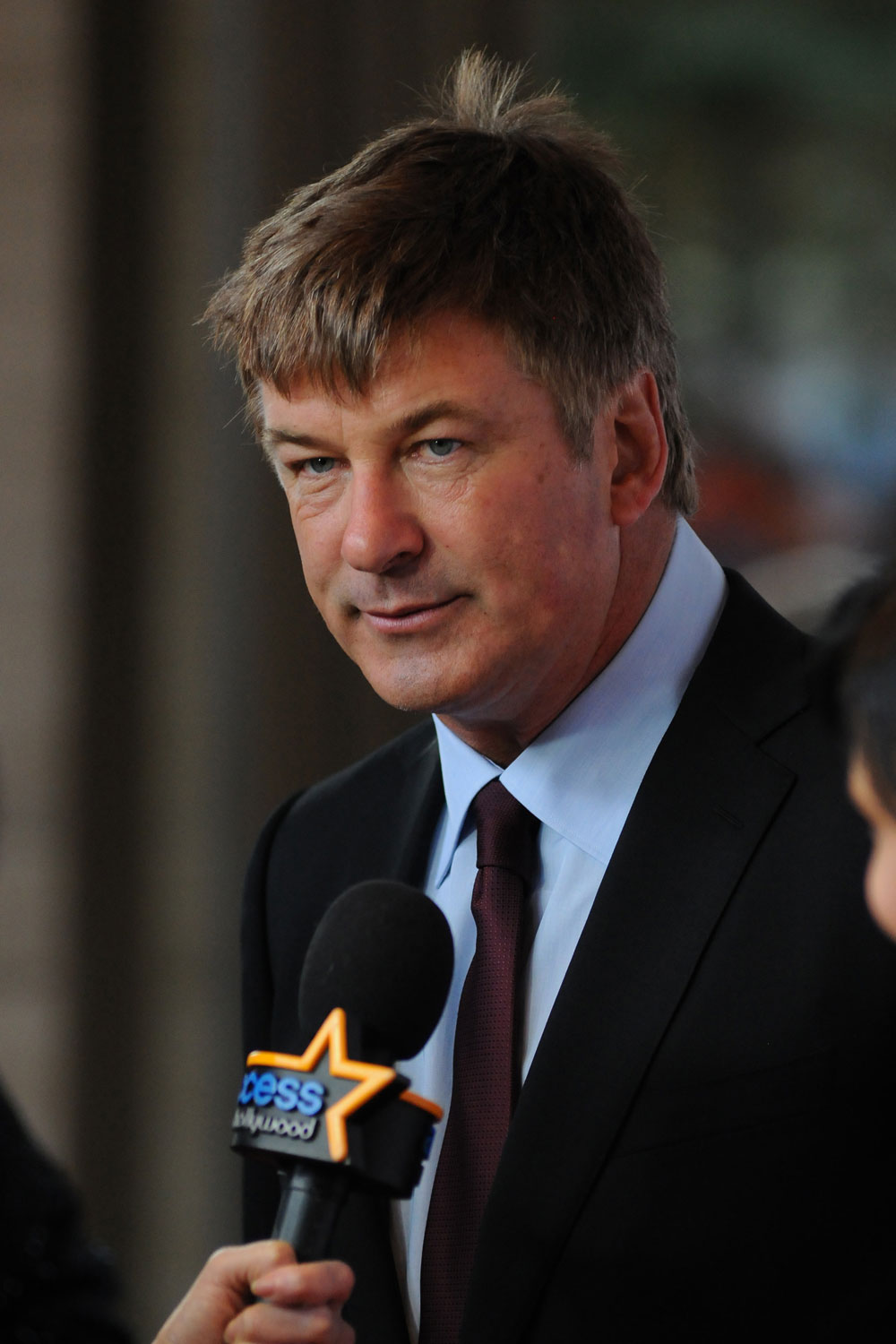 Since an extremely vocal customer has publicly identified himself as being removed from an American Airlines flight on Tuesday, Dec. 6, we have elected to provide the actual facts of the matter as well as the FAA regulations which American, and all airlines, must enforce. Cell phones and electronic devices are allowed to be used while the aircraft is at the gate and the door is open for boarding. When the door is closed for departure and the seat belt light is turned on, all cell phones and electronic devices must be turned off for taxi-out and take-off. This passenger declined to turn off his cell phone when asked to do so at the appropriate time. The passenger ultimately stood up (with the seat belt light still on for departure) and took his phone into the plane's lavatory. He slammed the lavatory door so hard, the cockpit crew heard it and became alarmed, even with the cockpit door closed and locked. They immediately contacted the cabin crew to check on the situation. The passenger was extremely rude to the crew, calling them inappropriate names and using offensive language. Given the facts above, the passenger was removed from the flight and denied boarding.
[From American Airlines via USA Today]
If both versions are correct – if Alec really was singled out by a nasty flight attendant and then he did respond like this – I get both sides. I would have acquiesced the first time, I would have turned my phone off and put it away and sat there seething wondering why everyone else got to use their phones while I didn't. In my mind though, I would have stood my ground and told them all off, making a huge scene. Hell I've wanted to do that on plenty of flights in the past. As it is, both parties were in the wrong and a whole plane full of people with busy lives got inconvenienced. I hate flying.
After I wrote all that, I noticed that a flight attendant's organization issued a response to Alec. It's frankly pretty bitchy, but I guess he deserves it. The rudeness goes both ways on flights, as this story shows. If you think about how much it sucks to fly, it must suck even more to be a flight attendant.
hile I personally enjoy Words with Friends as much as anybody, passengers can continue to search for that double letter triple word score after takeoff. I'm sure people are used to Alec Baldwin and his expressions," Julie Frederick from the Association of Professional Flight Attendants told RadarOnline.com.

"There is a difference between being funny and being mean," she continued. "Flight attendants have not been the only recipients of Alec Baldwin's ill temper.

In 2007, a voice recording was released where Baldwin called his little daughter Ireland a "rude, thoughtless little pig" for which he ultimately apologized.

Frederick expressed support for flight attendants and the difficult and sometimes lifesaving job they do. "If Alec Baldwin needed emergency help on a flight then the 'retired Catholic school gym teachers' would save his life for another day of expressing himself," she said.
[From Radar]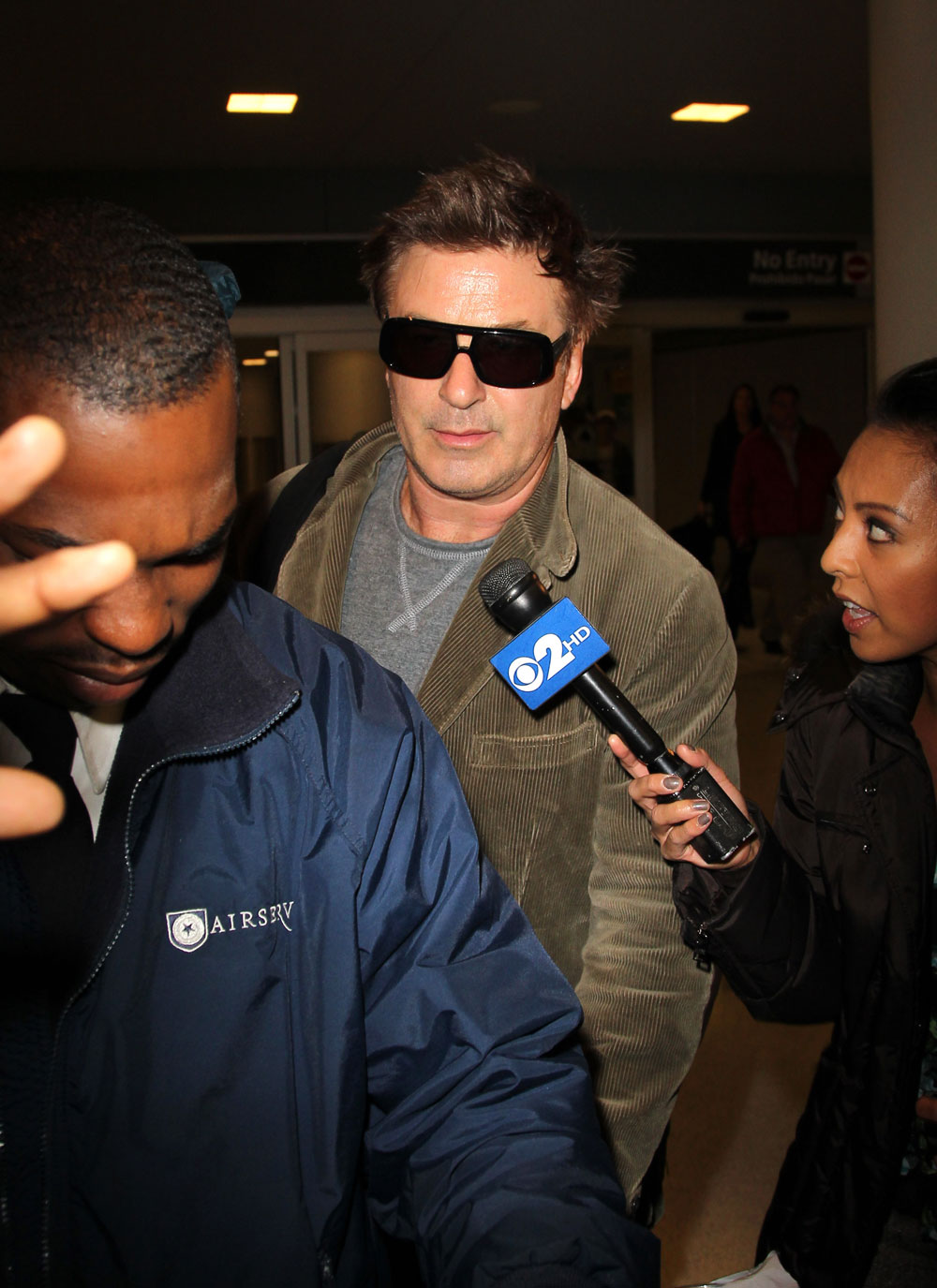 Here's Alex at JFK on Tuesday after he took the next flight out of LAX. He's also shown on 9/23 and 9/18. Credit: Fame