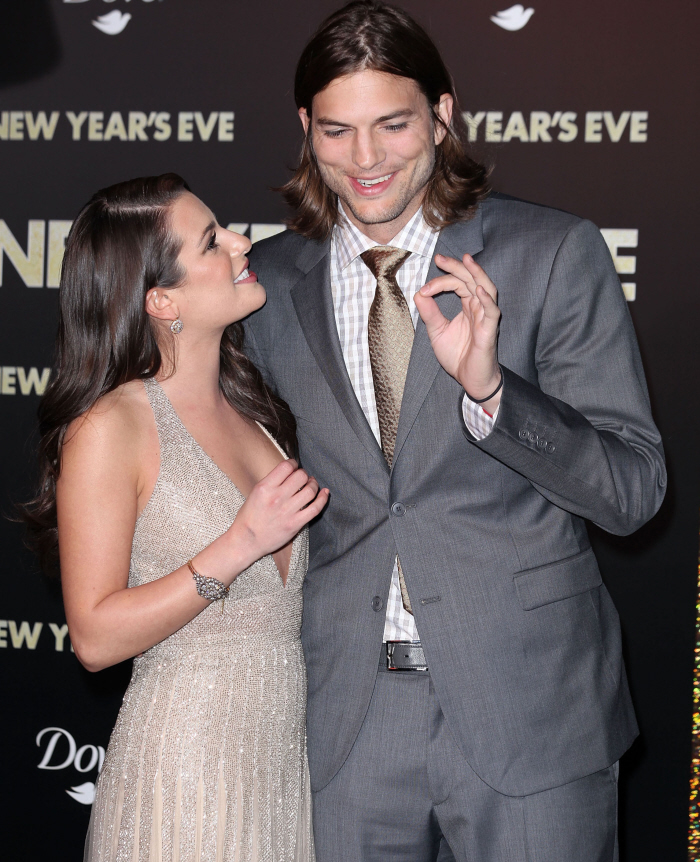 Lea Michele and Ashton Kutcher were all over each other at last week's LA premiere of New Year's Eve. My Spidey sense told me that Lea would totally be up for a torrid, douchey affair with Ashton, and that Ashton would probably be up for boning Lea once and then promptly ignoring her for the rest of his life. Guess what? I was totally right. In a recent interview with New York Magazine, Lea talked about how she was cast in the film first, and how she couldn't even mention Ashton's name to the director because Ashton would be such an incredibly sexy and hot "get" for her. SERIOUSLY.
NY Mag: So were you curious what star they'd cast as your love interest?
Lea Michele: I was! Garry [Marshall] was like, "Who do you think is cute? What guys do you like? Who do you want to be in this movie with you?" And I was like, "I don't know, I've never been asked before!" I didn't mention Ashton's name just because, I gotta say, I kinda felt like he was a little out of my league. You know, this guy's like, the hottest guy, and then when they called and said that Ashton was doing it, I was really freaked out. I thought I should have picked someone else and said, "You have to use this person!" so I wouldn't have been nervous. But I'm so glad, because he challenged me, and it was a really great pairing, I think.
[From NY Mag]
Oh, Lea. I feel bad for her now. Now it's not just about wanting to slap the bitch out of her. Now I just want to sit her down and have a long conversation about boys and respect and never settling for the Douche Dong.
Not content to simply let those words speak for themselves, Lea also made an idiot out of herself during a joint interview with Ashton where she basically asks him out and he's all, "Girl, I've got hookers to bone, don't bother me."
If at first you don't succeed, try, try and try again. Lea Michele cozied up to her "New Year's Eve" costar Ashton Kutcher in a recent Warner Bros. Pictures interview, boldly asking the newly single star what his plans are for the end-of-the-year holiday.

"What are you going to do for New Year's?" she inquires in the clip. "Why don't you come celebrate with my big Italian family and me? They would die."

Kutcher, who recently separated from wife Demi Moore, plays it safe, replying, "I don't know where I'm going to be on New Year's, I haven't sorted it out."

The pair, who play love interests in the celebrity-packed flick, were flirty at the red carpet premiere of their new film last week, sparking rumors that the two Hollywood heavyweights are more than friends.

"He's just an incredibly smart guy and he's so sweet and I'm so thankful to have been given him as a costar," Michele, 25, said of the "Two and a Half Men" star during a red-carpet interview.

Michele recently split with her beau of one year, actor Theo Stockman.

Possible New Year's Eve festivities for the prankster include crashing "a UFO into the Mayan temples, just to see how people would react to that," Kutcher joked.

But though Kutcher doesn't quite know his New Year's Eve agenda just yet, he is sure that he wants to get a head start on 2012.

"I'm gonna do my resolution in December in this year," he said. "I'm resoluting for December so that when I come to January, and everybody else is having to go through the grind, I'm already ahead of it, I've already done it. It's like taking the PSATs. I'm just trying to stay ahead of the curve. There is a curve."
[From NYDN]
Jesus, Lea. I think you're a horrible person, and even I think you could do much, much better. Aim for a Gossip Girl! Penn Badgley is boning Zoe Kravitz (which still amuses me), but maybe Chace Crawford? Maybe even Ed Westwick? Although… Lea and Ed would be magical, they are both total drama queens and it would be intense. Wonderful and intense. And hairy.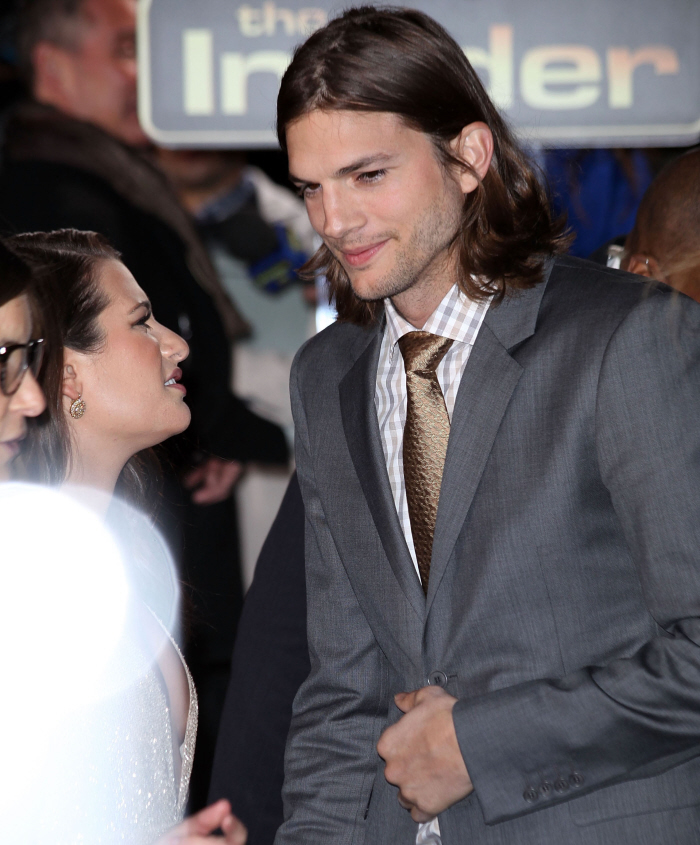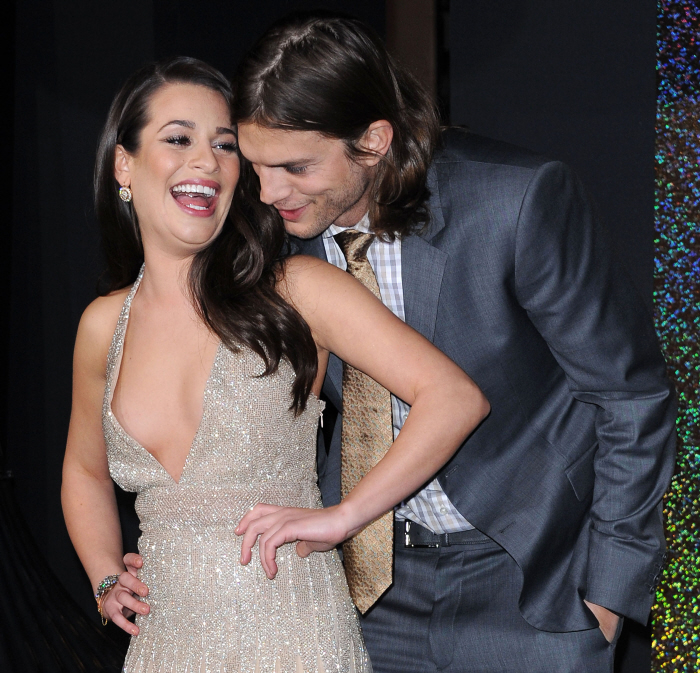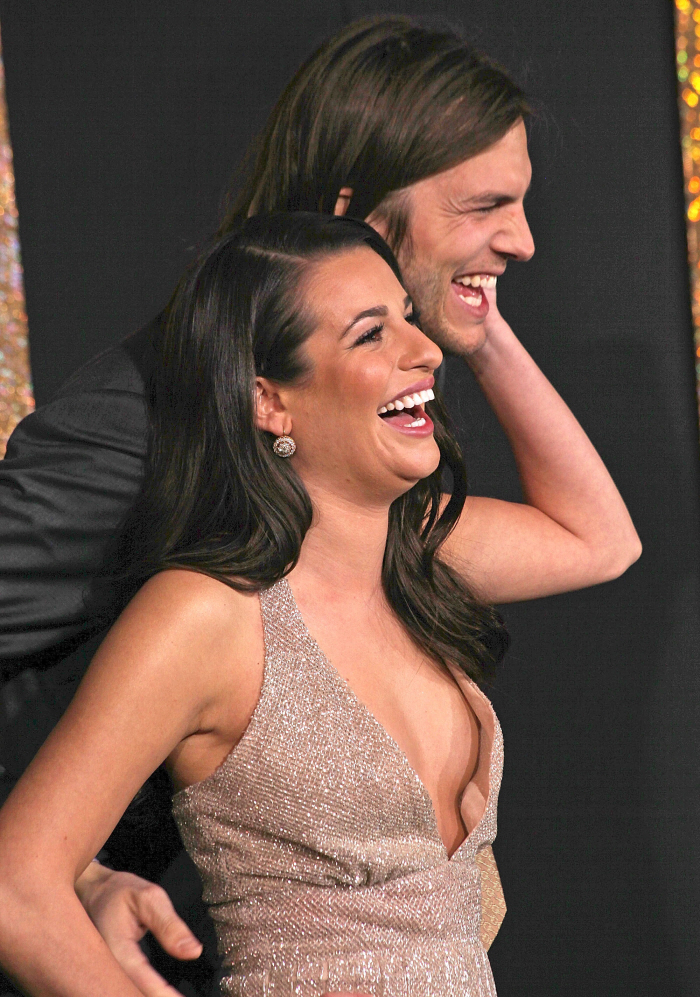 Photos courtesy of WENN.