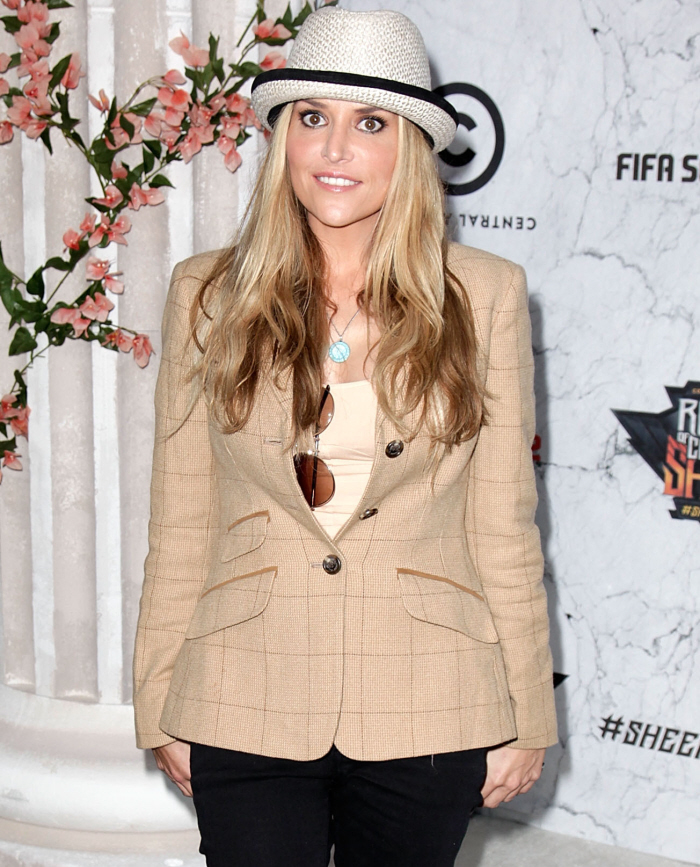 Two weekends ago, Brooke Mueller was arrested and charged with assault and possession in Aspen, Colorado. Apparently, she was in jail overnight and then Charlie Sheen bailed her out. Since then, her delusional spokesman, Steve Honig (the same dude who represents Lindsay Lohan, coughcrackdealercough), has been making the rounds claiming that Brooke is just misunderstood and that the charges are bogus and everything is fine. Brooke's family wanted to force her into rehab, but Brooke kept on partying, and then just in the past few days, she claimed that she was going to undergo rehab – as an outpatient. Like Charlie Sheen did, when he "rehabbed" at his own home. Brooke's family weren't happy about it, and then the Aspen DA chimed in, saying that there wasn't going to be any deal, and the charges would not be dropped. Here's Radar's summary:
Brooke Mueller must appear in a Aspen, Colorado courtroom on Monday, December 19, for her arraignment in her felony cocaine possession case, and Chief Deputy District Attorney Arnold Mordkin tells RadarOnline.com that no deal has been reached in the case, and there certainly won't be one made prior to the hearing on Monday.

Charlie Sheen's ex-wife, was arrested for cocaine possession and assault, on December 2 after getting into an alleged brawl in a nightclub in Aspen with another woman.

"There is no deal on the table in the case at this time, and there won't be one prior to Ms. Mueller's arraignment on Monday. Nor will there be announced at the arraignment. Ms. Mueller is supposed to be here. She can enter a plea on Monday, or her attorney can continue the matter," Mordkin tells RadarOnline.com exclusively.

Brooke's rep, Steve Honig, released a statement Monday about Mueller's decision to seek outpatient rehab treatment. "Recognizing past attempts at treatment have not been successful, Brooke has decided to take a different approach to deal with her addiction. Brooke will be participating in a program during the day and will be under expert supervision 24 hours a day, seven days a week. In addition, Brooke has requested to be tested on a daily basis for cocaine and other illegal substances so there is no doubt as to her commitment.

"Brooke will retain custody of her children, both of whom will continue to remain at her home and be cared for by Brooke and their longtime nanny. Charlie and Brooke's family are all fully supportive of this decision and recognize the importance of maintaining the children's normal routine."

Brooke has battled a crack cocaine addiction for more than 10 years, and this will be at least the fifth time she has sought outpatient treatment. As RadarOnline.com previously reported, Brooke's family doesn't believe her latest efforts to get sober will work.

"Brooke's parents are not going to do an intervention because they've basically washed their hands of her," a source close to the family exclusively told RadarOnline.com. "They've given her as much help/money/rehab as they can and they're not going to do it anymore. They're going to support her in this effort, but they're not going to try and force her to do anything more."
[From Radar]
So everyone was lining up against Brooke and it was becoming obvious that her crack shenanigans were not going to be overlooked anymore. I do think the final straw was that Brooke's family was pulling away – from what I know, her family has pretty much been raising the twin boys, Max and Bob, and if Brooke had to look after them all by herself, those kids would be in a world of trouble. So Brooke did what all cracked-out hustlers do: she's trying a new hustle. OF COURSE she'll go into rehab. Sure!
Brooke Mueller has had a change of heart … and has checked herself in to a full-time rehab center … TMZ has learned.

Mueller's rep, Steve Honig, tells TMZ, "After further reflection and consideration, Brooke has decided to remove herself from the media spotlight and has entered a long-term in-patient treatment center where she can focus on her recovery without distraction."

"She has already arrived at the facility and, out of respect for her privacy, no further information will be released about her treatment. Brooke's goal is to maintain her sobriety and she believes this is the best option to reach that goal."

"Brooke will retain custody of the children, who will remain in their home and familiar surroundings and be under the care of their longtime nanny. Charlie and Brooke's parents fully support her decision and everyone recognizes the importance of maintaining the children's normal routine."

Brooke had previously decided she would enter an outpatient rehab program to be with her kids — so much for that.

Update: Brooke was seen boarding a private jet in Los Angeles last night … presumably headed for her rehab center. Mueller was seen smiling and chatting with her entourage before getting on board. No word on where the rehab center is located.
[From TMZ]
It would nice to think that Brooke finally realizes that she needs to make her sobriety a priority for her children, and that this is her last chance as far as the law and her family are concerned. But I doubt that's her thought process at all. She's probably still thinking about scoring the next rock.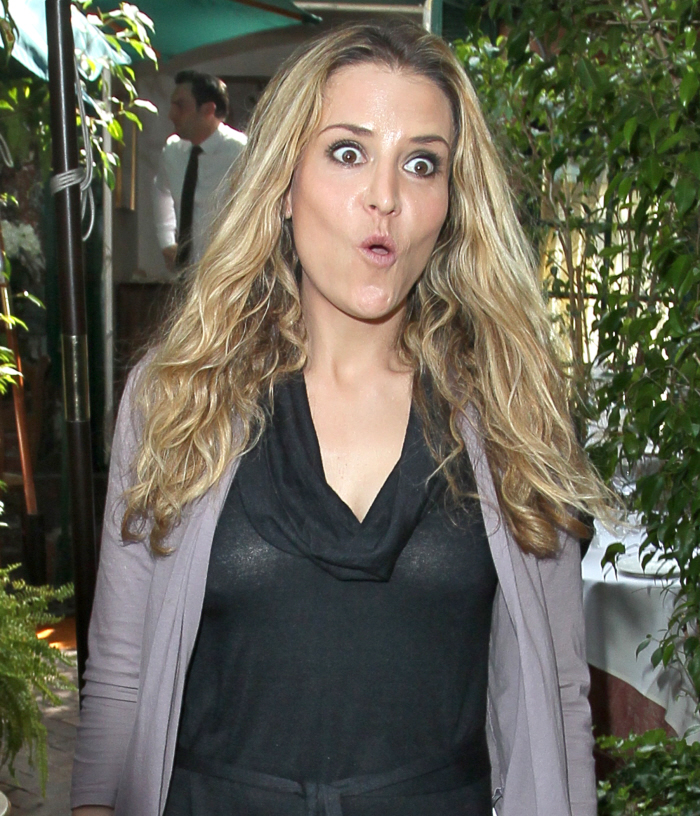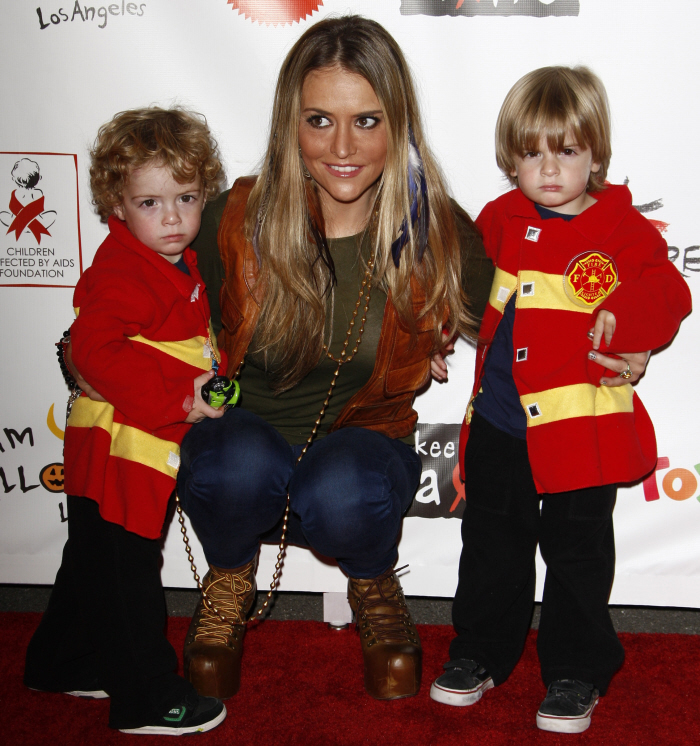 Photos courtesy of WENN.