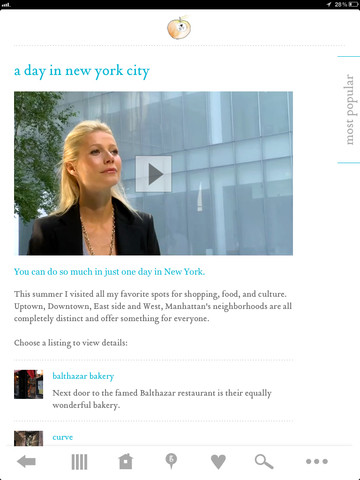 When a game that provides days of mindless addictive entertainment costs .99, Gwyneth Paltrow is really reaching by charging a relatively steep $3.99 for her new Goop City Guides, which so far features only New York. The app promises that LA and London are coming, and little "coming soon" bubbles take the place of blinking "under construction" gifs. I downloaded it and it's on par with what she normally offers, but it feels thin and obviously pretentious. When there are better, cheaper (and free) apps that do the same thing, (sans the sanctimony) it's just too expensive without offering much. Plus I kept wondering how much she was paid to plug the various shops and restaurants she was mentioning.
There are two videos in the app. One is a sweeping tour of New York featuring Gwyneth showing us her favorite spots. I wish I could find a version of it online, and it will leak somewhere soon enough. She keeps mentioning "tourists" with derision while showing us both out of the way little places and high end spots. She really doesn't care that she's an elitist, she's either oblivious to it or just can't be bothered to worry about it. She's obviously never going to be apologetic about it. The other video is a one and a half minute interview with Gwyneth's New York city driver. He recommends different places to eat around town that are affordable. There are recommendations for bars, restaurants and shops but it feels familiar, haughty and not at all innovative or interesting. It's Goop, on your mobile device. I guess I shouldn't have expected anything else.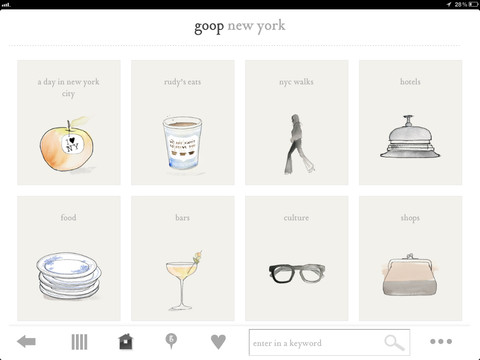 Gawker has a good review of the app, so I'll include theirs:
I played around with the $3.99 Goop app today. It's a city guide cast in tones as smooth as Gwyneth's skin, with blurbs written in a prose style so precious it almost seems like Gwyneth herself is whispering recommendations softly into your ear, gently guiding you to human bliss; a bright, brilliant room in a bright, big house on the Maine coast, her hair shining gold in the light glinting off distant waves…

Sorry! Got distracted for a second.

There's a little video that shows Gwenyth Paltrow visiting all her favorite places in New York, and spending approximately $20,000 in a matter of hours. There's also a video featuring the favorite places of her personal driver, Rudy, to show how Gwenyth can also relate to poor people.

A handy map shows all nearby Goop-recommended locations as you traipse around the city buoyed by your 7 am kelp smoothie, in case you need an emergency gluten-free baked good for your kid, whom you have inexplicably named after an everyday object, like Table. Using location-based apps like this in New York can be dangerous, as they distract you from walking. But if you fall off a curb while looking at your Goop app, we imagine a rich handsome man will come to your rescue, ask you to dinner at Goop-approved Balthazar, and you'll end up getting married and going on a honeymoon where you swim naked with dolphins.

My personal favorite feature of the Goop app is the "Favourites" feature. (So British!) This allows you to easily save your favourite (sic) things from the Goop app, like The Breathing Project yoga studio, so you can have your manservant carry you over there on a litter made of swan feathers at your own leisure.

Bottom-line: The Goop app is the best city guide for anyone with infinite time and money.
[From Gawker]
Here's what bothers me the most, though, the reviews on iTunes are all glowingly positive. Unlike Amazon reviews, on iTunes there's no way to sort out legitimate reviewers from friends of the developer that are giving one-off positive reviews. (That I know of. There are names but it's not simple to find all reviews by a single reviewer.) So the 15 all five star ratings praising Goop and saying how great the app is are very suspect given the material. They say things like "Gwyneth never ceases to impress and amaze and this app is just another one of her ingenious ideas… I also love that Gwyneth is never apologetic and always conscious of her audience." Her audience? Monied friends who eat up her pearls of wisdom. The rest of us find her recommendations entirely one-sided and behind the times. When there are better NY apps that provide aggregate reviews and more features for free, why bother with Goop? Is she ever going to update with London and LA? Is this just a way to feel her ego and provide a nice tax deduction? It's actually pretty smart in that way. Whenever she goes anywhere the bitch can write it off her taxes.