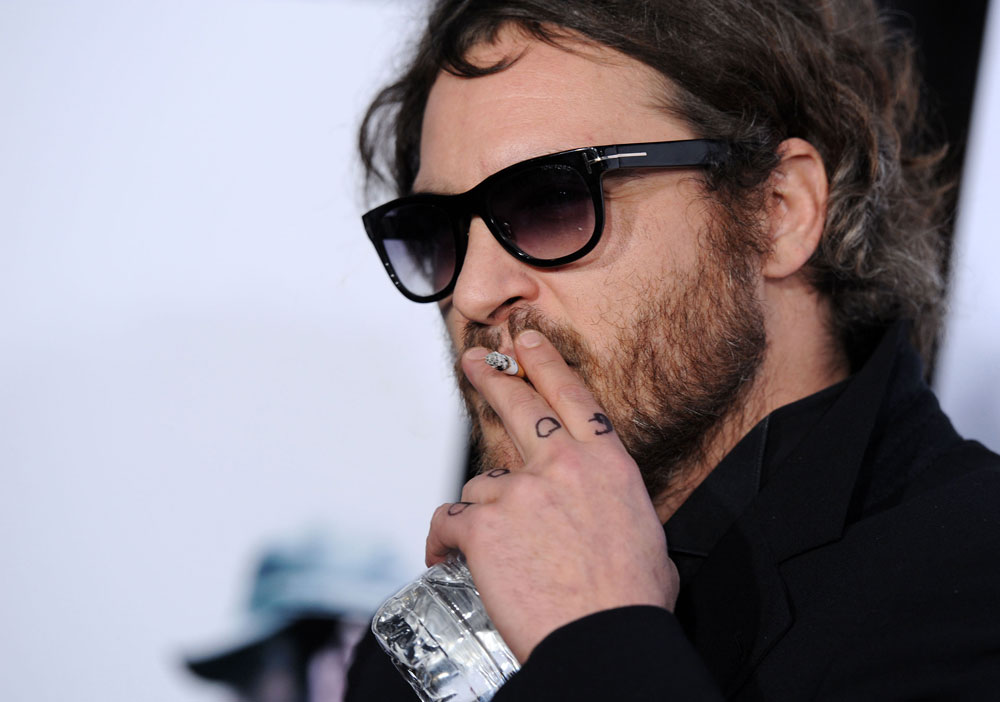 Best Week Ever posted the video below of actor Joaquin Pheonix, 34, announcing his retirement from acting while at a benefit for the late Paul Newman's charity on October 27th. Wearing sunglasses and looking unkempt, Phoenix told a reporter from Extra! in a kind of mumbling monotone, "I want to take this opportunity… also to give you the exclusive and just talk a little bit about the fact that this will be my last performance as an actor… I'm not doing films anymore." He then referred to his friend Casey Affleck, standing next to him, and said "It's Casey's time now." When the reporter asked him if he was kidding he said "no," and then got annoyed and walked away. Casey stuck around looking kind of surprised and when asked if Joaquin was really going to retire he said "yeah, I guess he's going to get into music."
A couple of you speculated in the links on Friday when we posted this story that Phoenix was on something, and he definitely seems at least hungover. It's hard to tell with that kind of thing, and maybe the guy is just genuinely fed up with acting. His rep confirmed the news that he wanted to retire and focus on his music career. His last film, Two Lovers, was shot with Gwyneth Paltrow and she probably nagged him incessantly about his diet and exercise habits.
Phoenix was seen on the red carpet for Two Lovers at the AFI Film Festival in Los Angeles on Saturday. He posed with his other Two Lovers costar, Vinessa Shaw, and the director, James Grey. He confirmed his retirement by holding up his clenched fists to show the scrawled words "Good" and "Bye!" written on his fingers below the knuckles. Phoenix puffed on a cigarette as he walked the carpet and made Jack Black-type triumphant gestures. He seems pretty serious about his retirement and he wants us to know about it. At least Gwyneth wasn't there to ruin his moment.
This guy has come a long way from his former heart throb status and that's probably his intent.
Photo credit: WENN and Bauergriffin