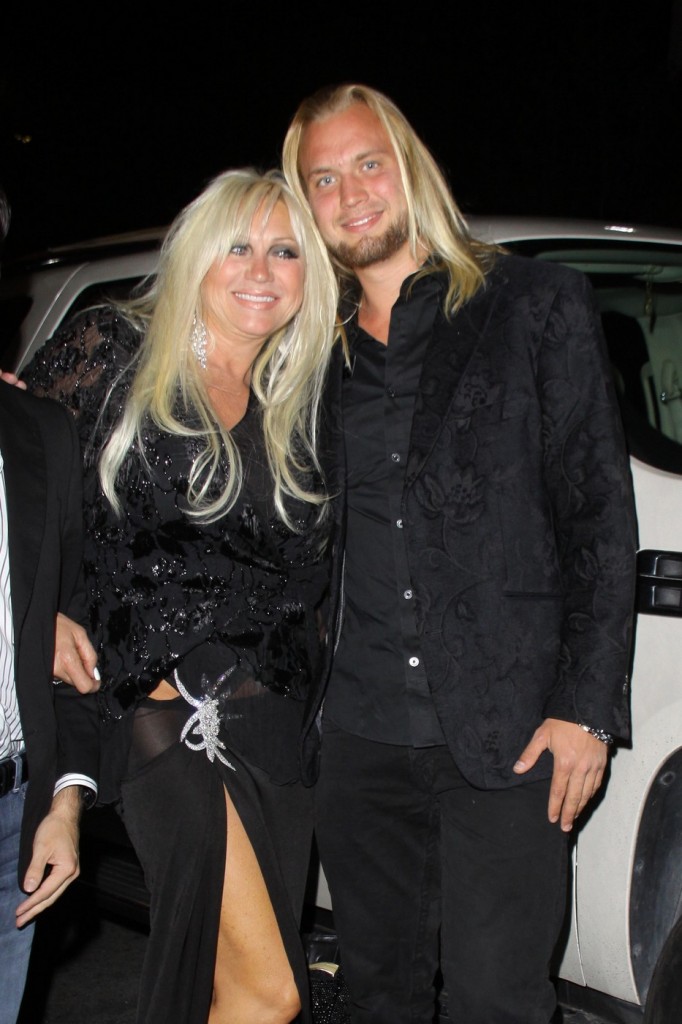 As you may be aware Linda Hogan, 52, has been dating a kid from her son's peer group, who actually resembles her son and went to school with him. Linda and her boy toy, Charlie Hill, have been together for at least three and half years, and we heard last year that they were engaged. (This of course thrilled Linda's ex, Hulk Hogan, as it meant that his alimony payments might eventually cease.) Linda and Charlie haven't made it official yet, perhaps due to those sweet alimony payments, and are of course having relationship problems. Unlike similar January-December famewhores Courtney Stodden and Doug Hutchison, Linda and Charlie know their place and have accepted roles on a VH1 ensemble reality show. They've filmed a bunch of episodes for a show called "Couples Therapy," (not with Dr. Drew) which will air in March. The best part of this story is the anecdote about how Linda's boyfriend went out clubbing with her despicable 21 year-old son, Nick. Charlie ended up going home with another old broad and Nick ran home crying to his mommy about it.
Linda, 52 – the ex-wife of wrestler Hulk Hogan – and unlikely lover Charlie Hill, 23, will hash out their issues with psychotherapist Dr. Jenn Berman on the VH1 reality series "Couples Therapy," which is scheduled to debut in mid-March.

"Linda and Charlie's relationship is littered with dysfunction and they've split up and gotten back together numerous times," a family friend told The Enquirer.

"Not long ago, Linda got so fed up with Charlie that she actually paid him to get out of her life. But she had a change of heart as soon as she learned Charlie hooked up with someone else."

As the Enquirer reported in November, Linda grew weary of her freeloading young fiance and sent him packing from her hilltop house outside of Los Angeles.

But Charlie got cozy with another cougar at an L.A. club soon after getting the boot, and the Hogans' 21-year-old son, Nick, who was also at the club that night, went back to Linda and "blabbed about everything," said the friend.

"As soon as Linda heard that her shoes had been filled so quickly – and with another older woman – she went ballistic!"

But the anger quickly turned to jealousy and she pushed him to get back together.

When the VH1 producers of "Couples Therapy" got wind of Linda and Charlies ongoing relationship struggles, they convinced them to do the show.

"Linda and Charlie are more than halfway through taping the series," the friend added. "While they appear to be working things out, it's unclear whether their romance will last."
[From The National Enquirer, print edition, January 2, 2012]
Trash to the E. So maybe Nick and Charlie weren't partying together and Nick just happened to be at the same club. Either way, it's gross. TMZ confirmed last week that Linda and Nick would be on this show, which they claim is titled "Relationship Rehab." I might actually watch a couple episodes of this, if only to gawk at how absurd these people are. At least Charlie was technically legal when they first hooked up.
Look at how matchy matchy these two are. I guess when you buy all your boyfriend's outfits it's easy to make sure you coordinate. A lot of moms do that with their kids.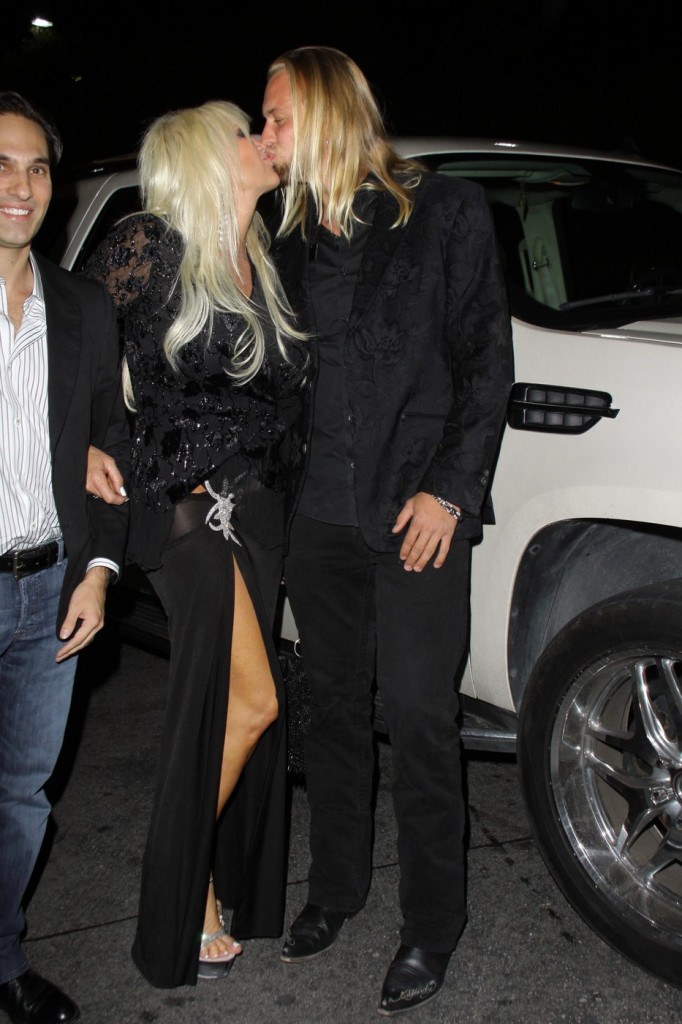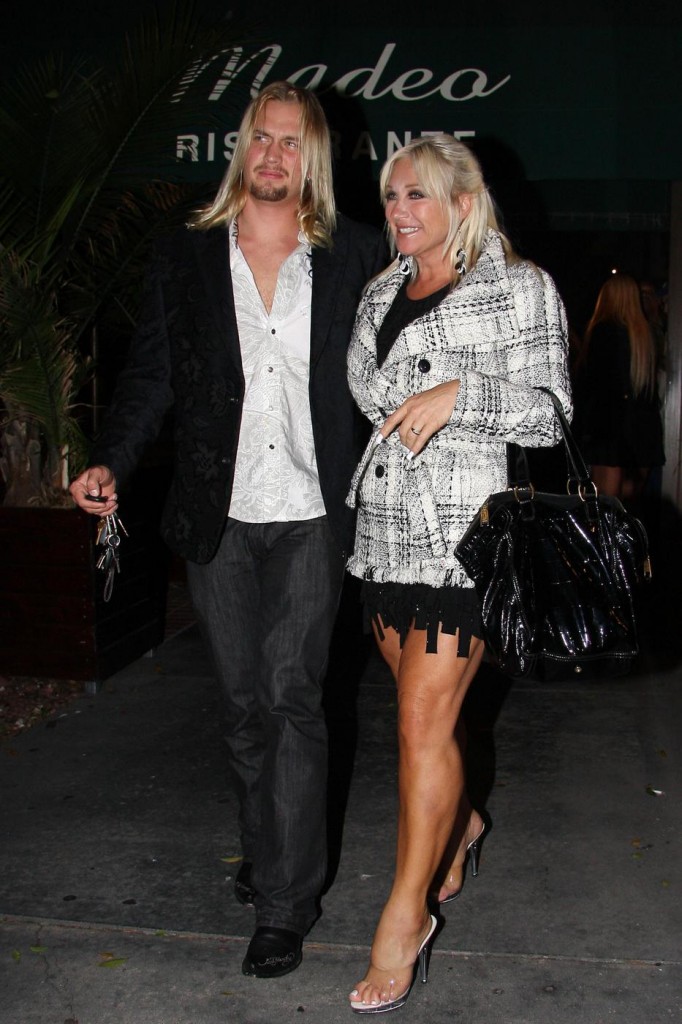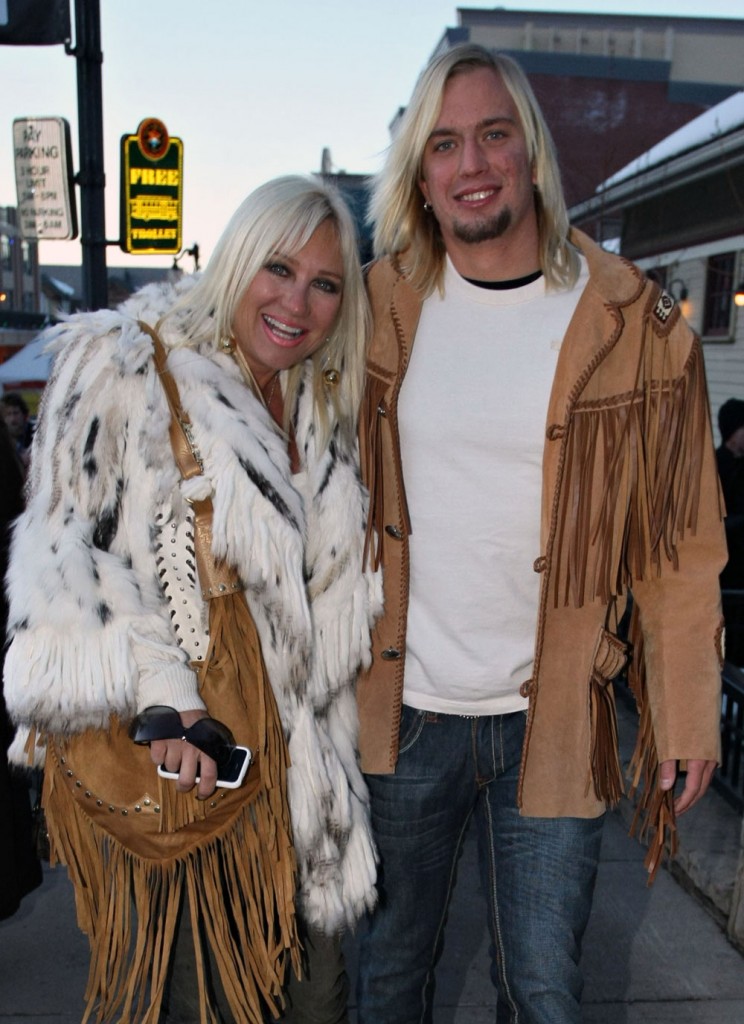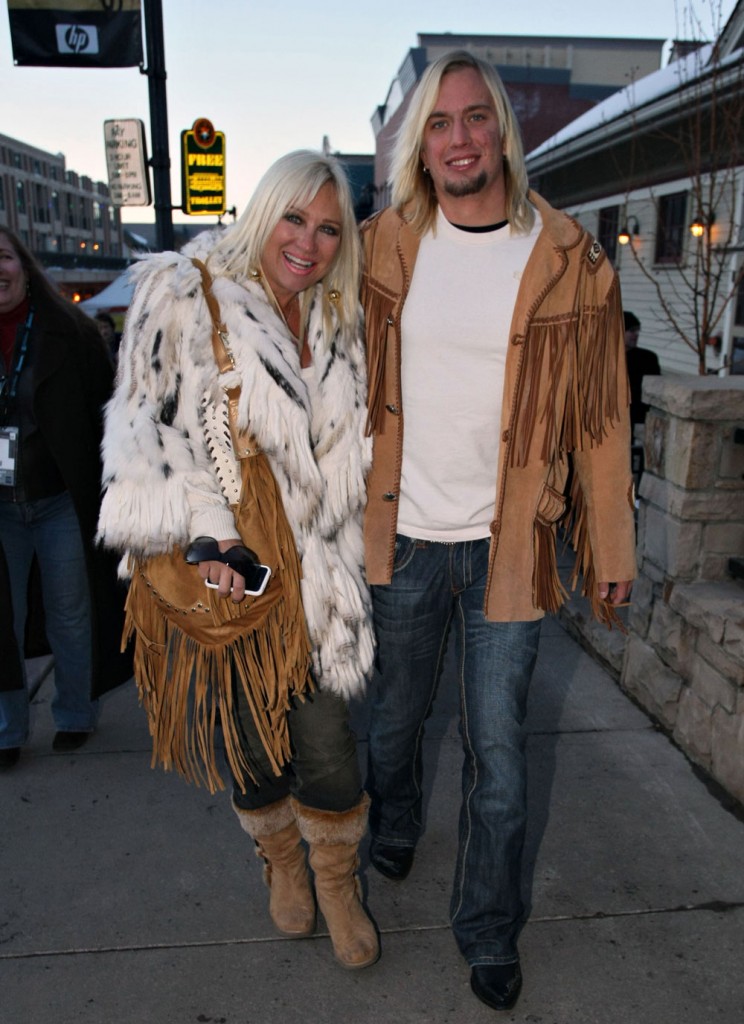 These photos are from 10/9/10 (black outfits) and 9/12/09 (short skirt) credit: Josephine Santos/Pacific Coast News. Matchy fur and fringe photos from 1/17/09. Credit: Fame