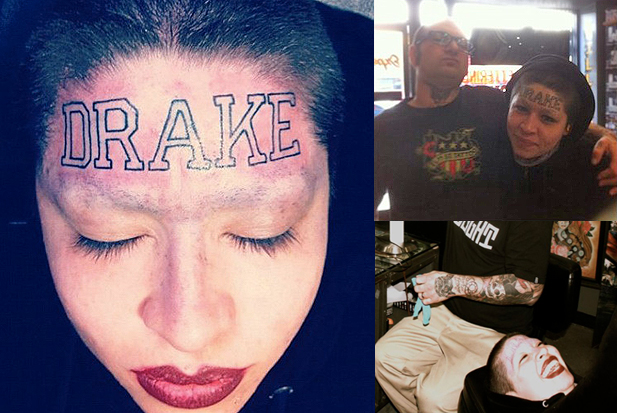 Did you hear the story of that reformed neo-Nazi who had multiple very painful laser treatments to remove the skinhead tattoos all over his face? That's what I thought of when I saw the photo of this woman with "Drake" tattooed across her head in this super ugly block font. It's something that will stay with her forever barring extreme measures, but at least she has the option of growing bangs or wearing hats. Unlike the neo-Nazi guy, it's not an offensive tattoo – it merely signifies that she's a fool. Canadian singer/autotune abuser Drake knows all about this tattoo, and he blames the tattoo artist for helping this woman realize her dream of having his name permanently emblazoned on her forehead. Drake said the guy is a "f'ing a**hole" and "should never do tattoos again." He also said he would like "to talk to this girl and understand it all." That's probably exactly why she did it. Here's more:
She tatted his name on her forehead, and, as promised, Drake has confirmed that he knows she is for real. He's not 100% pleased, though.

The rapper on Friday spoke out about the California woman who got his name tattooed in huge block letters across her forehead, calling her "incredible," but the artist who did it "a f*cking asshole."

"I want to meet her and understand what happened," he told LA radio host Mando Fresko. "That's cool though, I feel you 100%, that to me is absolutely incredible."

As for the artist, Kevin Campbell, Drake put out a warning.

"The guy who tatted is a f*cking as*hole though, I will tell you that," he said. "I don't f*ck with that guy. F*ck you to that tat artist by the way. And you should lose your job and should never do tattoos again and I don't f*ck with you. And if I ever see you, I'm a f*ck you up."

For his part, the artist told Vice Magazine that he wasn't exactly keen on doing the ink in the first place.

"She was really psyched about it. She had the sh*tty font all picked out on her iPhone ready to go and was pretty adamant about putting it on her forehead," he said. "She acted as if she had planned it out for a while, but I'm not really sure how much extended coherent thought could actually go into getting such a stupid tattoo on your forehead."

However, that mea culpa will probably get drowned out by this: "The funny thing is, I didn't know who Drake was," Campbell admitted. "I figured it was her hood or some shit, not some goofnugget R&B dude."
[From Huffington Post via ONTD]
So is it the tattoo artist's fault for helping this woman get a tattoo he knew was terrible and that he admitted was stupid? It bothers me that the tattoo artist would so thoroughly diss the tattoo, but that he took the money and went through with it anyway. They should have some sort of policy against facial tattoos. Unless they don't care and just want the cash. That's obviously the case here.
Drake is no stranger to tattoos. He has a giant tattoo of deceased singer Aaliyah's face on his back.
This video has multiple F bombs and is not safe for work, depending on where you work.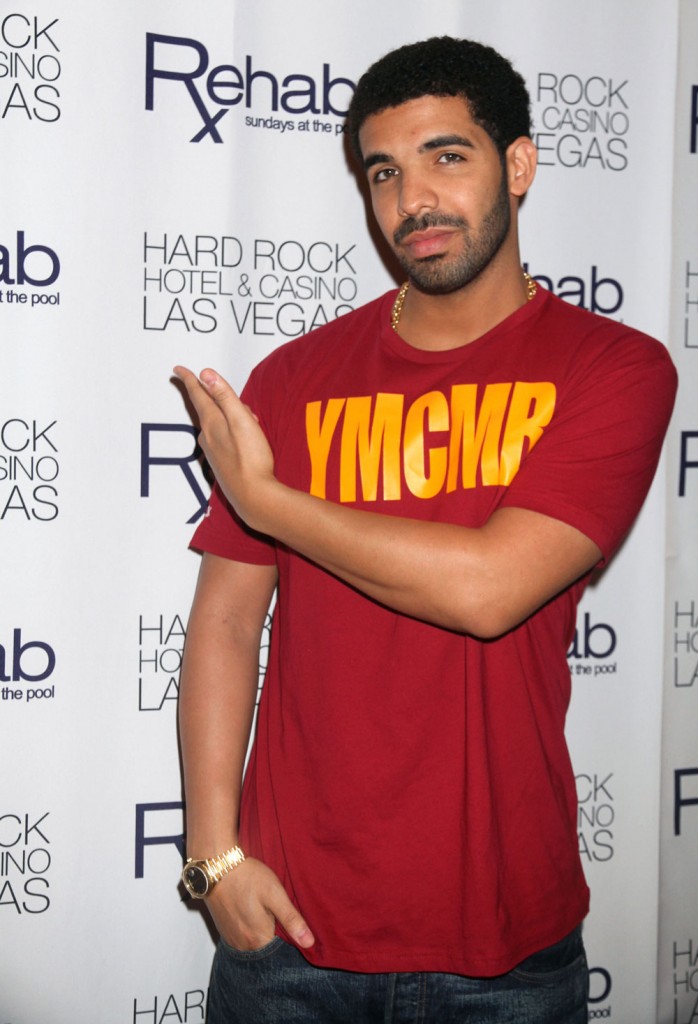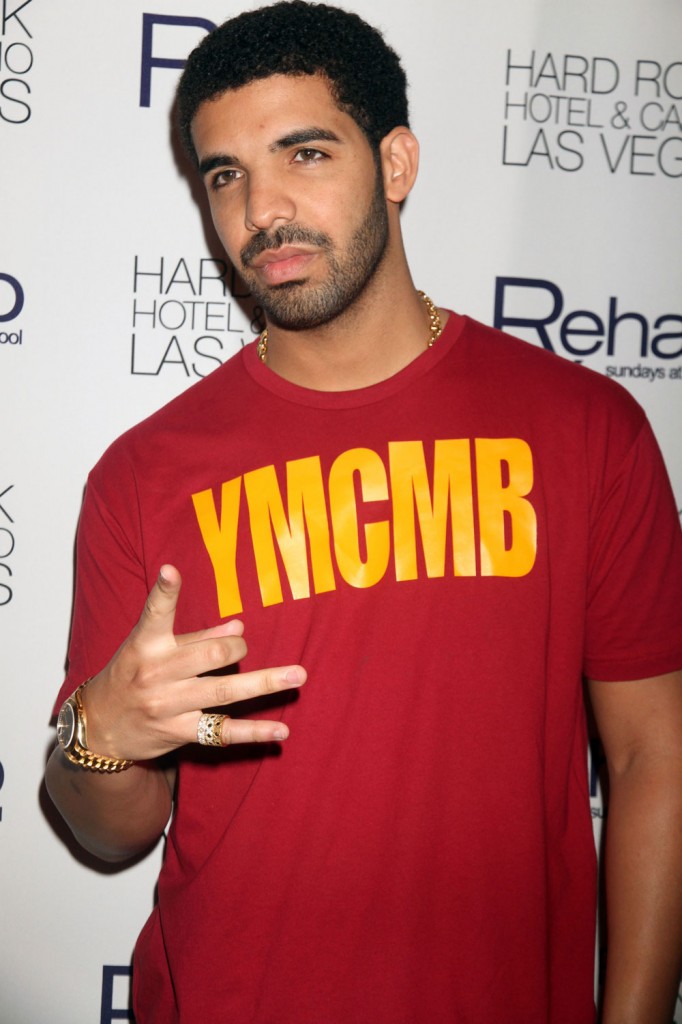 Header Photo via Imgur. Other photos are from May, 2011 and credit: Fame