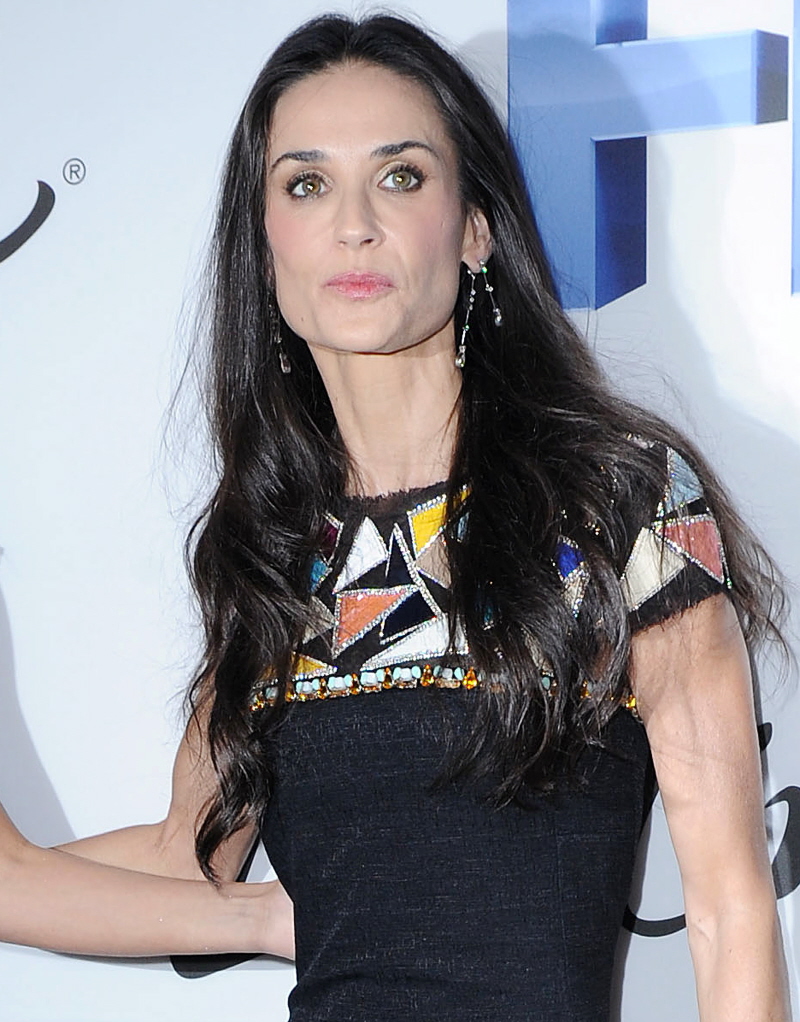 Demi Moore has been keeping a very low profile since officially splitting with Ashton Kutcher. I think she's only been photographed a few times in the past two months, and the photos were super-exclusive (so we don't have them). From what I've seen, Demi still looks really drawn, tired and really, really thin. I'll give her credit for not arranging some "candid" photo-ops to show off "The New, Single Demi" – but I worry that she hasn't arranged those photo ops because she's not in a good place right now. Still, Demi's publicist (the one she shares with Jennifer Aniston, btw) is working overtime to convince us that Demi has still "got it" and that EVERYBODY finds her sexy and desirable, of course. Look at the obviousness of this Page Six plant:
Demi Moore looked like she was back in action during a mother-daughter Christmas vacation in Turks and Caicos. Though the actress has kept a very low profile since her split with estranged husband Ashton Kutcher, she seemed to shake off any malaise from her impending divorce with some holiday booty-shakin' in the Caribbean.

The "Margin Call" star and svelte mother of three, 49, was spotted with her daughter, Rumer Willis, at the uber-private Parrot Cay resort, where the two shared a rocking Christmas Eve at a poolside bar and Moore "danced up a storm."

Spies tell Page Six that when Rumer took over DJing duties, Moore began to boogie.

"Demi was dancing seductively for all the guys [at the bar] and they were going nuts," one spy told us. Another added, "Demi could do 'The Wiggles' dance and still look hot."

The slinky moves even earned the raven-haired beauty the nickname "Single Hot Demi" or, simply, "SHD," from other hotel guests during their stay.

Rumer's DJing turn didn't get quite as high marks as her mother's moves, a spy said.

Ironically, Moore and Kutcher headed to Parrot Cay just last month for a romantic getaway, to try and repair their marriage and celebrate Moore's 49th birthday, after Kutcher was caught cheating with Sara Leal, 22.

But shortly after their tropical escape, Moore announced she'll file for divorce. Moore and Kutcher often vacationed on the island at the private residence of Moore's ex, Bruce Willis.

On this, more happy, trip, Demi and Rumer were also spotted having dinner with Donna Karan and her daughter Gabby.

Other celebrities in Parrot Cay for the holidays included Charlize Theron, with her mother, and "Mission: Impossible — Ghost Protocol" producer J.J. Abrams and his wife, Katie McGrath.

Reps for Moore could not be reached. A rep for Parrot Cay declined to comment.
[From Page Six]
Ugh, "Demi could do 'The Wiggles' dance and still look hot." SRSLY? Stop it. It's not 1994. It's not even 2004. Demi's fall-back publicity position should NOT be "Let's make everyone think Demi is super-sexy and single and she can compete with the younger girls!" Demi is 49 years old, and she just went through a very public debacle when her younger husband screwed around on her openly. Find a new image for the post-Ashton Demi, you know? Create an image of a confident, capable woman of means and maturity. Talk up her producing projects, get Demi a gig on a quality television show, sign her to a memoir deal for a huge sum of money and get her to go on dates with men closer to her age. Don't position her as a delusional divorcee, clinging to the dusty fragments of her youth by any means possible.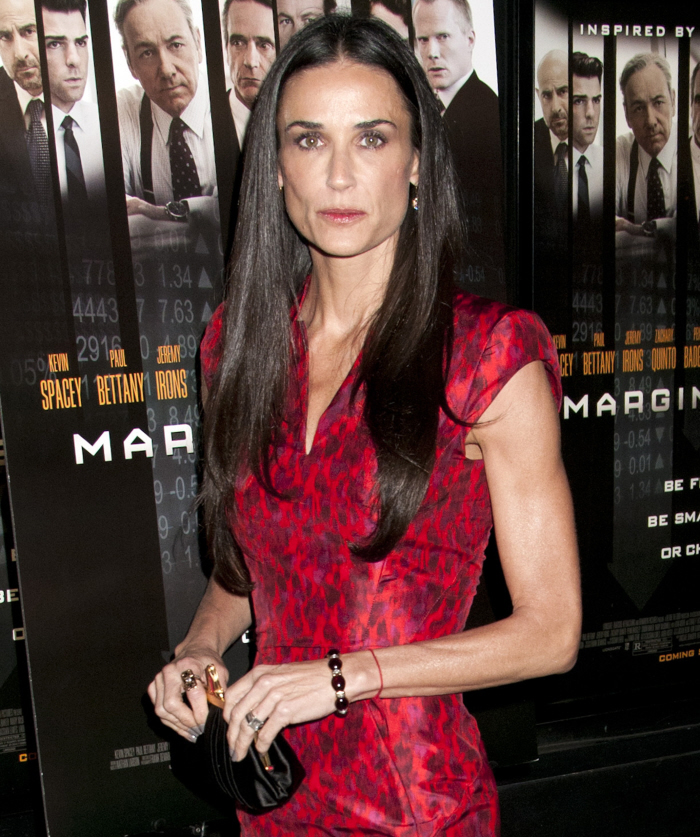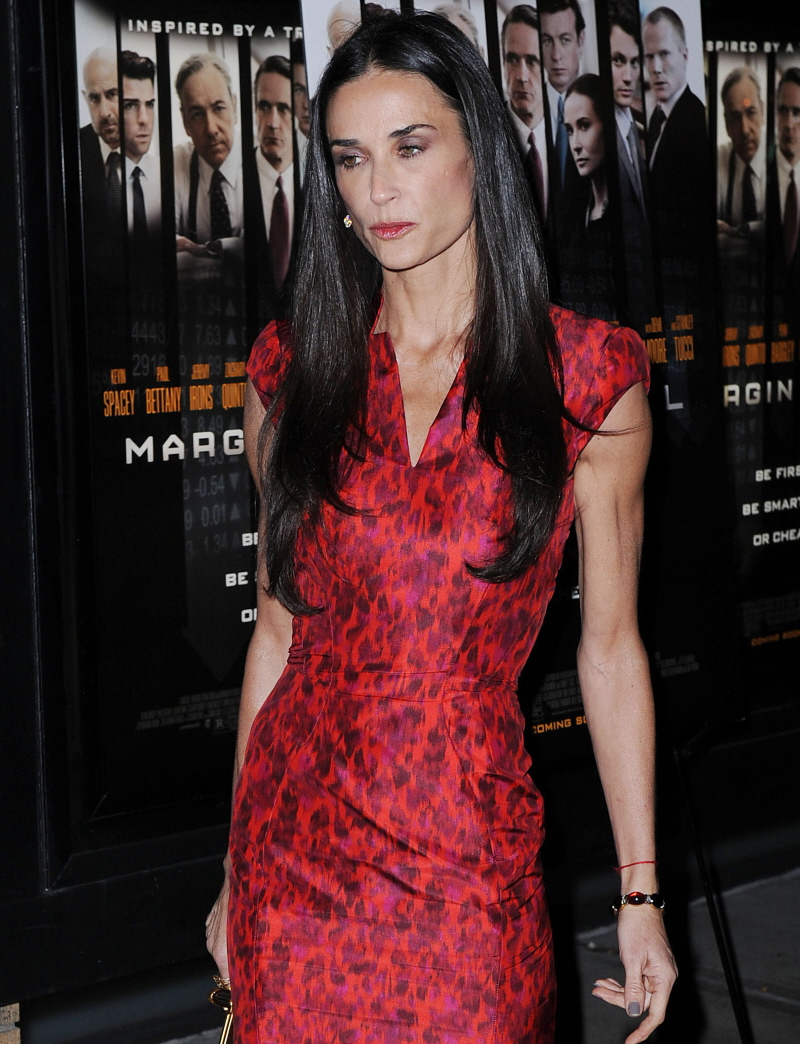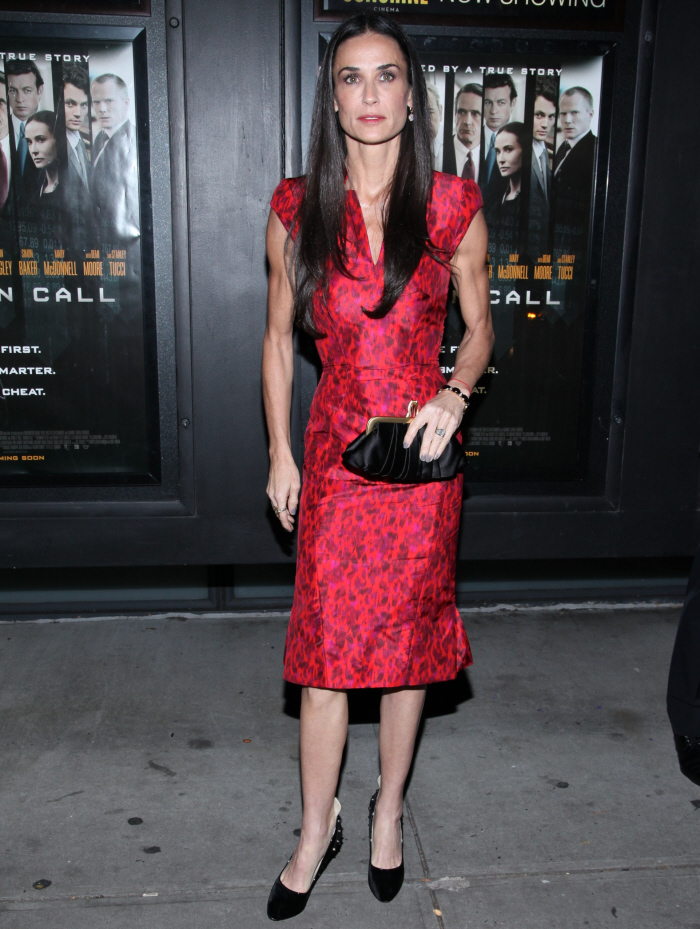 Photos courtesy of WENN, Fame.