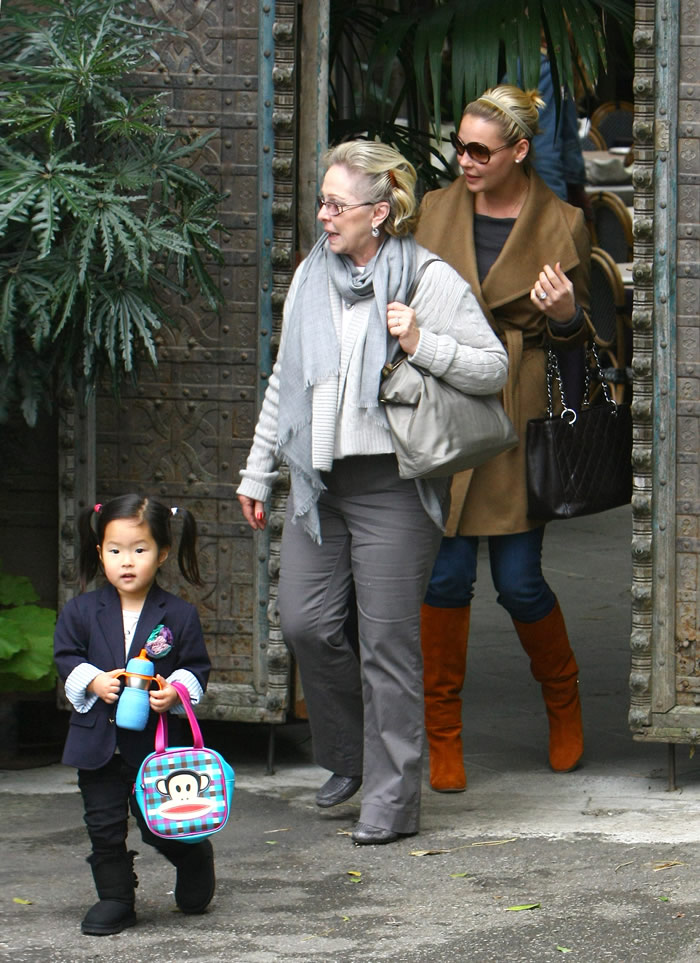 Katherine Heigl wisely took a bit of time off after she and husband Josh Kelley adopted their daughter, Naleigh. Of course, I'm not judging the timing of said time off other than to say that it was convenient for Katherine to become a first-time mother at a point when she was quickly reaching a saturation point in Hollywood romcom territory. She needed a break anyway, and her daughter certainly must have appreciated the extra bonding time with mommy. Then a few months ago, Heigl surfaced to promote New Year's Eve and commenced chipping away at her "ice queen" image with a couple of rather candid interviews and a Funny or Die video that poked fun at her image. Now Heigl is promoting One for the Money, and she seeks to humanize herself further with an iVillage guest blog about balancing life as a working mother. Why yes, she has a nanny, but she does make a valid point or two regardless:
I have always known I wanted to be a mother . . . I have also always known I wanted to be an actress . . . I could not have known when I was 10 years old holding other women's children and playing the greatest game of make-believe on earth that I would one day have to reconcile my two great loves. I didn't realize that having it all would not look and feel as I imagined. I knew, of course, as I prepared to welcome my daughter into my life that it would be a bit of a juggling act but I had no doubt that I could do it. After all, it's 2012 and women have been told that we can have it all if we want it. I went into it full throttle, ready to buckle down and make it all work seamlessly as I always imagined I could. The thing is I couldn't.

No matter how great my intentions, how lofty my goals, how passionate my commitment, I was failing. I was failing my work, I was failing my daughter, I was failing my husband. I was stressed out and exhausted. I was worried and afraid it was all slipping through my fingers no matter how tight my grip. I couldn't appreciate or enjoy the moments with Naleigh because I feared they weren't enough for her and knew they weren't enough for me. I couldn't enjoy the work because I was so distracted by the little being in my trailer waiting for me. I couldn't help but wonder what I had gotten myself into and if the choice I made to be a working mother was the most selfish decision of my life.

I spent months wondering if I would have to let my career go, if I could even let it go. Telling myself that Naleigh is and should be all that matters to me now, I started to scale back my work commitments and stay home more with my child. I was there every night to make her dinner, give her a bath, put on her jammies, read her a book and put her to bed. I was there every morning to get her up (though, let's be honest, I'm not much of a morning person so having a nanny and a husband happy to do mornings is a huge blessing!), make her breakfast, watch The Little Mermaid with her, go on play dates and so on and so on. I was there and I loved it but when the next job came around I jumped like a fish starving for water.

I asked myself what was wrong with me. How can I want to leave my child to go back to work? How can I miss all those important little moments with her to do nothing more significant then make a movie? I mean, at least if I were a renowned scientist working on solving world hunger I might have an excuse. The simple truth is that I love my daughter passionately and as most mothers do, think she is the smartest, funniest, prettiest child in the whole world — but she cannot fulfill everything in me.

After months of being a full-time mom, the prospect of going back to work thrilled me, brought my mind and creativity into sharp focus and made me feel that old familiar drive that has inspired me my whole life. I needed to put this gift I've been given to perform back to use. To do that, I had to come to terms with the fact that my definition of having it all had changed. Having it all meant that every time I take a job, my heart will break a little when I come home too late for bed time, when I miss something funny or clever or charming she has said, when I am not there to comfort her when she gets hurt. Having it all meant constantly beating myself up for compromising my mothering to be an artist and my art to be a mother and then finding a way to let the guilt go. I began to understand that the blessing and the curse were one in the same, that nothing great comes without a price.

Now when I take a job, I look my daughter in the eye, screw up my courage and try to explain to her that Mommy has to go to work. And when she looks back at me and says, "But why?," I tell her the truth: that work makes me a better person, a better woman, a better mother. Then I pray to God that she will understand one day and that my example will encourage her to find and follow her bliss as well … after I've paid for all the therapy, of course.
[From iVillage]
Katherine signs off with a nice little dose of humor, which makes her previous paragraphs seem less — how do you say — judgmental than they might otherwise be construed. After all, very few topics are quite as potentially inflammatory as a celebrity telling readers (many of whom are mothers) the best way to raise a child. Here, Heigl is saying what works best for her instead of getting all preachy in manner of Goop.
As a side note … can you imagine Goop writing this sort of essay? You know it would be a total nightmare and end with a requisite prescription for a $450 colon cleanse.
Getting back to Heigl's words, I completely understand what she's saying about feeling more complete while spending some of her time on a film set while cutting back the scale of her work. Obviously, the question of working outside the home is a personal choice for every mother to make on her own. Sometimes and in my own mind, I think we do the opposite of what we grew up with as children. Since I grew up as a latchkey kid, I was determined to not have my daughter go through that experience, so I now work from home. Financially, it can be a struggle at times, but it's worth it … for me. And Katherine has found what works best for her as a mother even if, as an actress, she's really not the "artist" that she seems to believe herself to be. At least, most of the movie and television work that she's accepted hasn't required any great stretching in that regard.
Still, I do love this photo of Katherine and Naleigh together. It should be on a greeting card.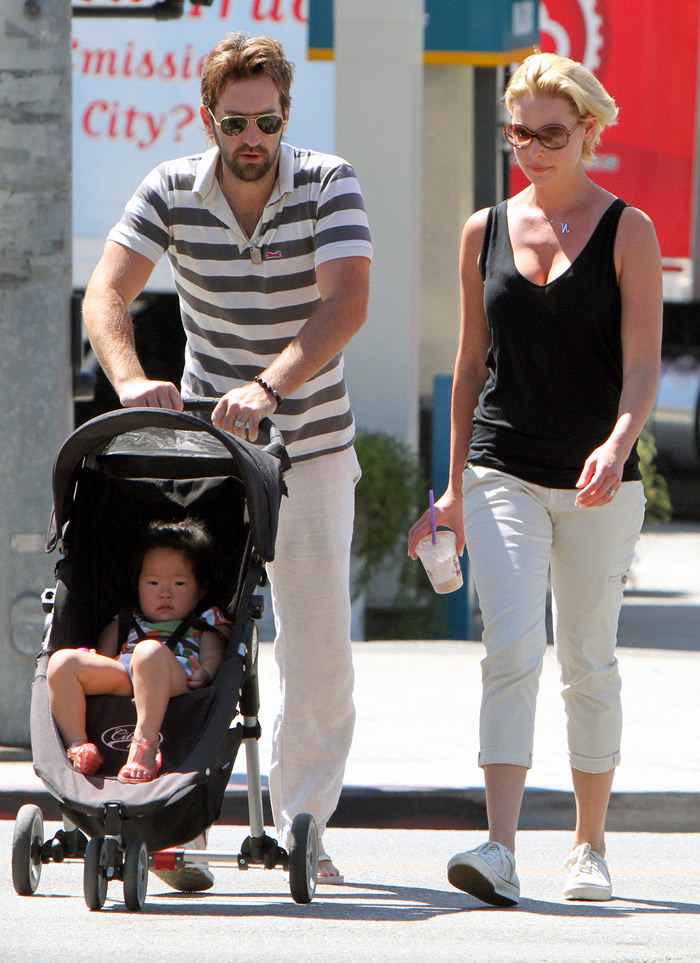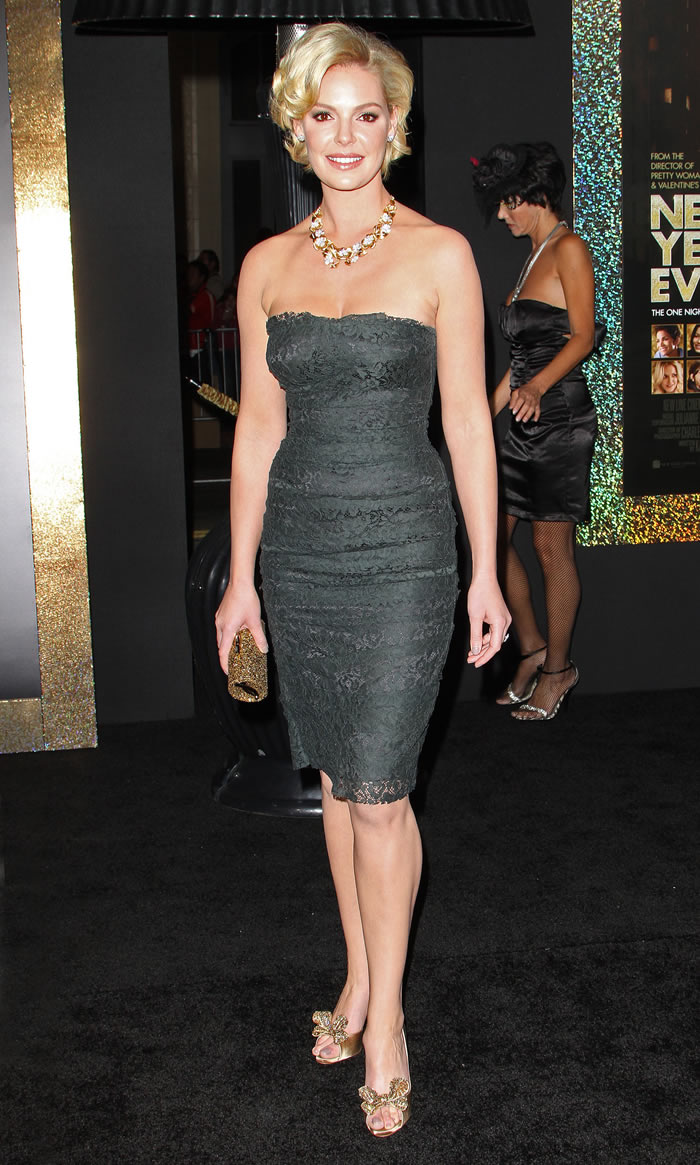 Photos courtesy of Fame