Ginnifer Goodwin and Jennifer Morrison: fashion-forward or just fug?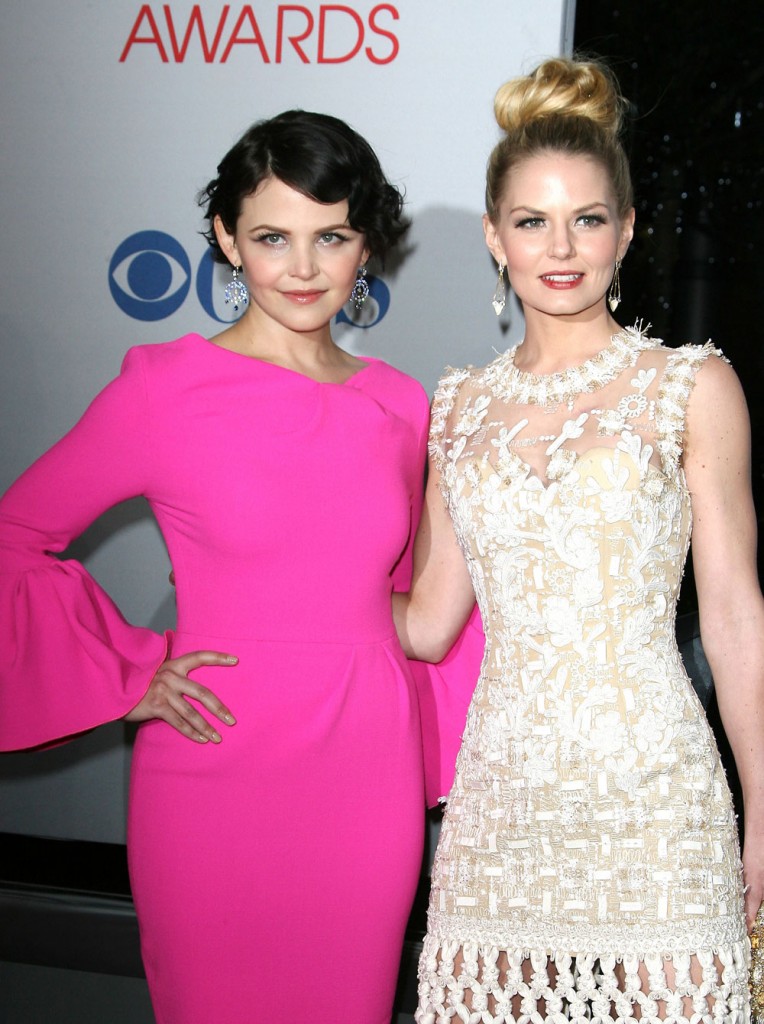 I love "Once Upon a Time" but I didn't get to see last week's episode yet so no spoilers! It's so nice to see Ginnifer Goodwin and Jennifer Morrison seeming as chummy off-screen as they are on the show, although I hate to see them look like this. They were separate fashion misses in bizarre dresses that did nothing for them.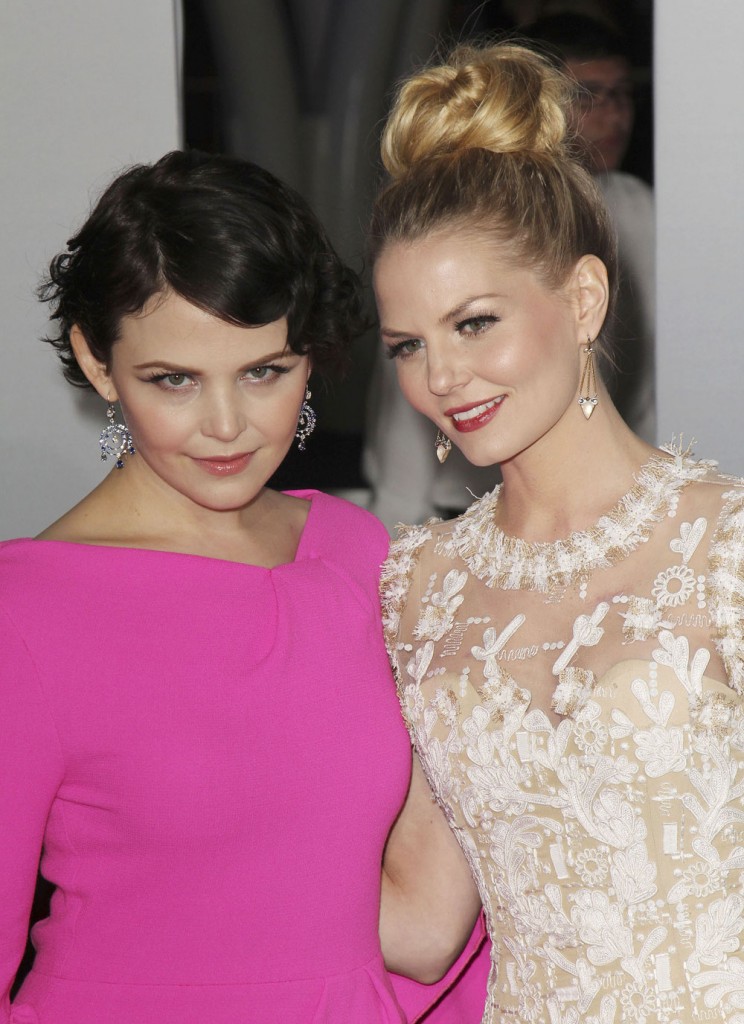 Goodwin was modern but fug in a fushia Roksanda Ilinicic dress that flared at the wrists. If you took the sleeves off this would just be a plain dress more suited for Sunday brunch than an awards show. I like her hair in those soft retro waves and her makeup is gorgeous. Those are some striking earrings she's wearing. The shoes are just as bizarre as the dress, though, and look like they should at least have open toes. Not that they would make any sense with that outfit either way.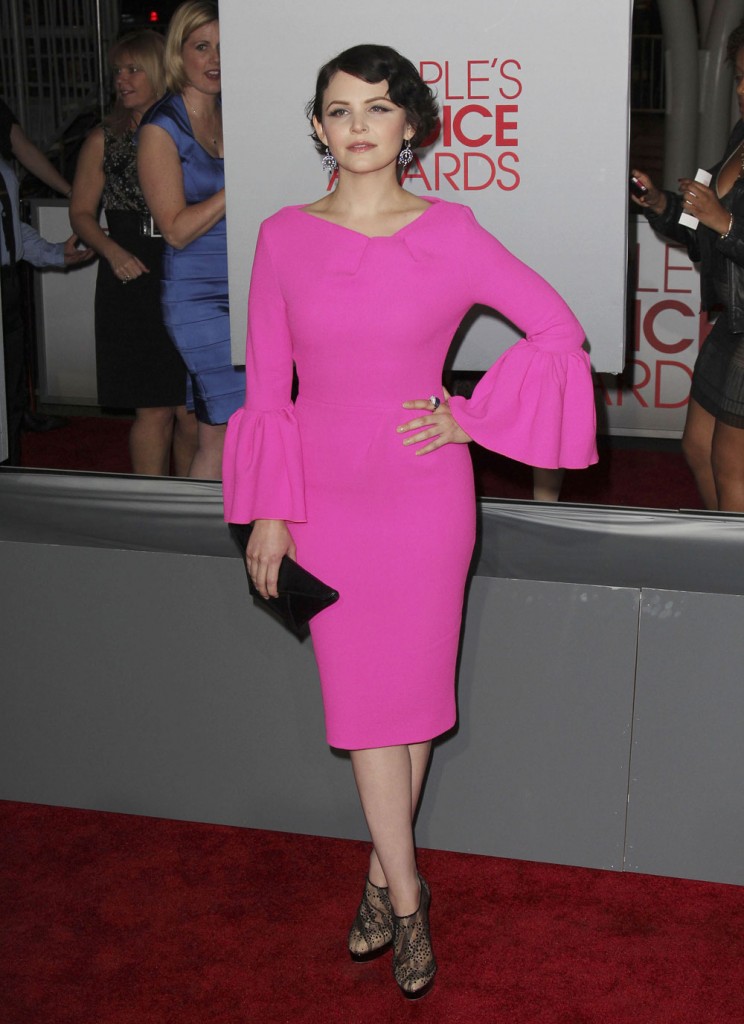 Morrison was old fashioned fug in white Oscar De La Renta with actual macrame-looking fringe at the hemline. This dress would have worked in another color and without the yarn hanging from the bottom like a dangling curtain tie. It's so close to being amazing, but the fringe ruins it. Her makeup is really pretty and spot on, but that hair! The top knot is just too high, too full and too formal. I like both of these actresses and it's a shame they didn't bring it last night.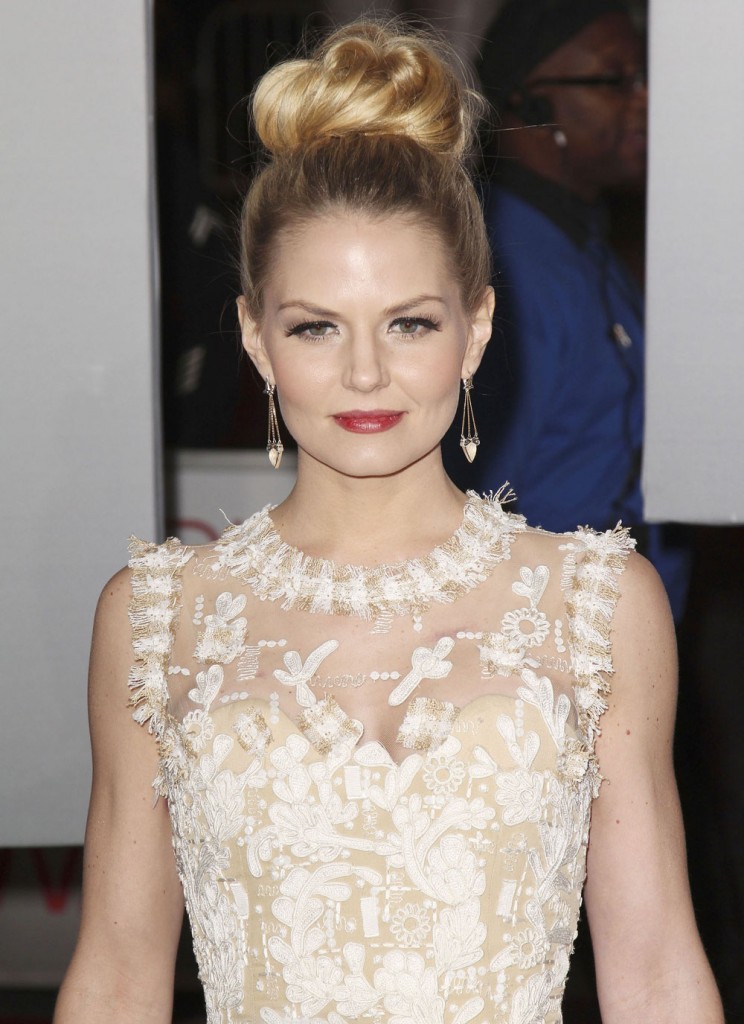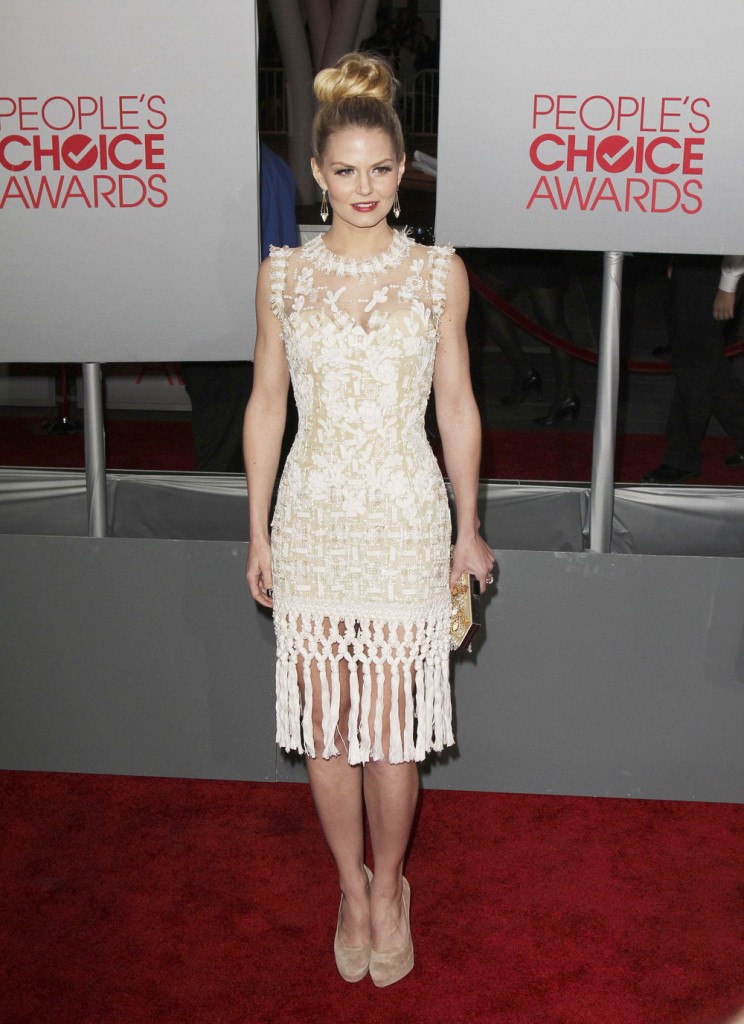 As a palette cleanser, here's the always pretty Nina Dobrev of "Vampire Diaries" in bright green Elie Saab. I love everything about this dress except for the color. The fit and styling really flatter her, and I like that she went with subtle nude shoes and a nude clutch. I think her hair is pretty straight-ironed like that too. (Kaiser isn't a fan of the straight iron, but I do it with mine a lot.) Dobrev won "Favorite TV Drama Actress" last night!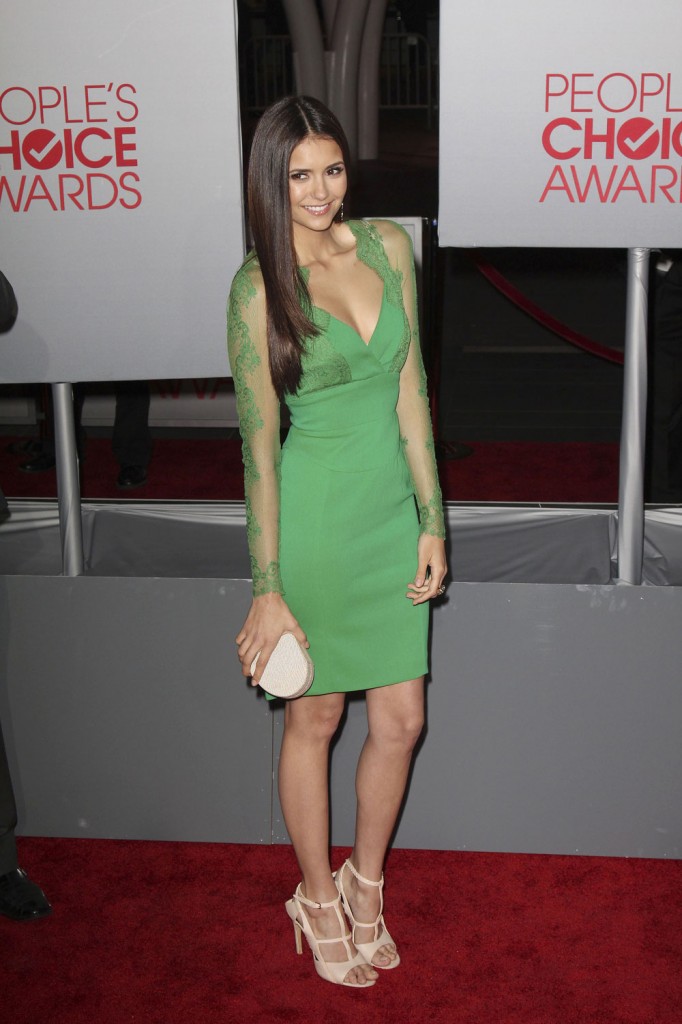 Carrie Preston of "True Blood" just phoned it in with this very short lace dress. She's looking overly Botoxed to me too. I love her on TB, but she looks too much like her character here.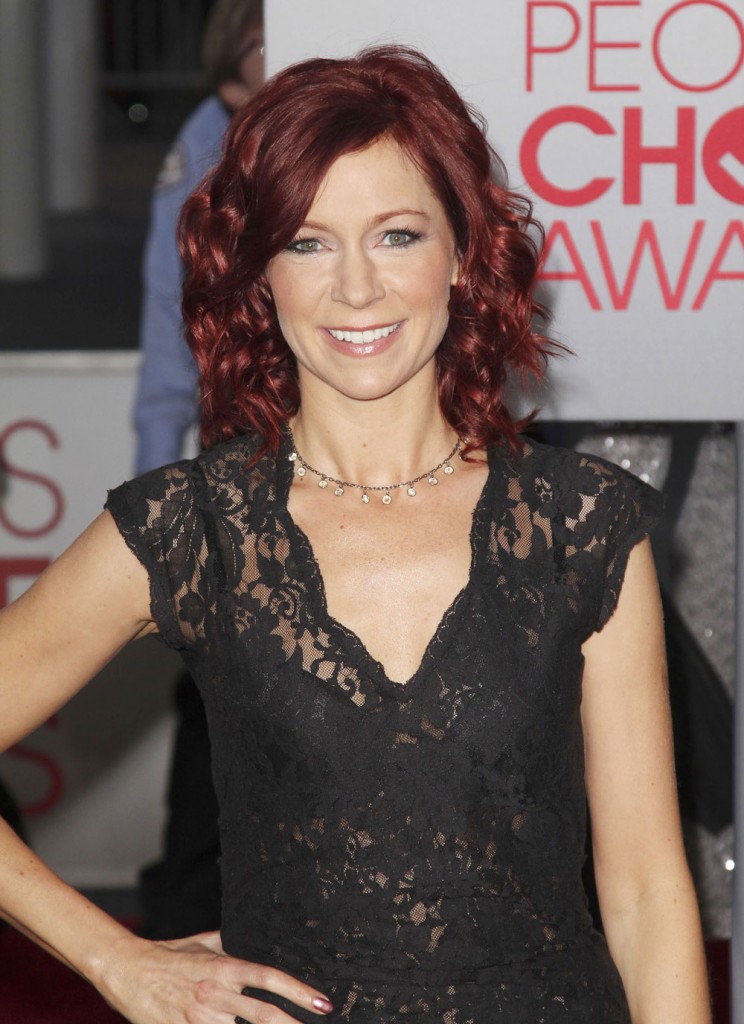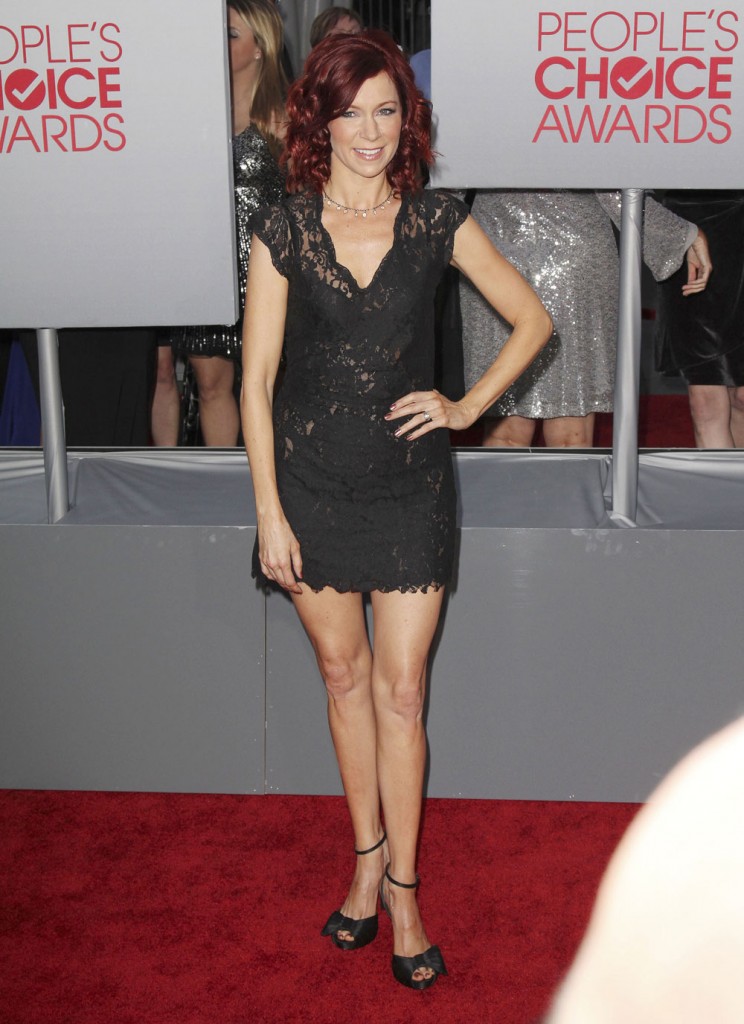 And Cheryl Burke wore the same Chagoury Couture dress that Anne Heche wore to a recent charity event. I think Cheryl wears it better actually. This dress is not my style and the pattern looks very 90s to me, but Cheryl is gorgeous here with that sideswept hair, the thigh high slit, and the cage-like bracelet. She may be a little overdone but she's working it.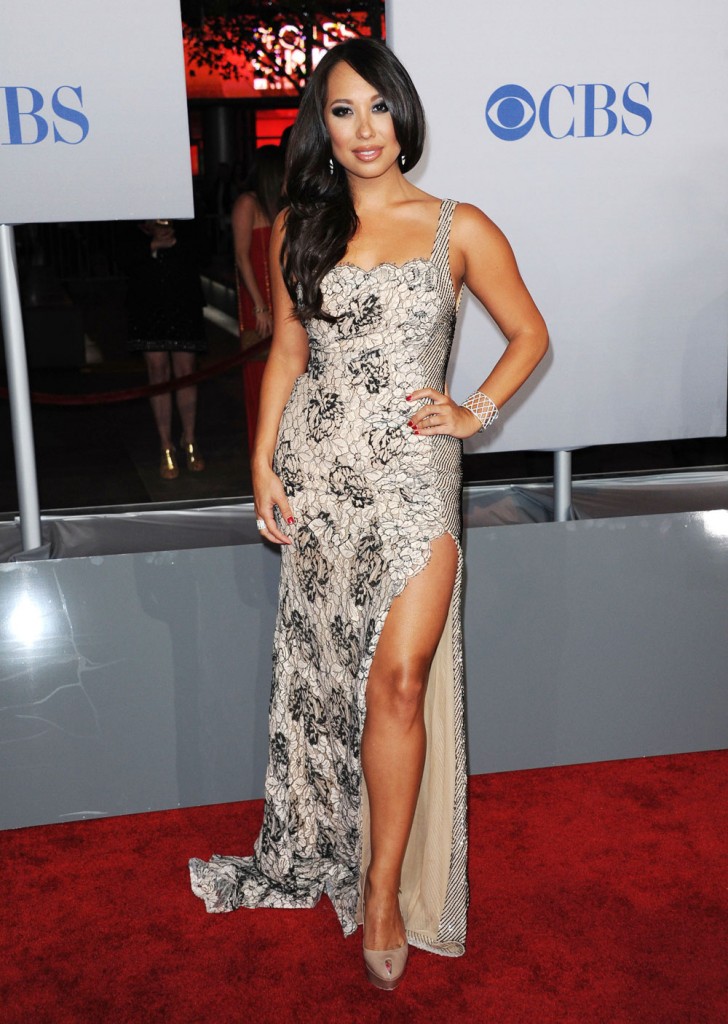 Photo credit: Juan Rico/Fame Pictures, Adriana M. Barraza / WENN.com
Written by Celebitchy

Posted in Carrie Preston, Cheryl Burke, Fashion, Ginnifer Goodwin, Jennifer Morrison, Nina Dobrev, Photos

- Friends reunion on Ellen [Popsugar]
- Lindsey Vonn watches Tigers kids [Lainey Gossip]
- George Michael fell out of a car going 70mph [D-Listed]
- Real Housewives of Orange County recap [Reality Tea]
- New Man of Steel trailer [Pajiba]
- Jared Padalecki's hot bod [Buzzfeed]
- Doctors confirm Taylor Swift's new boobs [Evil Beet]
- Catherine Zeta-Jones finished treatment [CDAN]
- Anna Paquin hates the paps [Celebslam]
- Lance Armstrong is gross [The Blemish]
- What is Barbara Palvin wearing? [Moe Jackson]
- This is Petra Nemcova? [SVC]
26 Responses to "Ginnifer Goodwin and Jennifer Morrison: fashion-forward or just fug?"