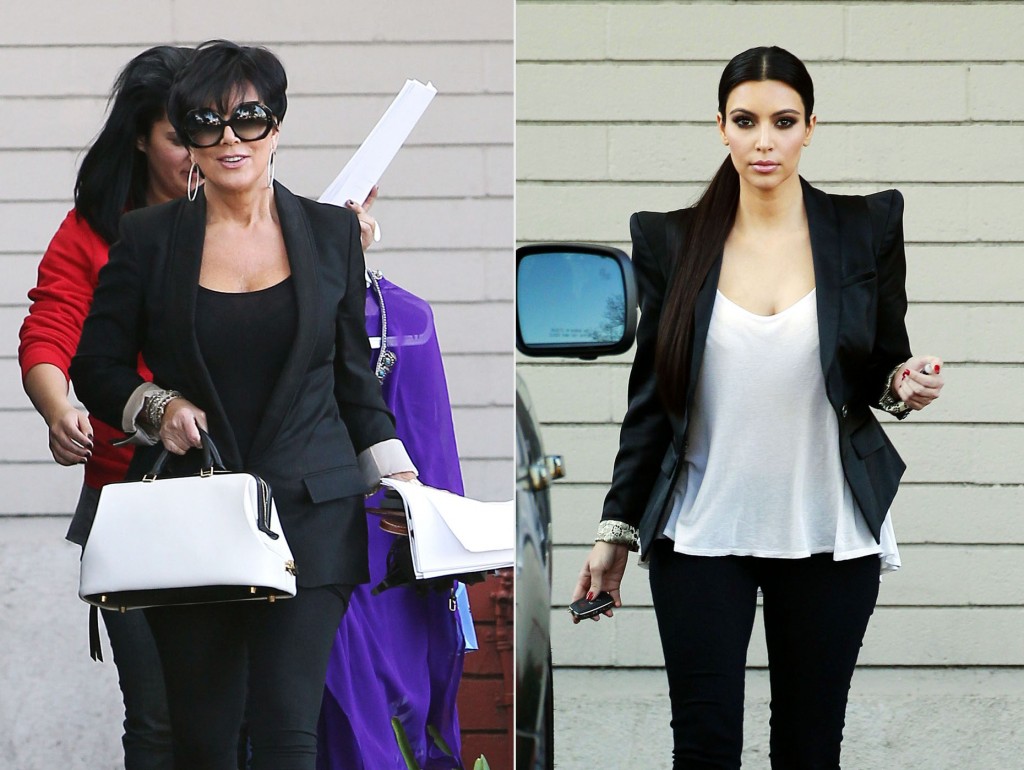 On "Kourtney and Kim take New York" they claim the segment below, in which Kim complains about Kris Humphries, was filmed in Dubai in mid October before Kim filed for divorce. The photos above, from the photo agency Pacific Coast News, show Kim and Kris exiting a television studio carrying and wearing those exact same outfits on December 6.
I feel like this story may have gotten lost and eclipsed by Golden Globe coverage and I wanted to give it some play. Kim Kardashian and her mother, Kris, were very clearly busted filming a segment for "Kourtney and Kim Take New York" in which they claimed to be in Dubai but were stateside in LA. It's common knowledge that these people fake scenes and entire plotlines for their show, so that may sound like it's not a big deal. The faked scene was filmed in December, though, as evidenced by the photos above showing Kim and Kris leaving a TV studio wearing and carrying the outfits they were filmed in. They claim that the scene took place in a car Dubai in October, before Kim filed for divorce from Kris Humphries after a whopping 72 days.
In the segment, Kim goes on to her mom about how she has a bad feeling about her marriage and how it's not working out. She says she doesn't want to return home from "Dubai," to her new man and that "there's something in my relationship that I feel like it's right." Then they very obviously use a voice over in which Kim's nasty nasally voice is softened. She insinuates that there's something going on behind the scenes that she's not telling us about Kris H. She says in the voice over "I'm just like learning a lot of things about him that I didn't really know before and I don't know married life isn't just what I thought it would be with him." Kris counsels her that it's not normal not to want to go home to your husband. Kim was in Dubai in mid October. She filed for divorce from Kris H. on October 31st. By December the Kardashians were really feeling the PR fallout from Kim's divorce, so they filmed this crap to make it seem like Kim thought about it for more than two seconds before she filed. Here's more, from Reality Tea:
The photos you're seeing above of Kim and pimpmomager Kris Jenner were taken on December 6, 2011. The photo agency which snapped the pics stated Kim and Kris were leaving a studio in Los Angeles.

Does Kim outfit look familiar? It should because Kim is sporting the same exact outfit, same hairstyle and same makeup as she did in a scene that aired on KKTNY last Sunday which according to E! was filmed in Dubai… in October… weeks before Kim pulled the plug on her marriage.

In the scene, Kim tries to garner sympathy [and] appear remorseful as she tells her mom she is having marital issues with hubby Kris. There's only one problem folks: Kim filed for divorce on October 31 and it appears that "Dubai" scene was actually taped in Los Angeles on Dec. 6. Still having doubts? Well, feel free to check out the outfit Kris' assistant is carrying behind her. Ding ding ding! It's the SAME "Dubai" outfit plus Kris is still wearing the same earrings.

Wowzers. So this proves the Kardashians' shows are as phony as the Kardashians. Furthermore, Kim and Kris actually filmed this scene last month to not only try to fool their audience, but to also try to make Kim a victim. Unfortunately for Kris Humphries, he didn't get a chance to go back and film phony scenes to help his image.
[From Reality Tea, original story credit: Kardashapointed]
Meanwhile Radar is reporting that Kim dictated to Kris Humphries exactly how to propose to her so that it could be captured for his show. She had it down to the lighting in the room for filming purposes. Kris made some suggestions "because he wanted it to be very intimate and romantic, but all of his ideas were shot down by production officials and Kim." I'm not team anyone because I think Kris is an idiot too, he would have to be to get with Kim and marry her. On some level he's probably hugely relieved to no longer have to deal with her family and that reality show.
There are actual fans of the Kardashians who believe the timelines and scenarios they present on their shows. I'm sure the fans are few and far between as of late, but there are real people who are going to be disappointed with this news. The rest of us will just gloat and wait.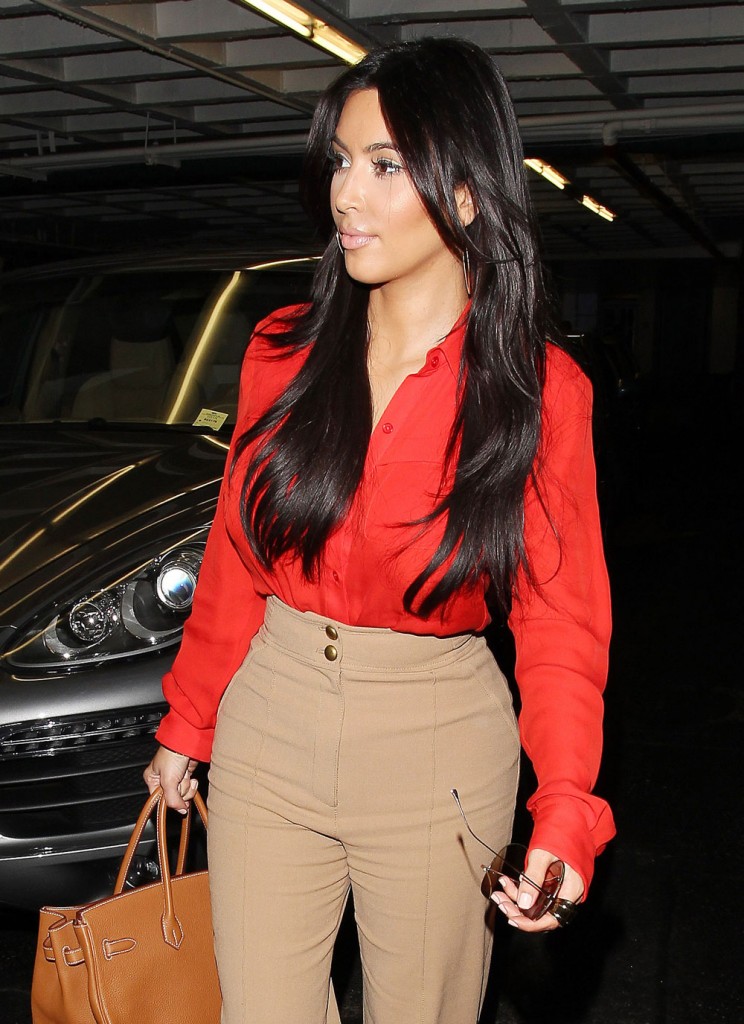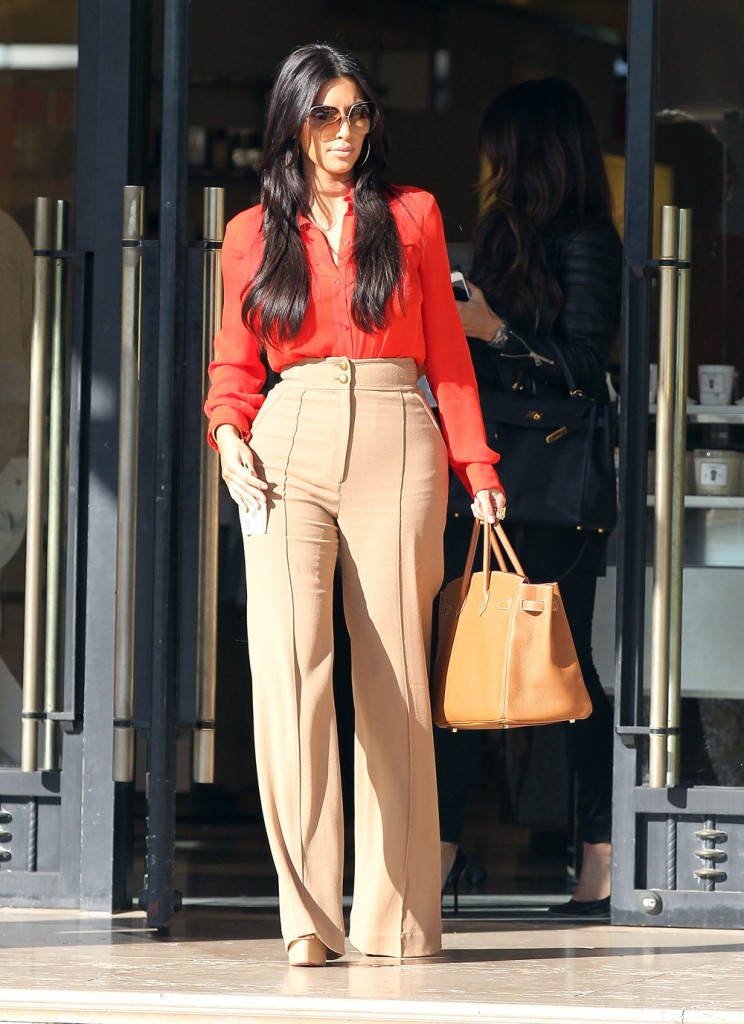 Here's Kim wearing some super high waisted jeans and looking very orange on 1-12-12. She's outside Barney's here. Credit: Revolutionpix/FameFlynet Pictures