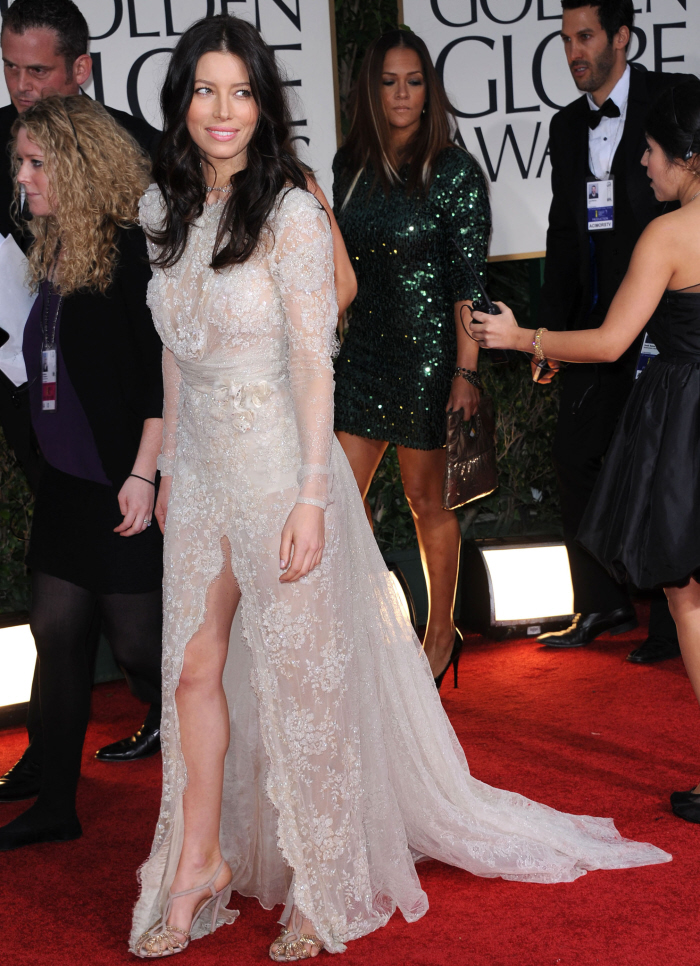 These are literally the dregs of the Golden Globes fashion girls. Conveniently enough, these four women are my nominees for "worst dressed" at last night's Golden Globes. In one case, it's not even that the woman looked like total hell, it was just the harsh dichotomy between what was happening in her own delusional mind and the reality that she was and is not even 1% as important as she thinks she is. Scratch that – I just described all of them. SPOILER.
First up: Jessica Biel in a bridal doily by Elie Saab. I cannot even begin to describe my disgust at this look. First of all, it's a wedding dress. Second of all, it's a HIDEOUS wedding dress. Third of all, NO Jessica Biel, I don't want to see your biscuits. Fourth of all, it doesn't fit. Fifth of all, it's just awful. WTF was she thinking?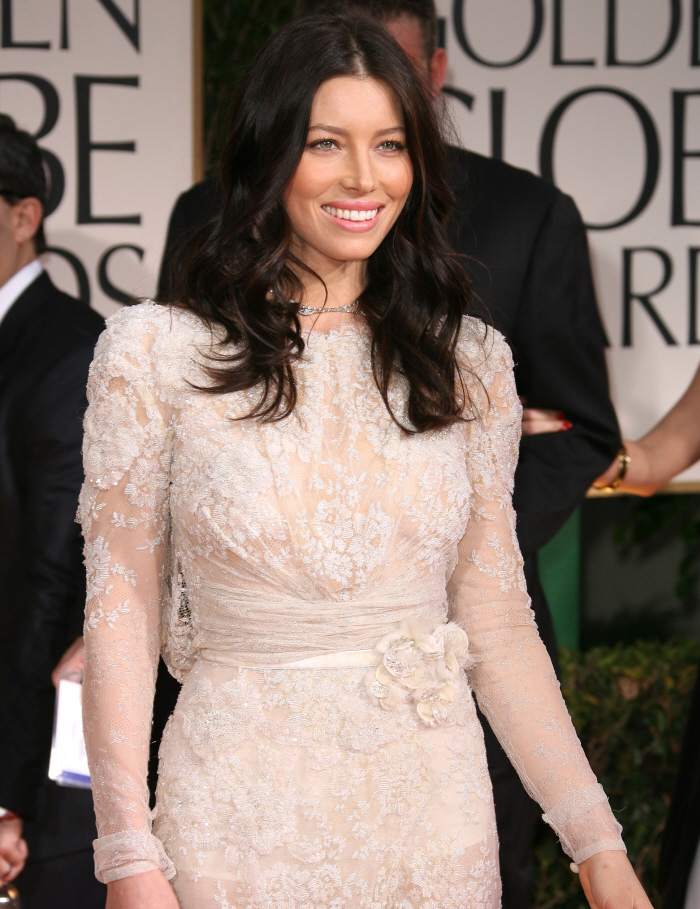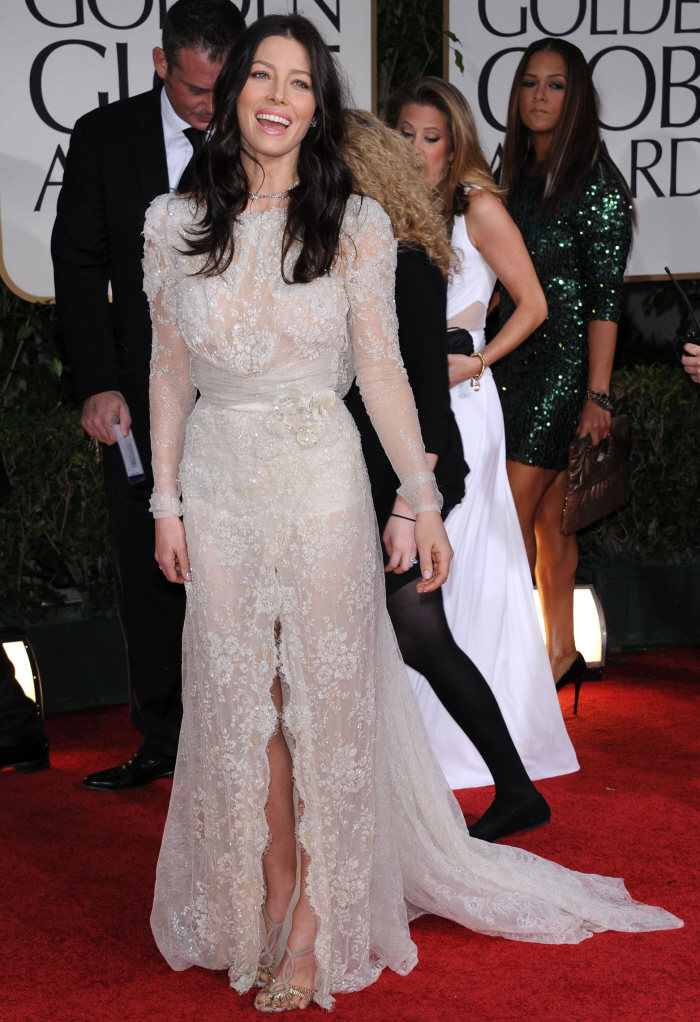 Next up: Piper Perabo in Theory. A different girl might have made this work. But Piper is a bad actress on a crappy "girly CIA" show, and she just showed up to the Golden Globes in a gigantic ball gown. She's like this year's Olivia Wilde, only Olivia Wilde actually had some heat and some buzz around her when she came to the Globes in a ball gown. Piper has no heat. She just overdressed in a ball gown like an a–hole. Plus, it was a really ugly ball gown with a sheer panel down the middle of her chest. Awful.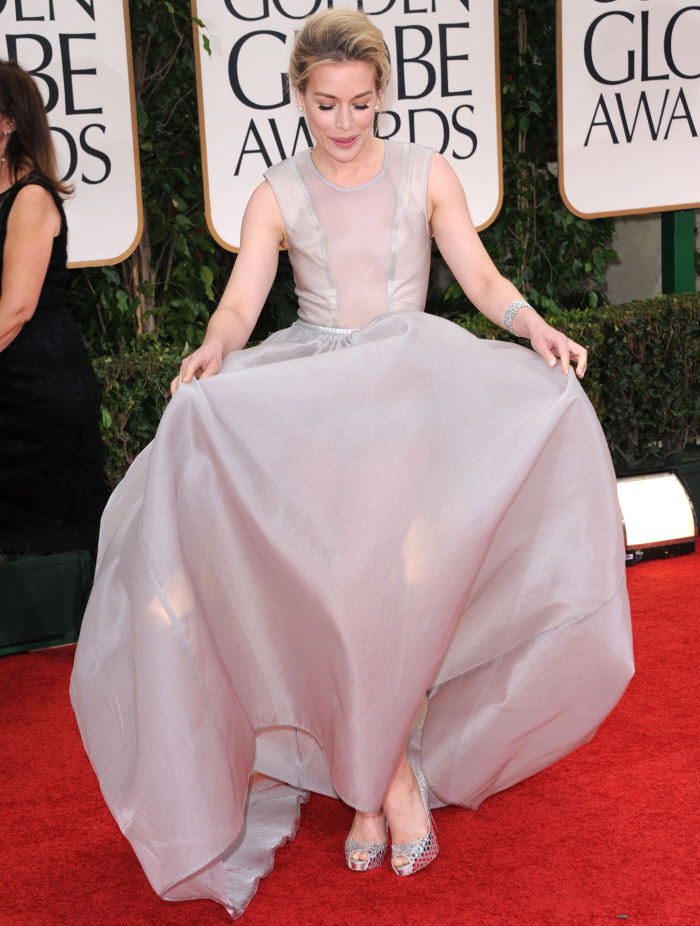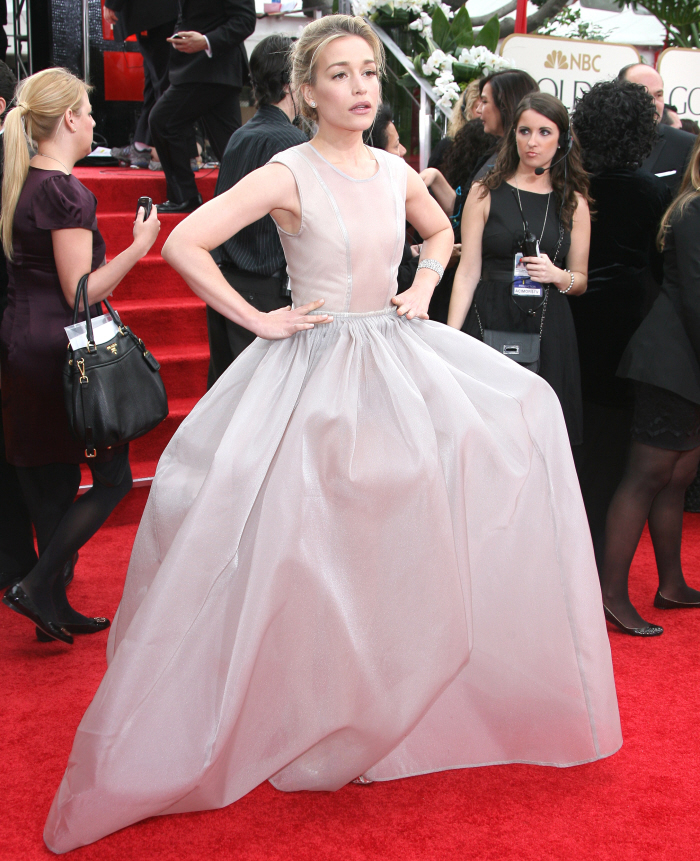 Now, Paula Patton. We've given Paula some leniency in the past, mostly because she is a beautiful woman. But dear God, she was SO annoying on the red carpet. And she just wouldn't leave either! And for why? Were we supposed to be impressed with her Big Bird dress? Awful.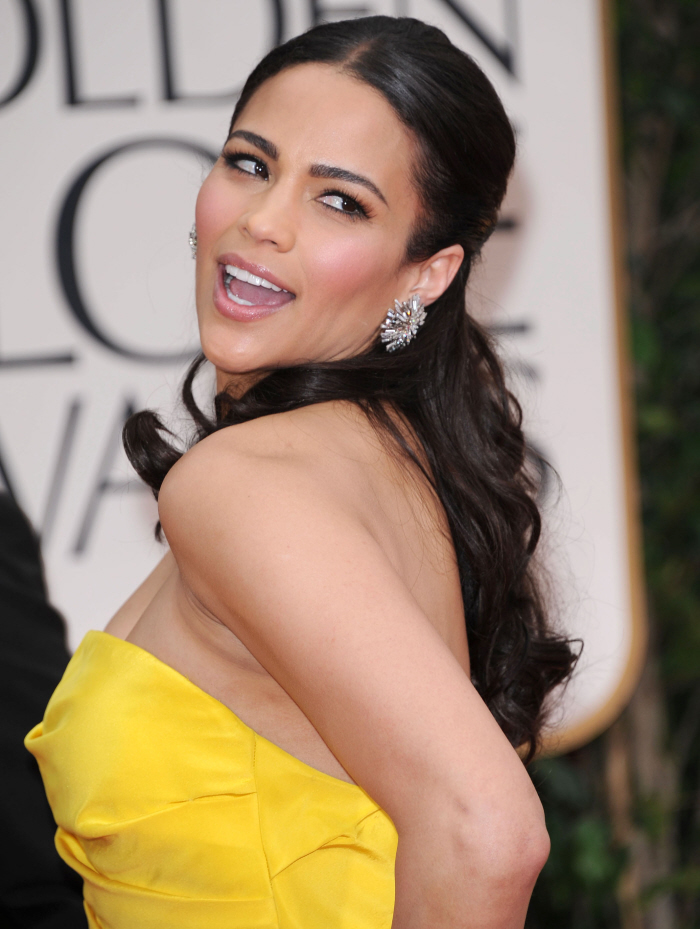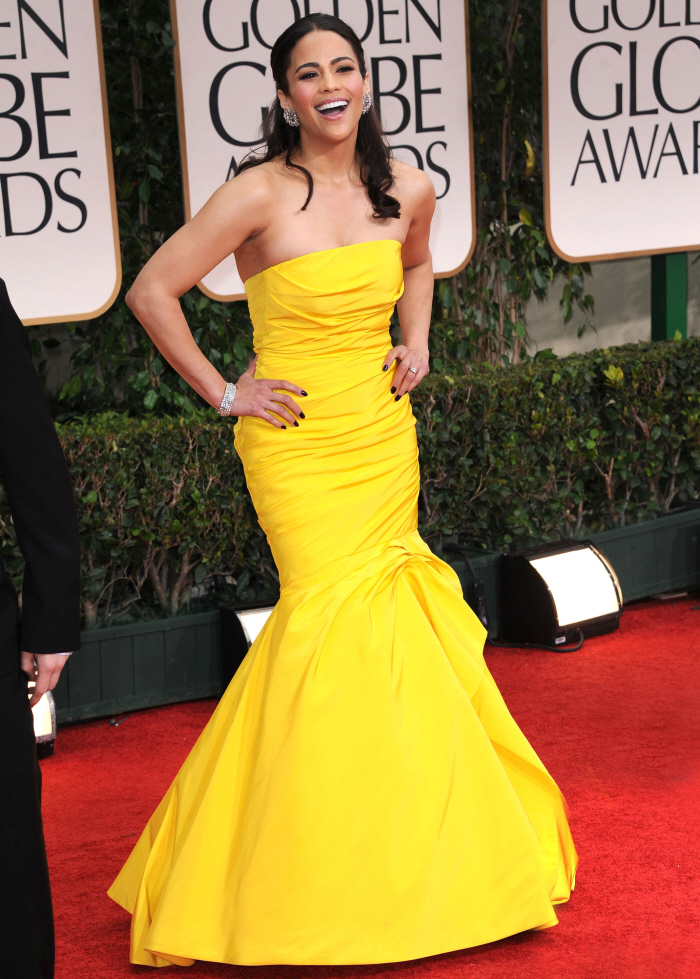 And last but not least, Elle Macpherson. It's not even that she looked bad. It's just that she sauntered around the carpet, tossing her extensions and doing model-poses like she owned the place. Bitch, you're the budget Heidi Klum on the budget Project Runway. Ease up.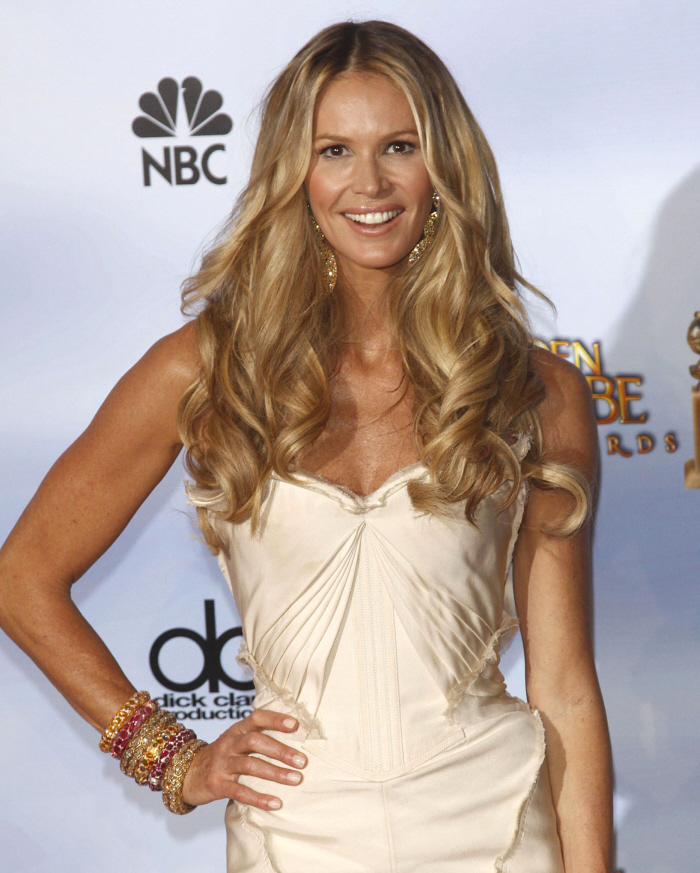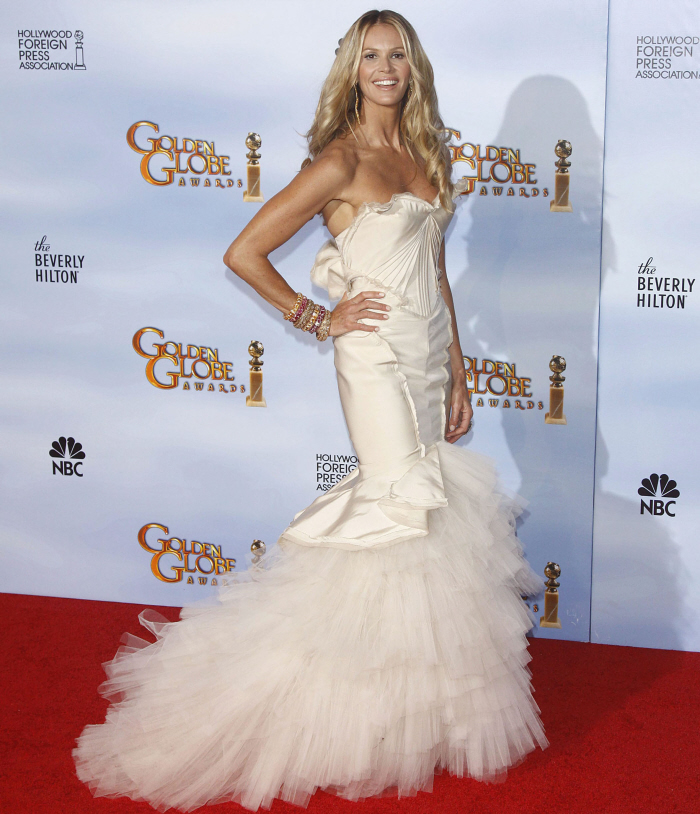 UPDATE: CB wanted me to add Amanda Peet, who was one of her worst-dressed picks of the night. This seriously looks like a shower-curtain dress. It's Marc Jacobs.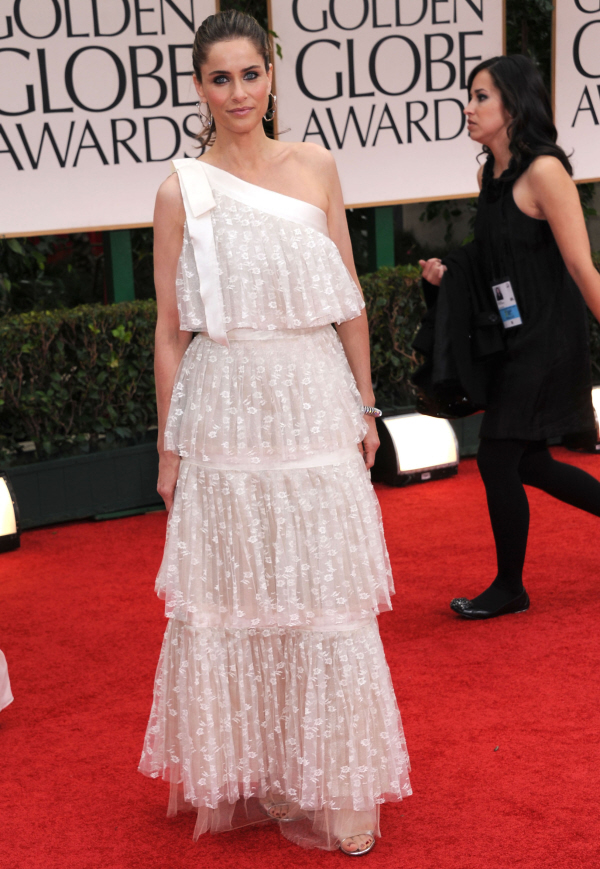 Photos courtesy of WENN.