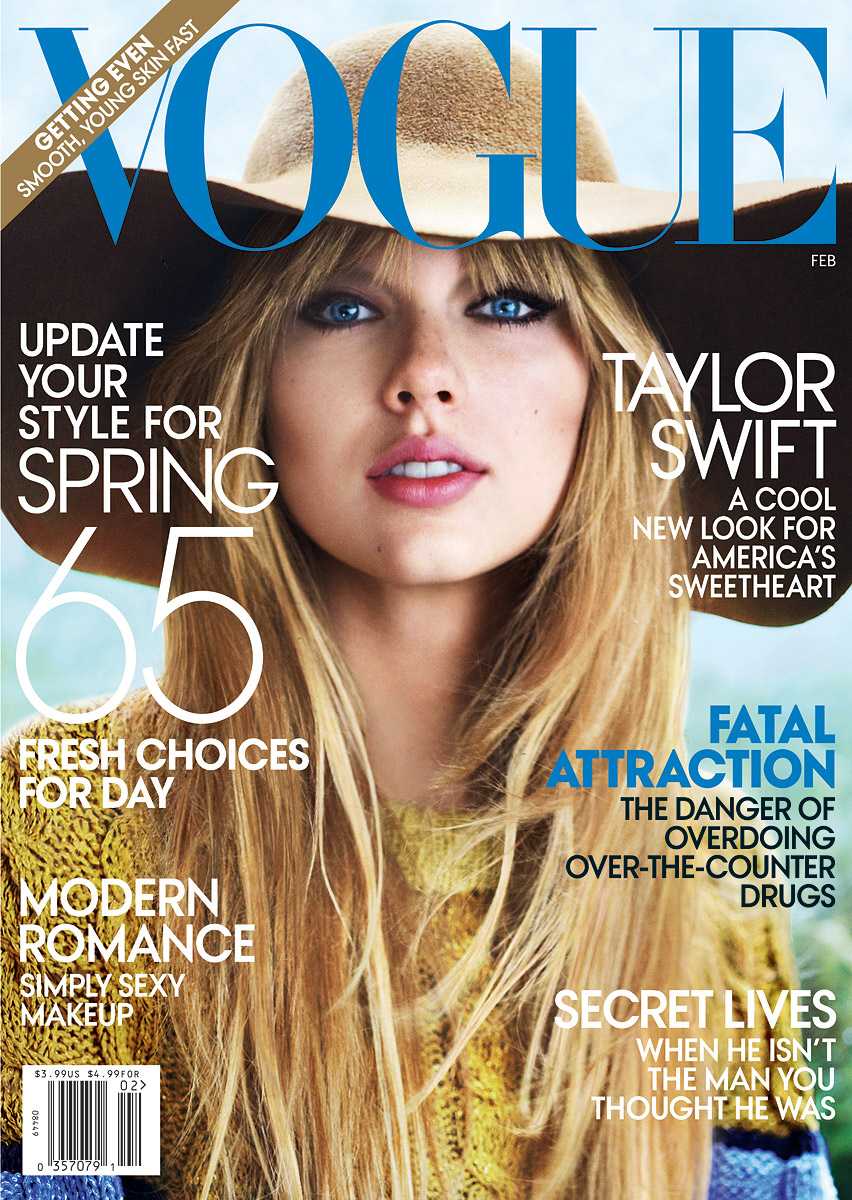 Taylor Swift covers the February issue of Vogue, after many, many rumors that Adele would take the cover. Weird, right? Maybe Anna Wintour is putting Adele on the cover of the March issue (the power issue) or the April issue (the body issue, I believe). As for Swifty's editorial… it's cute. I like the 1970s-rocker-chick vibe, and it suits Swifty with her long hair and willowy body. She's reminiscent of Carly Simon here, if that's not too offensive of a comparison. As for the interview… do you mind if I don't read the whole thing? On a good day, I like Swifty but find her supremely boring. I'm just going to skim and try to pull a few highlights:
Swifty is awkward: Clearly, her school days remain all-too-vivid. Swift, who grew up on a Christmas-tree farm in rural Pennsylvania, tells me that when she was in fourth grade her family moved to Wyomis­sing, an affluent suburb of Reading. "So . . . middle school? Awkward," she says, launching into the first of many comic riffs. "Having a hobby that's different from everyone else's? Awkward. Singing the national anthem on weekends instead of going to sleepovers? More awkward. Braces? Awkward. Gain a lot of weight before you hit the growth spurt? Awkward. Frizzy hair, don't embrace the curls yet? Awkward. Try to straighten it? Awkward!" She starts to laugh. "So many phases!"

She's always felt like an outsider: As hard as it is to imagine now, Swift always felt like an outsider. "I think who you are in school really sticks with you," she says. "I don't ever feel like the cool kid at the party, ever. It's like, Smile and be nice to everybody, because you were not invited to be here."

She's not going to end up crackie: "Ever since I was sixteen, the question that I get in every single interview is 'So, all the pop stars right now who are stumbling out of clubs and going crazy—are you going to do that?' When I was younger, I had to be more insistent with people because they would say, 'Yeah, they all say that when they're sixteen, honey. Just wait till you're nineteen or 20. That's when it all goes off the tracks!' But you know, as time has gone by, I've gotten that question less and less. I think, for me, the bigger pitfall is losing your self-awareness. Even though I am at a place where my dresses are really pretty and the red carpets have a lot of bright lights and I get to play to thousands of people . . . you have to take that with a grain of salt. The stakes are really high if you mess up, if you slack off and don't make a good record, if you make mistakes based on the idea that you are larger than life and you can just coast." She pauses. "If you start thinking you've got it down, that's when you run into trouble—either by getting complacent or becoming mouthy." She laughs. "And nobody likes that."

Swift's homes: Swift splits her rare days off between her condo in Nashville ("very Alice in Wonderland imaginarium") and a little cottage she recently bought in Beverly Hills ("cozy, Anthropologie, grandma chic"). She's been spending time in L.A. because she's quietly looking for the right role in the right movie.

On working out: "I don't ever want to be that person whose self-image overtakes who they are. I am not a fan of working out that much. There's no regimen. There's no personal trainer. I love to go hiking because it's an experience. If I need to gain stamina for a tour, I will run every single night on the treadmill, but I don't necessarily like being at the gym."

Swifty on Jake Gyllenhaal and boys in general: She seems to bring both worldviews to her romantic life. As she puts it, "I think I am smart unless I am really, really in love, and then I am ridiculously stupid." Swift has famously dated some famous boys—Joe Jonas, Taylor Lautner, John Mayer, Jake Gyllenhaal. When she was eighteen, Jonas notoriously broke up with her over the phone—in a call that lasted 27 seconds—an experience that fueled her songwriting. She wrote a damning song about Mayer called "Dear John." She dated Gyllenhaal through the fall of 2010 (he broke up with her around the Christmas holidays). When I ask her if she is seeing anyone, she says, "I got nothing going on! I just don't really feel like dating. I really have this great life right now, and I'm not sad and I'm not crying this Christmas, so I am really stoked about that." Were you crying last Christmas? "I am not gonna go into it! It's a sad story!"
The stuff about boys is very interesting, isn't it? Oh, but there's more! Swifty lists the "red flags" she has about dating now, and some of them are super-interesting.
1. "If someone doesn't seem to want to get to know me as a person but instead seems to have kind of bought into the whole idea of me and he approves of my Wikipedia page? And falls in love based on zero hours spent with me? That's maybe something to be aware of. That will fade fast. You can't be in love with a Google search."

2. "If a dude is threatened by the fact that I need security, if they make me feel like I am some sort of princessy diva—that's a bad sign. I don't have security to make myself look cool, or like I have an entourage. I have security because there's a file of stalkers who want to take me home and chain me to a pipe in their basement."

3. "If you need to put me down a lot in order to level the playing field or something? If you are threatened by some part of what I do and want to cut me down to size in order to make it even? That won't work either."

4. "Also, I can't deal with someone who's obsessed with privacy. People kind of care if there are two famous people dating. But no one cares that much. If you care about privacy to the point where we need to dig a tunnel under this restaurant so that we can leave? I can't do that."
[From Vogue]
#4 is obviously Jake Gyllenhaal, correct? It was rumored that he didn't like how public his cuddlefesting relationship was with Swifty. I think #3 is John Mayer – he seems like that kind of dude. #1 must be some non-famous person, I guess.
All in all, I ended up reading more than I intended too! That's Swifty for you – she sucks you in. Like a death trap baited with vanilla.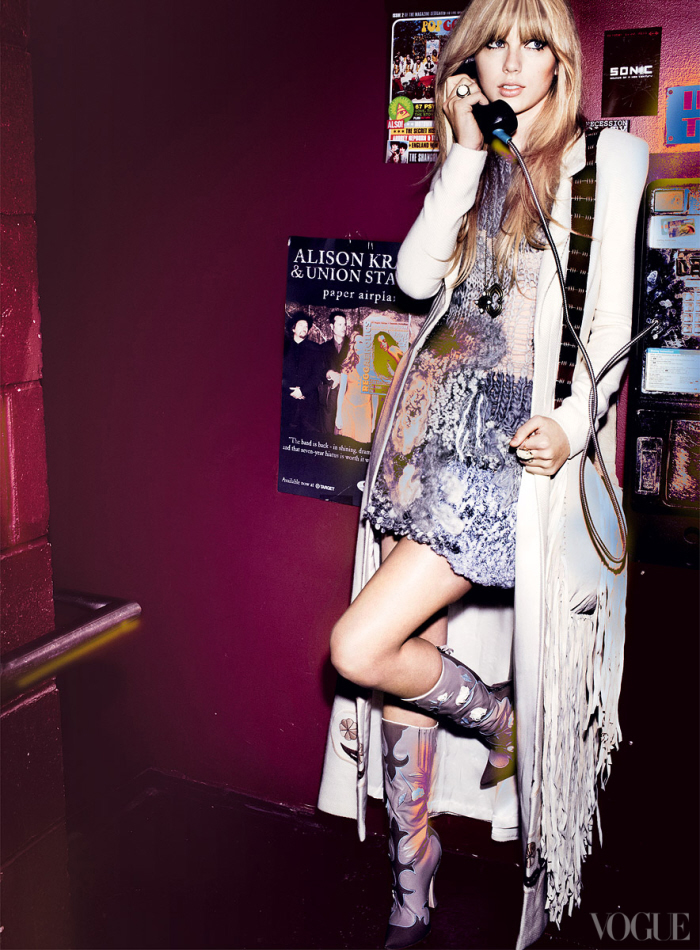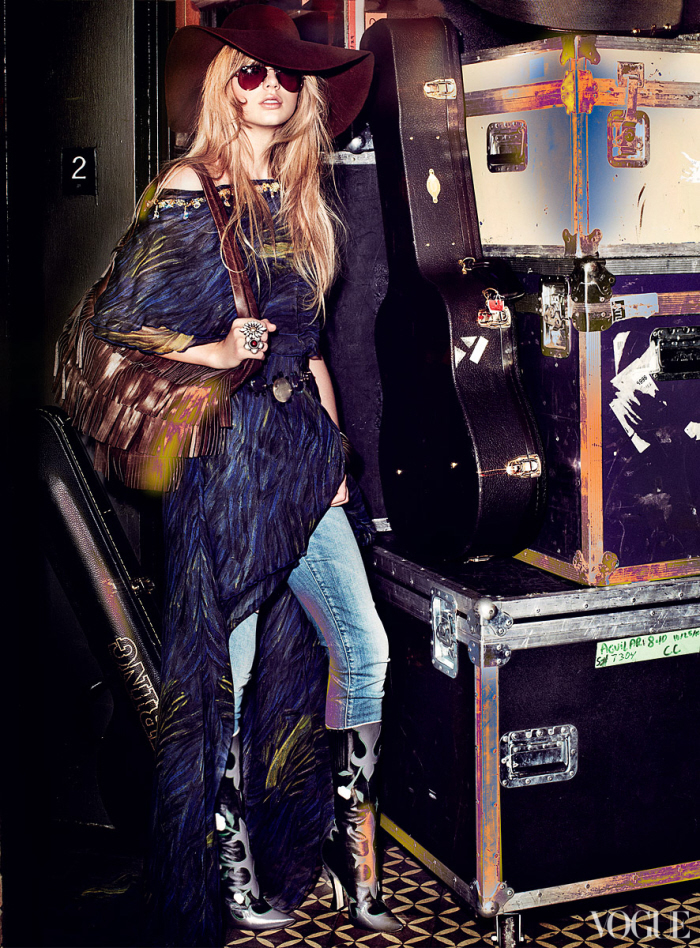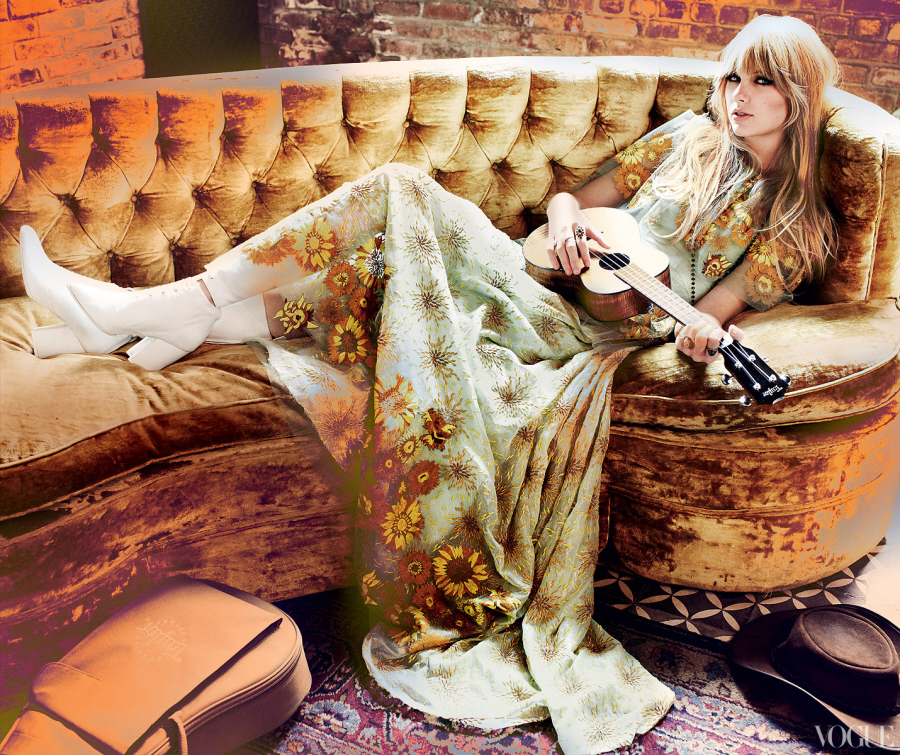 Photos courtesy of Mario Testino/Vogue.