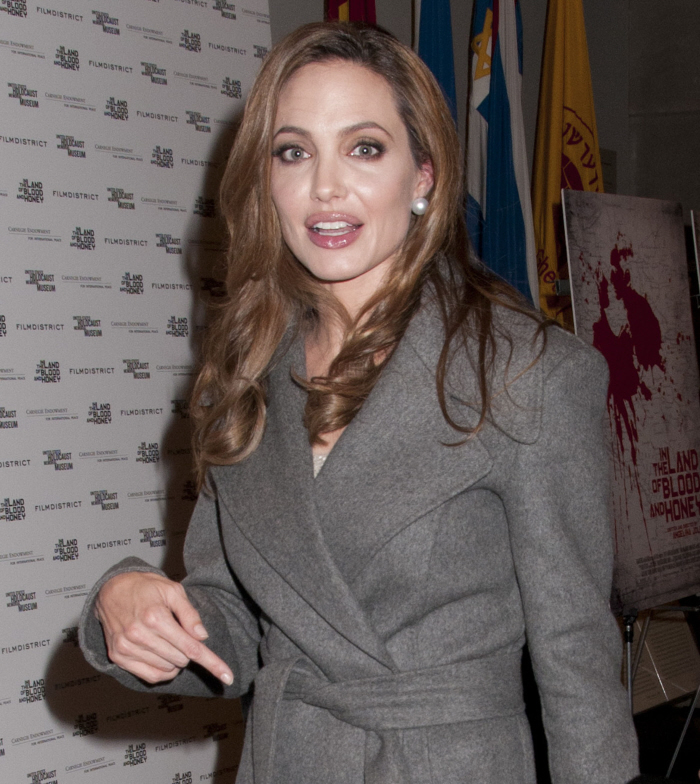 Blah. If this feels familiar, it's because we hear this story twenty-million times a year. So why I am I writing about it? Because it's a slow gossip day, and because I honestly thought Angelina looked knocked up in Palm Springs two weekends ago. OK! Magazine reports this week that Angelina is definitely and totally knocked up, and that she's about three months along. This baby is the product of a renewed "spark" between Brad and Angelina – apparently, they always get along better when they're trying to conceive.
Lately, Brad Pitt and Angelina Jolie have dropped some none-too-subtle hints that they'd like to add to their brood of six children. The smart money seemed to be on adoption — though Angelina did say recently, "I could end up pregnant."

Turns out she wasn't toying with us: A source close to the Oscar-winner reveals that Angelina is expecting her seventh child and telling friends she can't wait to be a mom again.

"She's almost three months along," the source confirms to OK!. "It's not something she wants to officially announce but she's at a point where she is telling a select group of people." Adds an insider: Angelina is really savoring every moment. she's having a tough time with morning sickness but says it's all worth it."

Indeed, Angelina appears to be embracing the whole process: nausea, racing hormones, weight gain and all.

The actress is already mom to six lively kids — Maddox, 10, Pax, 8, Zahara, 6, Shiloh, 5, and Knox and Vivienne, 3 — and she's more than prepared for this newcomer.

"Angelina has cleared out her bedroom and redone it all in white," the insider said. "She wants the room to have a Zen-like feeling because she believes in the mind/body connection and wants her mind at peace."

Friends say this baby couldn't have come a better time — it's saved the couple's relationship!

"Of coure, while trying to conceive, Angelina and Brad got to spend a lot of alone time," the insider revealed. "The kids are rarely without either one of their parents, but over the past few months their nannies have been taking over a lot more."

The bonding time worked: "Angie and Brad have always had an incredible physical connection, but when they have the mission of making a baby, things between them really spark up."

There's other benefits to expecting a little one: Pregnancy will force super-skinny Angelina to eat. "Because Angelina sees so much starvation up close, it's always hard for her to indulge in food," the source explained. "But when she gets pregnant, all that goes out the window."

All is well in the Jolie-Pitt household. "It's a very joyous time," the insider said. "Everyone is thrilled to see them in a happy place."

But will there be MORE kids? "They certainly do plan to adopt again," the source said.
[From OK! Magazine & Hollywood Life]
Basically, Angelina is always in a constant state of A) Extreme thinness or B) Pregnancy. If the tabloids are convinced that she's not pregnant, they run "Angelina is too thin" stories. If she looks like a relatively healthy weight, they run "Angelina is preggo" stories.
That being said, if this turned out to be true, I wouldn't be surprised. I think Angelina's boobs look bigger, and her top half just looks slightly more filled out. In her past pregnancies, you could really see it in her boobs, her arms and her constant sack-wearing.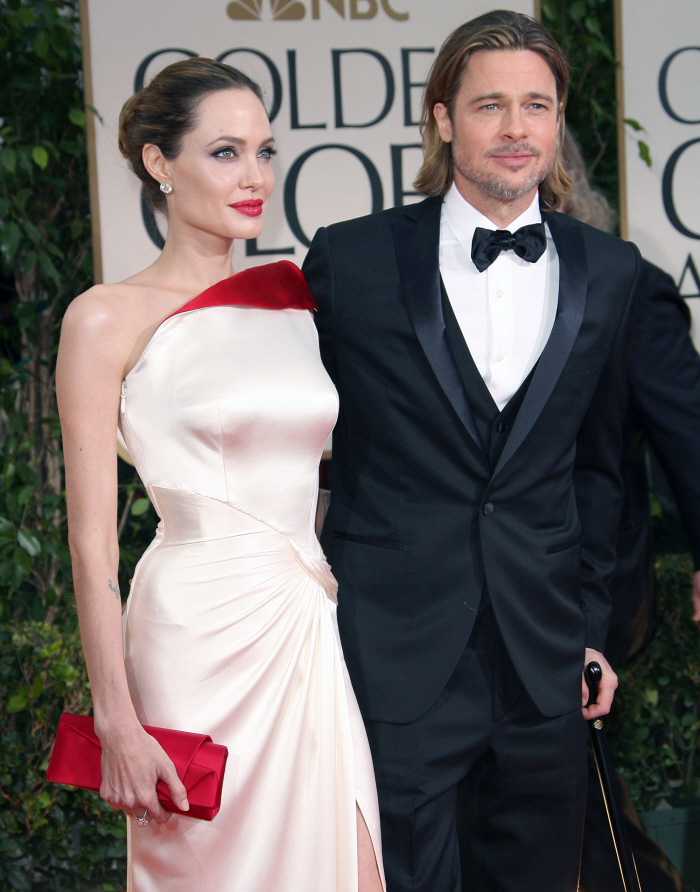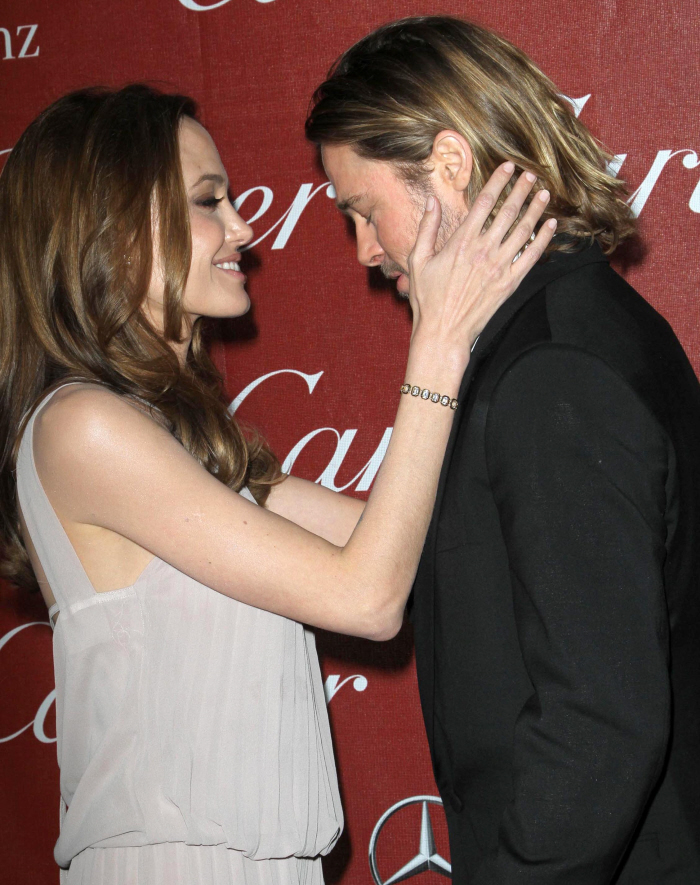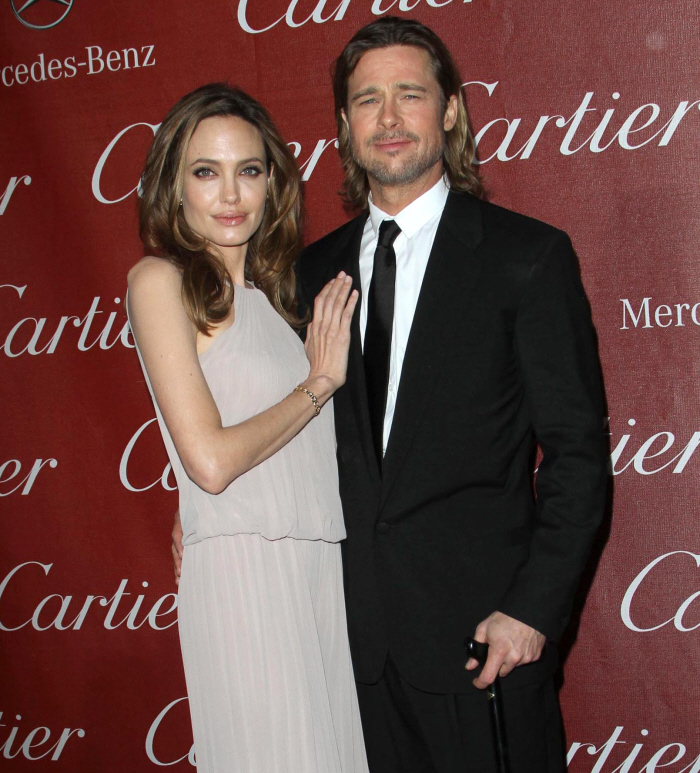 Photos courtesy of WENN.