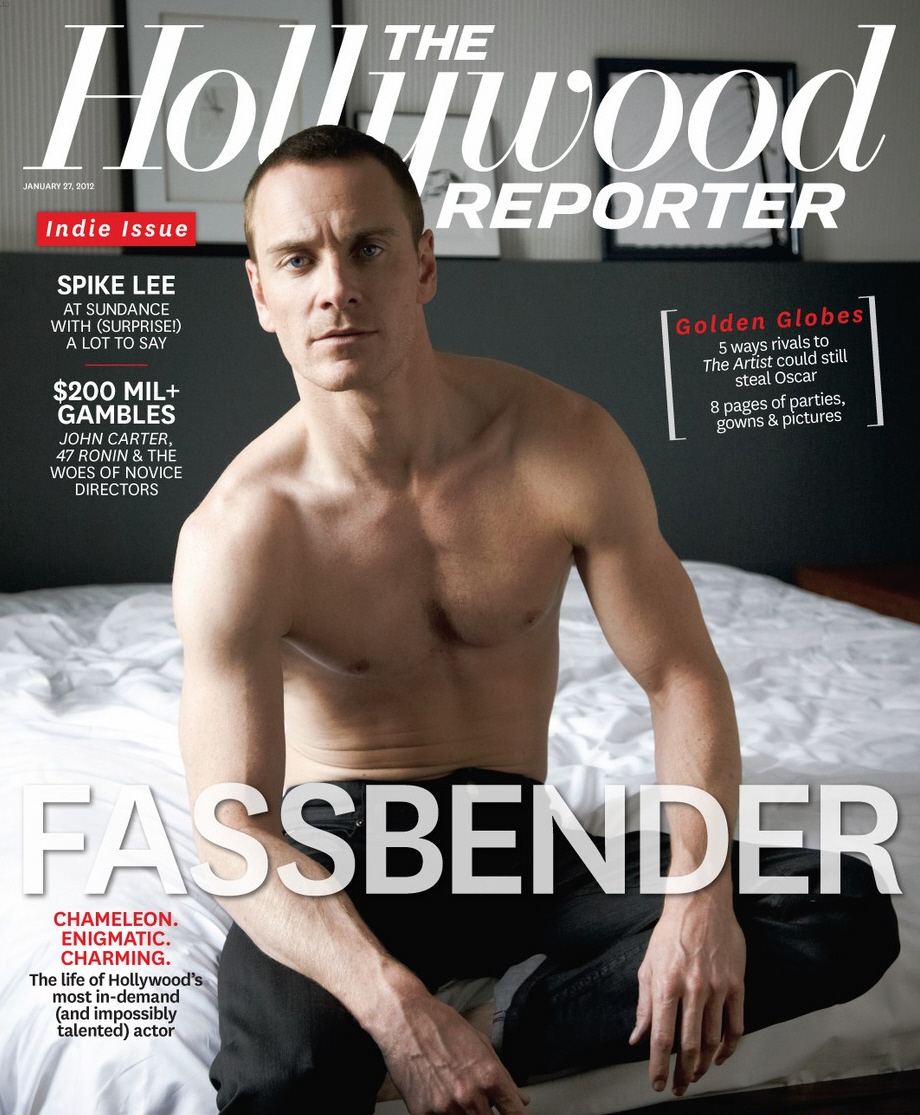 *CRASH*
What just happened? Oh, I must have passed out after staring too hard at MICHAEL FASSBENDER'S MAN-NIPS on the cover of The Hollywood Reporter. OMG. He made the cover. OMG. Shirtless. Ginger. Arms. Man-nips. Hands. Blue eyes. Shark teeth. FASSBENDER. So, yes. This is happening. It's on, bitches. What I have for Fassy is so far beyond a "crush". It's just full-blown obsession and it's crushing me. Why isn't he mine? Look at the cover – he seems to beckoning me, right? "Come hither, lass. I shall wreck ye sweetshop by unleashing mine beast." That's seriously how he talks to me (in my mind). And why did THR position him on a bed? And it's a very minimalist bed too – My Fassy likes a clean workspace, you know. *cleaning workspace for The Beast*
Anyway, here are some highlights from the interview – you can read the full thing here:
He recently went on vacation in Hawaii, where he jumped out of a plane high over the island: "It was the most amazing rush. I was strapped to the instructor, who was behind me. For 50 seconds, you're free-falling, and your brain is saying, 'What are you doing?' Once the canopy opens, he unhooks certain things and you drop down a bit. It's a crazy feeling to jump out of an airplane and land on the ground."

The Fassdong: Fassbender jokes that his father was "very proud" when watching the movie at Venice.

His potential Oscar date, should he be nominated: "It would just be a bonus, but of course I would take my mom down the red carpet."

Research: Fassbender says he has grown deft at using YouTube to study accents (his own is Irish) or to watch a grainy interview with an elderly Jung. And for Shame, he met with recovering sex addicts: "One man had the same intimacy issues that Brandon had, so it was very helpful to me, and I was very grateful that he opened up." There was no time to feel too self-conscious when shooting Shame, says Fassbender. It helped that McQueen kept the set intimate. "We moved very fast. We shot it in 25 days, so I kind of had to get over it and get on with it," he says.
[From THR]
Most of the article is just quotes from other (important) Hollywood types, all talking about how awesome Fassy is. True story, bitches. Maybe if Fassy gets an Oscar nomination and maybe a few more magazine covers, photo agencies will really focus on getting more photos of him. Because he went largely unnoticed at the Globes, and bitches, I'm not playing that.
By the way, this is another pic from THR – which I LOVE. Look at that ginger on the red couch.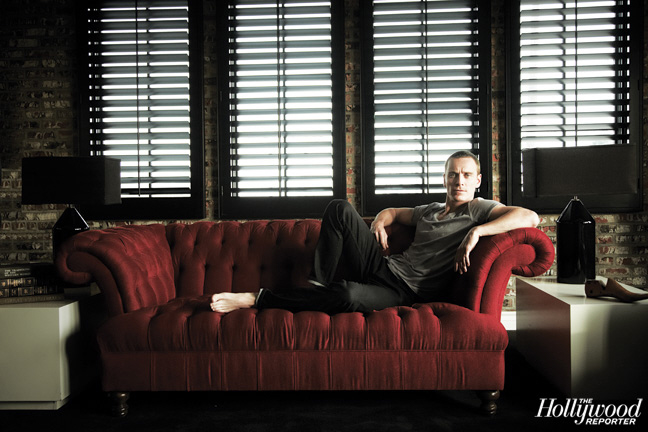 But I have a piece of depressing news. Depressing in the sense that it just drives home a certain point about Fassy – something that I've suspected for a while, and I hate to see verified. Most of us probably don't have a chance. His type is: exotic, dark (Asian and black women almost always), slender women with great bodies, who are also cray-cray. On that note, Fassy seems to have reconciled with Leasi Andrews, the woman who once accused him of abusing her (she dropped the charges):
Michael Fassbender enjoyed a torrid — and rather public — reunion with an ex-girlfriend, "Dante's Cove" actress Leasi Andrews, early Monday morning. A source says the "Shame" actor and his former flame, who has a son with movie producer Lawrence Bender, got very hot and heavy "in a chair by the bathroom" at the Writers Room in Los Angeles.

Fassbender ran into Andrews when he arrived at the drinking den for post-Golden Globes partying with Gerard Butler. Earlier in the evening, the two hunks hung at CAA's party at the Sunset Tower hotel with Brad Pitt, Angelina Jolie, George Clooney and Stacy Keibler.

After their PDA session, our source says the couple grabbed a cab to the Sunset Marquis Hotel, where Fassbender had a villa. Andrews was spotted leaving the hotel after noon in slippers. Fassbender's agent did not respond to a request for comment and a rep for Andrews could not be reached.

Fassbender and Andrews' reunion is interesting in light of allegations that the exotic beauty made against the "X-Men: First Class" actor in 2010. In March of that year, Andrews filed a motion in L.A. Superior Court asking for an order of protection against Fassbender and demanding that he move out of their Bel-Air home. As the Daily News reported, she claimed in court papers that in July 2009, Fassbender "threw [her] in a drunken fury and in November dragged her alongside their car, hurting her ankle and bursting an ovarian cyst."

Andrews withdrew the motion in April 2010 because, according to a friend at the time, she didn't want "to hurt" Fassbender's blossoming career.
[From NYDN]
Sigh… Fassy went back for more of that crazy woman. DAMN IT. Fassy, why not go for a nice Indian girl whose sweetshop needs to be wrecked by an Irish beast? Actually, I'm not that nice. I'm kind of bitch, and I can totally be crazy if you need me to be. *throws chair* WHY DON'T YOU LOVE ME?!?! Kiss me. I HATE YOU. I need you! See? I can do crazy. Call me!
Here are some photos of Fassy and Leasi in 2008 & 2009.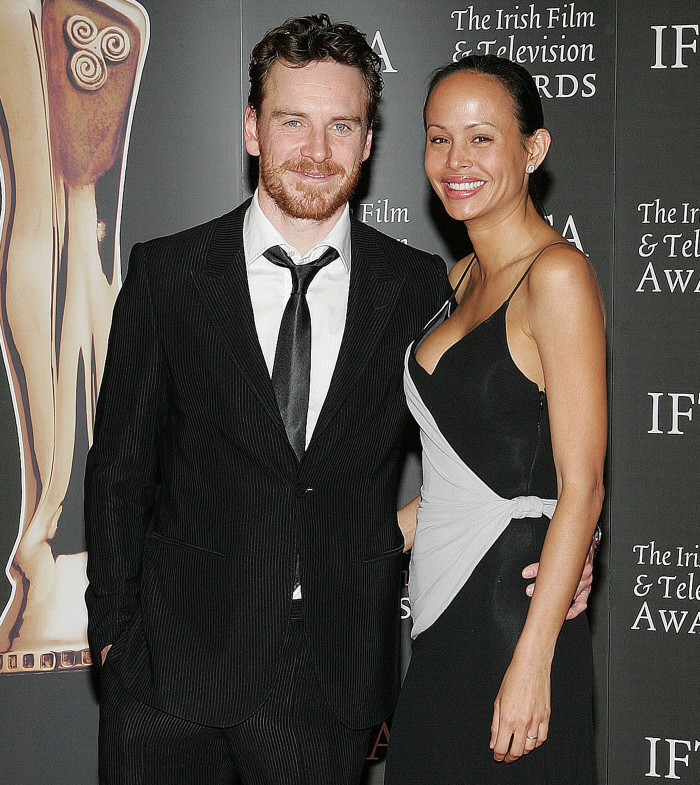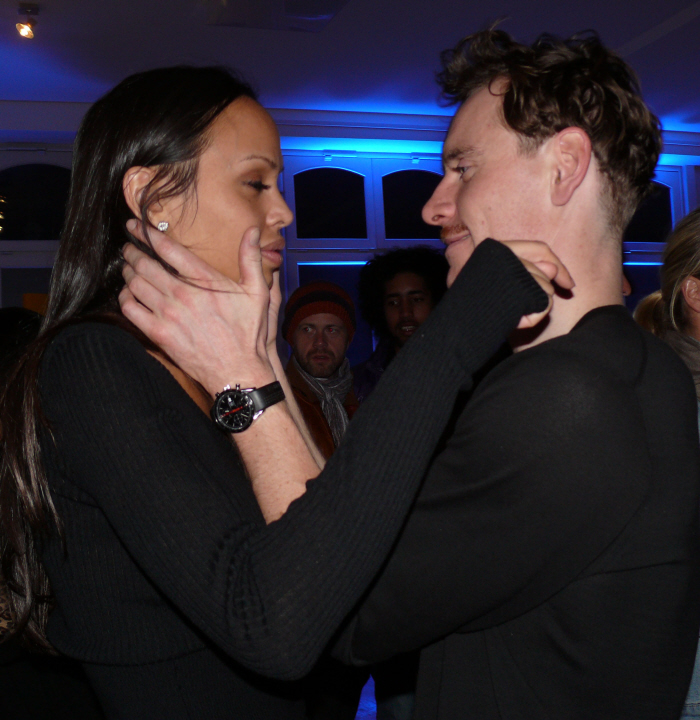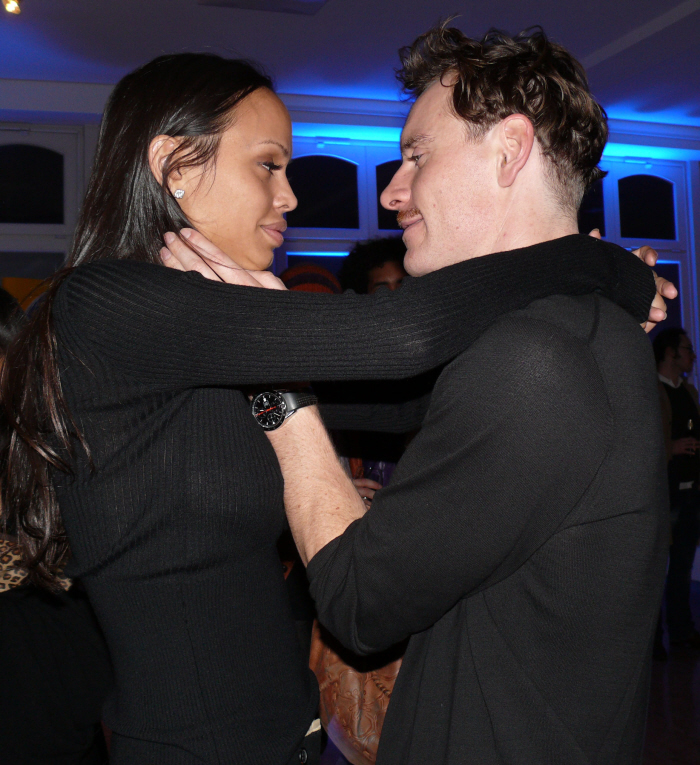 Photos courtesy of WENN, The Hollywood Reporter.