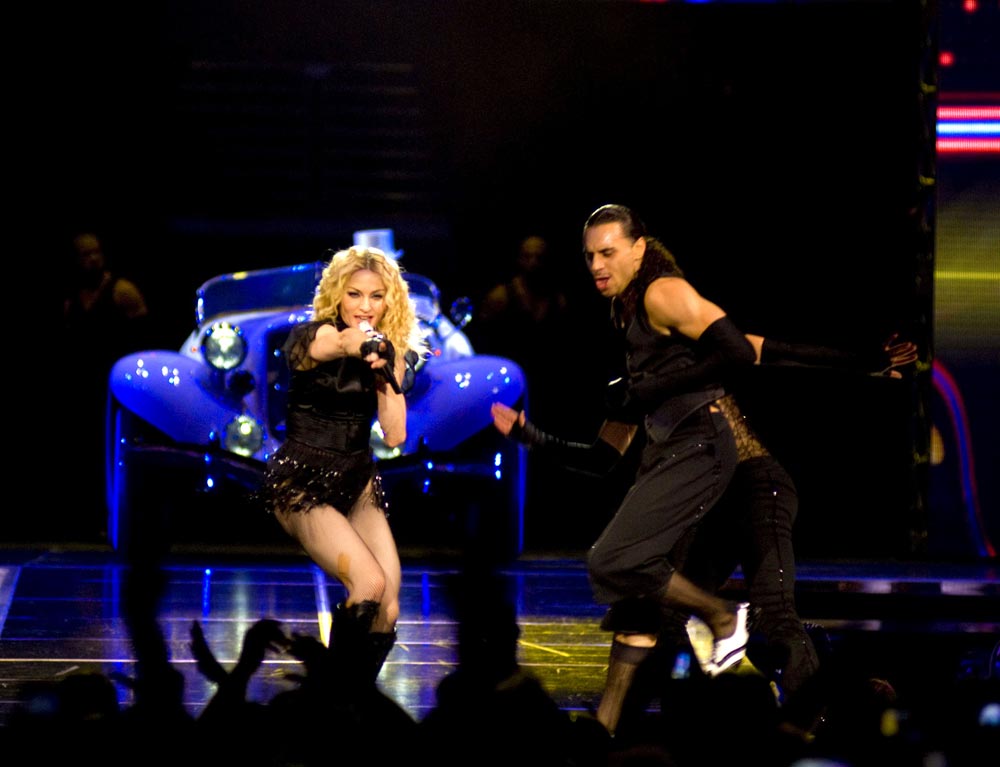 Madonna has found yet another way to regain the spotlight – by hitching her gristle train that could onto younger more relevant artists. The pop singer has plans to bring exes Justin Timberlake and Britney Spears on stage together at her show in LA on Thursday. Ryan Seacrest spilled the beans on this probably planted news on his radio station:
On Wednesday afternoon, Ryan Seacrest called in to local radio station KIIS FM, which airs his morning show On Air with Ryan Seacrest, and broke the news that both Justin Timberlake and Britney Spears will take the stage together with Madonna tomorrow night when she performs at Dodger Stadium as part of her Sticky & Sweet Tour.

"I couldn't wait to tell you this," Seacrest said. "If Justin and Britney end up on that stage with her [Madonna]… I don't know if I've ever seen anything quite like that before."

While both Timberlake and Spears have collaborated individually with Madge, they haven't spent much time together in recent years. Leave it to Madonna to make music history once again!

Seacrest promised to reveal more details on his morning show tomorrow: "Expect some big surprises"– So stay tuned!
[From OK! Magazine]
It sounds like someone is desperate to sell tickets. When you plan to divorce your husband at the end of your tour and he beats you to the announcement you have to move on to convincing other people to serve as your pawns. Timberlake coordinated with Madonna on that "4 Minutes" song and seemed more than willing to appease her, while Britney recorded a video for Madonna's tour that featured her freaking out in an elevator. Maybe they're both willing to put the past aside in order of pleasing her Madgesty. It will give both of their careers a minor boost too. It's just too bad they couldn't do it as a favor for each other instead of having to go through Madonna.
Madonna is shown performing in Chicago on 10/26/08. Credit: WENN