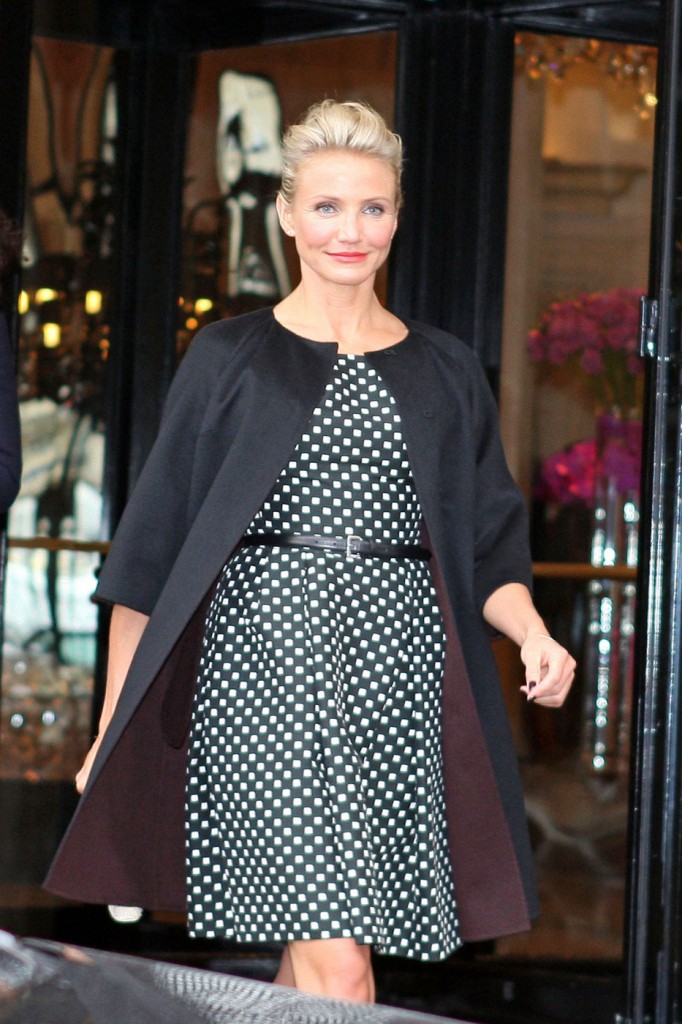 I'm excited that we have new photos of lap-hopping Cameron Diaz, as I've been waiting to comment on her new look. (Kaiser is sick today or she would definitely be covering this.) We saw Cameron premiere her new shaggy crop-cut hair at the Golden Globes parties, where she was seen macking all over attached Diddy and generally looking a mess. I didn't like her new look, which also seemed to include some new boobies. It's like she got a new hairstyle to try to distract us from her recent implants, which are tasteful and not too big but still noticeable. (It's also possible she had fat transfer done to her breasts. I've been hearing about that a lot lately and the result is the same kind of subtle difference that we've seen in Cameron.)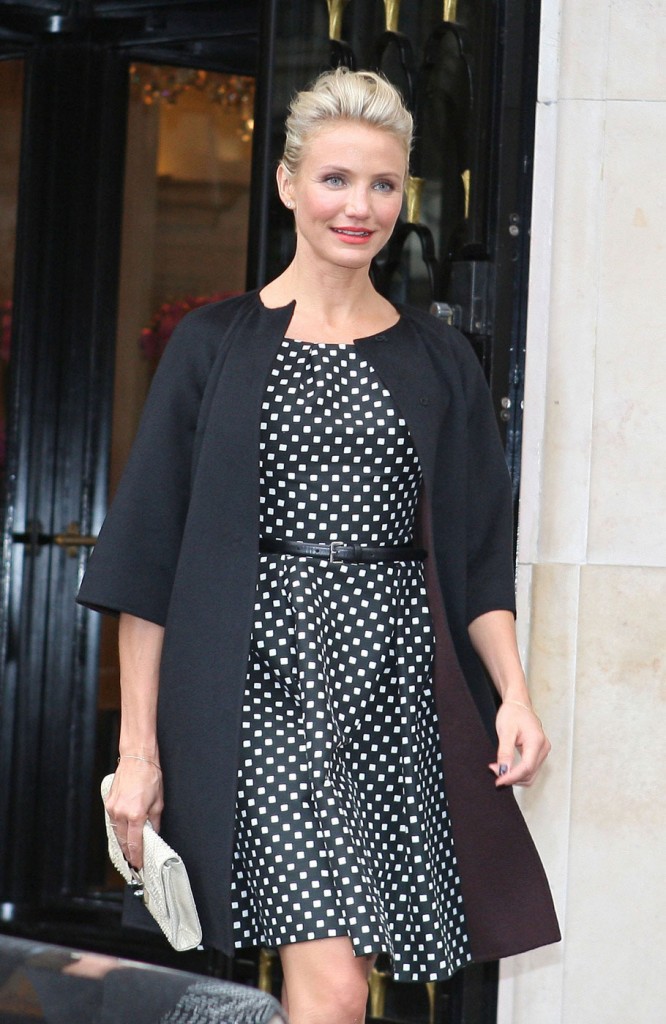 Cameron was spotted at Paris Fashion Week this morning in this stunning A-line black checked dress paired with a simple skinny belt and elegant jacket. I love her gladiator shoes too. Cameron looks amazing with her hair pulled back and pinned up like that. She looks a little "refreshed" too, as if she's had a smidgen of something done but not too much. (Just like her new boobs.) It could just be her perfectly applied makeup though. She looks lovely I have to say. The shape of that dress is slightly unflattering, but the belt cinches it in. I really love this look on her. Cameron looks good and she knows it. (Update: Cam wore this to the Dior show, so it's safe to assume she's in Dior.)
Yesterday Cameron was at the Versace show with Diane Kruger. (Photos are below.) She wore her hair in a kind of poof style that isn't as pretty as it is here. This style is more softening for her.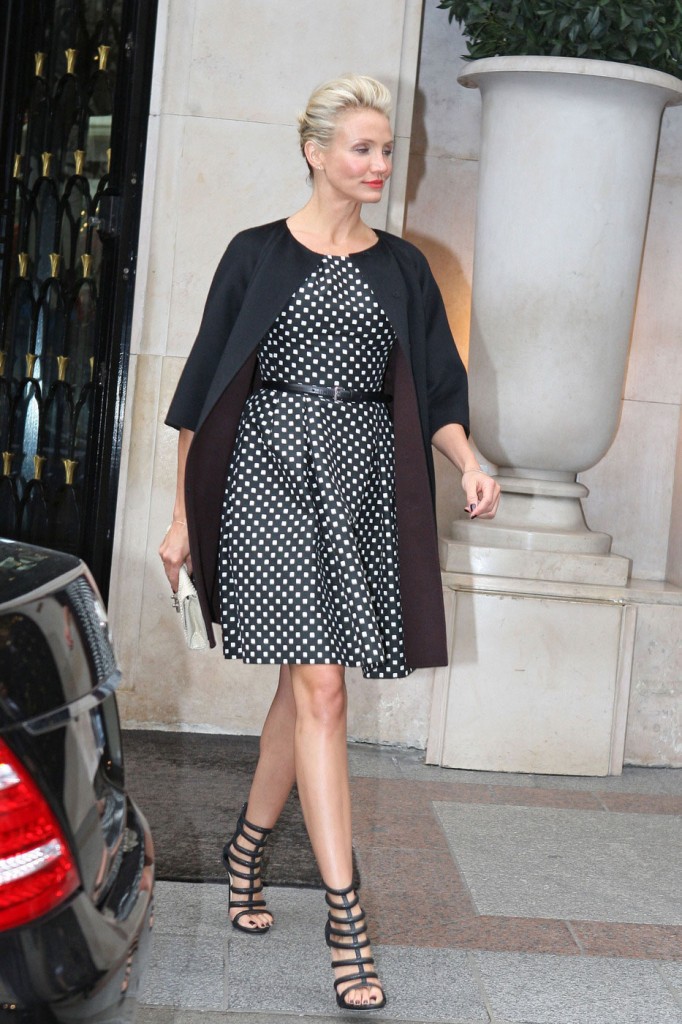 Can you imagine getting paid and having clothes lent to you to show up at events like this? You would have people like us picking apart your every move, but Cameron doesn't seem to care. I admire that about her. The downside is that she ends up with guys like A-Rod and Diddy.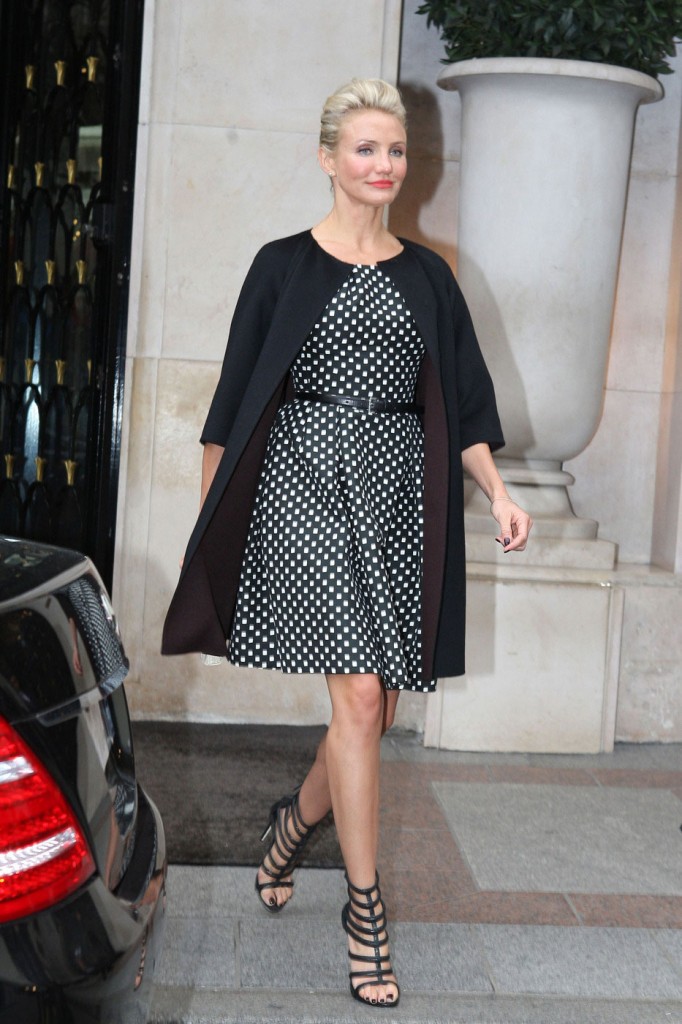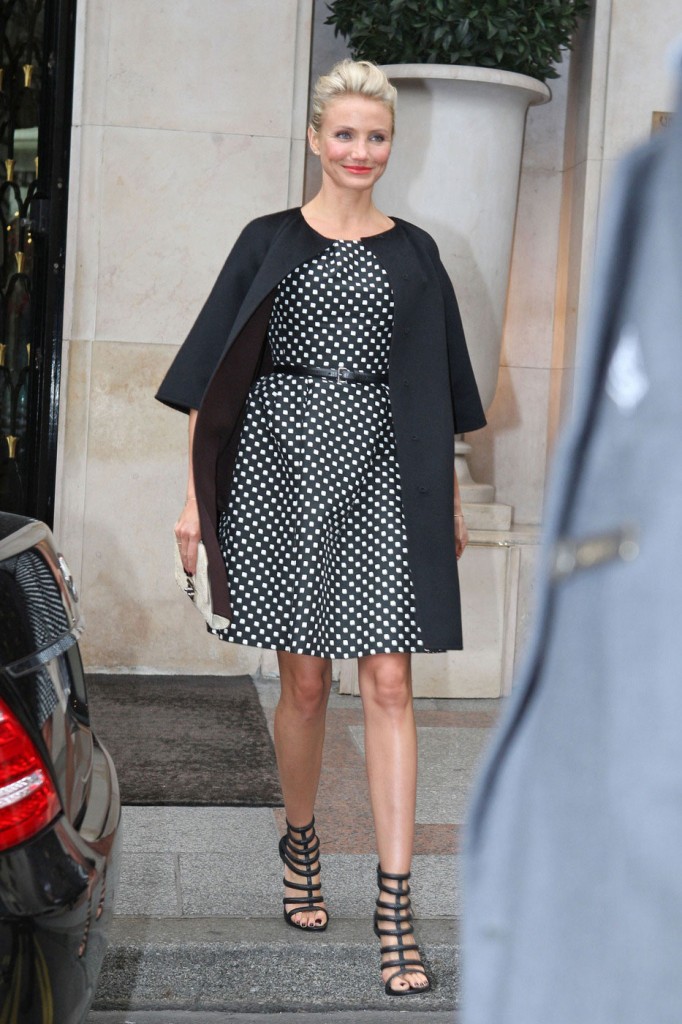 Update: Oh we do have those photos of Cameron outside the Versace show yesterday. Compare her slightly trashy but fashion-forward look in Versace to how classic and pretty she looks above. She's also looking tweaked to me in these photos. Her legs are so killer.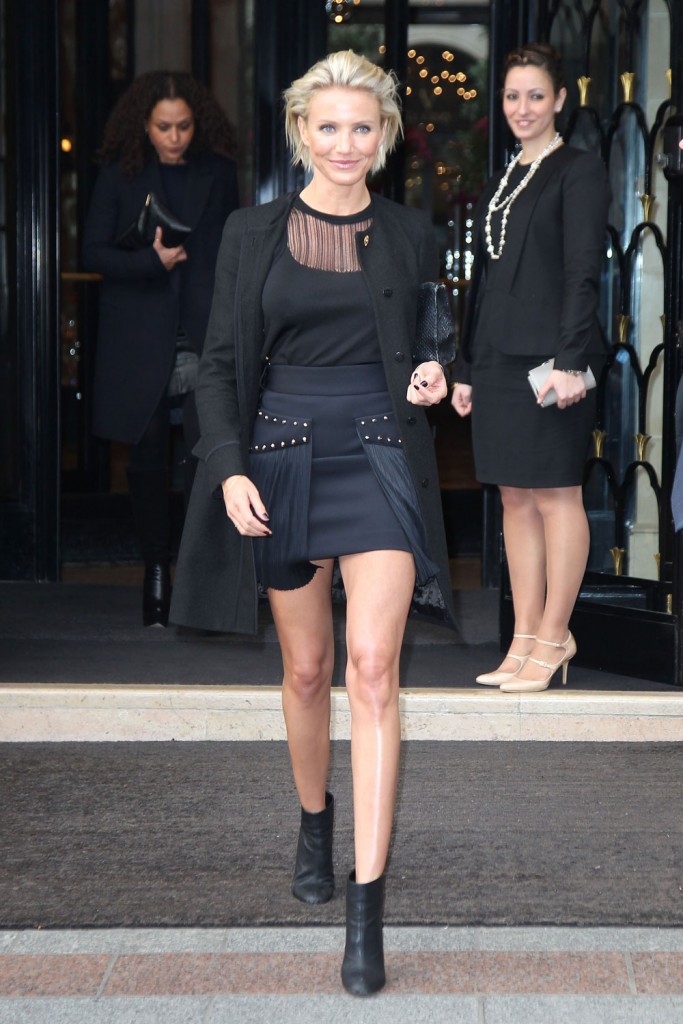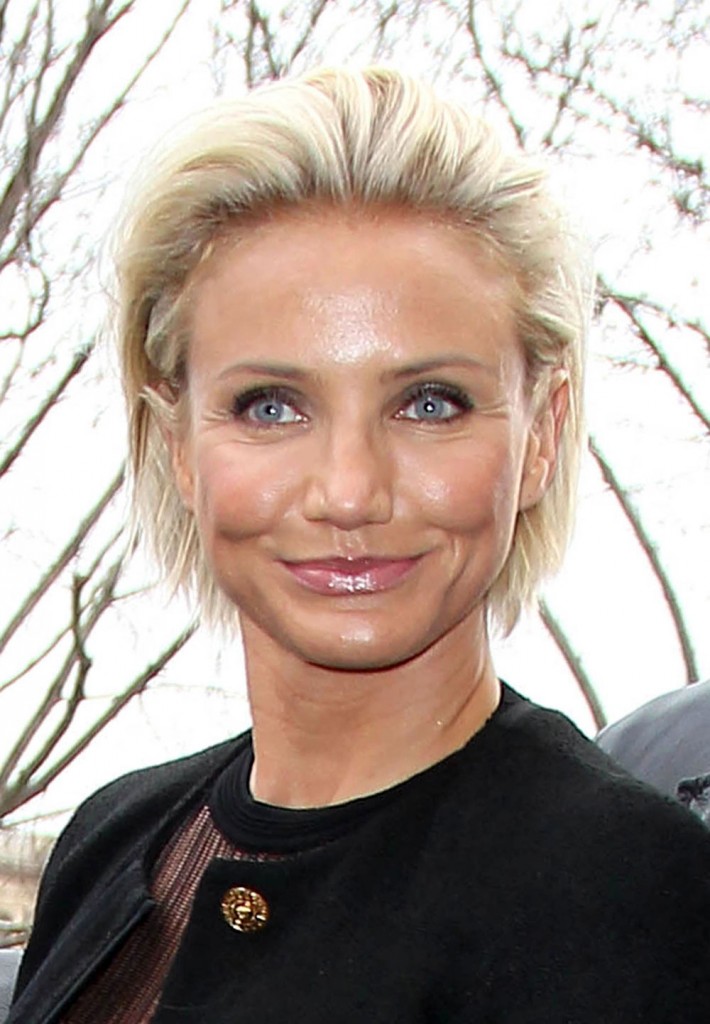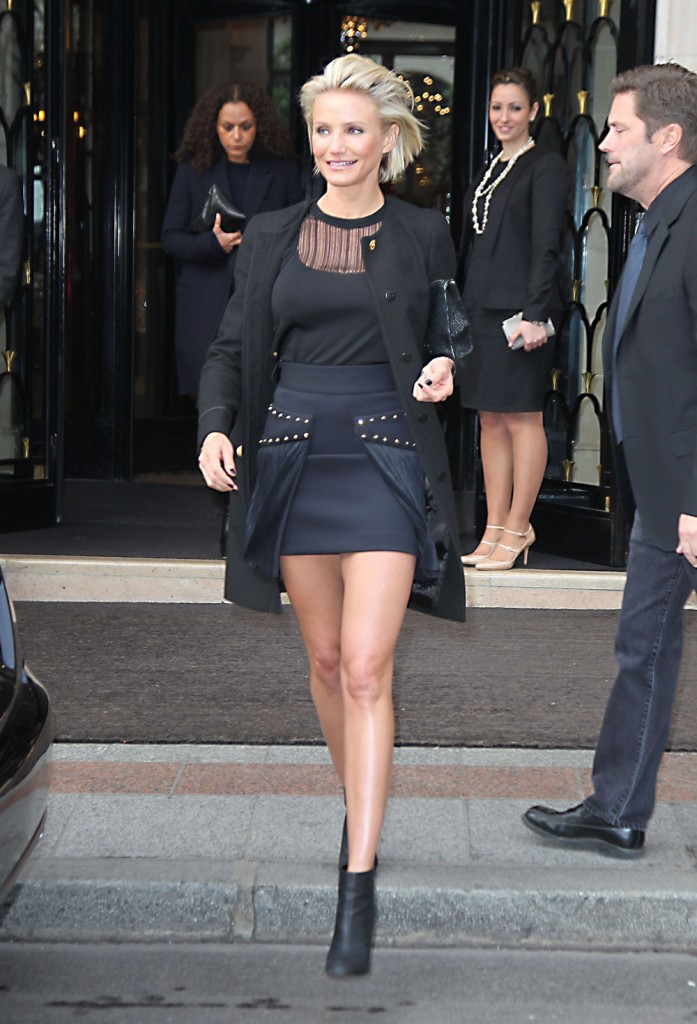 Photos from today credit: DLM Press, PacificCoastNews.com. Versace photos credit: FameFlynet Pictures