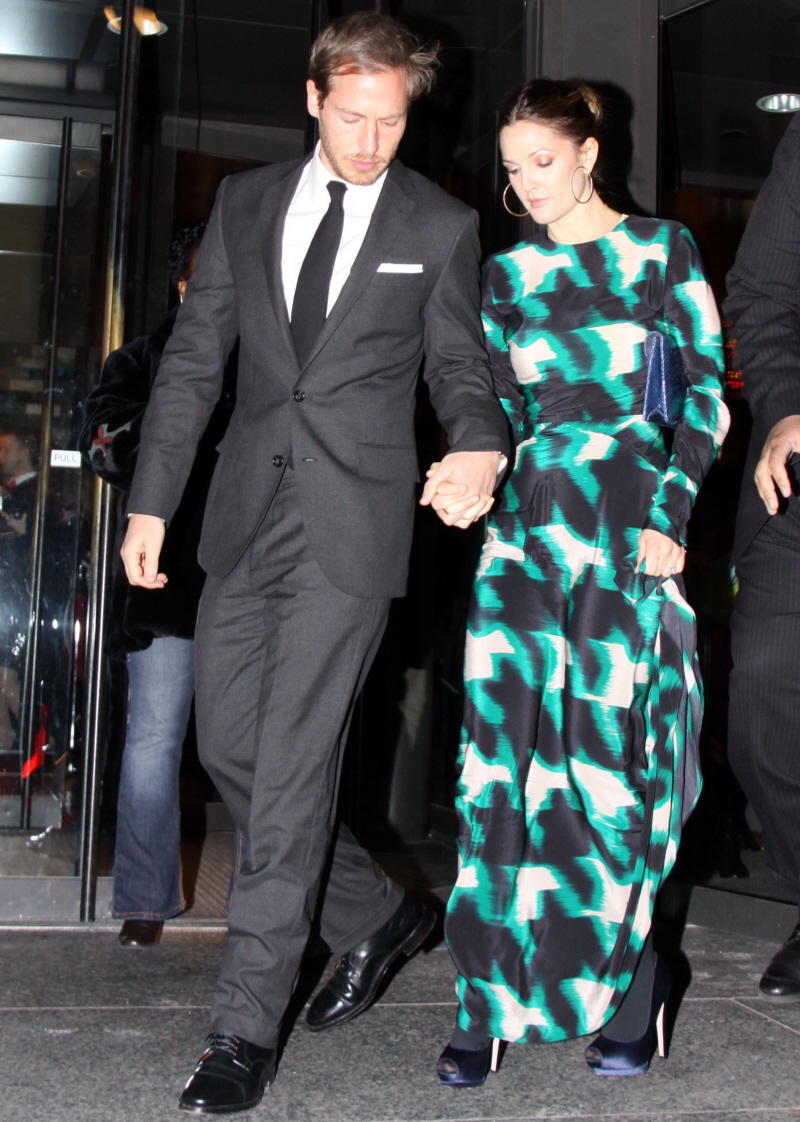 Here are some new photos of Drew Barrymore and her fiancé Will Kopelman exiting KOMI Restaurant in Washington, DC. They had just done a premiere of Drew's latest film, Big Miracle, which is… that one about the whales, right? Not important. What I really want to talk about is how Drew looks now that she's with Will, and how she seems to have changed. Her dress is Ports 1961, and it looks like something her mother would have worn in 1973, while attending a key party in Beverly Hills. On Drew, it's a sobering look. But that's how she's been ever since she got with Will – she seems more serious, less bubbly, less giggly, more mature. I can't decide whether or not I like the idea of Drew being all grown-up. I think my mixed feelings have more to do with the idea that this is just another phase for Drew, something that she will outgrow in another year. We'll see.
Drew appeared on Good Morning America a few days ago, and she talked about her wedding plans, which aren't much at this stage – Drew said she's still in the "daydreaming" part of wedding planning. Blah – you can read more about it here. But here's a story that I did find interesting – will Drew convert to Judaism for Will?
There is no doubt free-spirited actress Drew Barrymore is a convert to love with her recent engagement, but will the union result in her conversion to Judaism?

The "Big Miracle" star is so head-over-heels with her fiancé, art consultant Will Kopelman, that she's considering converting to his Jewish faith, a source told In Touch.

The bubbly star, 36, would have some great moral support — good friend Adam Sandler has been helping her with the process of coverting, the source told the magazine.

"Those two absolutely adore each other, so it only made sense to Drew that he will be right by her side playing an important role at her wedding," the source said of the two funny pals.

According to the insider, Barrymore told Kopelman's family that she plans on raising their future children in the Jewish faith. The actress' rep has denied talk about her potential conversion.
[From NYDN]
I didn't realize Will was Jewish – and it would make sense for Drew to convert, especially if he's practicing and he wants to raise their kids in the faith. I don't believe Drew is very religious currently, so she might be wide-open for conversion. Mazel tov, Drew!
Oh, and here's a close-up of Drew's ring: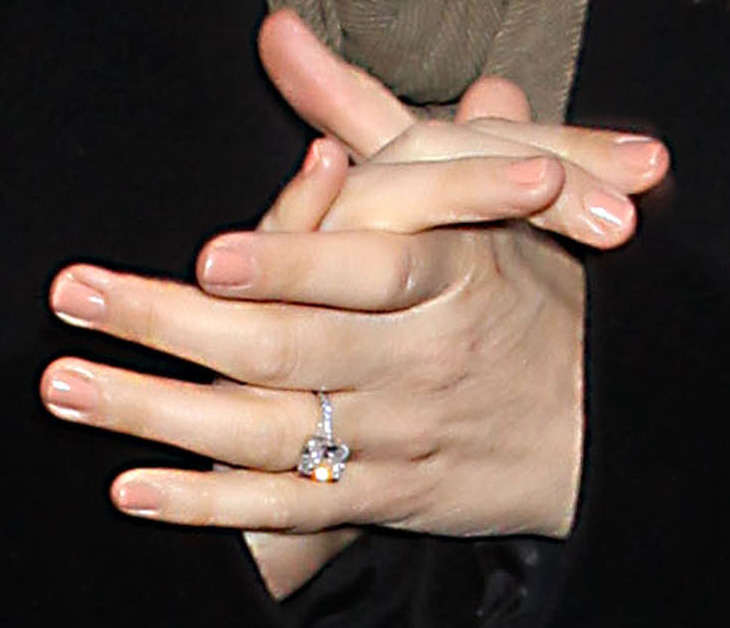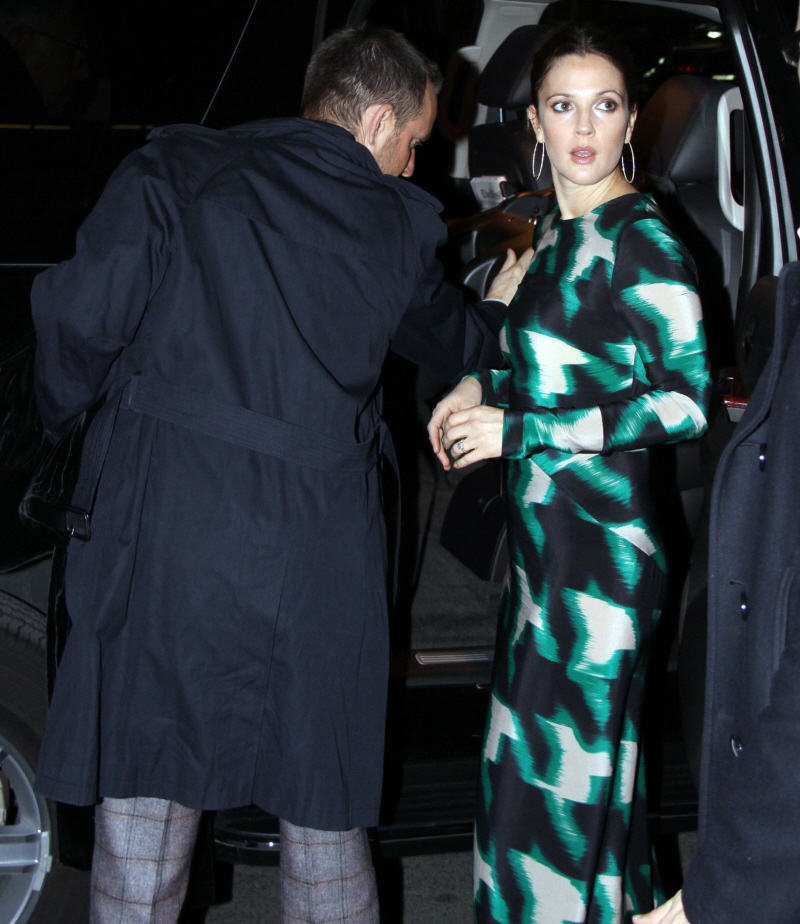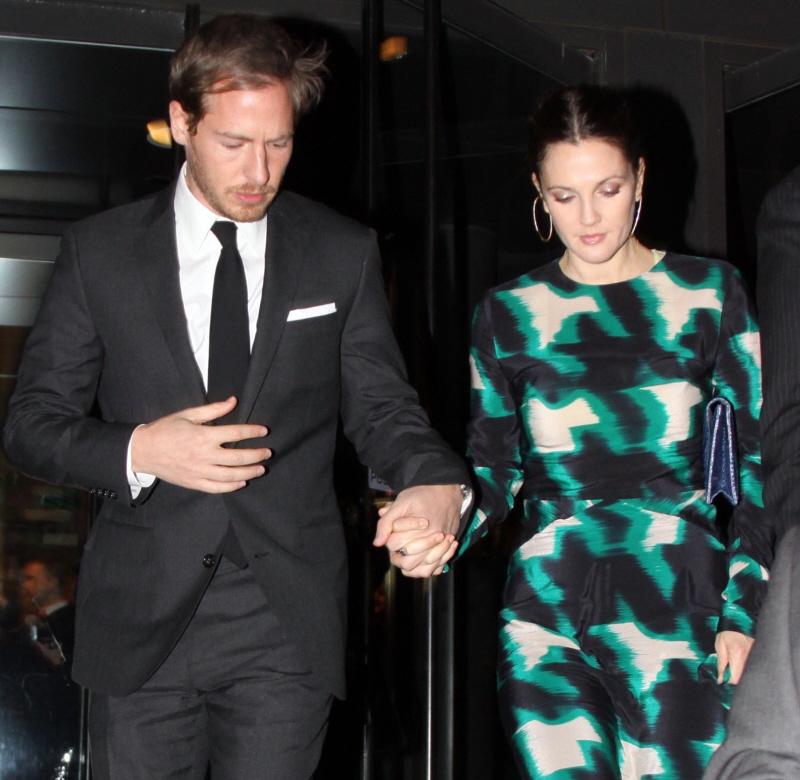 Photos courtesy of WENN, Fame.