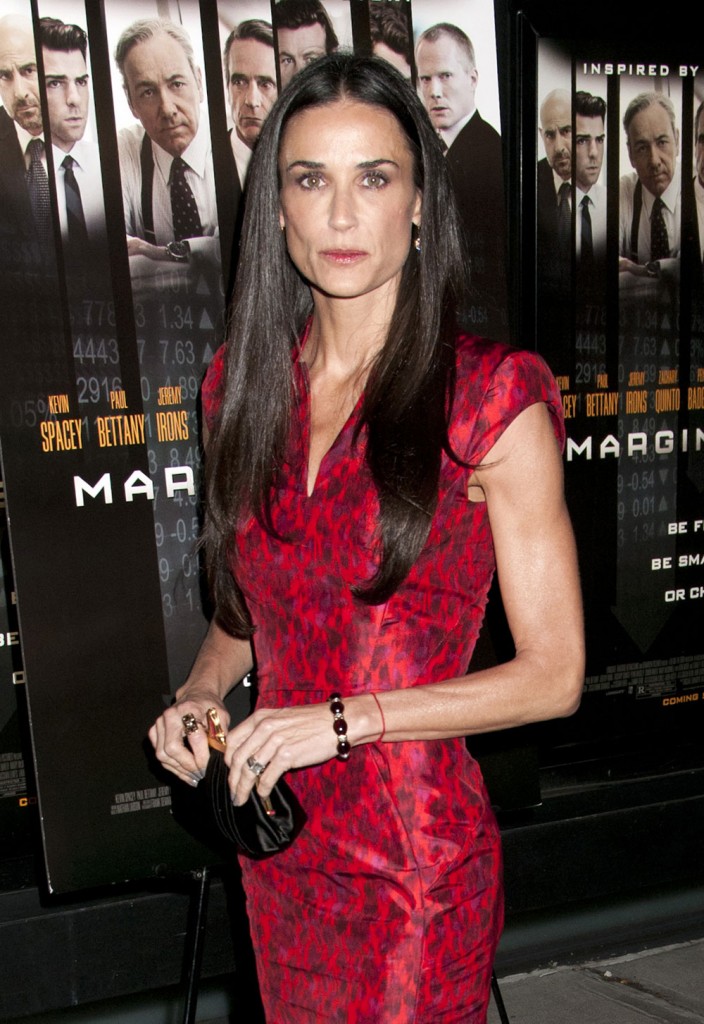 There are plenty of Demi Moore stories to cover as she seems to be dominating the headlines for once. I'd like to start with this one, from Radar, which seems to best explain Demi's issues. A couple of days ago People Magazine reported that prior to her hospitalization Demi had been acting the fool on nights out with her 23 year-old daughter, Rumer. On one night, Demi was seen downing a dozen energy drinks. That much caffeine and stimulants can cause serious health problems, especially in a woman as frail as Demi who refuses to eat. Well massive amounts of Red Bull aren't the only stimulants Demi has been on. Radar Online reports that Demi's stay-thin secret is none other than ADHD drug Adderall, a stimulant which is often abused for weight loss.
"Demi has been taking Adderall and drinking energy drinks and starving herself and those are some of the serious causes that led her to collapse on Monday night," a source close to the actress said.

As RadarOnline.com previously reported, Demi had an epileptic seizure before being rushed to the hospital and she is currently seeking treatment for anorexia.

"The pills and starvation destroyed Demi and this has been a problem for about a year," the source said about her tragic situation.

"She's constantly jacked up on Adderall and combining that with not eating accounts for her loopy behavior and anorexic body frame. She literally refuses to eat any food…

"She's depressed over her career and coupled with the stress and heartbreak over the split, all of this emotional turmoil in totality has taken a serious physical toll on her body."
[From Radar]
Prescription drugs can really screw a person up and change their personality. So which came first, Demi's issues with prescription drug abuse or the demise of her marriage? Ashton's camp is busy painting Demi as a total mess whom Ashton took care of for the past year. X17 has details from the print edition of People, in which a "source" states that Ashton tried to help Demi with her issues. "'It was over the last year her friends saw a change. She wasn't sleeping as well, didn't seem to be eating and looked really gaunt.' Sources close to the ex-pair also tell People that Moore's prescription drug use was a huge turn-off to the Two and a Half Men star. 'It was a sticking point for Ashton. He wanted her to take care of herself and get a hold of things, and she wouldn't.'" The first time Ashton was busted cheating on Demi was in early September, 2010. I'm not saying that it's Ashton's fault that Demi was drowning her sorrows in Red Bull and Adderall, but it's not like things were going great in their relationship until Demi got hopped up on pills.
In other Demi news, we might never know if the "whip-its" overdose story is bogus or not, because when the 911 call is released to the public all references to drugs Demi was on at the time will be redacted. I guess this is standard practice due to HIPAA privacy laws, and it definitely works in Demi's favor. It's possible that the whip-its were the last straw that caused her to have a seizure, or that it was just a cover up story for what was really going on.
Demi has been released from the hospital, just as Ashton has returned from Brazil, where he was shooting a commercial and hooking up with randoms. Ashton hasn't yet publicly commented on Demi's issues, but he has deigned to let a source say a few nice words about her to People. The source said "Ashton is deeply concerned for Demi. He still cares about her and wants the best for her. But their marriage is ending and they are both moving on with their lives." So is Ashton also the "source" behind the story that he tried to help Demi but couldn't, so he just had to stick his dick in a bunch of party girls?
In other Demi news, a new video has surfaced of her from 1982, when she was just 19, kissing a 15 year-old boy at a cast party for General Hospital, where she worked at the time. You can watch the video here and while I don't see Demi "making out" with the kid, she keeps going in to kiss him aggressively and you can tell he's uncomfortable with it. She's obviously drunk and is seen swilling wine in the video. The drinking age across the US was raised to 21 in 1984, although in California the drinking age was 21 prior to that.
As for Demi's concerns that her career is on the wane, like Lindsay Lohan she's only making it so much worse by abusing drugs. After her hospitalization it was announced that Demi had "dropped out" of the role of Gloria Steinem in the Linda Lovelace biopic and would be replaced by Chloe Sevigny.