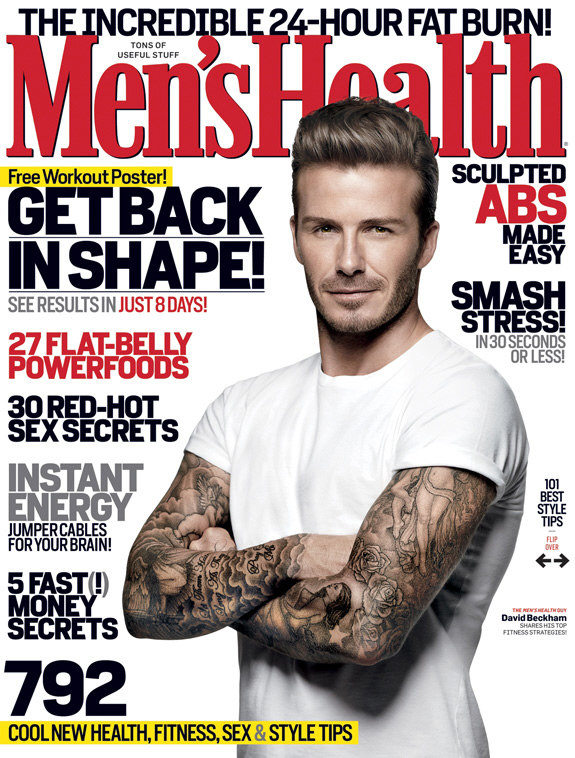 David Beckham covers the new issue of Men's Health Mag. I think he's on the March covers of both the American and UK editions. We haven't really discussed how David and Victoria are staying put in LA, have we? After much discussion about a possible move to Paris to play for a French team, Becks decided to stay put in California and sign on with the LA Galaxy for another year. He recently described how much he likes living in LA, and how the kids like their schools and the boys are even developing little American accents. David made it sound like it was his decision to stay, and Victoria would have been fine with anything. I personally think Posh likes it in America too – less judgment, more acceptance for her. Big, A-list American celebrities are wearing her clothes and her business is here too. Anyway, David has been talking about how happy everybody is, and some of the quotes are just too cute:
On having more kids: "We might have one or two more [kids], you never know. We're not thinking about it yet, but if it happens, great."

On Harper Seven: "She's seven months now. I can't even look at her without welling up. After having three boys, you just assume that you're going to have another boy, but when we got told she was a little girl, it was amazing, amazing."

The older boys: "Since I've had a daughter I've got them all into martial arts. I just want them to protect her when she's at that age. At that age when she needs protecting. Cruz does taekwondo, Brooklyn does boxing and Romeo does karate, so they'll all be ready…But Cruz is the one who's going to really look after Harper, he's the tough one."

The kids are competitive: "It would be easy for our kids to sit back and not work for anything, but they're not like that. They're as competitive as Victoria and me. We're very lucky with our boys: They want to win. They want to work at something. They know their values. That's the way we've brought them up so far, and that's the way we'll continue to bring them up."

On family: "Family is the most important thing to me. That will always be the case. I've got my wife. I've got my four kids. I've got parents, grandparents still, and three really good friends. It's all you need. I'd rather have three really good friends than 20 good friends."
[From Us Weekly & The Mirror]
Aw…so cute. And while I believe that Becks has screwed around on Posh, I also believe that he loves Victoria and their family. He spends a lot of time with his kids, and he seems like such a hands-on father. Maybe it's an act, I don't know. But I buy it.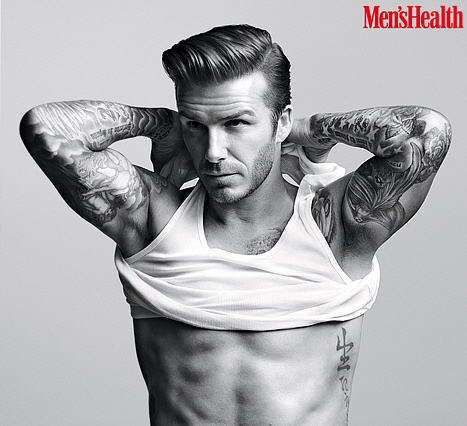 Here are some cute pics of Posh and Harper! I love Harper, she's such a cutie.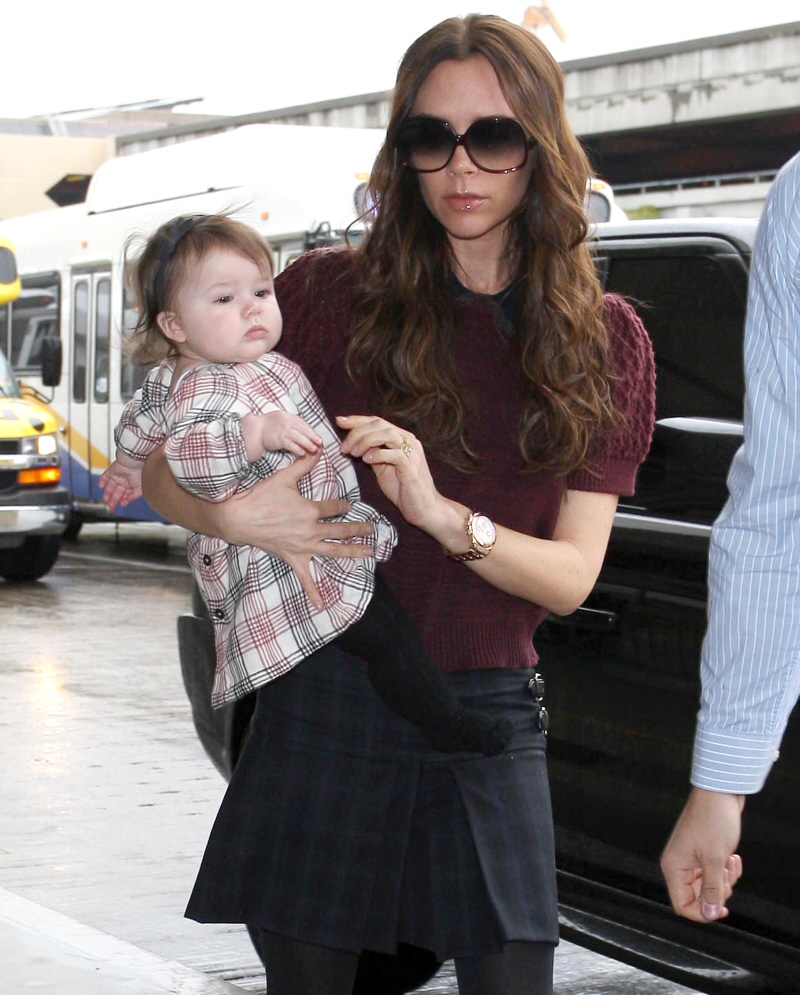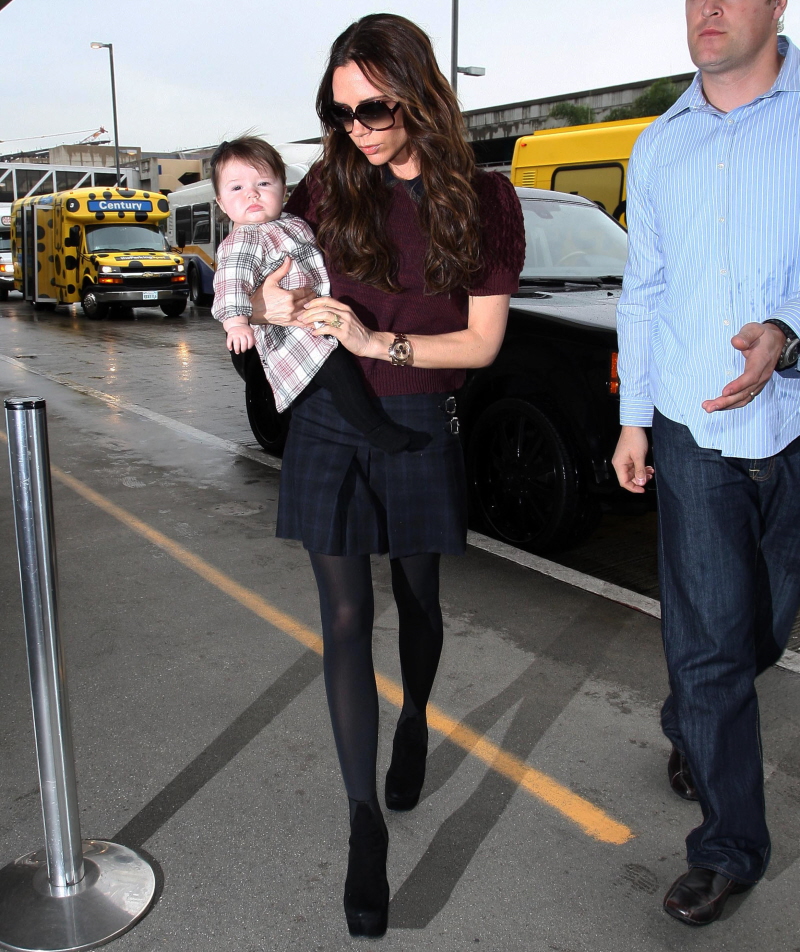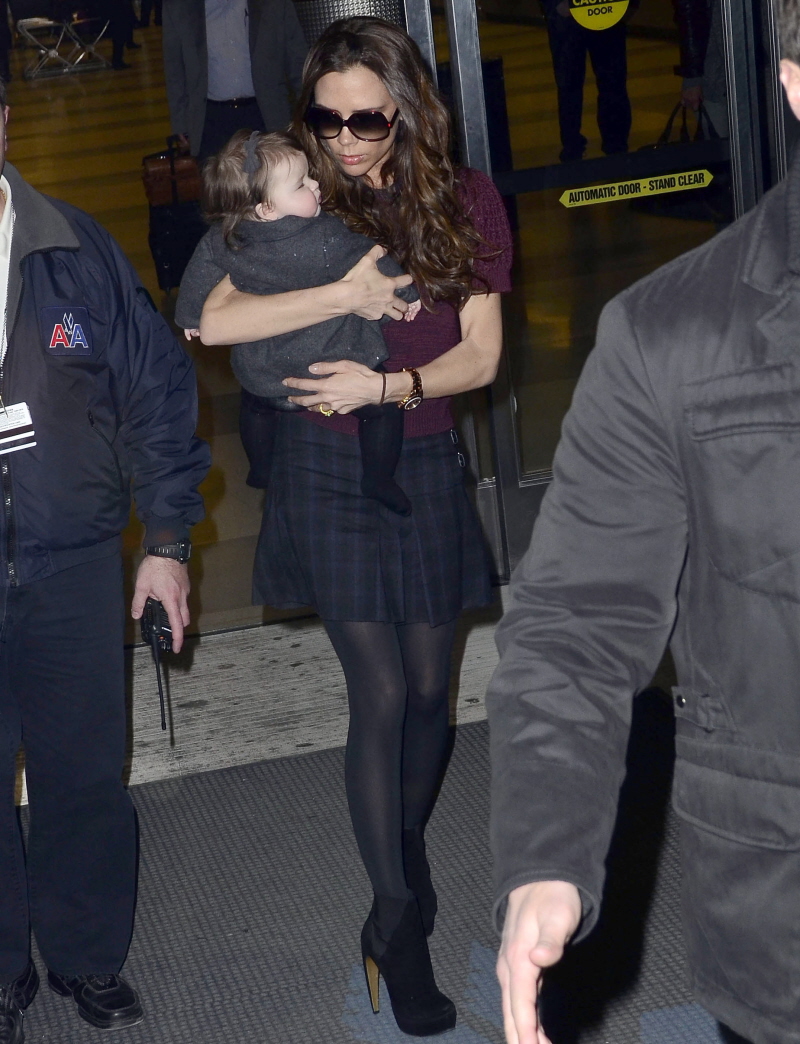 Photos courtesy of Fame/Flynet & Men's Health.