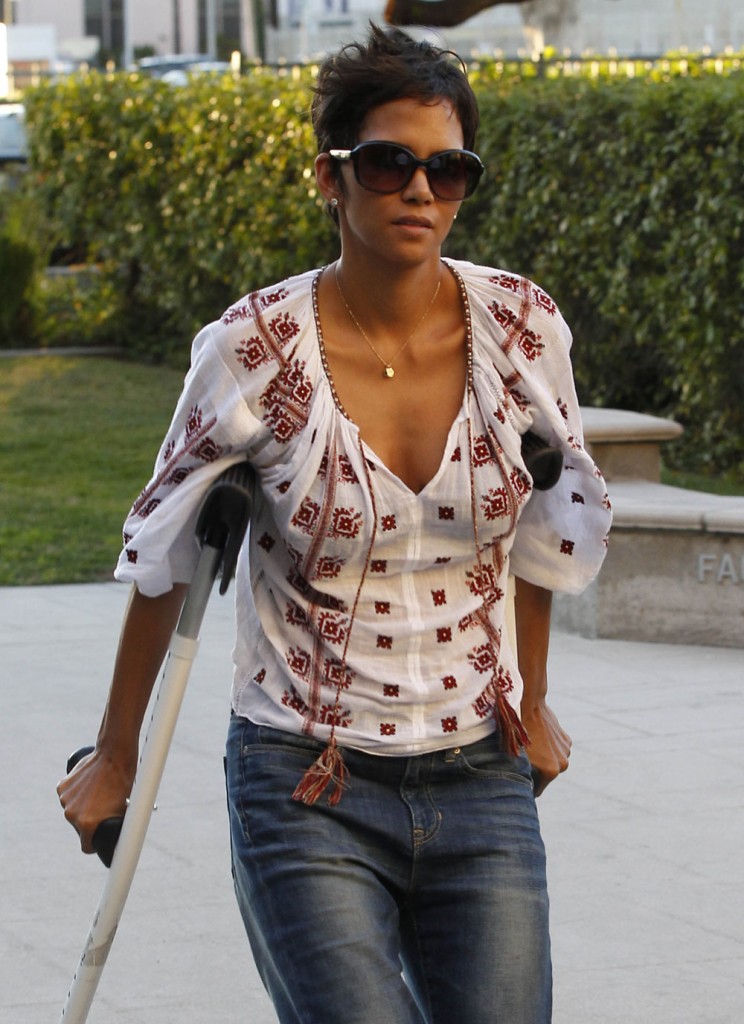 I feel like every day when I read news about Halle Berry and Gabriel Aubry's custody battle I change allegiances, although lately I've been firmly in the "team Nahla, her parents are whacked" camp. This latest story about Halle's very serious death threats from a stalker has me feeling sorry for her and understanding why she would want to move overseas. (Until I read the counter argument, which is covered below.) Yesterday it looked like Halle was moving to France out of spite because she can't legally strip Gabriel of visitation rights, but that might just be an added bonus for her. Not only is Halle's stalker just out of jail, there's also a crazy dude who wants to kill her (and Madonna) who just escaped from an insane asylum. It sounds like something out of a movie, but then so does most of Halle's life. Here's the story, from E!:
E! News has confirmed that the Oscar winner filed a request in family court to be able to move to France with her daughter Nahla because she fears for her life.

Two men, including one convicted of stalking Berry, are no longer locked up and the actress has no interest in finding out what their plans are now that they're out.

But wait, how did her convicted stalker get out again?

Richard Franco pleaded guilty to stalking Berry and was sentenced to 386 days in jail, but was given credit for 193 days already served and then released Saturday after amassing 193 days' worth of credits for work and good behavior.

He remains on five years' probation and there's a 10-year restraining order in place requiring him to stay away from Berry and her family.

"This person has invaded and trampled upon the most fundamental sense of security I have and I am extremely frightened of him and what he might do to me and those I love," Berry stated in her criminal complaint against Franco.

Meanwhile, Berry's camp has been informed that Robert Hoskins, a man who allegedly threatened to slit Berry's throat—and who also allegedly threatened to slit Madonna's throat and was shot by the Material Girl's bodyguard in 1995—escaped from a mental institution last week.
[From E! Online]
Halle has been looking for a more secure mansion in Malibu, according to TMZ. Of course Radar has Gabriel Aubry's deep thoughts on his custody battle, as per usual. They're trying to call out Halle on her claims that she's so scared and are saying that she's using it as a convenient excuse. This rings true to me, but again I'm thinking that both sides are pushing back too hard and making it much worse than it needs to be.
Berry has formally petitioned to move to France with Nahla and her fiancé, Olivier Martinez, but she is going to have to go to battle with Aubry who has vowed to fight the move. Under current terms of their custody agreement, neither parent can move out of Los Angeles County without the other's permission.

Aubry is absolutely stunned that Halle is attempting to whisk his daughter to a foreign country. "Gabriel feels that Halle is just being vengeful and vindictive by attempting to move Nahla to France," an insider close to the situation tells RadarOnline.com.

"First of all, if Halle is concerned for her safety, why is she routinely seen around town without a bodyguard? Yes, she has had several stalkers over the years, but she has a top of the line security system at her house, and she can certainly afford to move to a safer location in Los Angeles in a gated community. Why would Halle want to take the father of her daughter out of her life and move to a foreign country? It just defies logic."
[From Radar]
We haven't heard any confirmation that Halle and Oliver are actually engaged, but this story suggests that's the case. The "source" goes on to say:
"Halle will be getting married for the third time. Gabriel's lawyers are going to argue that there is nothing to guarantee this marriage will last. What then? Nahla could be uprooted again, she isn't luggage for heavens sake," the source tells RadarOnline.com. "She needs her father in her life. Nahla and Gabriel are very, very close. He has always played a major role in Nahla's life and the fact the Halle is attempting to sever that relationship disgusts him. He feels that Halle is disgruntled because she was unsuccessful in having restraining orders granted against him, and lost her attempts to have his custody of Nahla stripped. The timing of this is very, very suspect. Nahla would be very isolated in France, primarily because the lack of family and friends, and the language barrier."
[From Radar Online]
I agree that Nahla should stay in LA where she speaks the language and goes to school. It does seem punitive of Halle to want to move overseas at this time, but the argument that she has two homicidal stalkers on the loose is a pretty powerful one.
I would be more on Gabriel's side if he would just stop talking to the press. He probably doesn't have any other recourse to all the stories Halle is putting out there, though. Poor Nahla, really.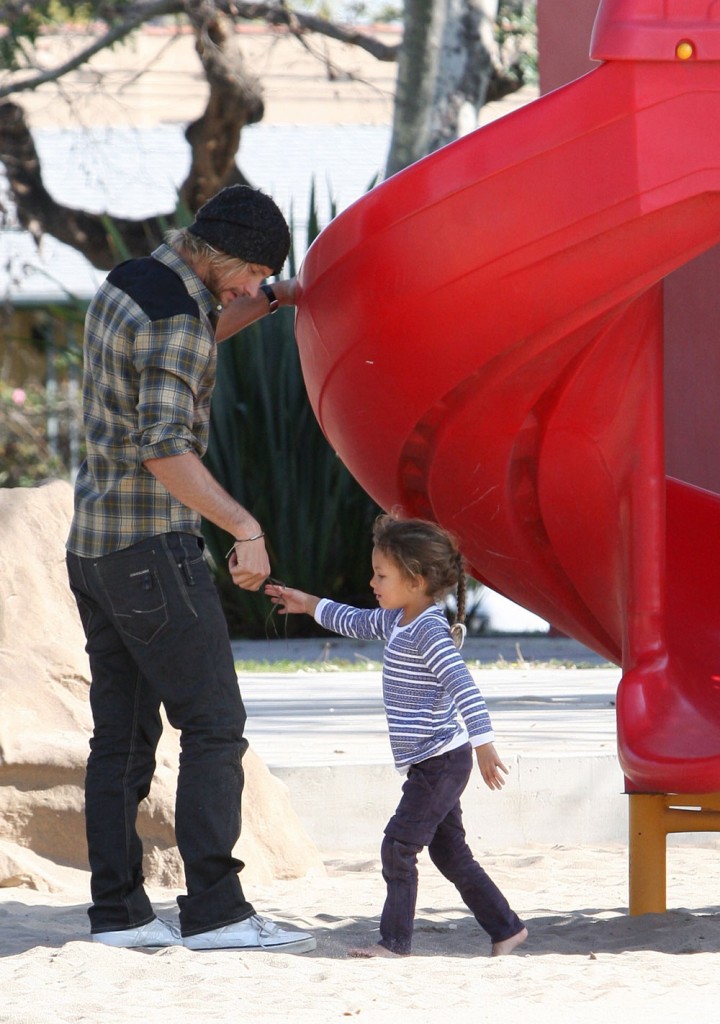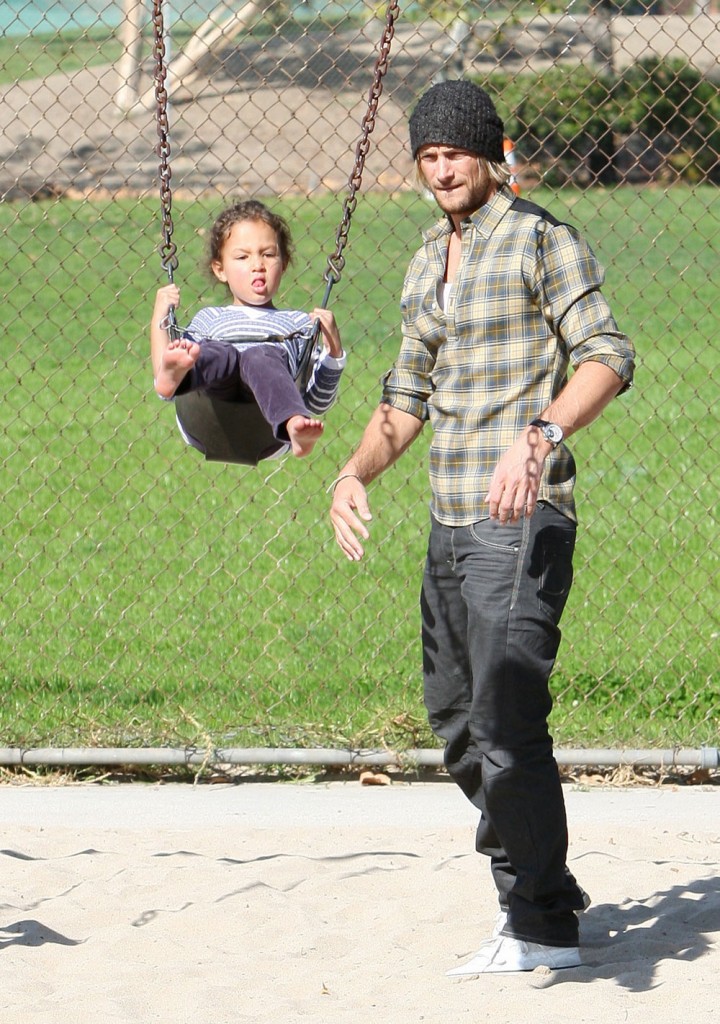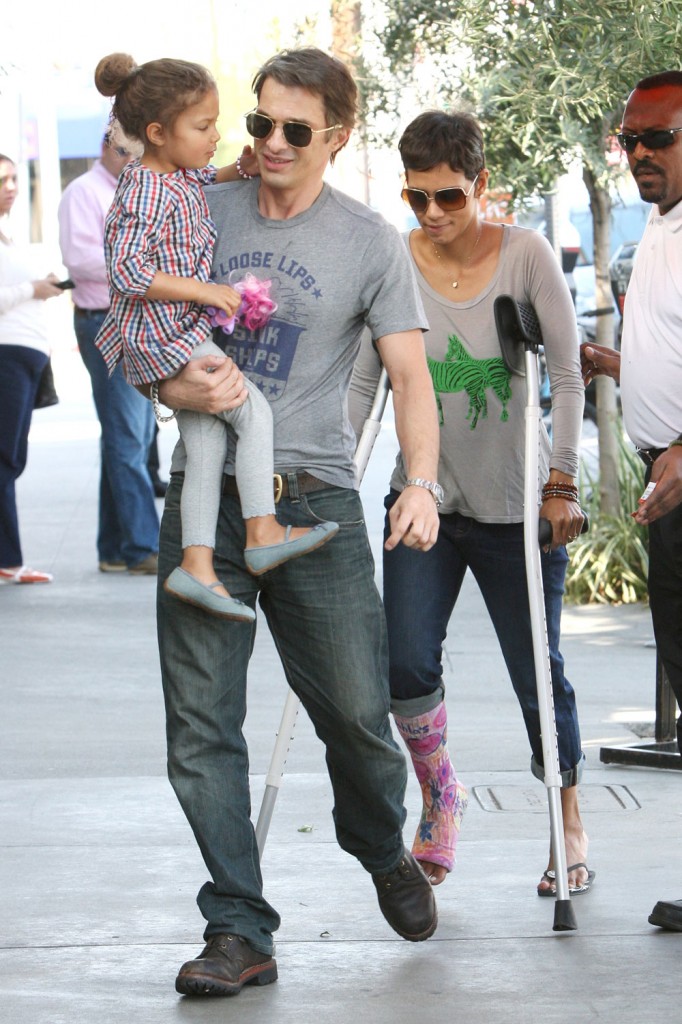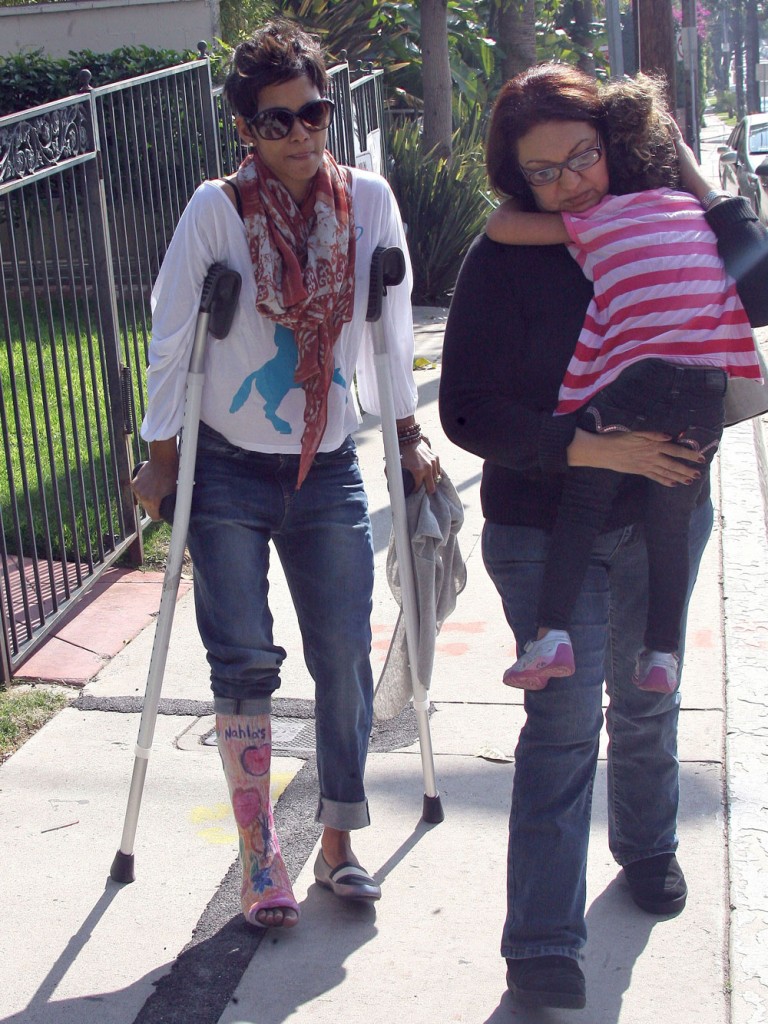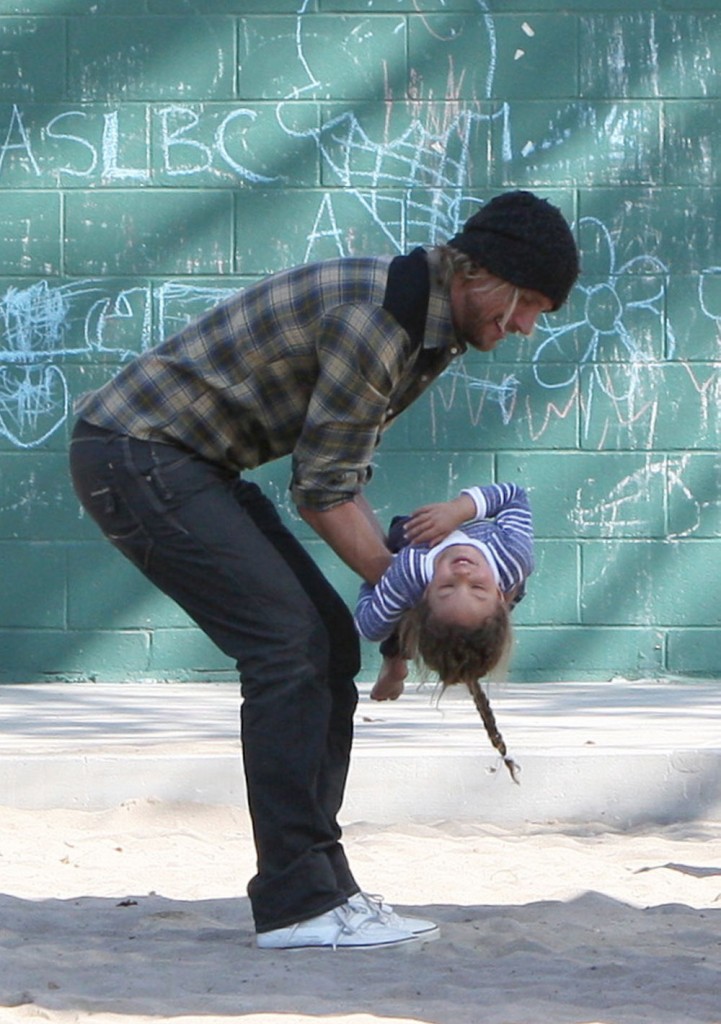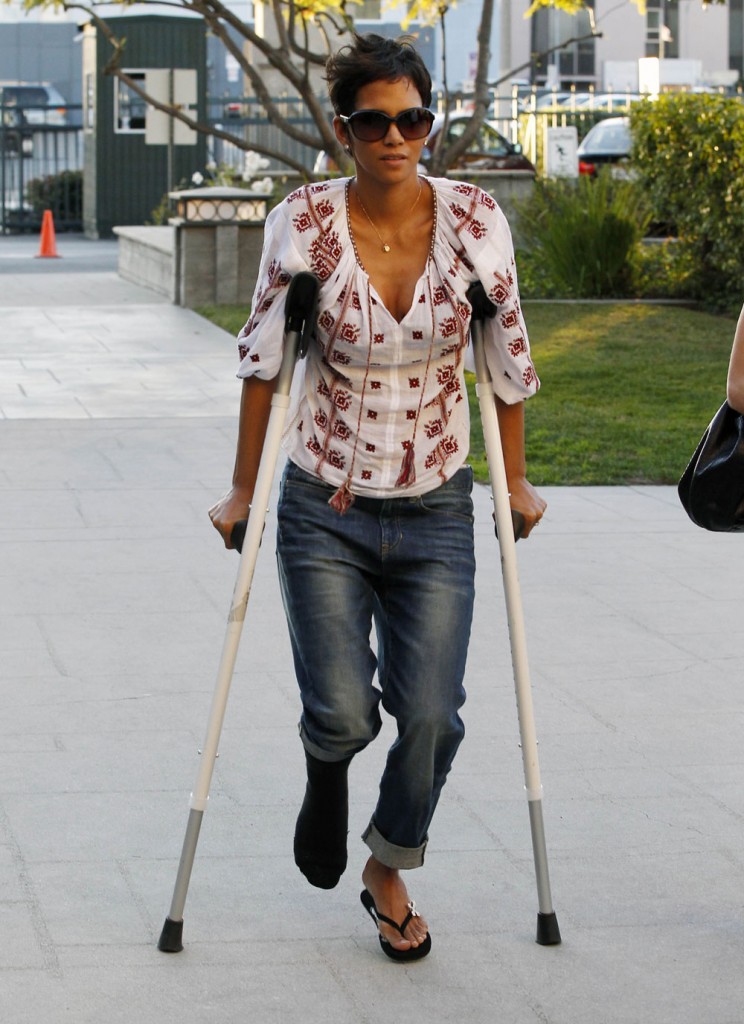 Here's Halle out alone and looking annoyed yesterday on 2-9-12. She's also shown with Nahla and the Nanny on 2-2-12 and with Oliver on 1-29-12. Credit: Osvaldo/FameFlynet Pictures. Gabriel Aubry is shown with Nahla on 2-3-12. Credit: WENN.com