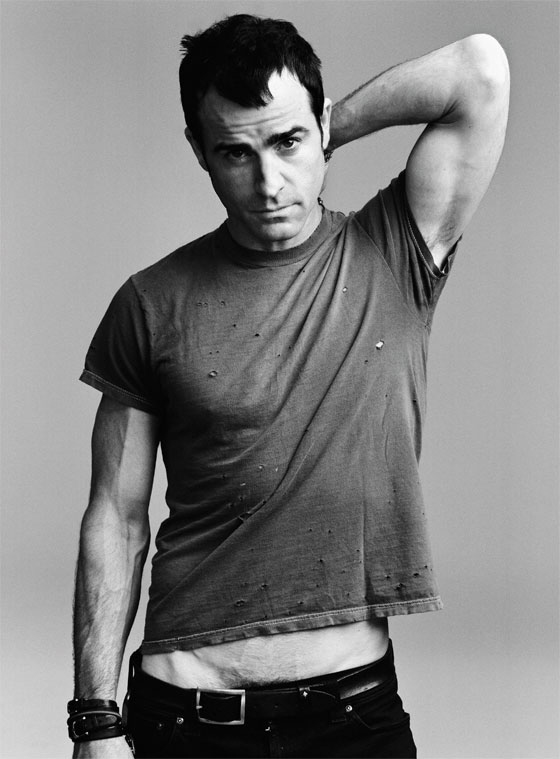 Is it too early in the morning for some Justin Theroux crotch fur? Ew. This photo is totally wrong. And you know he totally brought that shirt from home. That t-shirt has a "story" and it involved hipster cred, cigarettes and Terry Richardson. Anyway, Justin has a lengthy profile in New York Magazine, which you can read in its entirety here. He's promoting Wanderlust, but the piece is all about his history in showbiz, and there are references to his girlfriend Jennifer Aniston. They're still playing fast and loose with the "start date" of the relationship too – NY Mag identifies their relationship as "a year old." Meaning they started in February of last year? Whoa. Anyway, here are some highlights from the piece:
He meets the journalist at the Chateau Marmont: A study in New York street style, he's wearing black boots, lean jeans, a vintage leather jacket over a cashmere sweater, leather bangles on tattooed wrists, gold aviator sunglasses, and a ­fedora tipped at a rakish angle. "I like it here," he says, taking a seat in a worn mohair armchair in the lobby. "It's intimate," the actor-writer-director adds, settling in and ordering a very L.A. lunch: cranberry juice, green tea, and mixed greens with shaved Parmesan on the side. "And the lighting is delicate."

Having a huge, unkempt beard for Wanderlust: "I do my own facial-hair stunts, and that beard was intense, its own being," says Theroux, who had a double for guitar playing and capoeira but lends his own voice to a song in the film. Fueled by bong hits and bawdiness, the R-rated Wanderlust gives the actor a larger-than-usual part as Seth, the charismatic leader of a Georgia free-love commune that becomes a refuge for a couple squeezed out of Manhattan by the recession. "I was thinking of him as a ­David Koresh–type figure, a comic cult leader who is so sincere in his insincerity," Theroux says, wolfing his salad. "It's hard to play that douche-y a guy without cracking yourself up."

Life with Aniston: The bicoastal couple have a house in Bel Air and a three-month-old named Sophie—a boxer-pitbull mix. "She's the most adorable little cookie you've ever seen," ­Theroux says, scrolling to a picture of the black-and-white-faced pup on his phone. "She looks like she just smoked an exploding cigar." Theroux knows only too well that his relationship with Aniston is not just making him more famous but is also a selling point for Wanderlust. "I understand the curiosity, but other than saying I am happy, I am not going to indulge it," he says. "That's building your own torture device."

On fame: "The first thing fame asks you to trade on is your personality," he says. The word ­Theroux uses to describe his new notoriety is "bizarre." The man who, for fourteen years, quietly dated a stylist in New York, arriving at ­fashion-industry parties on a motorcycle, is now driving a Mercedes through L.A. followed by paparazzi. Such is the cruel but usual punishment that comes with this new level of celebrity, which Theroux compares to "having shoes that are slightly too heavy—it can slow you down and make you more cautious. I have to be okay with the fact that there's a narrative that's going to get written regardless of what is the truth. Right now, there's a whole other me out there walking around, and I do everything in my power to avoid that guy, because that's not who I am."

Education: After boarding school in Williamstown, Massachusetts, and Bennington College, where he majored in drama and visual arts, Theroux moved to New York and found work bartending and painting lofts. He was discovered in a 1994 Off Broadway show playing the lover of ­Beatles manager Brian Epstein and made his film debut in the 1996 indie I Shot Andy Warhol.

Ben Stiller is his mentor: After a cameo in ­Zoolander, Theroux gained a mentor in Ben Stiller. "He was the first person to read half-­started screenplays I was writing as a hobby," Theroux says. They collaborated on the 2008 comedy Tropic Thunder, which co-starred Robert Downey Jr., who recommended Theroux to write the Iron Man 2 screenplay. If the stars align, ­Theroux says, he'll direct Zoolander 2 from his own script.

Being a writer: "Writing provides great cover, so I can do the acting jobs I want," says Theroux, popping a fresh piece of Nicorette gum—Hollywood dessert—into his mouth. "It's harder and takes so freaking long, but to me it's more satisfying. As a writer you're the architect; as a director you design the interior; as an actor you are nothing but the leg of a table."
[From New York Magazine]
I didn't know Justin was so well-educated. Boarding school and a bachelor's degree? That's better than most actors have. Anyway, the interview was a lot better than I expected – I thought he'd be way more try-hard and forcing his "hipster coolness" down our throats, but he actually seems like a pretty laid-back dude. He's also old enough to know what's up, you know? He's 40 years old. He's not going to have a John Mayer-style breakdown over dating a famous woman. I have to say, I liked his dodge about his personal life too - "I understand the curiosity, but other than saying I am happy, I am not going to indulge it. That's building your own torture device." Smart?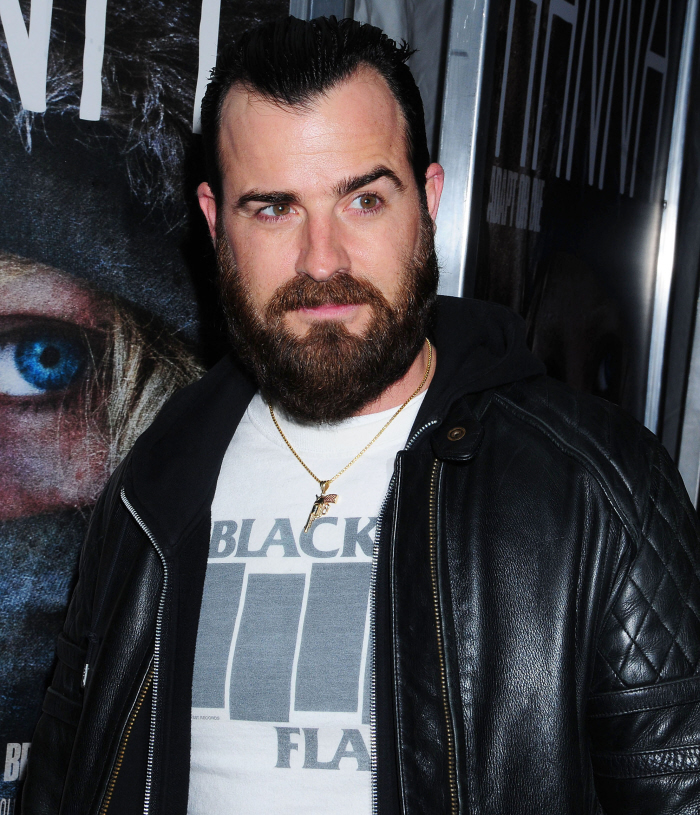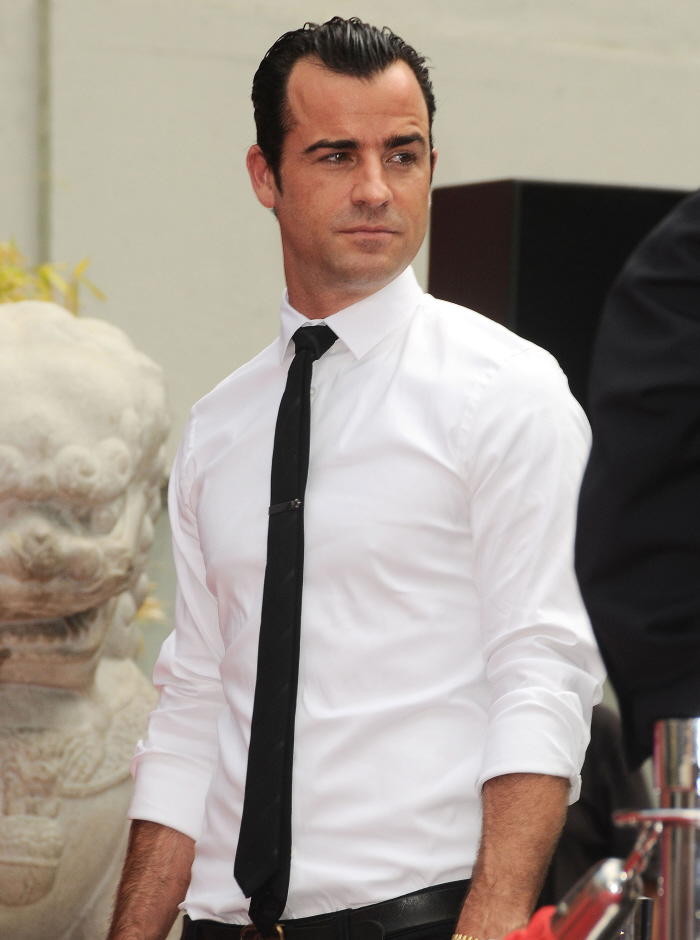 Header courtesy of NY Mag, additional photos by WENN.