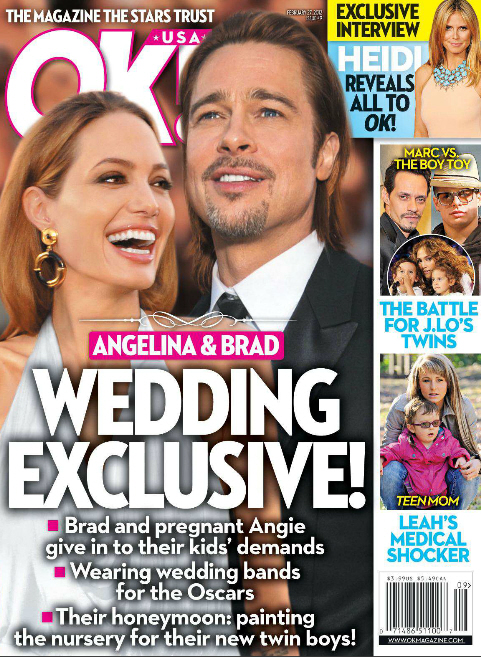 Another day, another Brangelina story. I like OK! Magazine, I really do. Maybe "like" is too strong of a word. I "sympathize" with OK!. I'm rooting for OK! Magazine to find their foothold in the tabloid industry. I want them to decide whether they're going to be nice and celebrity-ass-kissy, or whether they're just going to be a full-blown trashy 'bloid. Until they decide, we get covers like this. Brangelina WEDDING!!! Based on comments Brad made about marrying Angelina… several weeks ago. And OK! Mag is just running with it now. Also: note the photo of Angelina on the cover – they changed her black trash bag SAG dress to white. Get it? Because she's bridal! OK has no qualms about doing that, just like they have no qualms about running with this insipid fake-story. Oh, and the "wedding" (in France, because NO ONE has ever claimed that before) isn't the only "story". OK! also claims Angelina is pregnant with twin boys (shock).
Brad Pitt, 48, and Angelina Jolie, 36, plan on having a small, romantic wedding at their 16th-century French château, reports OK! mag. This will be Brad's second walk down the aisle, and Angie's third.

"Brad and Angie have kept this quiet, and they're talking about how and when to announce it," an insider tells the mag. "They really get a kick out of teasing people with this whole thing."

Unlike Brad's 200-plus wedding he had with Jennifer Aniston in 2000, the source says that Brad and Angie prefer something subdued and private, which their $60 million, 35-bedroom Château Miraval could easily accommodate.

"It's a place that they all absolutely adore," the source says of the French property. "With the vineyards and the gorgeous wide-open spaces, they will really be able to create a dream wedding, right on their own property."

Although the couple originally vowed they wouldn't get married until same-sex marriage was legalized everywhere in the U.S., their kids demanded they put a ring on it asap.

"The kids are all extremely bothered by the fact that Mommy and Daddy are not married, which is the only reason Angie has agreed to through with it," the insider claims. "They've finally worn her down."

And even though Angie's caved into her children's pleas, she's not crazy about the fact she'll be sporting a ginormous baby bump down the aisle, as she's reportedly pregnant with twin boys.

So how will Brad and Angie be spending their honeymoon?

The source says they'll be busy "painting the nursery for their twin boys."
[From Hollywood Life]
I just… I won't start. Instead of discussing this like it's a legit tabloid story, let's just talk about OK's disastrous editorial decisions. I understand the whole "let's just make something up about Brangelina" editorial decision. Tabloid covers with Brangelina will always sell. I also half-heartedly like the fact that OK isn't doing yet another "Angelina is evil, poor Brad" tabloid story. But if you're going to make something up, at least TRY to make it interesting, or something we've never heard. I miss the "Angelina is into voodoo" covers.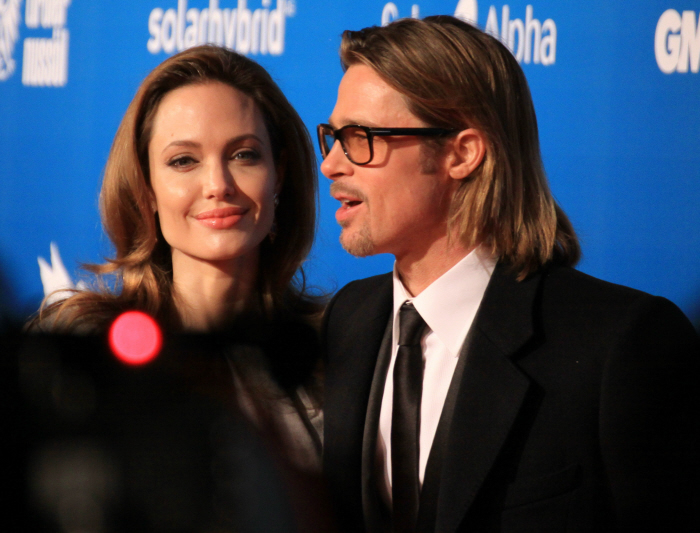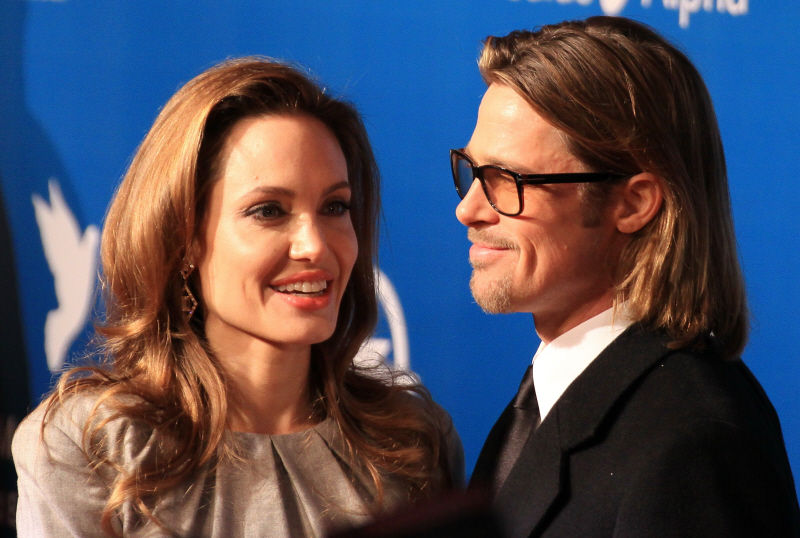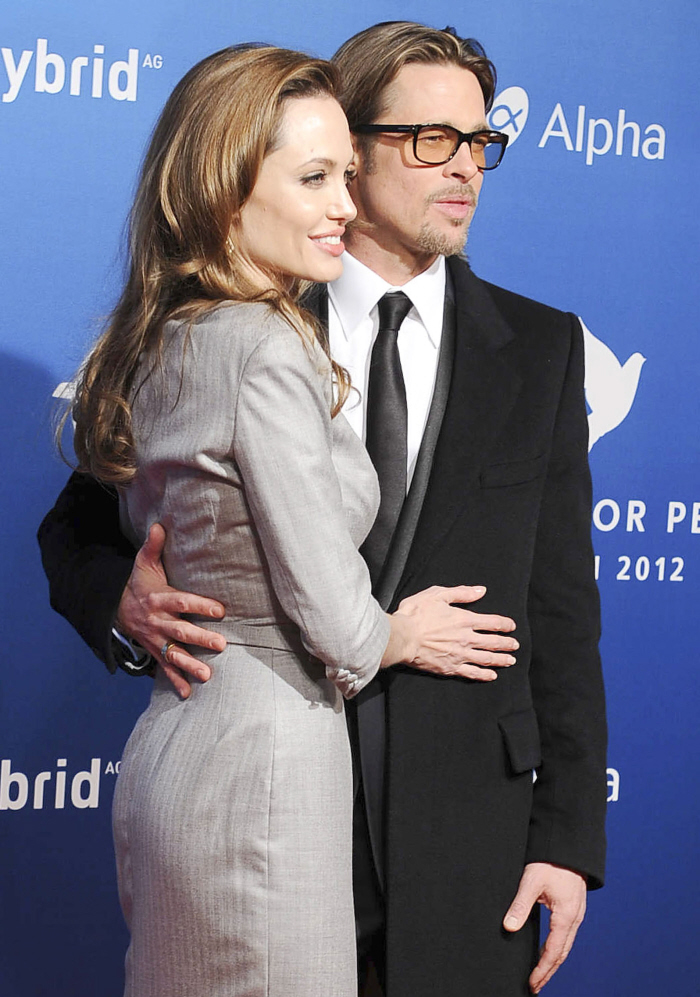 Photos courtesy of Fame/Flynet and WENN.