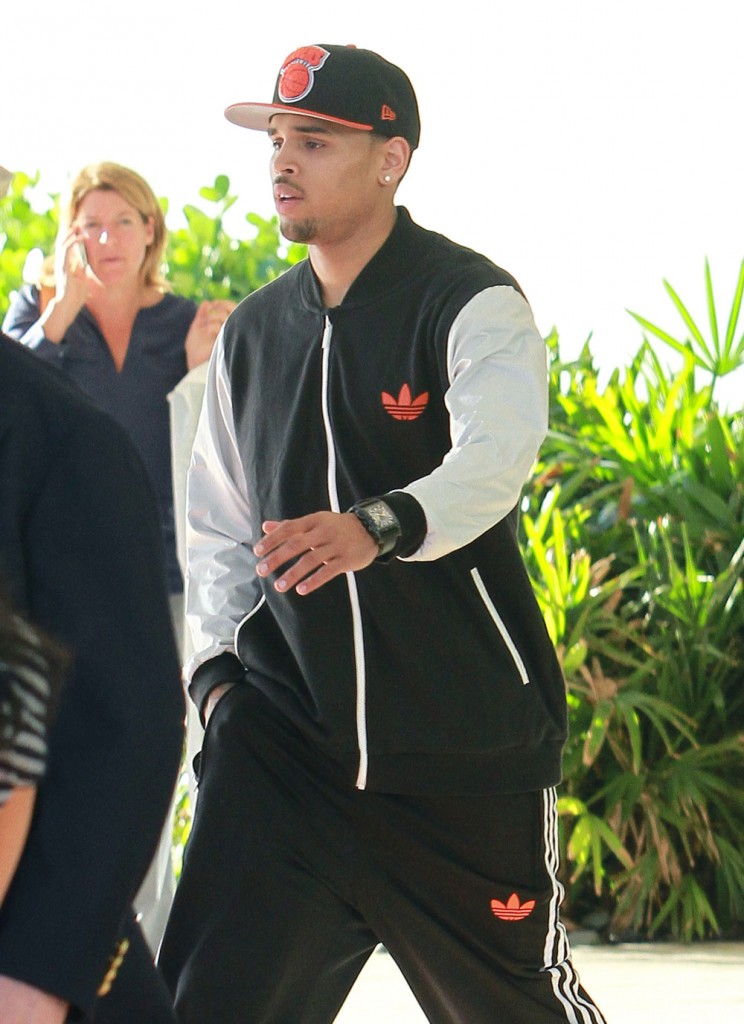 This headline kind of speaks for itself, and it's in US Weekly so it sounds like more than just a rumor. First we'll recap yesterday's story, in which Chris Brown lashed out, via Twitter, at people who dared question his Grammy win and performances in light of his domestic violence conviction. He wrote, in part, "HATE ALL U WANT BECUZ I GOT A GRAMMY Now! That's the ultimate F**K OFF!" Chris deleted those tweets but the damage was already done. Radar online had a follow-up story that claimed Chris' mom put him on blast for being such a petty whiny bitch, as usual. They quoted an insider who had this to say about his mom's response:
"Joyce is absolutely livid that those vile words and rants were posted on Chris' Twitter page. She isn't buying his excuse that he didn't post it and she has told him that it is his Twitter page, and only he should be posting to it, period," a source close to the situation tells RadarOnline.com.

"She feels like people were just waiting for a negative reaction to what others were saying about him. She had begged Chris to just ignore it and she is just beside herself that after such successful performances at the Grammys and winning the award, people are now talking about this Twitter controversy."
[From Radar]
I'm sure his management team was worried too. Last month, Chris' manager, Tina Brown, told the press that her client would not be doing any interviews for 2012, probably because they knew they couldn't avoid angry outbursts like the window-smashing incident at GMA.
Chris deleted his entire Twitter feed apart from 11 tweets, but the damage was already done. While some fools were tweeting yesterday that they would let him beat them, the twitter topic "RIP Chris Brown" was trending after his outburst.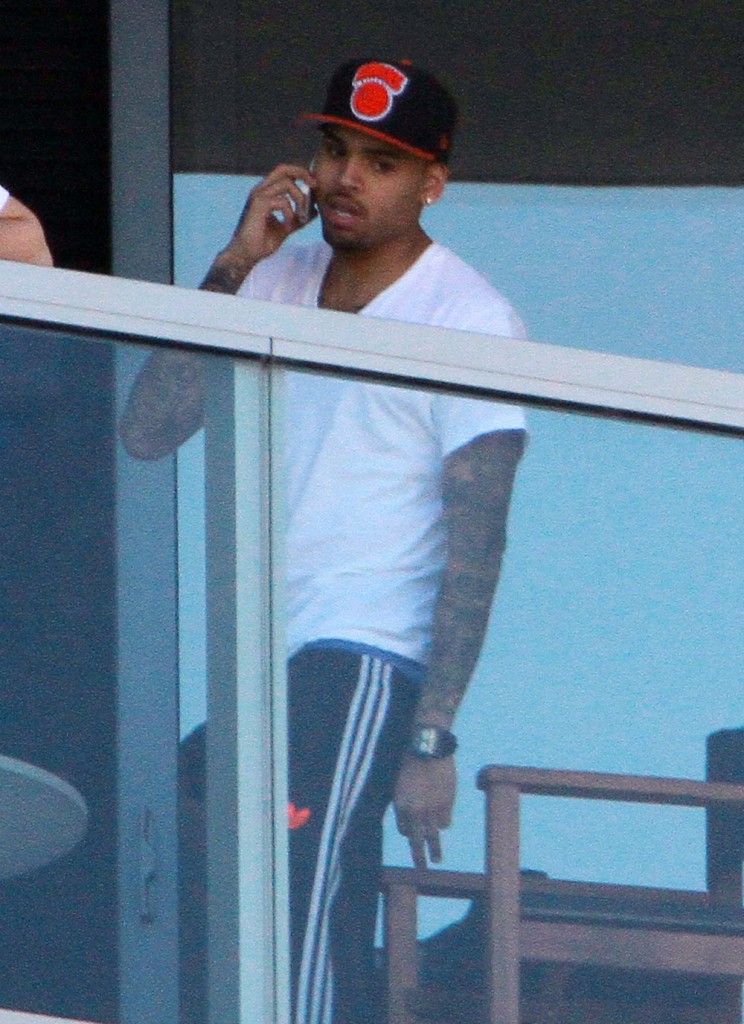 Getting back to the headline story, here's US' report on the obnoxious pickup line Chris regularly uses. This is yet another example of how he has no understanding of the gravity of what he did to Rihanna. He doesn't care, and he'll joke about it:
Chris Brown… confidently approached an attractive brunette February 10 at [a] Grammy gift lounge and asked her, "Can I get your number? I promise I won't beat you!" the woman tells Hot Stuff. [US Weekly].

"He and his friends laughed, then one yelled, 'That's his new line!' Ugh! I wanted to throw up!" (Says Brown's rep, "I'd be surprised if Chris said something that stupid.")
[From US Weekly, print edition, February 27, 2012]
Isn't his rep's response priceless? It's like "he could have said something that stupid, but we've been coaching him on it forever."
Meanwhile Rihanna celebrated her 24th birthday on Monday night with a party in Beverly Hills. Reports claimed that Chris was there, which makes it sound as if they're at least friendly. We've heard rumors for some time that they've been hooking up, but that Rihanna's people have urged her to stay away from her abuser.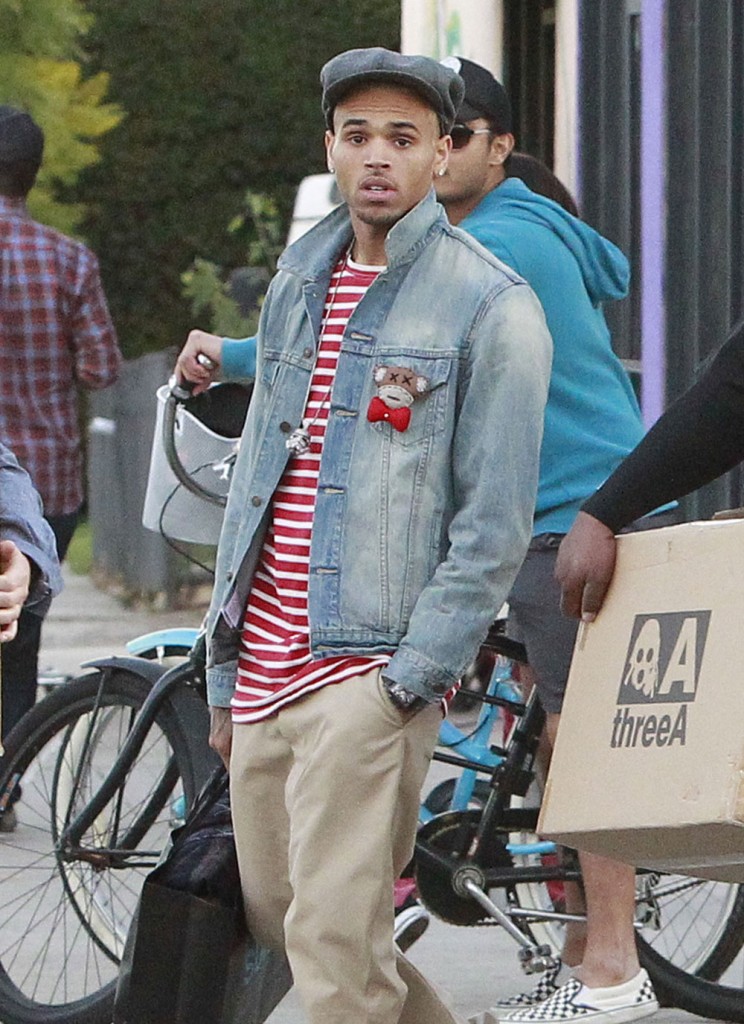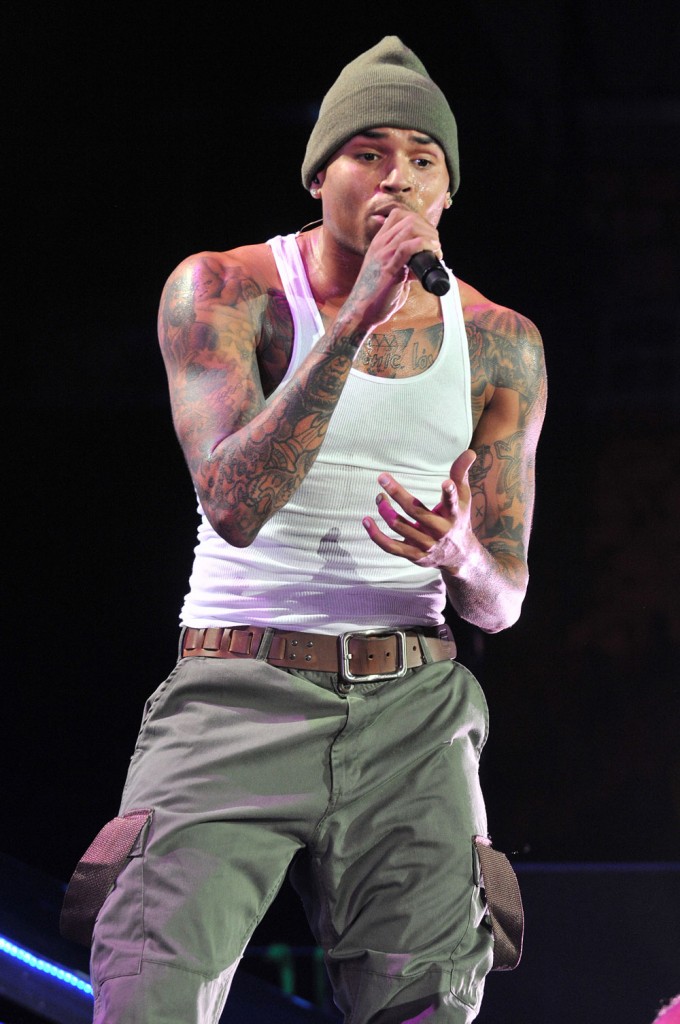 Chris is shown performing in October (credit: WENN) and out in December (credit: Fame). He's also shown yesterday. (credit: Fame/Flynet)