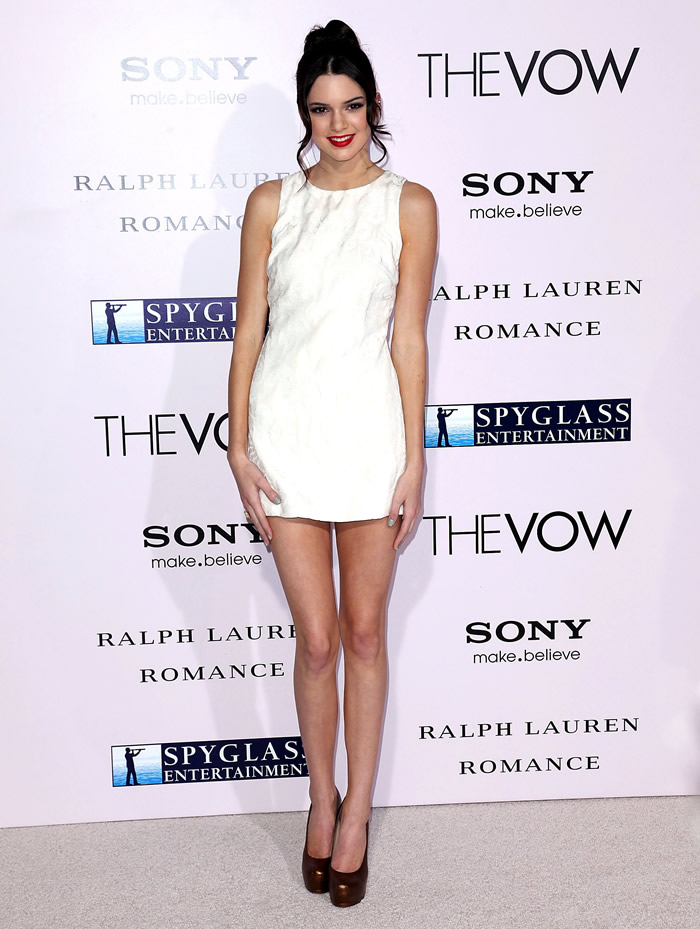 Kendall Jenner might only be 16 years old, but she's already coveting the spotlight just as much as her older half-sisters on the Kardashian side of the family. Just last week, Kendall even pulled her own Twitter stunt by pretending to go blonde but then pulled a "Fooled You"-styled retraction with her brunette hair in full swing again. Of course, I'll try not to give her a hard time because she's so young, but then again, she's sort of put herself out there by styling herself as a a legit bikini model at age 15. Anyway, Kendall (who has previously expressed some degree of enthusiasm towards the concept of education) has talked to People about how she's probably going to ditch the idea of college if she makes it huge as a model. Eh…. why not? If Kendall does succeed as a model, then she'll be miles ahead of Kim in the class department:
Her sisters might be the queens of reality TV, but Kendall Jenner is looking to carve her own path in life — through modeling.

"I'm not really thinking about college right now," Jenner, 16, told PEOPLE Monday while trying on dresses at Rent the Runway's Pop-up Shop at West Hollywood's Andaz Hotel. "If my career, like, blows up and gets really big, [modeling] is what I would do."

Though we've seen Kim Kardashian's younger sis struggle with her nerves while walking the runway on Keeping Up With the Kardashians, Jenner says those initial jitters are all in the past.

"I want to [walk the runway] again and again," she said. "It was so much fun, like the adrenaline and everything was really fun."

The budding fashionista, who calls her own style "edgy [and] girly, but colorful," shared some of her own style tips and influences.

"I like to add color… and I think that heels make the outfit look 10 times better," said Jenner, who often "raids" sister Kourtney's closet. "I love Herv&eacure; L&eactute;ger dresses just because I love bandage dresses … [and] I love jumpers."

As for showing skin both on and off the runway, the teen believes less is more.

"I think if you look cute but like, classy, even though you are showing skin, I think that's fine," she said. "I wouldn't like, go crazy. I am not that kind of a person."
[From People]
Yes, I know Kendall's young, and she said "like" five times in the space of these interview excerpts, but it's a difficult speech pattern to ditch once started. I just hope that Kendall does keep college as an open possibility because, if her notoriety is entirely intertwined with that of her sisters, then her modeling prospects may very well go down with the sinking ship. Certainly, the days of Kardashian Rule shall not last forever, so Kendall had better get out there and model like crazy while she still can. And get to studying for the SATs too.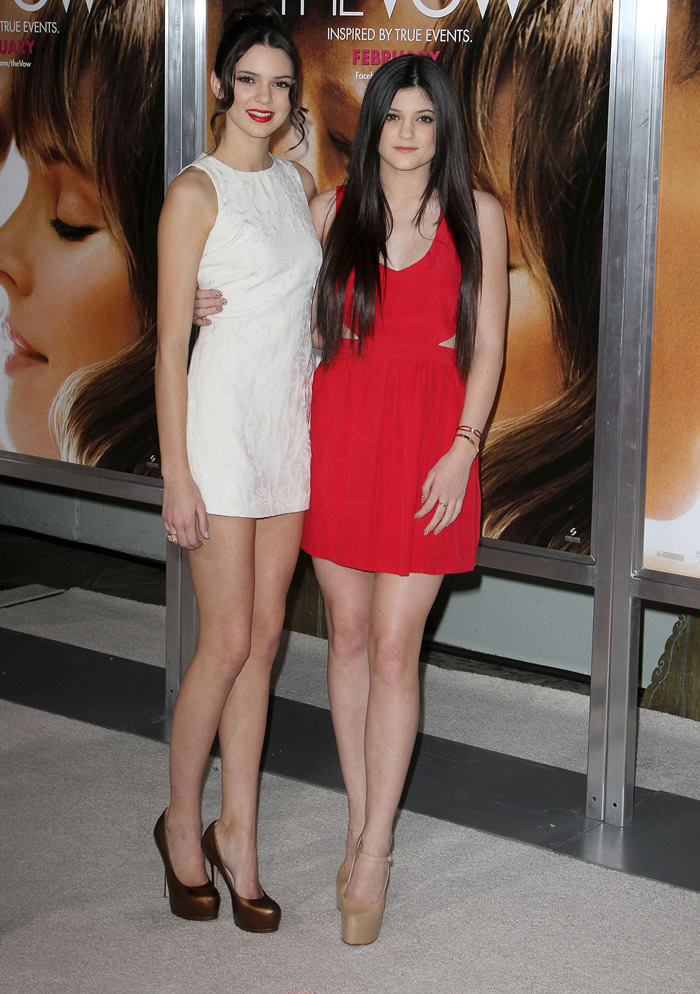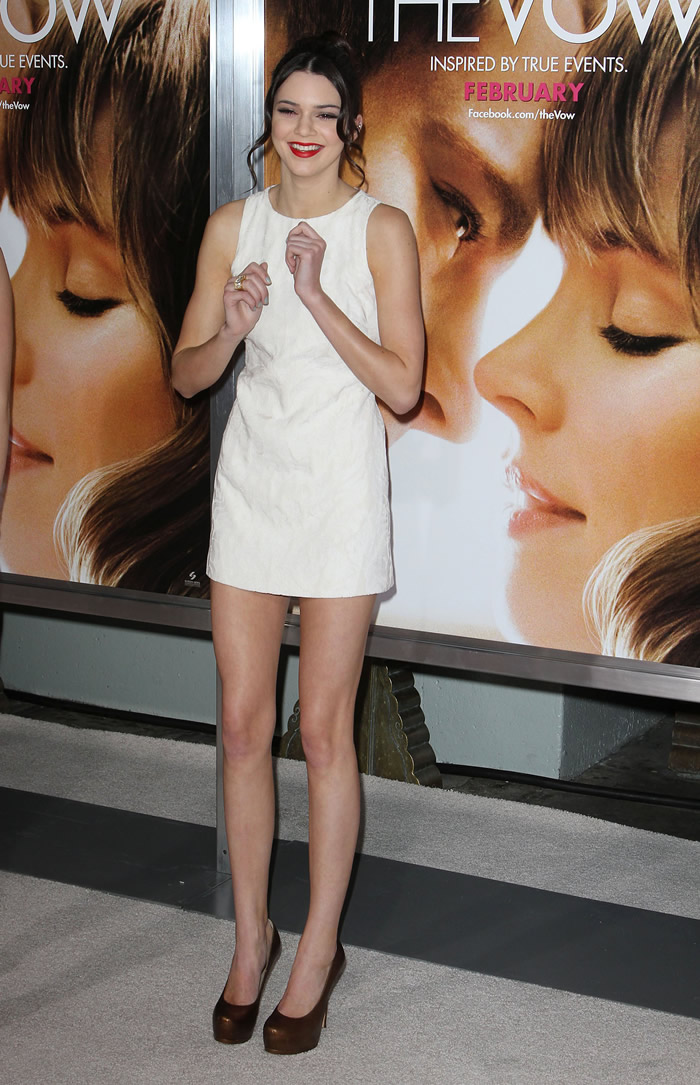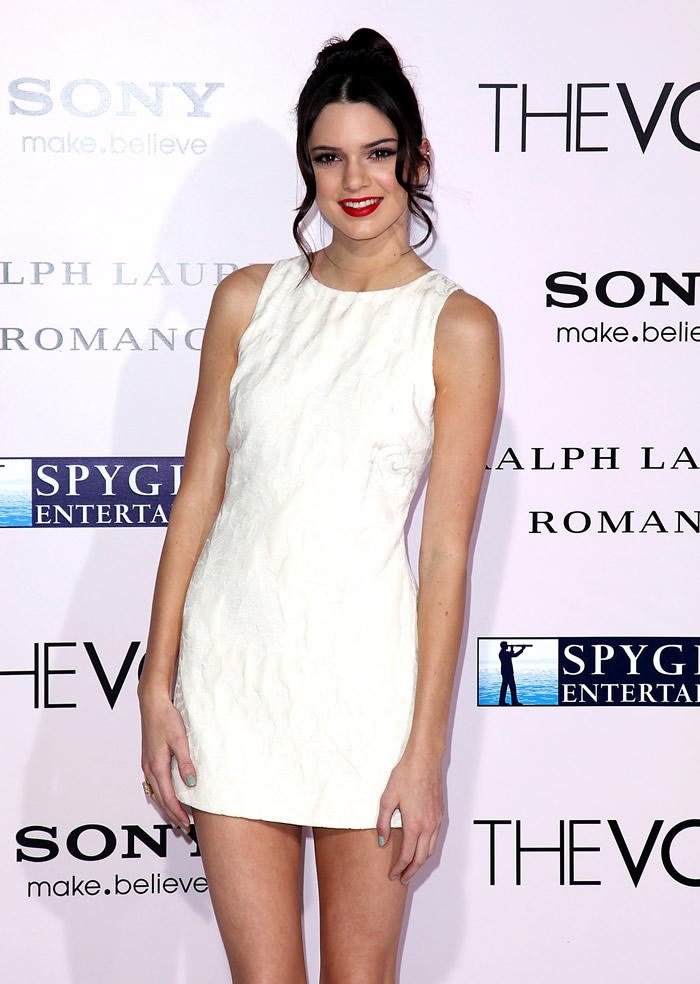 Photos of Kendall and Kylie Jenner at the L.A. premiere of The Vow on 2/6 courtesy of WENN