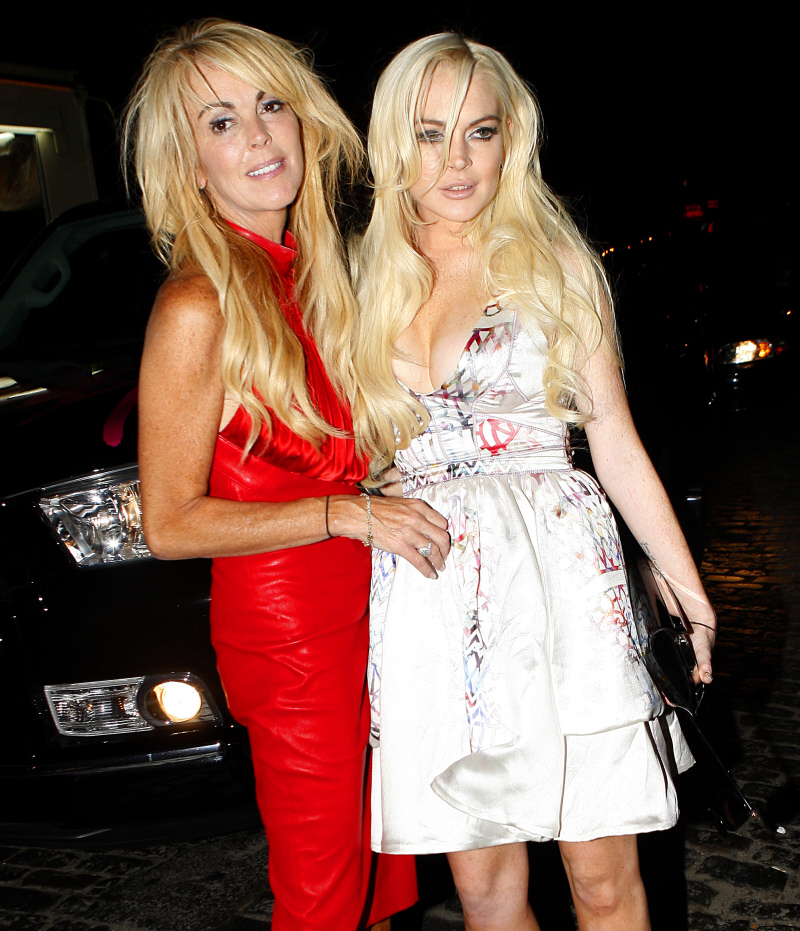 Dina Lohan went with her daughter Lindsay to court yesterday – Dina could be seen in the background of some of the Lindsay photos, plus Dina was photographed on her own. It doesn't really surprise or shock me that Dina came with Lindsay, as we've known for so many years that Dina is Lindsay's biggest enabler/enforcer/defender/pimp. But Dina does have another side to her – the side that wants all of the attention that her daughter gets. Thus, Dina still schedules interviews for herself. A few days ago, she was scheduled to appear on Dr. Drew's HLN show. Then, the day of her scheduled appearance, HLN's PR person sent an email to all outlets – "Dina Lohan has just cancelled her appearance scheduled for tonight on HLN's Dr. Drew@ 9pm ET. She has not rescheduled."
Now, considering Dr. Drew and Lindsay have a tortured history (as in, he thinks she should be framed for a crime and thrown into a dark hole, which is pretty bad coming from someone who fancies himself a medical professional), it's weird that Dina would agree to speak to Dr. Drew in the first place. And when she canceled, I just figured that Lindsay had crack-squawked to her mother and Dina had acquiesced, pulling the interview. But Dina's spokesman (incidentally, the same man who speaks for Lindsay too – the dreaded crack-enabler Steve Honig) went to Radar to paint a pretty picture:
Dina Lohan was by her daughter, Lindsay Lohan's side when she received a glowing progress report in court Wednesday, and she intends to support her fully, even going so far as to cancel a scheduled interview with TV host Dr. Drew Pinsky, after deciding it's best not to talk publicly about her family, RadarOnline.com is exclusively reporting.

As previously reported, Lindsay was praised by Judge Stephanie Sautner during her progress hearing stemming from her misdemeanor theft case.

The judge told the 25-year-old during the brief hearing that it looks like she has gotten "her life back on track." Furthermore, Lindsay is in the homestretch of completing all her probation requirements, and once she finishes the remaining 14 days of community service and 5 therapy sessions she will have fullfilled all of the obligations from the Court and will no longer be required to report to her probation officer.

Mama Lohan was scheduled to appear on Dr. Drew's HLN show Tuesday, but at the last minute backed out. "Dina's decision to not appear on Dr. Drew was hers and hers alone. Her feeling is that right now it is better to support her family than to talk about them," Lohan family rep Steve Honig tells RadarOnline.com.

However, Dina hasn't ruled out sitting down with the respected doc in the future. "Dina truly respects Dr. Drew and would love to do his show in the future. Maybe in a month or so she will revisit the invitation. Dr. Drew was very gracious and understanding about her reason for canceling, and there are no hard feelings at all between the two," a source close to the situation says.

Meanwhile, with Lindsay's legal woes almost behind her, the actress is mounting a comeback and has inked a deal with Lifetime to play Elizabeth Taylor in the biopic television movie, and will be hosting Saturday Night Live on March 3.
[From Radar]
All this time, I always figured that "Steve Honig" was just Dina's alias. Like, she puts on a fake accent and calls up media outlets to supply cracked-out quotes. Anyway, is it even worth noting how incredibly stupid the Family Lohan is? Dr. Drew and Lindsay were engaged in a verbal death-match not so long ago, and LL (rightly) claimed that Dr. Drew is "a quack and a sellout." But Lindsay's mom still totally respects him, especially if he wants to pay attention to her!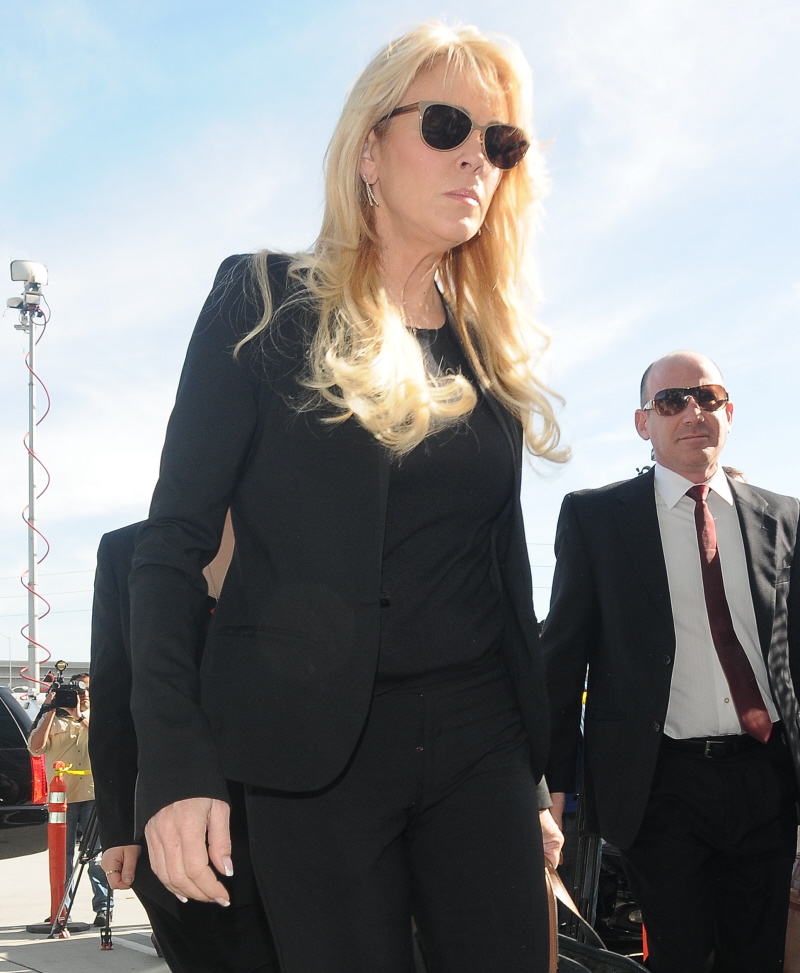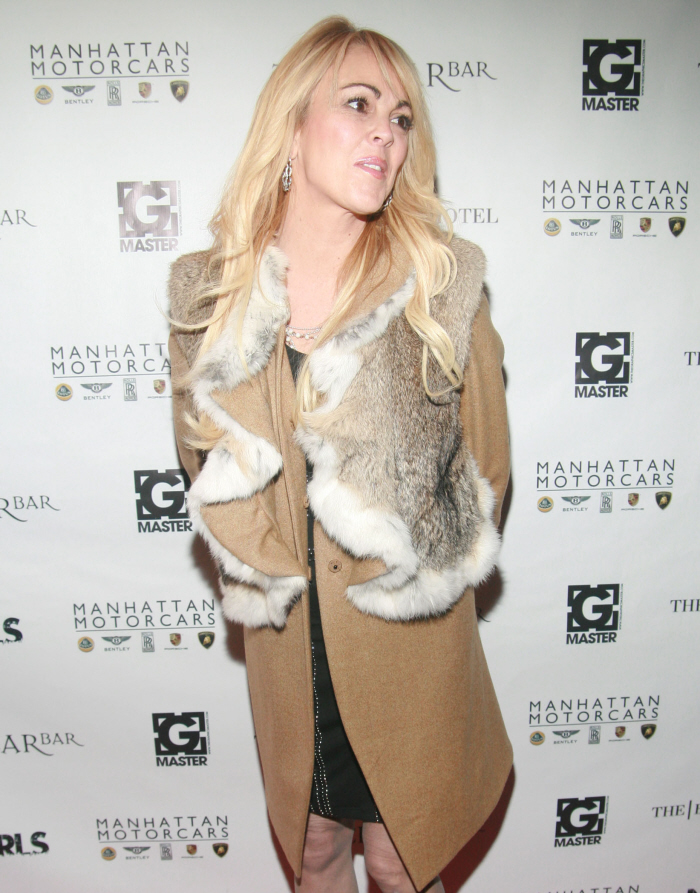 Photos courtesy of Fame/Flynet and WENN.