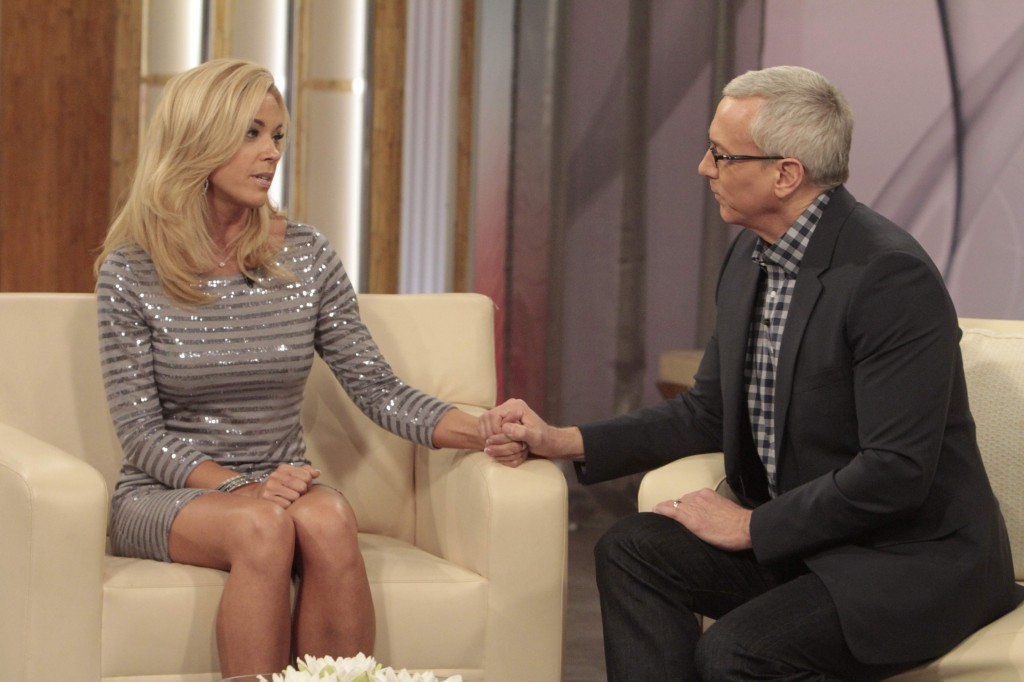 Note that I originally wrote this story focusing on the fact that Kate Gosselin recycled the same cheap-looking shiny short dress, heels, and accessories she wore on "Extra!" about a month ago. Then "notafan" clued me in to the fact that Kate just taped this episode on the same day that she was photographed at the Grove for "Extra!." So that explains her outfit and it wasn't a repeat. There's still no excuse for that cheap-looking short mess paired with those heels her toes are hanging out of.
Kate Gosselin is trying to promote her new image as a cost-cutter working at a coupon website. Along with that, she's working to humanize herself. Kate was on Dr. Drew's Lifechangers yesterday getting advice about dating as a single mom to eight kids. She cried, and I felt a twinge sorry for her, but I think she was crying more for the lifestyle and fame she lost than for her failed marriage. She was still with the married bodyguard at that point, so she wasn't crying over a lack of companionship, unless he has one foot out the door anticipating that his paychecks are about to dry up.
This is the woman who sneered last year that she wouldn't accept a "mediocre" life for her kids. She said right as her reality show was ending that "It's a situation where Jon may be accepting of mediocre for his kids and working a regular job and I want the best for my kids and the best opportunities." So in Kate's mind a regular job = mediocre. Now she's humbling herself a little by taking a sort-of "regular job" and dropping some of her superiority complex. It's a good strategy. Here's more about her interview, and there are videos below:
Dr. Drew – "How are things with Jon and you these days?"
Kate – "He basically lives his life and I live mine. It's more peaceful. Probably not anything that I'm doing differently. Possibly he's working now and so he feels like he's living a regular life again and maybe a little happier with himself, so that boils down to peace between us. The kids are now okay going there."
Dr. Drew – "Is he being a good dad?"
Kate – "I feel like he's trying again. That's good. The bottom line is the kids come home basically happy and that's all that matters."

Dr. Drew – "The data on the parents of multiple children is bad… I watched you go through that… I'm sure you personally went through more pain then anyone looking would ever know."
Kate – "There is a lot of untold stories… I remember when the little kids turned five and I remember thinking, oh my gosh like 50% of multiple parents are divorced by the time their kids are five and then it happened."

Dr. Drew – "Do you have a love life?"
Kate – "No. I'm too busy. I think a lot of my friends who are being constructive say 'gosh, who are you going to meet that is going to be able to deal with eight kids?' My answer is always if they can deal with eight kids in our situation it probably will be the person. It will sort of prove it."
Dr. Drew – "You're tough but don't you want somebody in your life?"
Kate – "Absolutely! The odds are so against me, one mom and eight kids… so it would be great. I am lonely. I clean up the house, put kids to bed and there I sit. Ideally I would find that person. I don't know if I feel ready for that."
[Transcript via The Dr. Drew show]
Remember Kate throwing an absolute sh*t fit on the final episode of her show over her bodyguard not getting the last piece of pizza? She's been sleeping with that married guy for years, and she's been denying it for years. This crap about her sitting around feeling lonely after the kids are in bed is probably just when the bodyguard is off Skyping with his wife.
Kate Opens Up About Jon Gosselin

Kate Gosselin Gets Emotional About Her Divorce

Kate Gosselin Opens Up About Her Love Life

Here is Kate on Extra on 1-19-12. Credit: WENN.com. The bodyguard was around at that point