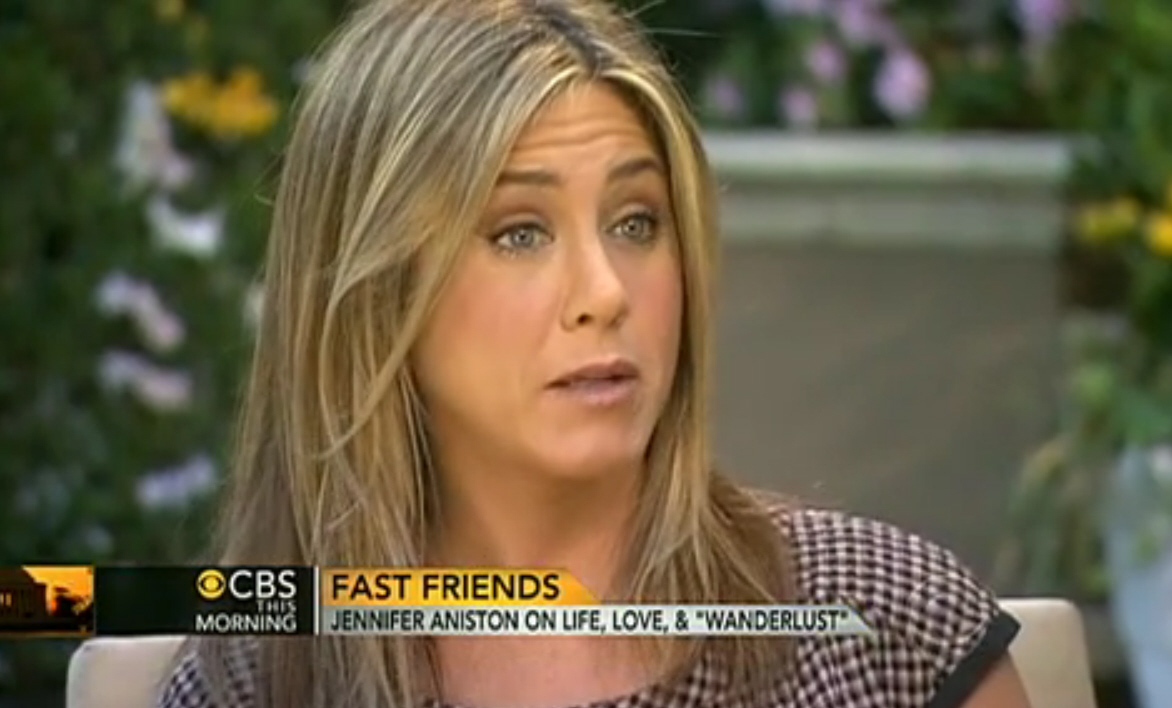 The state of Jennifer Aniston's womb is a matter of constant discussion. I think people began focusing on it when she married Brad Pitt, because he was always so vocal about wanting kids (to the point of tearing up on Oprah's couch), and because Jennifer's reputation back in those days was as the nice, sweet girl-next-door. Of course the nice, sweet girl-next-door wants to be a mother, especially when she's married to Brad Pitt, right? Well, as we know, babies never happened with Brad and Jennifer. They split in January 2005, and for months, the rumor mill spun the tale of Jennifer denying Brad's dreams of fatherhood, which led to Brad falling for single mother Angelina Jolie. Then came Aniston's now-infamous Vanity Fair interview in the September 2005 issue. I want to put a decent-sized excerpt from the piece, just because I'm still in disbelief that VF printed such a sycophantic piece of Aniston propaganda:
[Brad and Jennifer] seemed the most fortunate couple imaginable—two beautiful superstars who had hit the jackpot, earning not only fame and riches but also an enduring love. Their fans had long been captivated by the romance of America's Sweetheart and the Sexiest Man in the World, and now they were ready to begin a thrilling new chapter. Aniston's 10-year run on Friends was ending, and she and Pitt had vowed to start a family when her stupendously successful television series was finished…. But the ensuing months brought an onslaught of rumors that he had gotten involved with Angelina Jolie while filming Mr. & Mrs. Smith. Instead of the joyful announcement many had anticipated from the Pitts, there was only silence.

…And then came the oh-so-civilized announcement, on January 7, that Jennifer Aniston and Brad Pitt were separating—that their parting was "the result of much thoughtful consideration," that it was not caused by "any of the speculation reported by the tabloid media," and that they would remain "committed and caring friends with great love and admiration for one another."

If Pitt had kept a low profile in the months to come, that might even have turned out to be true. Instead, the ominous drumroll of gossip began to crescendo as he and Jolie rendezvoused in exotic locales, still denying that they were an item. With the paparazzi snapping away, Pitt stepped into what looked suspiciously like a paternal role with Jolie's adopted Cambodian son, Maddox.

"It was extremely hurtful to Jen that he was seen with another woman so quickly after they were separated," says Andrea Bendewald, an actress who has been one of Aniston's closest friends since they were teenagers.

Instead of being reviled as The Other Woman, Jolie posed for pictures on an energetic round of appearances as a goodwill ambassador for the United Nations—and then trumped even that public-relations bonanza by adopting another orphan, an African girl whose parents had died of AIDS. In the blink of an eye, the twice-divorced Jolie—previously known as a tattooed vixen with a taste for bisexuality, heroin, brotherly incest, mental institutions, and wearing her husbands' blood—had morphed into a globe-trotting humanitarian who seemed to be channeling Audrey Hepburn.

For the 36-year-old Aniston, who had expected to spend the past year being pregnant, the pain of watching this spectacle unfold was compounded by vicious rumors about herself. As misogynist as they were false, sensationalistic stories claimed the real reason the marriage ended was that Aniston refused to have Pitt's baby because she was so ambitious she cared only about her career.

Even now, that sexist slur makes her face darken. "A man divorcing would never be accused of choosing career over children," she says. "That really pissed me off. I've never in my life said I didn't want to have children. I did and I do and I will! The women that inspire me are the ones who have careers and children; why would I want to limit myself? I've always wanted to have children, and I would never give up that experience for a career. I want to have it all."

Aniston's intimates note acidly that Pitt could have done more to refute the mean-spirited rumor that his wife wouldn't bear his child, which reinforced the impression that he had good cause to leave her for Earth Mother Jolie. To some, this looks like sheer hypocrisy.

"When Brad and Jen were in the marriage, having a baby was not his priority—ever," says one mutual friend. "It was an abstract desire for him, whereas for Jen it was much more immediate. So is there a part of Brad that's diabolical? Did he think, I need to get out of this marriage, but I want to come out smelling like a rose, so I'm going to let Jen be cast as the ultra-feminist and I'm going to get cast as the poor husband who couldn't get a baby and so had to move on?"
[From Vanity Fair, September 2005]
Hit piece. Pity party. And as it turns out, Aniston had shackled herself to that version of story for years and years to come. In the years that followed, Aniston has pulled out the "I want babies, for real" card whenever she promoted a movie, gleefully joking about "the rumors" while selling her wholesome, baby-desiring brand repeatedly in magazines. One year ago – for her 42nd birthday – Aniston scored the cover of People Magazine – a cover story that her publicist surely green-lit the entire way, a cover story which included "babies!" in the headline. In that piece, Aniston told the magazine, "I think people honestly just want to see me as a mom and married and barefoot and pregnant in the kitchen. And I just want to say, 'Everybody, relax! It's going to happen.'"
So imagine my eye roll when I saw that Aniston is once again talking about her womb in the public sphere. She did an interview with Gayle King of CBS a few days ago to promote Wanderlust, and of course, Aniston and Gayle had to joke around about Aniston's latest tabloid pregnancy. Aniston takes her denial one step further, though. She says we're all "very narrow-minded" to "assume" that she can't be happy without a baby. She tells Gayle, "That doesn't measure the level of my happiness or my success in my life, in my achievements, in any of that." Yes, after playing the baby card for years, Aniston is truly upset that we would take her at her word, that we would believe her public statements. Is it okay if I say that I find it "very narrow-minded" that she thinks her fans will abandon her if she admits she never really gave a crap about having kids? Will a pity party commence if I say that I find it "very narrow-minded" that she only talks about wanting to have kids when she's selling us a movie?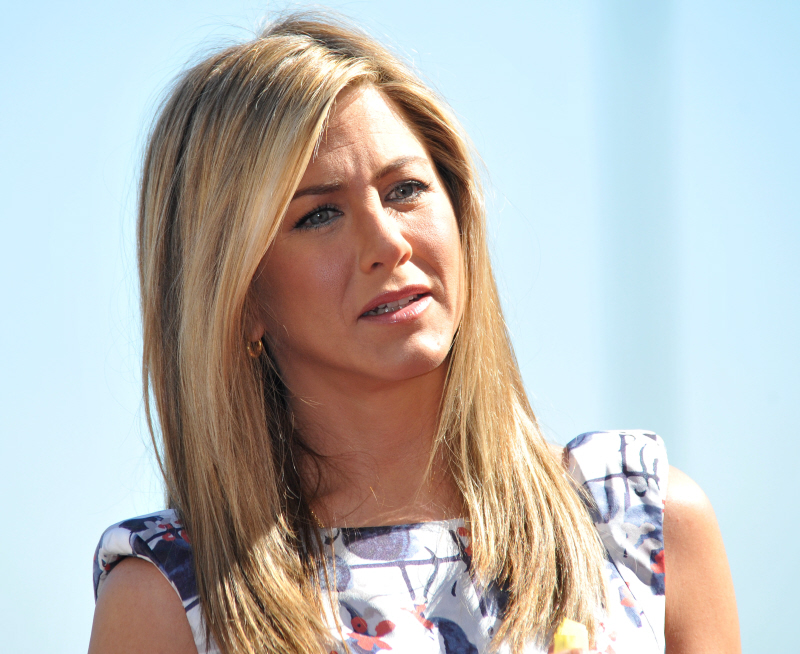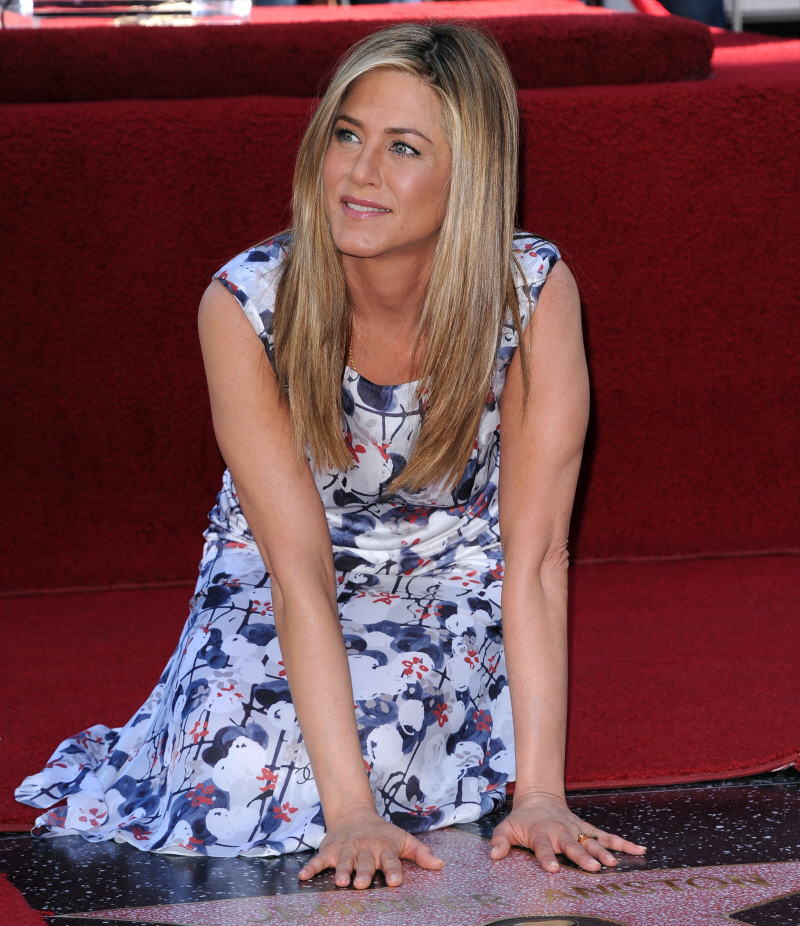 Photos courtesy of Fame/Flynet.