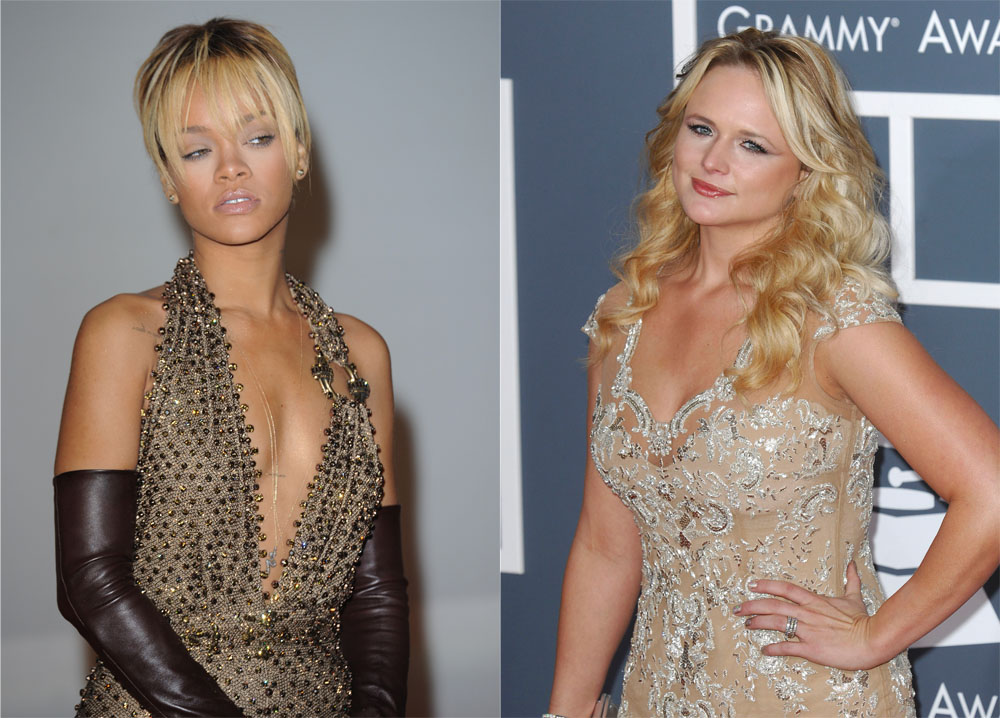 After the Grammy Awards, country singer Miranda Lambert tweeted some anti-Chris Brown messages meant to bring attention to the fact that he's an abuser and shouldn't have been give two chances to perform at their industry's most prestigious awards event. Miranda later brought up Chris' name again in a concert before she sang a song about a woman shooting her abuser. She held up a sign that said "Take Notes Chris Brown." Well none of this supposedly sat well with Chris' sort-of on-again ex, Rihanna, the abuse victim. Rihanna allegedly got Miranda's phone number, called her up and told her to mind her own business.
The claws are out between country music cutie Miranda Lambert and R&B sensation Rihanna!…

Sources say Rihanna, 24, flew into a rage when she heard about Miranda's tweets attacking [Chris].

"Rihanna got Miranda's phone number from a mutual acquaintance," an insider revealed. "She told Rihanna to worry about her own relationship because her husband is known for his wandering eye."

"Rihanna has moved on since her relationship with Chris," added the insider. "She believes that if she can let it go, considering she was the victim, others need to move forward also."
[From The National Enquirer, print edition, March 12, 2012]
This could just be a clever way for The Enquirer to squeeze a new angle out of this story, but the fact that they add the detail that Rihanna actually called Miranda makes me think it's true. You can imagine Rihanna telling another woman to mind her own business, especially since she's probably sleeping with Chris again. But does Rihanna even know that Blake Shelton is supposedly a cheater? The Enquirer has been running stories about him for a while, but they're not getting a lot of press so who knows if this is true.
That last line in the story about how people should forgive the perp because the victim does doesn't sit well with me. That's not how the justice system works, and it wouldn't be fair to anyone, particularly future victims, if it did. Just because someone forgives an abuser (or a rapist, etc.) doesn't mean that they've changed their ways, or that they shouldn't face the consequences for their crime. That includes having people talk smack about them, which seems an incredibly minor thing compared to what Chris did. It's a shame Rihanna can't see that.
Here's Rihanna's latest outfit in London yesterday. Leather mid-thigh boots, studded white shorts, a denim shirt and another denim shirt wrapped around her waist and tucked under her shorts. At least she's consistent.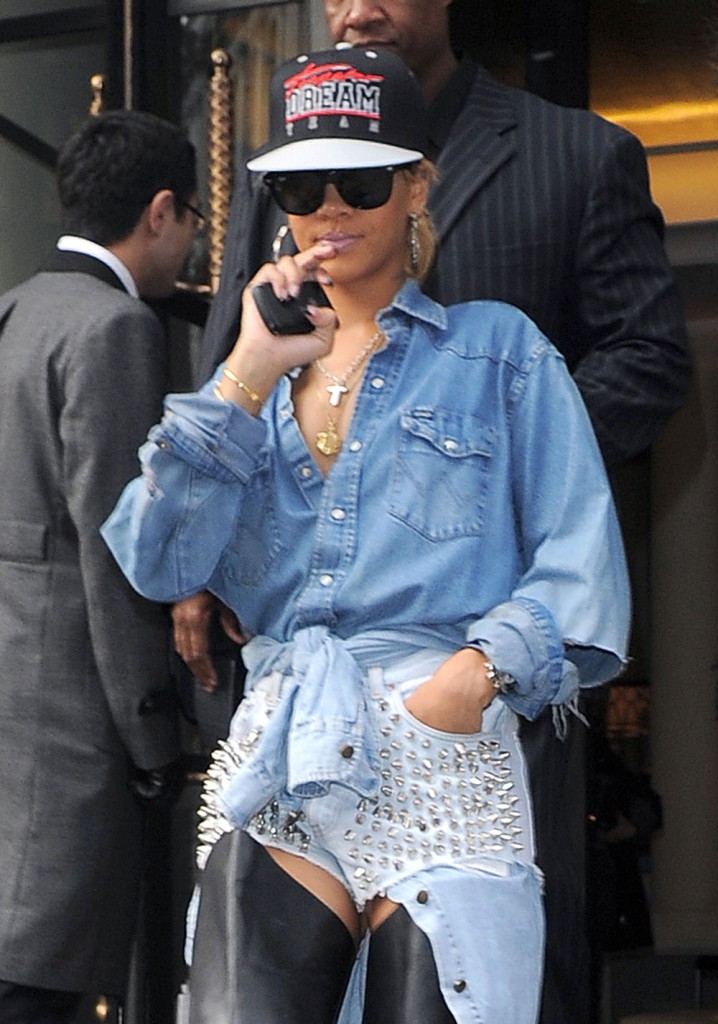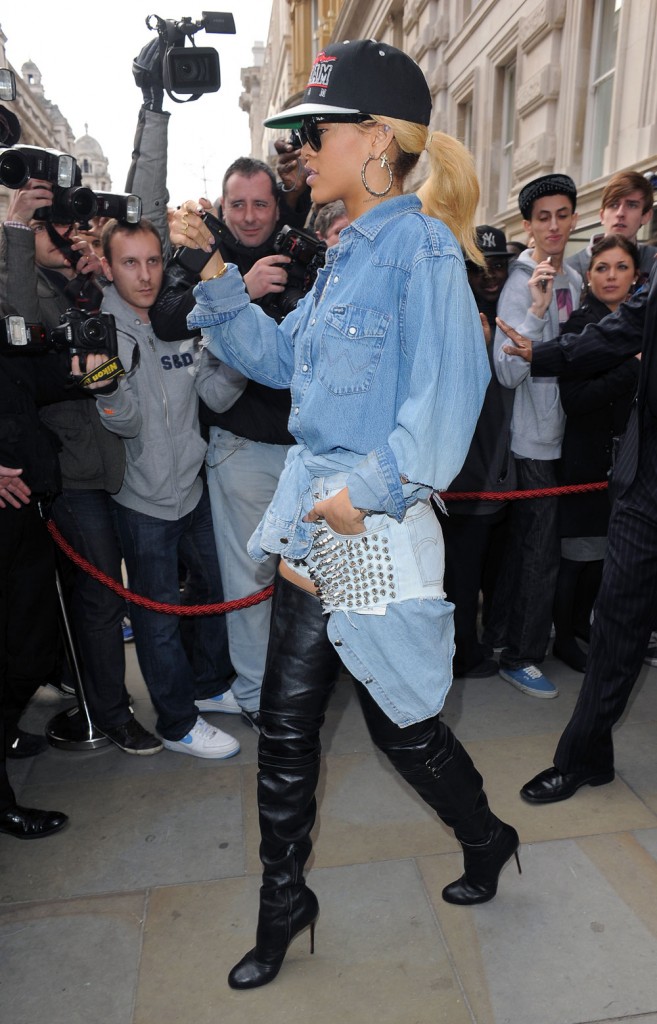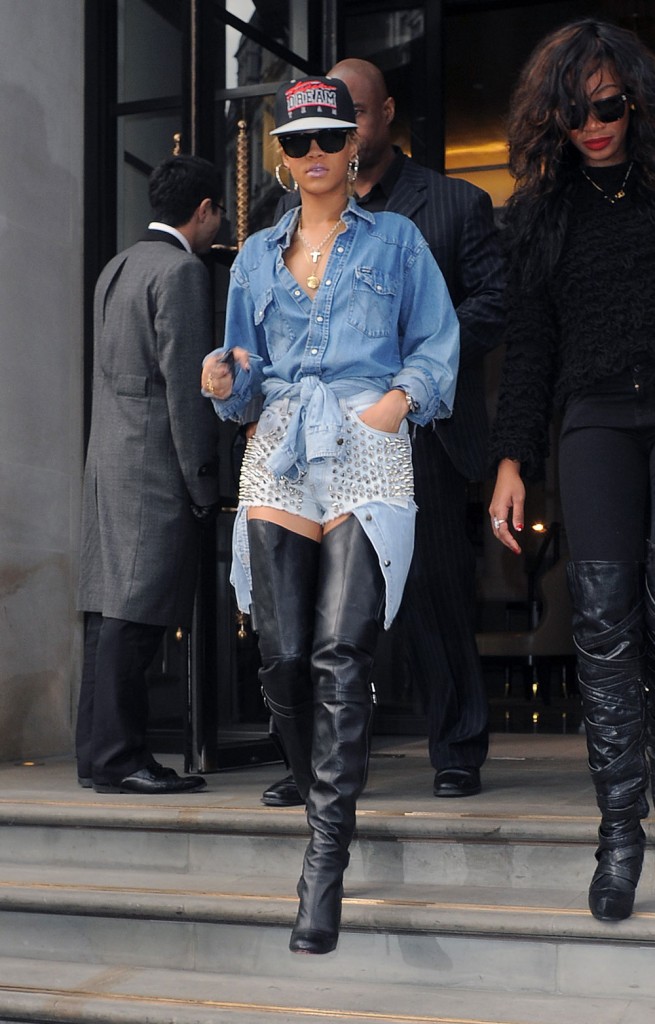 Photo credit: WENN.com