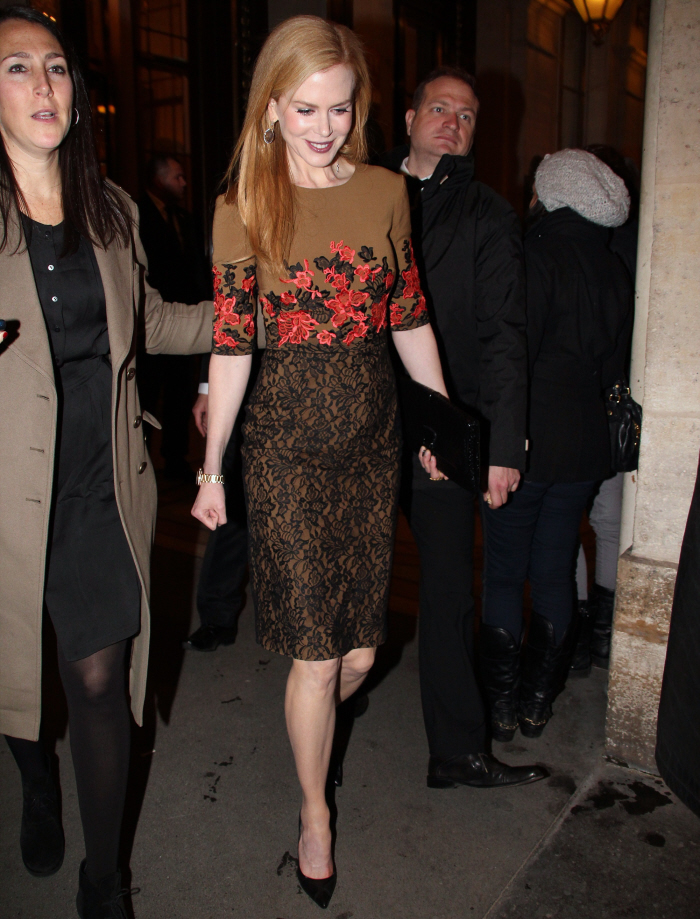 These are some new photos of Nicole Kidman in Paris yesterday. She arrived for Paris Fashion Week a few days ago, although she hasn't been spotted front row at any of the shows, as far as I know. Instead of checking out the latest lines (Dior?), Nicole was shilling Tod's. I had forgotten that Nicole was associated with Tod's – didn't she appear in their ads at some point? Or am I just hallucinating that? Anyway, I can guarantee that Kidman didn't just show up in Paris for the hell of it – she was likely paid to appear at the launch of Tod's new signature collection of handbags and accessories. If I was Nic, I would have asked to be paid in purses. God, I love Tod's purses. Anyway, Nicole was the hostess/lady of honor at the dinner/event. And when she spoke to the press, she mentioned her love of French bread:
All Hollywood actresses are taught that carbohydrates are the enemy. But Nicole Kidman admits she can't resist French bread whenever she visits Paris. Despite her super slim figure, the mother-of-four surprised fashionistas when she revealed her love for baguettes at a Paris Fashion Week party last night.

Kidman, 44, flew into the City of Lights specially for the launch of Tod's new Signature Collection. The Italian luxury brand's chief Diego Della Valle had invited Kidman to be the guest of honour at the lavish bash at the Italian Embassy.

The Australian certainly looked chic as the event as she arrived in an Erdem Pre-Fall 2012 Ivy Dress and pointed stilettos.

Before the party, she popped into the Laperouse restaurant for dinner and hopefully got her baguette fix.

She said at the Tod's party: 'It's gorgeous to be in Paris. I just love bread, which I know in this day and age everyone says, "Don't eat the bread."'

But given her super slim figure, Kidman could probably get away with a few baguettes. Also at the party was Margherita Missoni, Anna Wintour and Jade Jagger. Kidman is currently filming The Railway Man with Colin Firth in Scotland.
[From The Mail]
I'm kind of meh on her Erdem outfit/dress. It's so… autumnal. If she had worn the dress in October, I think I would have liked it more. Plus, you know I don't care for lace stuff.
Should we talk about her marble-like forehead or her lips? She's still jacking the hell out of everything. It's sad.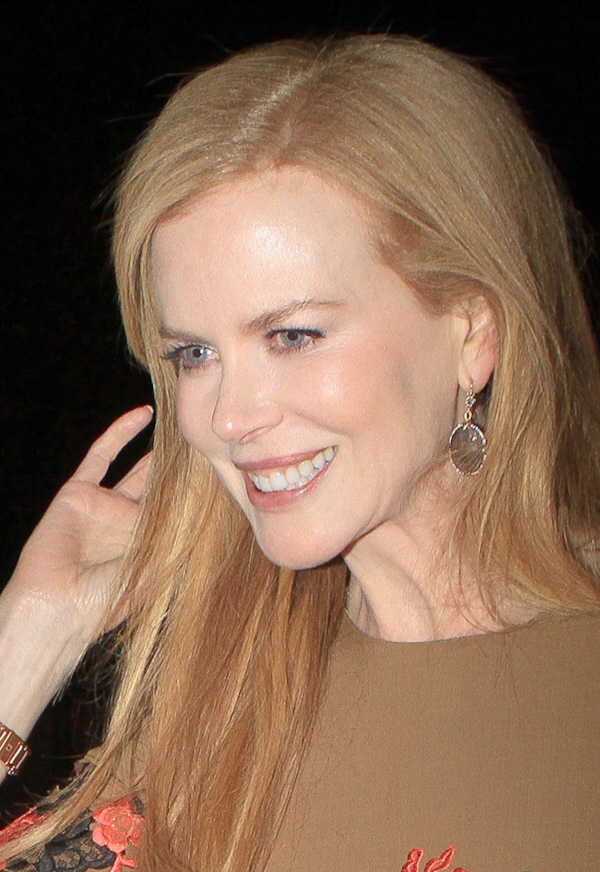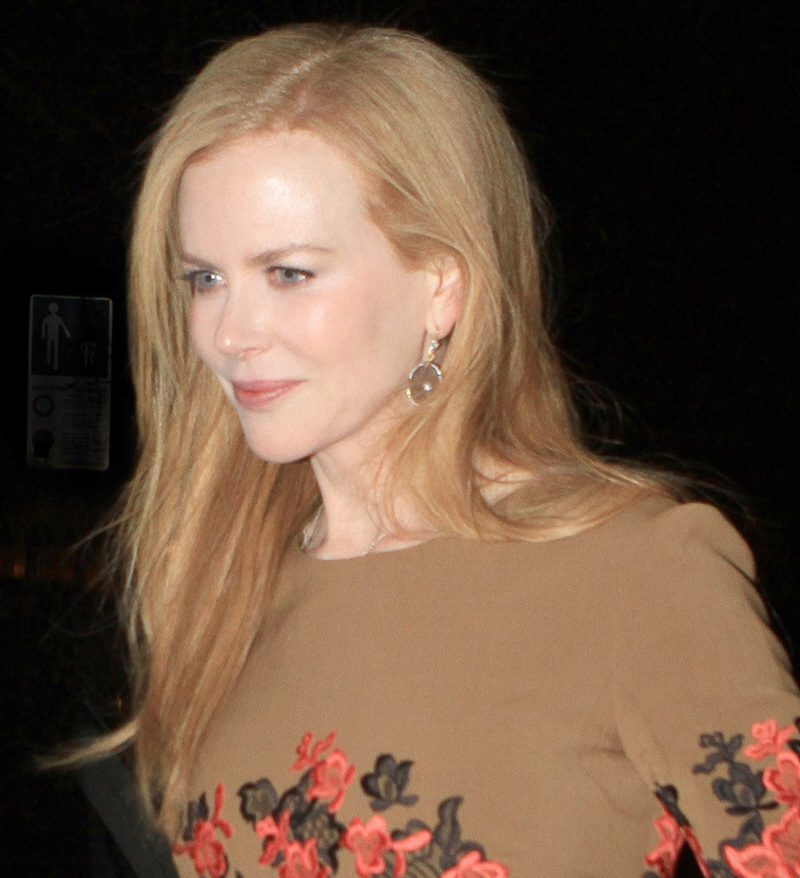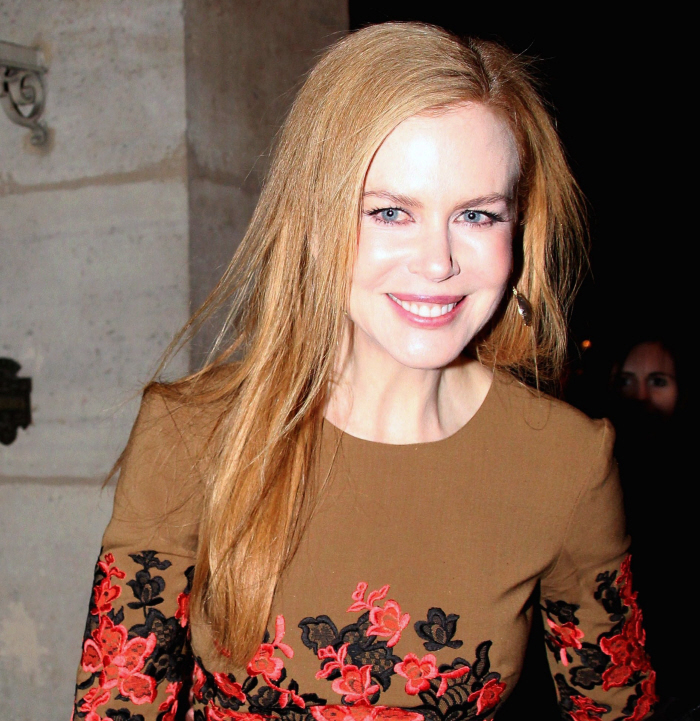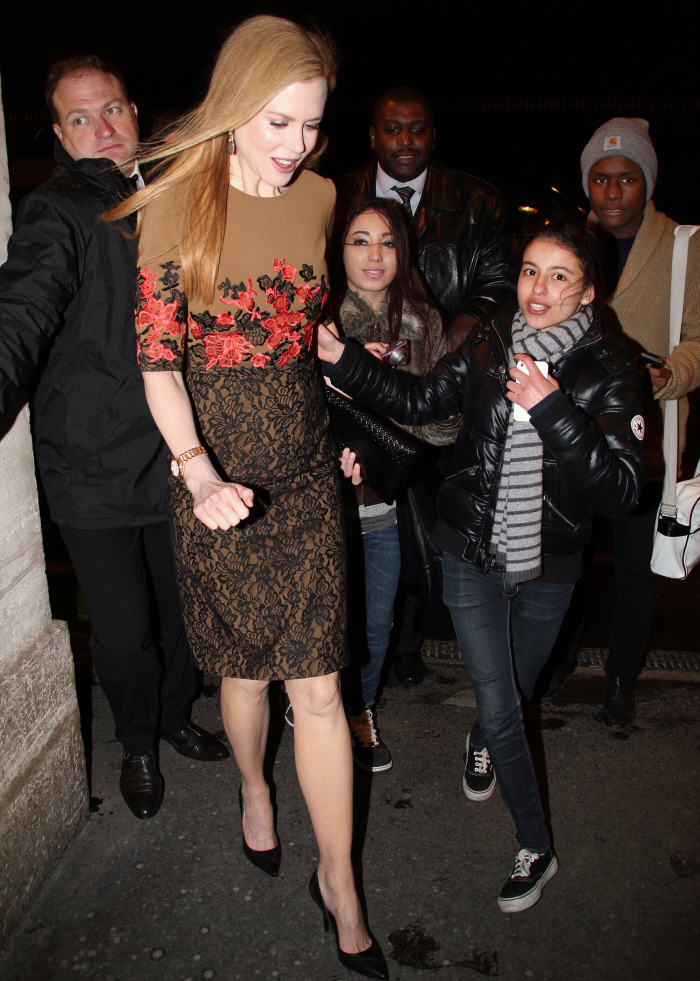 Photos courtesy of Fame/Flynet and WENN.