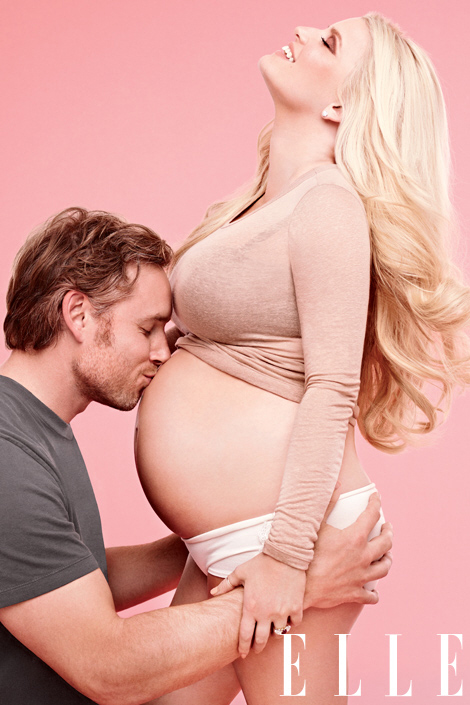 Yesterday, I covered the earliest quotes from Jessica Simpson's Elle Magazine cover interview, and I ended up updating the post with the nude Elle cover. I'm kind of glad that I've ended splitting this stuff into two posts, because there's so much to cover. First, I LOVE the header photo!!!! I know it's cheesy, I know her dude is a total K-Fed. But I still it's a beautiful, sweet image. It makes me like Eric a little bit. If you'd like to see the Elle slideshow of Jessica's photo shoot, go here – Jessica has an alternate, full-clothed cover too, which I'm assuming will be the newsstand version. While everybody loves pregnant celebrities, I'm not sure everybody wants to see Jessica's shadowy, pregnant biscuit while they're getting in line at the grocery store checkout ("Oh, I just remembered – I need Funions and beer."). Here are even more excerpts from Jessica's interview:
On her hopes for her daughter's sense of style: "Ah swear, ah will croak if she asks me for a pair of Nikes instead of Christian Louboutins!" she blurts out, her Dallas accent swooping back in this moment of heightened anxiety. "Eric is so athletic. We're gonna have this ath-a-letic girl and I won't even be able to take her shopping, 'cause all she's gonna want is sports bras and Nikes!"

On taking tabloid brutality in stride: "I'm still standin'," she drawls. "I grew up very strong! You know, my father used to be an adolescent therapist. I remember sitting at his office, watching the girls walkin' in and out. Kids doin' coke at 16…heroin. Pregnant at 14. I could see what I didn't want to be."

On her body subconsciously telling her she was pregnant: "We were goin' to have an all-day drinking binge," Simpson says, not shy about saying so. "Gonna ride our bikes, hang out…do naughty things. But I started feeling this overwhelming guilt. Why would I feel guilt at the idea of going out and having cocktails with my friends?"

On her 10-pound baby: "I was only six pounds," she notes. "So maybe Eric and I can meet in the middle."
[From Elle]
I get the feeling that Jessica is playing a little fast and loose with the "I quit drinking when I simply felt I might be pregnant" story. Because, obviously, Jessica loves to drink. I'm guessing she was still guzzling Scotch for the first month, before she realized she was pregnant. As for her moaning about perhaps having an athletic girl… dear God. She better hope THAT is her biggest worry. I mean… this little girl is going to be half-Farty, half-Nouveau-K-Fed. That's going to be a MESS. You know the girl is going to be blonde, gassy, dumb as a box of hair, sweet-natured, and she's definitely going to have the big-boob gene. *crosses self*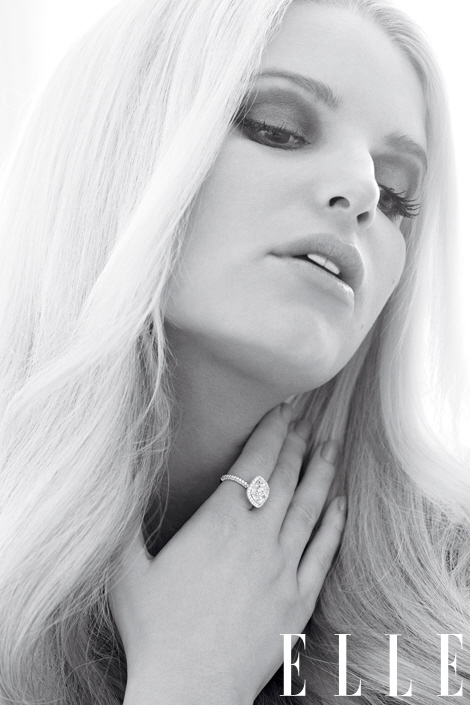 Photos courtesy of Elle.