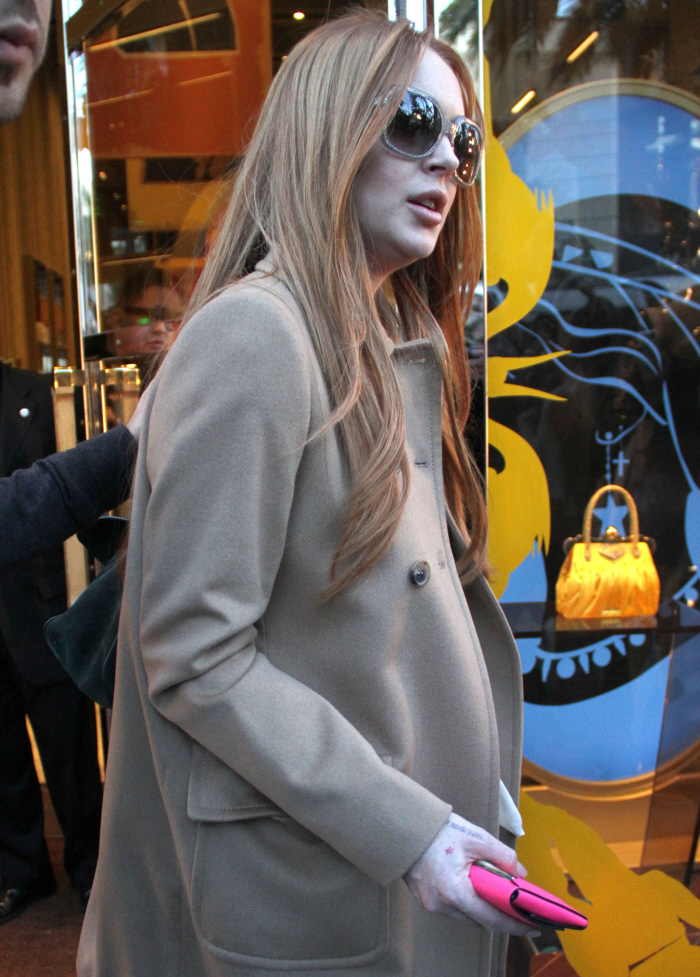 And just think… I was actually doubting The Crackie Method. I was actually thinking to myself, "Hey, Lindsay Lohan might finish her probation and be on the right side of the law for half a second." But a crackhead never loses her (prison) stripes, and thus, we have a new scandal. I was updating the post throughout the day yesterday, but at some point I stopped because there was just too much information and the stories were varying too much. Basically, Lindsay Lohan was at the Hookah Lounge two nights ago, when she got into some kind of hit-and-run situation. Some say she clipped the manager of The Hookah Lounge. Some say she just scraped his car. Some say she barely grazed everything. I don't even know. When it's The Cracken, my assumption is always the worst case scenario. So here's some more stuff that went down, in convenient bullet points:
*In the immediate aftermath of the hit-and-run, the LAPD spokesperson said, "Early this morning, it appears Lindsay Lohan was cornered in a narrow parking lot by paparazzi and she grazed another vehicle in her attempt to get away. Officers responded, and when they got there the owner of the car said there was no injury or damage to his vehicle. This is an extremely minor case."
*After refusing medical attention at the scene of the incident, the Hookah Lounge manager did go to the emergency room hours later, where he filed a police report and now "plans on pressing charges." Oh, and he has an attorney. Radar says that prosecutors and probation officials have been notified. A source tells Radar, "The manager is claiming that he is having trouble walking, and that Lindsay ran over his foot. The alleged victim is in the process of filing a police report, and there are two uniformed LAPD cops at his bedside, and he is in the process of relaying his version of events. Lindsay's probation officer, and the two prosecutors handling her theft case have been notified that Lindsay is being accused of hit-and-run, which would be a misdemeanor if she is charged."
*The Cracken released a statement to the press: "Lindsay stopped by the club to drop in on a friend's birthday party. When she arrived, there were so many photographers there that she decided to leave and never even got out of the car. At no point was there ever any indication that her car hit anyone or anything. We are confident this matter will be cleared up in the next few days."
*The Cracken then tweeted: "Scrape? This is all a complete lie. I've been at community service. Last night, I attempted to wish a friend happy birthday, which I didn't even get to do because I was freaked out by all of the paparazzi. These false accusations are absurd." I love the inclusion of "I've been at community service." She's such a little angel, isn't she? "I can't have messed up, because I'm still doing the community service from the last time I messed up!!!"
*A source close to the Cracken tells Radar, "Lindsay is adamant that she absolutely didn't hit anyone while she was driving. Lindsay is extremely upset that there would be speculation she would ditch the scene of a potential crime scene. She is days away from being taken off formal probation. Lindsay has talked to her attorney Shawn Holley, who has subsequently reached out to cops from the LAPD Hollywood division. Would it make sense for Lindsay to flee the scene with tons of paparazzi? No, she wouldn't have done that if there was a remote possibility she had hit someone." Smells like Classic Honig to me.
*Interesting factoid: LL was stopped by the police just minutes after the hit-and-run incident, but she was no longer driving. She was in the passenger seat, and an insider (cough) tells Radar, "Lindsay was absolutely 100% sober, and cops had no reason to arrest her." Cough. Cough.
*Lindsay's next probation progress report/court date: March 29. LL is "freaking out" over the "very real possibility" she could go back to jail.
*The campaign to discredit The Hookah Lounge manager's story is already underway. Check this Radar story for the Lohan talking points. Of course the dude isn't credible. But I still hope he presses charges and pursues the crap about of this thing.
So… in the end, what's going to happen? Considering TMZ reports and blog comments aren't admissible in court, I'm going to say NADA. The Cracken will live to clip more pedestrians. And trust me, she will.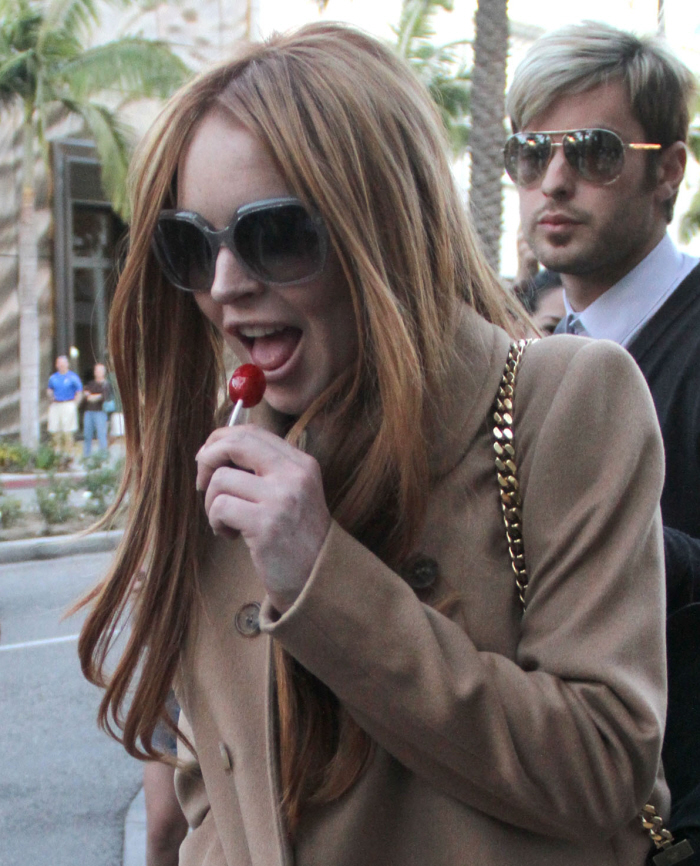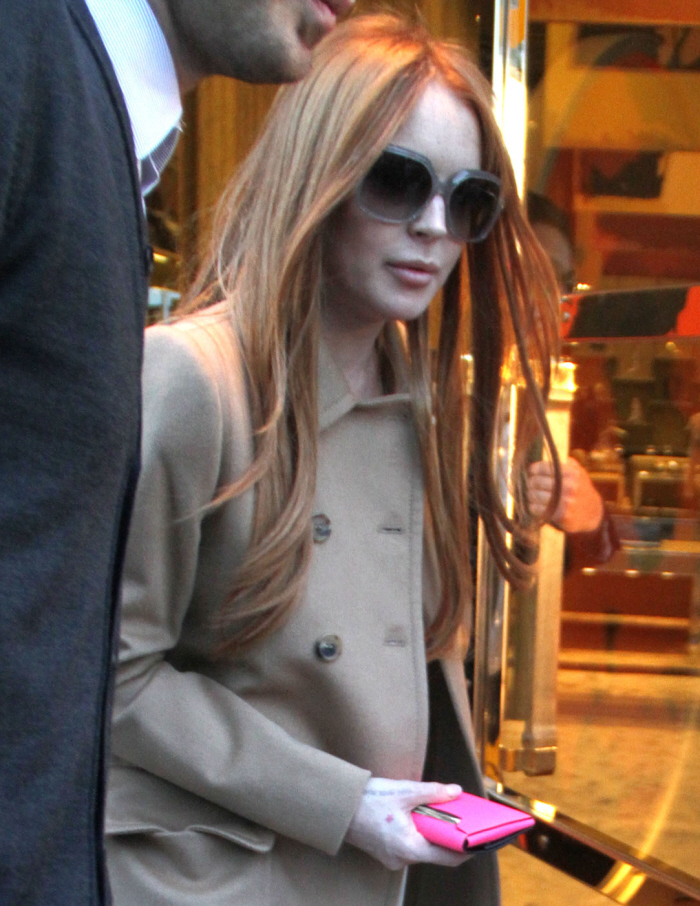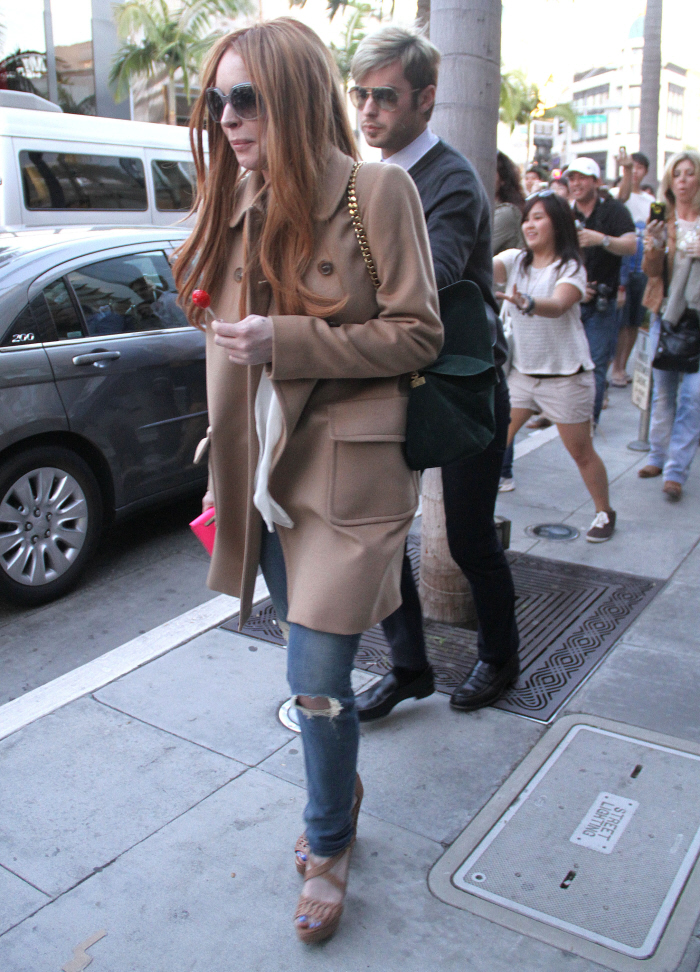 Photos courtesy of WENN.