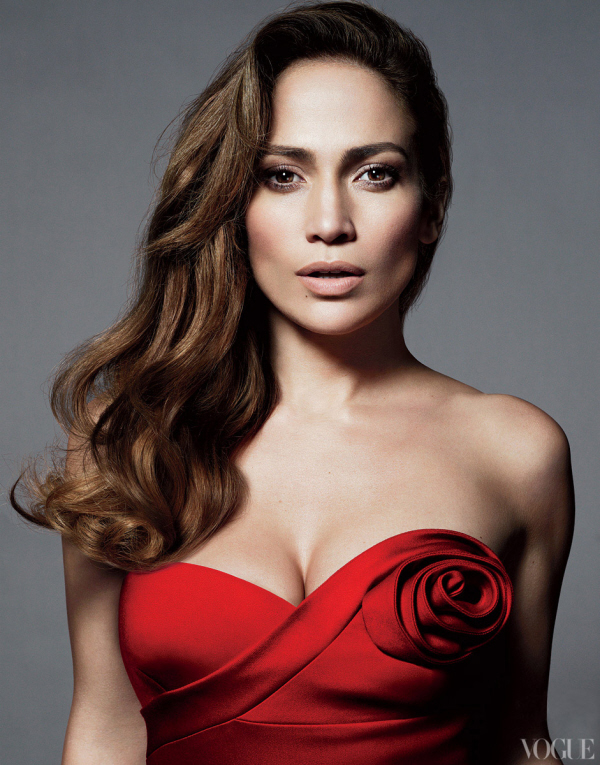 As I previously mentioned, Jennifer Lopez is the April cover girl for Vogue Magazine. These are some of the selected shots from Mert & Marcus's photo shoot… while I like J.Lo in red, it becomes overkill. We get it, she's fiery. Enough. Try another color. You can read Jennifer's full Vogue interview here. Since I'm writing this very early in the morning, I can only admit to skimming the piece for highlights. Marc Anthony makes an appearance at the beginning of the interview, with the writer noting, "Lest you think it's all smiles for the cameras but war behind the scenes, the two spend the next hour huddled in her dressing room, still friends after all these months." Meaning that Jennifer kept the Vogue interviewer waiting for an hour while she flirted with her ex-husband. That's all you need to know, baby.
How J.Lo lives: The house, a classic white brick manse, is huge—nine bedrooms—and sprawls out from the center hall with two giant wings. The interior is echt J.Lo: luxe, modern, and sexy—dark floors, gray curtains and walls, pastel-colored furniture. Her assistant, Gilly, deposits me in Lopez's office and says, "Jennifer will be down shortly." I hear kids shrieking somewhere upstairs. Like Lopez herself, the office is both masculine and feminine. There are wood-paneled walls and wingback chairs, a killer sound system, and a fur throw draped over a sofa. There's a huge plaque (30 MILLION ALBUMS SOLD WORLD-WIDE); a ledge full of various film- and music-industry awards; and on her desk, nude shots of J.Lo for the advertising campaign for her forthcoming perfume, Glowing (the sample fragrance bottle actually lights up). A quick glance at the shelves reveals a taste for the classics (The Grapes of Wrath, Shakespeare); memoir (Arthur Miller's Timebends); and self-help (Lies at the Altar: The Truth About Great Marriages). On the glass coffee table there is a big, lush book on Pucci, which somehow seems perfect.

How she is with Casper: Despite the scary tattoos and shaved head, Smart was polite and very friendly. They are clearly besotted. Indeed, they cannot keep their hands off each other, and it is impossible not to notice just how happy Lopez is around him.

Benny Medina is the love of her life: "Puffy was like, 'You need Benny Medina!' " says Lopez. "So I brought him up to my hotel room and played him the first song I ever wrote, and he was like, 'OK, I'll manage you.' " Other than a two-year-long "estrangement" (her word) that ended when Lopez was seven months pregnant, the two have been thick as thieves ever since. Medina, who is gay, knows Lopez as well as anyone. When I ask Lopez if she thinks of him as her "gay husband," she laughs and says, "Yeah! I kinda do!" But then she gets more serious. "I just think of him as a real, creative soul mate. He's been the most consistent man in my life besides my dad. We love each other. People always ask about all the men I dated, and I am like, 'You know the Benny and Jennifer story? That's the real story here.' "

Her diva reputation, and where she was in 2005: "I had such a reputation," she says of that time. "And it was sad because I felt like it so didn't represent who I really was." But as she herself will attest, in some ways the negativity came from within. "I think of myself on that day at the studio on Long Island and how insecure I was about my own talent. I just never really gave myself any credit. And because of that, nobody else did either. You mirror what the world mirrors to you." She thanks Anthony for helping her believe in herself. "He always told me what a beautiful voice I have. He was like, 'It's in there; you just gotta let it out. It's a confidence thing with you.' Then all of a sudden one day I was like, I'm good at this!" Here she gets as worked up as I have ever seen her. "Oh, man! People are not giving me jobs because they feel sorry for me! I am an actress. I am a singer. I am a performer. That's what I do! Once I started giving myself a little credit, the whole world opened up."

J.Lo on tough love: "By nature I am not tough, believe it or not." Really? "No. I am a lover. And with my kids I am even softer. I realize with my son, I have to sometimes be tough, especially now when he's pushing boundaries. With my daughter, I can get a little stern with her and she pretty much will listen. But my son will just scream and yell and run. I'm like, Aaaaah, what do I do with this?!"

On Casper: She describes herself as a "mushy romantic." When I ask her what she can tell me about her boyfriend, she says, "Not much," and giggles. "He's adorable. But you already see that." He seems very loving and sweet, I say. "He is. He really is. He's a good egg. I don't want to talk about it too much. It's my private thing."

On Marc Anthony: "The men kind of drink beer and smoke cigarettes, and women kind of like . . . don't. But those things were not the issue so much. It became about something else. Without going into detail . . . it's just really, really sad. And look, we are still going through it, and it's emotional sometimes and difficult. We're still friends—and we're parents. But it's going to take time." She pauses. "It's tough. But for the most part, I feel very proud of the way we're handling it. I really do. We are doing the best we can for the kids. What you saw today, on Ellen, it's very dignified and trying to be above all the emotions and pain that come along with a divorce and a family breaking apart. This is grown-up stuff. It's real, serious, grown-up stuff."

Loving herself: Lopez leans forward and shows me a ring she has on her finger. Someone gave it to her right after her divorce as a reminder to "love myself first," she says. Indeed, it is a diamond band that spells out: I LOVE ME. "That may sound conceited, but it's not. If you don't love yourself, you can't love anybody else. And I think as women we really forget that. All we want is to be happy, to feel secure, to feel understood. But you can't look for somebody else to do that for you. You think about it. . . . Oh, yeah, of course I care about myself. Of course I have good self-esteem. But when you really take a good look, you are not treating yourself like someone who does. And when you let people treat you in a way that you don't want to be treated, it's not their fault. It's yours."
[Via Jonathan Van Meter/VOGUE]
Of course, I left out some choice comments by Benny Medina, many of which we already covered yesterday. I also left out a gem from Van Meter, who described his first impression of Marc Anthony, back in 2005. Apparently, Anthony was just standing around Jennifer's photo shoot, "drinking cans of beer and chain-smoking Newports." OMG. This explains so much! As for the interview… it was fine. Jennifer is getting better at self-editing, which helps when she's putting herself out there as a lovable nice-girl. I'm not a J.Lo hater, so I'm buying it.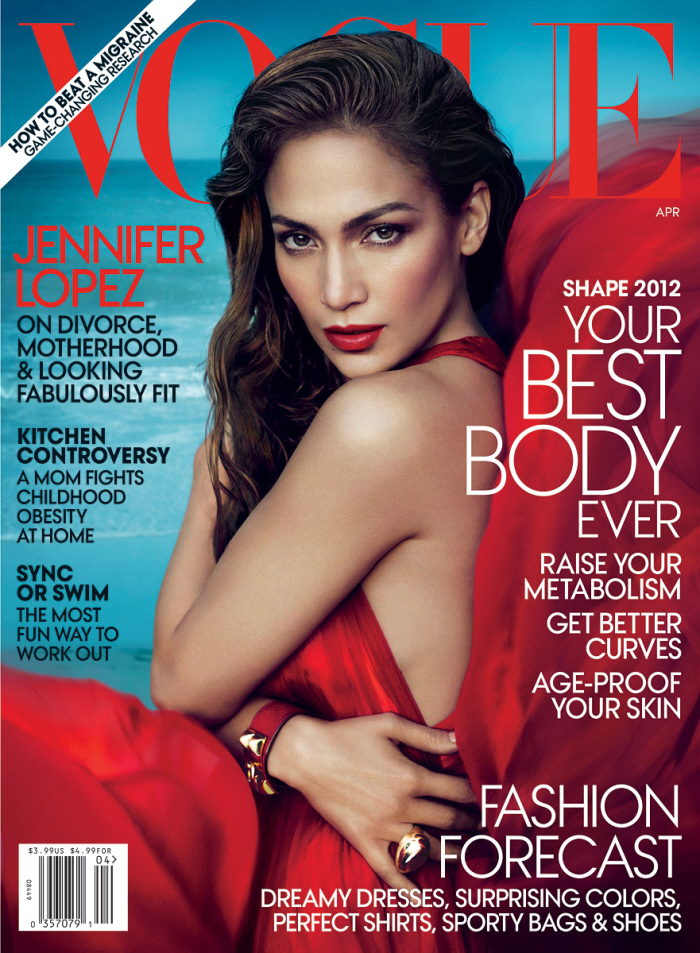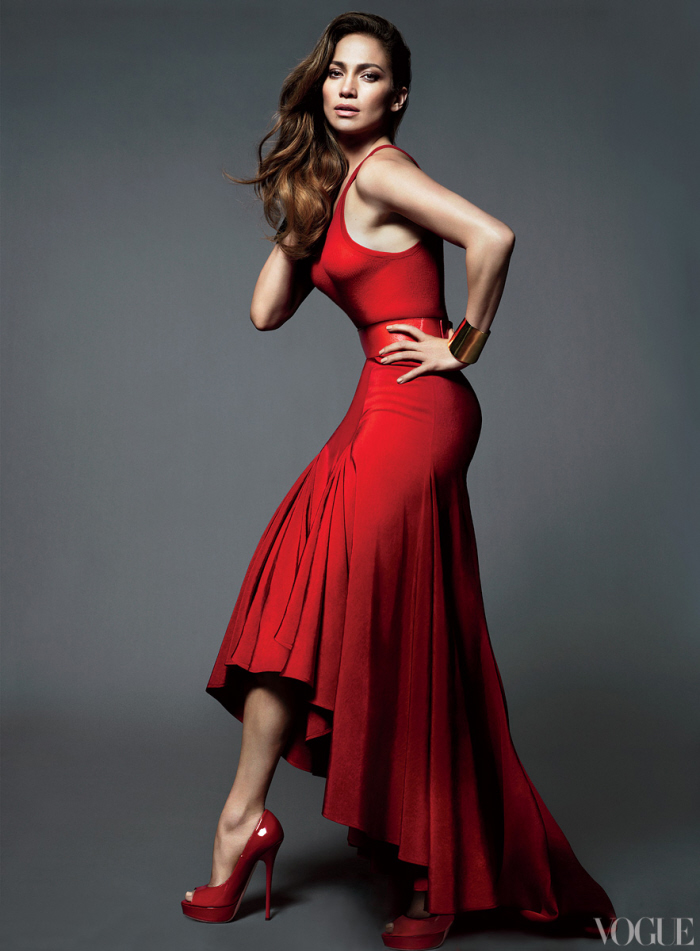 Photos courtesy of Mert Alas and Marcus Piggott/VOGUE, slideshow here.