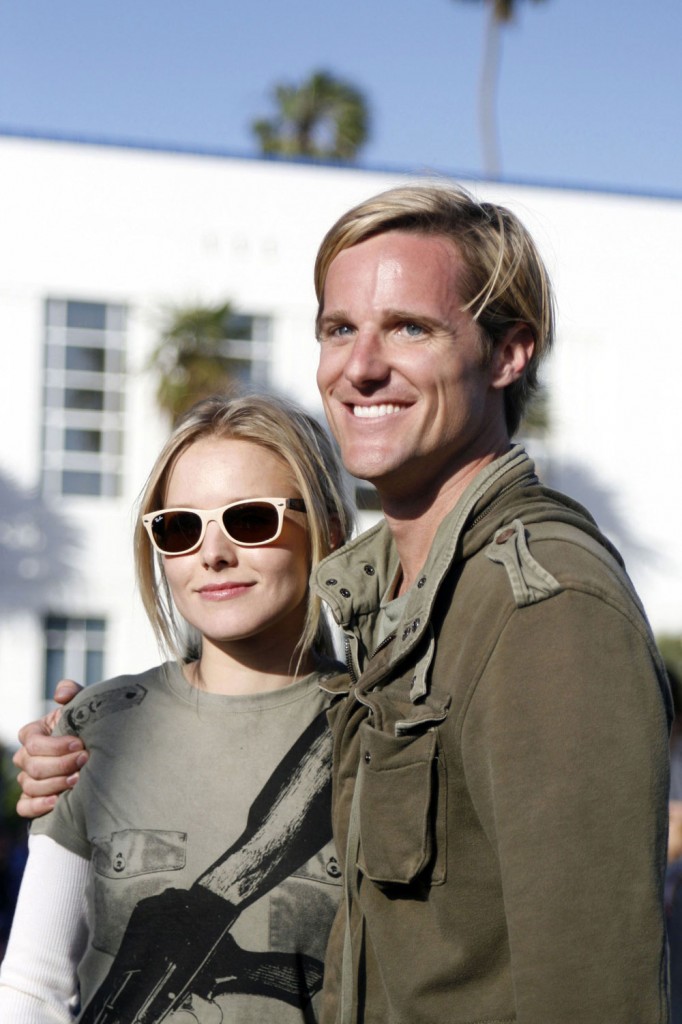 This is Russell with Kristen Bell, not his wife.
The big story over the weekend, at least in our superficial neck of the woods, was about the public breakdown of Kony 2012 filmmaker Jason Russell. The 30 minute Kony 2012 video has been viewed over 80 million times. I watched the whole thing over a week ago, and was initially touched by the movement. Then I kind of questioned how simplistic it was. I remembered a moving BBC interview I heard with a former Sudanese child soldier named Emmanual Jal who founded a charity called Gua Africa. Why was this group Invisible Children encouraging people to go after one particular war criminal instead of focusing on the counseling and rehabilitation of former child soldiers? It just seemed to paint the issue with a very wide brush. Get the bad guy, the kids go home and everyone is happy. Many outlets had similar, but more informed criticism of the video, and of Invisible Children's questionable fundraising. The Ugandan government claims that Kony's organization was ousted in 2006 and that they're made up of about 300 people, not the thousands of children the video claims. You can read more about it here and here.
Anyway you've surely heard that Jason Russell flipped out on a street corner, naked, in San Diego, and was transported by police to the hospital, where he was put on a 5150 psychiatric hold. TMZ has two videos of this incident, where you can see Russell talking to himself and beating the ground. He was supposedly detained for public masturbation, but he just looks like he's having a naked psychotic break not like he's getting off. For this poor guy's sake I hope he was smoking something or taking some new pill that led him to this dangerous, very embarrassing situation. From my perspective it did look like an issue with drugs. Russell's wife said that he was under a lot of stress and dehydrated, though, which is just what the Invisible Children Spokesperson said earlier. She claims he's not on any drugs at all.
Nude and masturbating, pounding the pavement with his fists…Jason Russell's very public breakdown on Thursday was not the result of substance abuse, his wife insisted Friday.

Danica Russell instead suggested all the sudden attention on her husband following the release of his KONY 2012 mini-documentary is to blame.

The Invisible Children co-founder "did some irrational things brought on by extreme exhaustion and dehydration," Danica said.

"We thought a few thousand people would see the film, but in less than a week, millions of people around the world saw it. While that attention was great for raising awareness about Joseph Kony, it also brought a lot of attention to Jason — and, because of how personal the film is, many of the attacks against it were also very personal, and Jason took them very hard."
[From Radar Online]
Well I hope this guy gets the help he needs. I feel guilty for watching the videos at TMZ at all. If he was just some average well groomed guy having a naked breakdown, it wouldn't be on TMZ. If this happened three weeks ago, that would have been the case.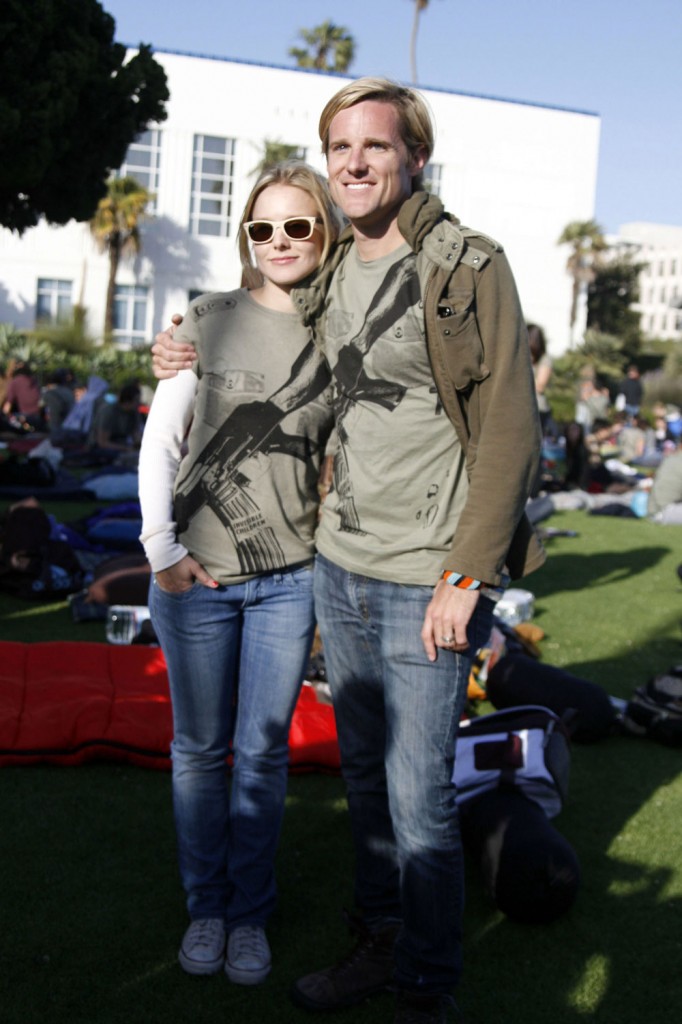 Jason Russell and Kristen Bell are shown at an Invisible Children event in 2009. Credit: Apega/WENN.com