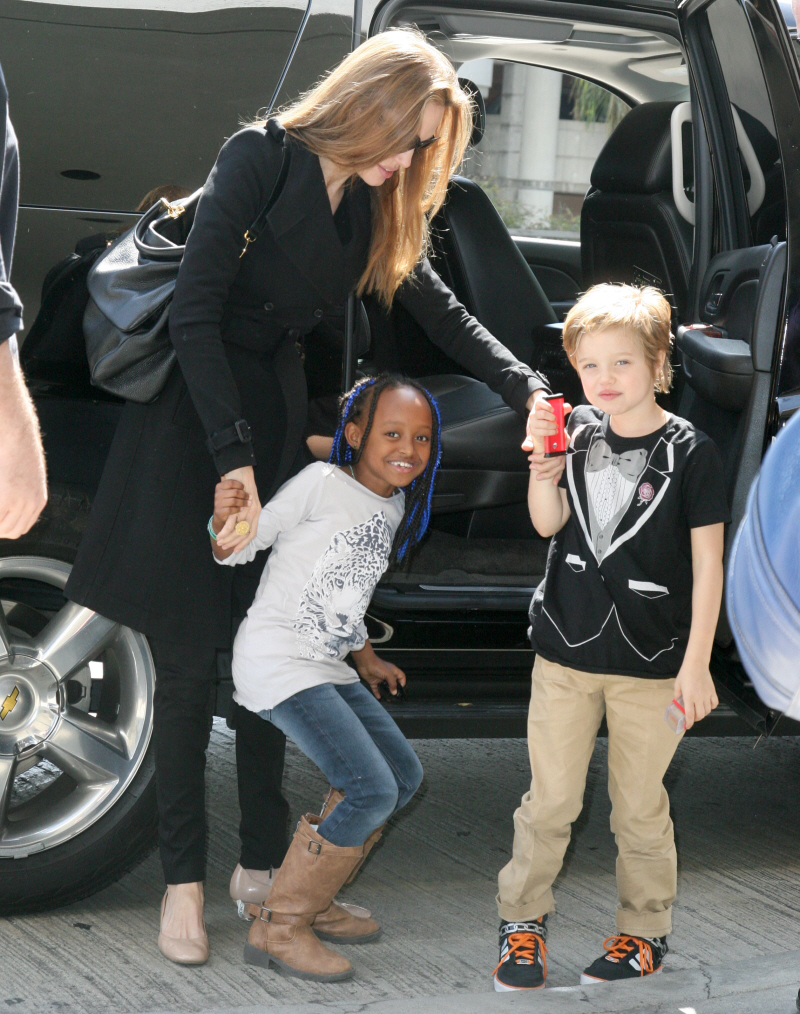 Much like last week's Enquirer story, OK! Magazine decided to pull out their hair regarding the dietary issues of the Jolie-Pitt children. A lot of the stuff that was in last week's article is here: the kids love sugary treats, Brad tries to get the kids to eat healthy, and The Villainess Jolie merely pours more Cheetos and soda into her kids. Doughnuts for breakfast! Shiloh loves cookies! And Angelina is all about letting the kids play TOY guns! OMG.
Sugar binges, screaming tantrums, violent fights, and more — Brangelina's brood is so unruly, insiders say they're really worried about the kids' health and hygiene!

Any household with six children is sure to be hectic, but insiders say it's an absolute zoo with Brad Pitt and Angelina Jolie's family. According to a new report in OK! magazine, the couples friends' say the kids — Maddox, 10, Pax, 8, Zahara, 7, Shiloh, 5, and Knox and Vivienne, 3 — are on the verge of a melt down!

"There's not much any of us can do but sit and watch," a pal says. "The kids are all goofed up on sugar and after Shiloh has five cookies in a row and Maddox downs his third orange Fanta, it's crazy hour. That's what we call it: Crazy Hour. Toys fly. Kids melt down into tantrums. There's fighting, it's just a zoo."

Angelina has called junk food the "family weakness" in the past, but that doesn't stop her from letting the kids eat whatever they want.

"The kids eat fast food every day, doughnuts for breakfast," a pal reveals. "Shiloh's a sugar addict, screaming when she's cut off."

Despite all the sugar, the pal says Angelina doesn't enforce teeth brushing. "Angelina does not insist the kids brush every day or wash hands before meals," the insider says. "They bathe whenever they want, which is not often. Brad's friends say that his kids smell like Johnny Depp."

The kids' safety is also a concern to friends. "The twins are in that stage where they put everything in their mouths," an insider reveals. "Brad and Angie don't always catch them and the worry is that one day they'll get something really toxic. On top of that, it's downright gross."

But most troubling is the violence! "Angelina lets the boys play with guns, rifles, though they are unloaded and some are just toys," the friend says. "Others are real and pricey antiques — they're the ones the boys use to pretend kill the staff."

Angelina isn't disturbed by the faux-violence. "Apparently, Angie actually thinks it's funny when her kids pretend to shoot people," the friend says. "She laughs out loud. A lot of people think she and Brad need to put a stop to it, but that's not likely to happen."
[From Hollywood Life]
Haha, "Brad's friends say that his kids smell like Johnny Depp." The worst thing ever! Considering Angelina always looks like she's recently bathed and Brad rarely looks clean, I'm guessing that the whole "unclean!" issue is something the kids learned from their dad. As for the junk food – well, I think Brad and Angelina definitely take shortcuts in the kids' diets. I kind of like how un-Goopy the whole thing is, but yes, the kids should probably be eating healthier. As for the playing with guns stuff… I don't know. That disturbs me, but we don't know what's really going on there. I don't like the speculation that these kids have issues with weaponry or anything.
The National Enquirer also has a story about Brad and Angelina's wedding plans, because… why not? This story has a twist, though – when Brad and Ellen DeGeneres were hanging out in New Orleans, Ellen was allegedly encouraging Brad to "abandon their pledge not to wed until gay marriage is legal." Ellen apparently told Brad, "You guys can get hitched AND still fight the good fight for marriage equality." And Brad agreed or something. Whatever. The Enquirer also says Brad is getting Botox in preparation for the wedding.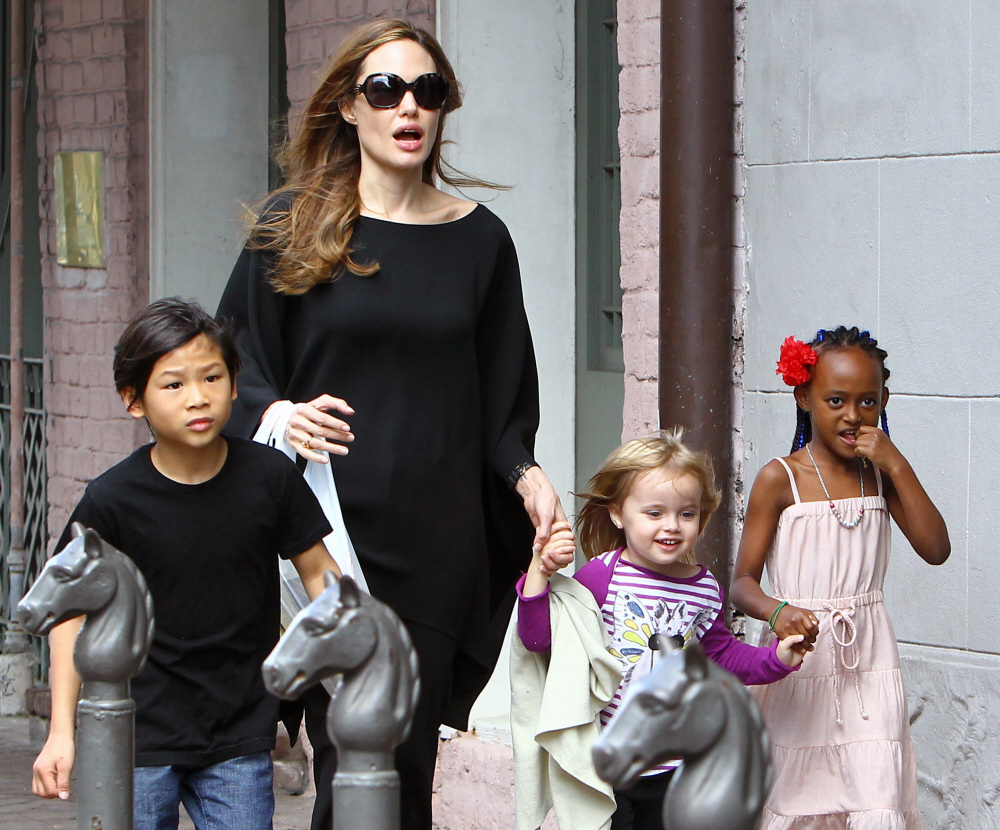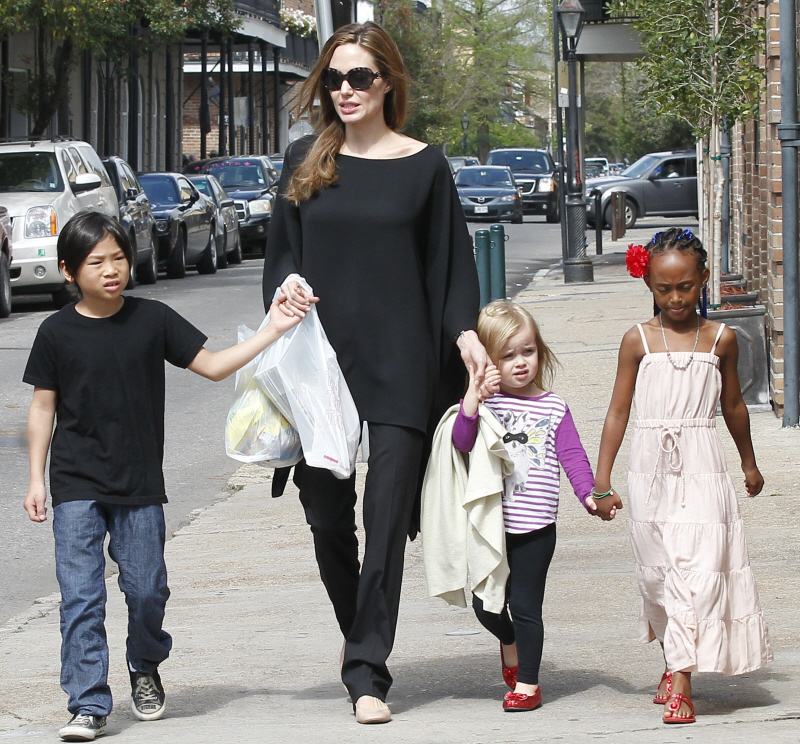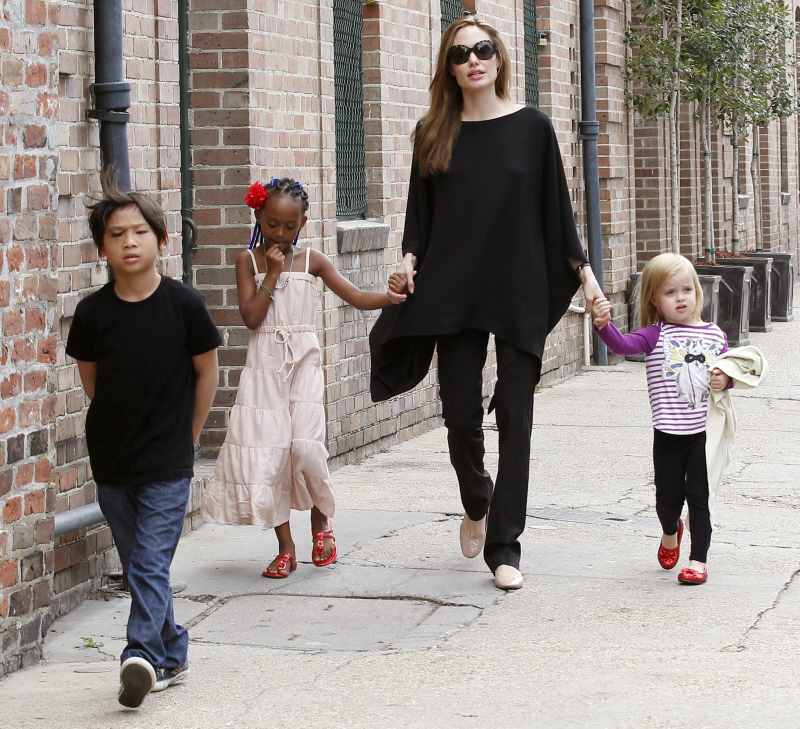 Photos courtesy of Fame/Flynet.