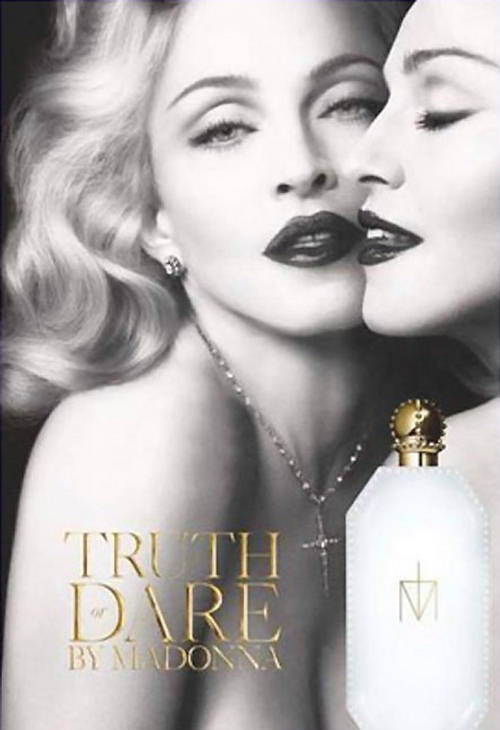 The new commercial for Madonna's "Truth or Dare" perfume leaked yesterday. It's pretty cheesy in general – just the sheer fact that Madge is getting into the perfume game is bad enough, but add to that the fact that Madge's perfume gets a major print ad and commercial publicity campaign? Please stop. Anyway, the commercial dropped yesterday, and people are already upset about it. Apparently, it's too… busty?
From what I can tell, it's the quick cut at the 15 second mark that's being deemed "too busty". According to ABC/Disney, this commercial won't be aired as-is – it has to go back to the digital wizards (gnomes) who slave away for Madonna 24-7. The Gristle's breasts must be digitally "covered up." Get thee to a Photoshop nunnery, you aged, gristly, busty harlot!
Madonna's cleavage is just too much for Disney-owned ABC. The network says Madonna's ads for her Truth or Dare perfume are too racy to run and have insisted that shots of her breasts and behind be covered up.

ABC execs ordered producers of the perfume ad to digitally alter offending shots of her body in the 30-second black-and-white ad, which leaked on the Internet yesterday and shows her cavorting in a low-cut corset and fishnet stockings, wearing a cross and singing over a dance beat, "I'm a bad girl."

A source told us: "ABC viewed the ad [and] came back with a list of changes. They say they want her bra digitally made bigger, and to extend higher to cover more of her chest, and her corset longer to cover more of her bottom. ABC also wants to cut another suggestive scene where Madonna writhes around."

Ironically, Madonna's team wanted the ads to run during the shows "GCB" and "Scandal." But even once the requested changes are made, ABC brass think Madonna's sexy black-and-white ad can only run after 9 p.m. — oddly with the exception of daytime show "The View" (perhaps because its viewers are unshockable).

Page Six earlier reported that Madonna's video for her new song, "Girl Gone Wild," had to be re-edited after YouTube banned it from open view and slapped it with an "18 years and over" rating because of racy content. A second source confirmed to us, "ABC has requested some changes be made to the content of the Truth or Dare perfume commercial."
[From Page Six]
The video for "Gild Gone Wild" had problems too? I bet I know why – because hot, sweaty, mostly-naked gay dudes were making out, and that freaked people out? Dear world: you're playing into Madonna's hands. She wants to still be a "controversial" artist, and you're making her believe she still is.
As for Madge's bust… ugh, really? This commercial was fine. It's silly and it's trying too hard, but the images aren't disgusting or inappropriate or anything. Considering ABC doesn't have the best record on women's issues these days, they should STFU. ABC has two shows with "Bitch" in the title (sort of – GCB and Don't Trust The B— in Apt. Whatever), plus they greenlighted that horrible Work It show (about cross-dressing, but not really). Basically, I'm saying that people see more offensive things on Dancing With the Stars than in this Madonna commercial.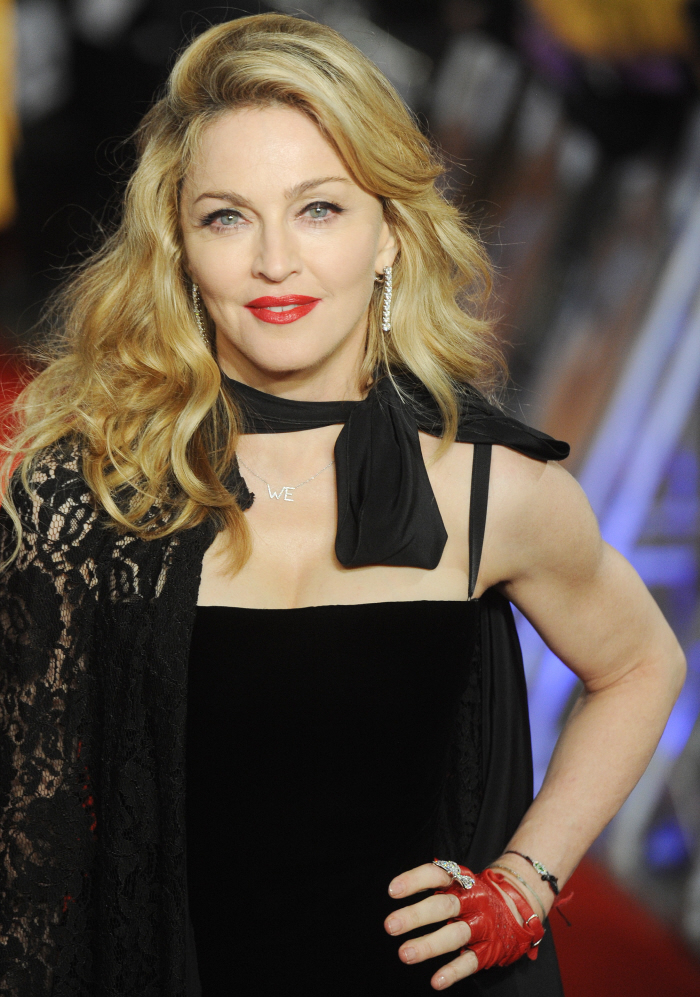 Print ad for Truth or Dare, additional pic by WENN.