Jay-Z plays seven shows in 24 hours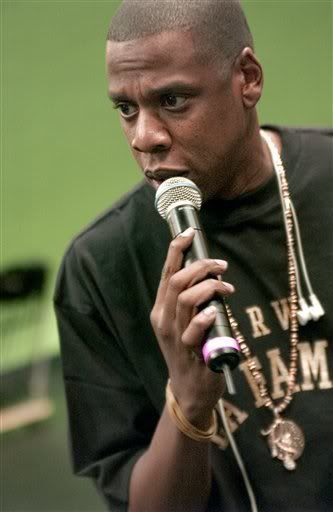 Jay-Z somehow managed to play seven shows in just 24 hours, starting at 6:00 AM in Atlanta and spending 30 minutes on each stage. He took his private jet around the states, also performing in Philadelphia, Washington, New York, Chicago, Los Angeles, and Las Vegas. Beyonce was seen at his California show, but did not perform.
Something which might seem impossible to complete was piece of cake for one the most successful rappers of all time. Jay-Z celebrated his official return in the music business by performing a seven 30-minute-gig marathon across the US.

The star kicked off his one-day tour in Atlanta on Saturday, where Hova was scheduled to give a concert at 6 a.m., when most people haven't eaten their breakfast. Next in line were Philadelphia, Washington, New York, Chicago and Los Angeles. The mini-tour ends up in Las Vegas on early Sunday.

Together with his staff, Jay-Z crossed the states in his luxurious private jet from city to city making the best of his return. At least 100 people were waiting outside Atlanta's Centerstage for the first concert. There were another hundred inside already in the mood for his performance.

"First of all, y'all crazy," Jay-Z said to the crowd before he started to play. "I know I'm already crazy. But y'all crazy."

30 minutes later, the rapper took off in a limo escorted by police until embarking on the plane. Before 10 a.m., the plane arrived in Philly where even more fans awaited his show. The line around the Electric Factory, in the 400 block of North Seventh Street, began forming hours before the 9:30 a.m. concert.

"I wish I had got here at 5 a.m. so I could've been the first person in line," said Karima Dennis, 24, a housekeeper for the Park Hyatt at the Bellevue.

"Everything went smooth," said Keith McPhee, whose Mack Productions handled the local end of production. "Jay's flight was only five minutes late. He loved his set, and Philly turned out. You never know, Philly being Philly."

The trip continued and as he reached his next stop at Howard University in Washington, almost 150 students were waiting for the convoy and 1500 more looked eager to hear him sing.

"I know y'all already downloaded it … but y'all gotta go and pick up the album on Tuesday," he said while the crowd rapped along.
Jay-Z's new album, "Kingdom Come," is out tomorrow. At least one reviewer says it doesn't flow like it should and the beats are too basic, but that there are some decent tracks and Jigga is showing his maturity. Some people claim it's not up to his old work, but that it's still better than most of the rap that's out now.
Written by Celebitchy

Posted in Beyonce, Jay-Z, Music

- Zach Galifianakis is awesome [Buzzfeed]
- Prince at the Billboard Music Awards [D-Listed]
- Bieber's Billboard look [Go Fug Yourself]
- Married to Medicine recap [Reality Tea]
- Celebrity first marriages [Pajiba]
- The last Mad Men baffled a lot of people [Lainey]
- Karolina Kurkova's crazy hot dress [Moe Jackson]
- Jennifer Garner on set [Popsugar]
- Kitten vs. Lizard [CDAN]
- Doetzen Kroes' great butt [Celebslam]
- Shameless star Jeremy Allen White [OMG Blog]
- RIP Ray Manzarek [Bossip]