Reese Witherspoon's hot pink Easter dress: super-cute and church-friendly?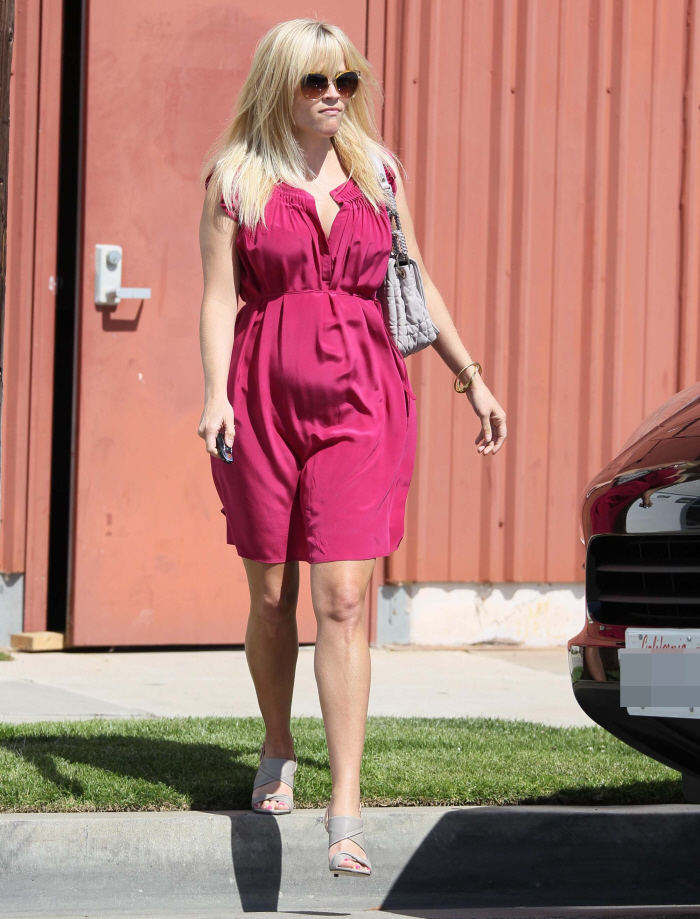 Here are some new photos of Reese Witherspoon at church on Easter Sunday. Reese is showing off her… maybe 4-months along (?) bump in a super-cute pink dress which I really love. I'm old enough to remember Reese's first two pregnancies, and I'm guessing that Reese hope she carries this time like she did with Ava. When she was pregnant with Ava, she didn't gain much weight and her body bounced back really quickly. But with Deacon, Reese gained a lot of weight from what I remember. So far, Reese seems to be carrying like her first pregnancy, and I bet that she actively tries to avoid gaining a lot of weight. Not that there's anything wrong with that (in my opinion, but hey, I defend Jessica Simpson).
I have kind of mixed feelings on Reese getting pap'd at church. On one side, I've seen enough photos of Reese coming out of church to know that it's a consistent thing for her – she's a church-goer, and she's bringing up her kids within some kind of organized religion (Episcopalian), which is fine. But… at some point, it does feel like a photo op. Maybe the paparazzi simply know that they can always find Reese and her kids at church on Sunday, and I shouldn't put that on Reese. Or maybe it's all part of Reese's PR, part of her imagery. I don't know. Reese doesn't often come across as one of those holier-than-thou, super-religious types, but she does wield The Chin of Judgment at times. And she is friends with Chelsea Handler, which is (probably!) the devil's work.
Last week, Reese and her family were in Costa Rica for vacation too – I guess her kids had the week before Easter off…? Most schools in my area have the week after Easter off, so the other way is weird to me. You can see photos of Reese showing off her bump in a one-piece swimsuit here.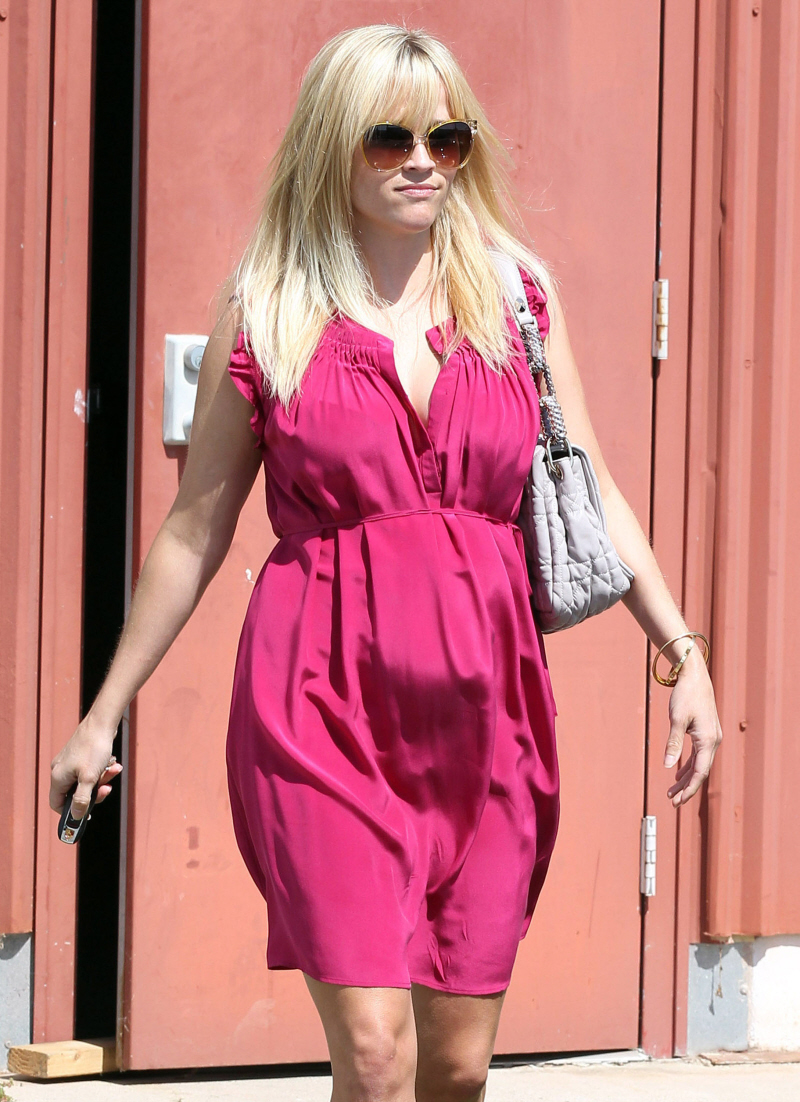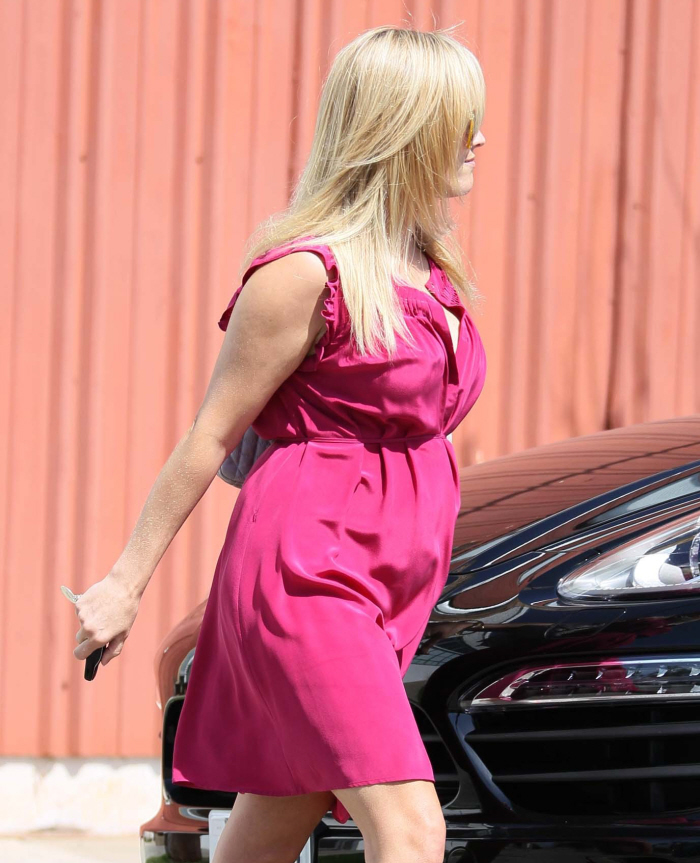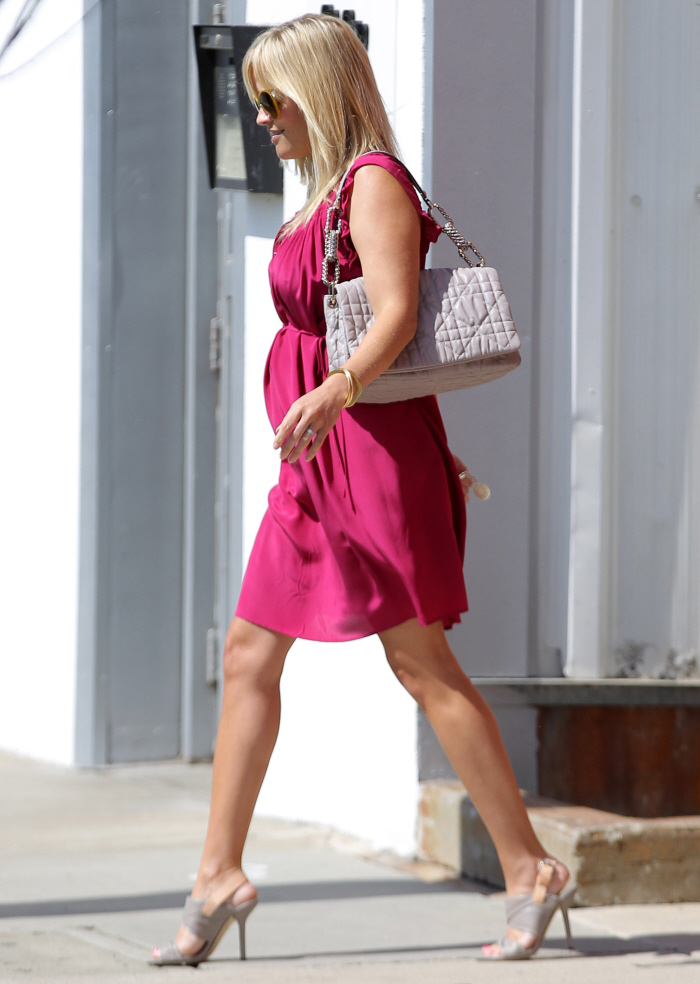 Photos courtesy of Fame/Flynet and WENN.

Written by Kaiser

Posted in Reese Witherspoon

- Zach Galifianakis is awesome [Buzzfeed]
- Prince at the Billboard Music Awards [D-Listed]
- Bieber's Billboard look [Go Fug Yourself]
- Married to Medicine recap [Reality Tea]
- Celebrity first marriages [Pajiba]
- The last Mad Men baffled a lot of people [Lainey]
- Karolina Kurkova's crazy hot dress [Moe Jackson]
- Jennifer Garner on set [Popsugar]
- Kitten vs. Lizard [CDAN]
- Doetzen Kroes' great butt [Celebslam]
- Shameless star Jeremy Allen White [OMG Blog]
- RIP Ray Manzarek [Bossip]
26 Responses to "Reese Witherspoon's hot pink Easter dress: super-cute and church-friendly?"