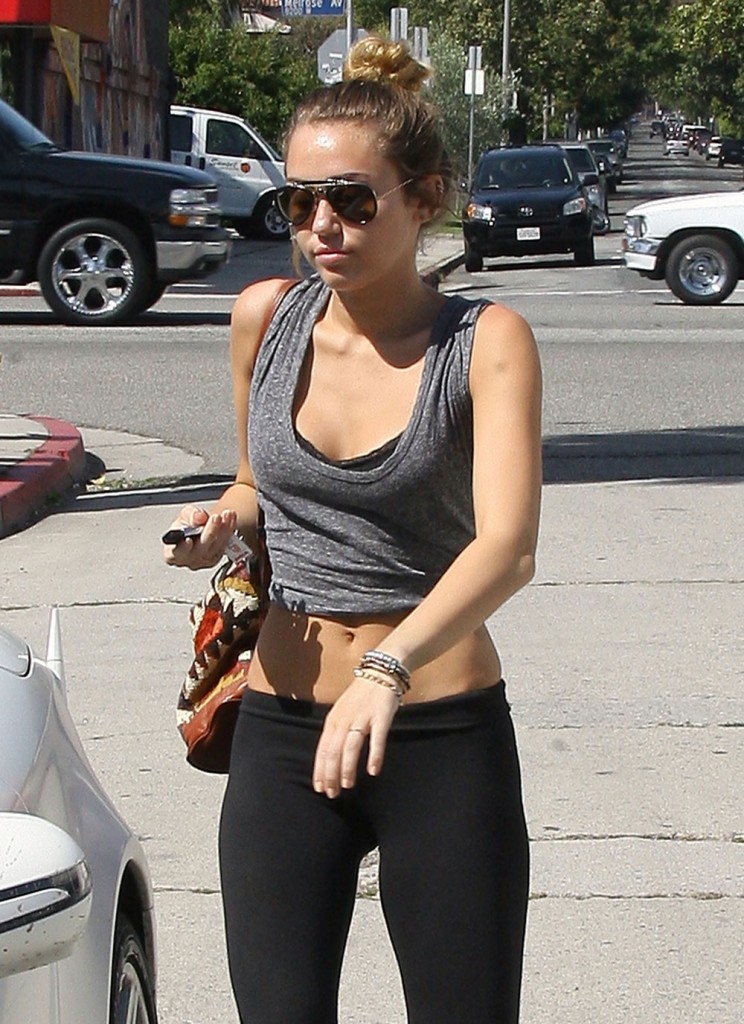 Miley Cyrus has lost weight recently and she looks incredible. We've been seeing her outside of pilates classes looking super fit and showing off her toned tummy. (Sidenote: do I need to start doing pilates again? I'm considering it the more I hear about it.) It turns out Miley can credit her weight loss to more than just working out. She's of course eating right, and she defended herself on Twitter recently claiming that she went gluten free and lactose/dairy free and that has made all the difference. She also recommends that everyone try going gluten free for a week to see the difference it makes.
The singer/actress, 19, sparked fears last week when she was snapped looking skinny as she jogged with her dog in California.

She fuelled speculation when she posted a photo of herself smelling, but refusing to eat, fast food on Twitter.

Miley wrote: "I can't eat it. So I'm just gonna smell the s**t out of it! My mouth is literally watering."

Her upload triggered a torrent of accusations that she has turned to extreme dieting to keep the weight off.

However, she's been quick to lambast such claims, insisting her fast food snub was due to medical and health reasons.

She tweeted: "For everyone calling me anorexic I have a gluten and lactose allergy. It's not about weight it's about health.

"Gluten is c**p anyway!… I ate today at Easter lunch but all of it was healthy and even more fulfilling! Health is happiness!"

Furthermore, Miley urged her fans to cut gluten out of their diets and reap the rewards.

She wrote: "Everyone should try no gluten for a week! The change in your skin, physical and mental health is amazing! You won't go back!"
[From The Sun]
I don't eat a gluten free diet, I would have a hard time giving up my daily english muffin with peanut butter, but I recently significantly upped my fruit and vegetable intake and it's really made my skin look great. I've lost a little weight too. My mom went gluten free on the advice of her doctor and she finds it annoying and wishes she could eat bread, but it's helped her lose weight. So maybe Miley is on to something. I've been hearing a lot lately about the benefits of going gluten free, but I'm sure it depends on the person how much of a difference it makes. It can't ever hurt to eat more fruits and vegetables. Still, this reminds me that I'm in my late 30s. What I wouldn't give to have the metabolism of a 19 year-old again. I shouldn't complain. There are all changes we can make to our lifestyle and diet, etc. It's just hard to give up certain things.
Also, Miley's hair looks crazy here but she just got done working out so I'll give her a break.
Miley Cyrus is shown outside of pilates class on 4-4-12 (half top) and 4-6-12 (black dress). Credit: Fame