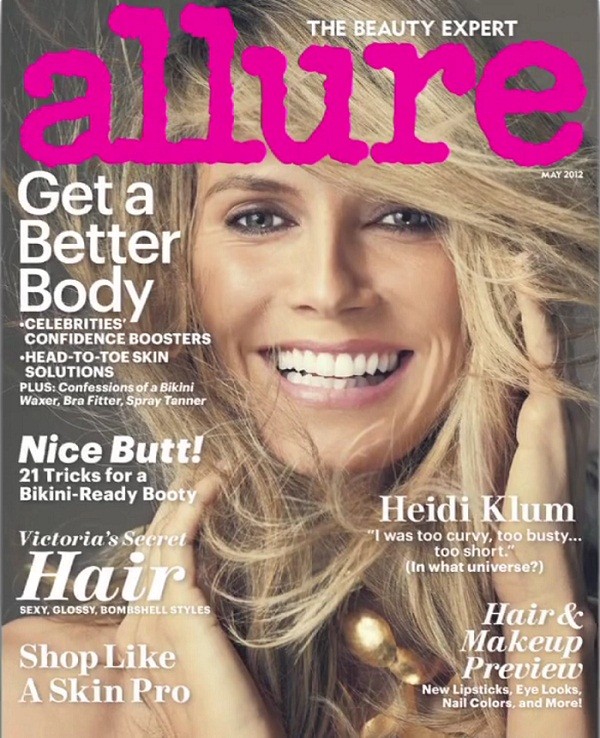 Heidi Klum covers the May issue of Allure, and the photo shoot — which I think is supposed to be a homage to 1970s Vogue shoots — is just so zzzzzzzzzz. As much as I admire Heidi's entrepreneurial spirit and business savviness, I can't get excited about her as a model, which is weird, right? Like even with the below nude shot, she's merely a bronzed, blonde Goddess of Boredom:
Maybe I'm being too hard on Heidi here, and it's really the stylists to blame for this photo shoot atrocity. The interview is much more interesting, and here are some excerpts where Heidi talks about various things including breaking into modelling and how awful plastic surgery looks to her:
On her pre-Victoria's Secret career: "I never did fashion shows–not in Paris or Berlin or even in New York City. I tried, but no one would book me. I was too curvy and too busty and a little too short. And I was a little bit self-conscious about it. But I was by no means heavy, I just–well, you have hips and boobs, and that's it. Haute couture, you don't really see girls with big boobs. And I always wanted first to be a model. So I had to say, 'OK, you're going to find other things to do in this industry, or it's maybe not my industry.'"

Gay men are awesome: "They are like this kaleidoscope of interesting thoughts and opinions. They teach you so many things about men that are useful."

She's never had cosmetic surgery or botox: "Ask me again when I'm 65, but…I'm proud to be able to say, in this day and age, I haven't done anything. Everyone has a view of what's pretty and what's not pretty, and [surgery'just doesn't look pretty to me. Especially when I see it on really young girls. I don't want to name names, but it's like, Wow, I remember you five years ago, looking to me so beautiful, and now it's like... who is this person? And I know girls half my age who do it. What are they gonna do at 40 or 50, when the sh-t really hits the fan?"

On marriage/divorce to Seal: "It's hard, just like for other couples. People go through our trash cans. It's crazy. And you know, we have four kids; they have to go to school. You know, I wouldn't change anything. If I had to go back in time and say, 'I should have changed this or that...' No. I don't resent anything that ever happened. Things just turn out the way they turn out... I'm still in the eye of the storm now, and it's all a little bit crazy. But sometimes you have to be apart in order to figure it out."
[From Allure]
Do I believe that Heidi has yet to alter her appearance with either cosmetic surgery or botox? Sure, she looks pretty damn natural to me. On a more amusing note, who do you think she was talking about when mentioning, "I don't want to name names" … possibly Kim "Kat Face" Kardashian? That would be my first guess.
As far as Heidi talking about her marriage to Seal, eh. Of course she would change things that happened in the past, or she wouldn't have just filed for divorce after word got out that she was probably banging Thomas Hayo. Then again, Seal is probably banging Delta Goodrem (who doesn't look unlike Heidi) even though he insists that they're just friends. Whatever.
Photos courtesy of Allure