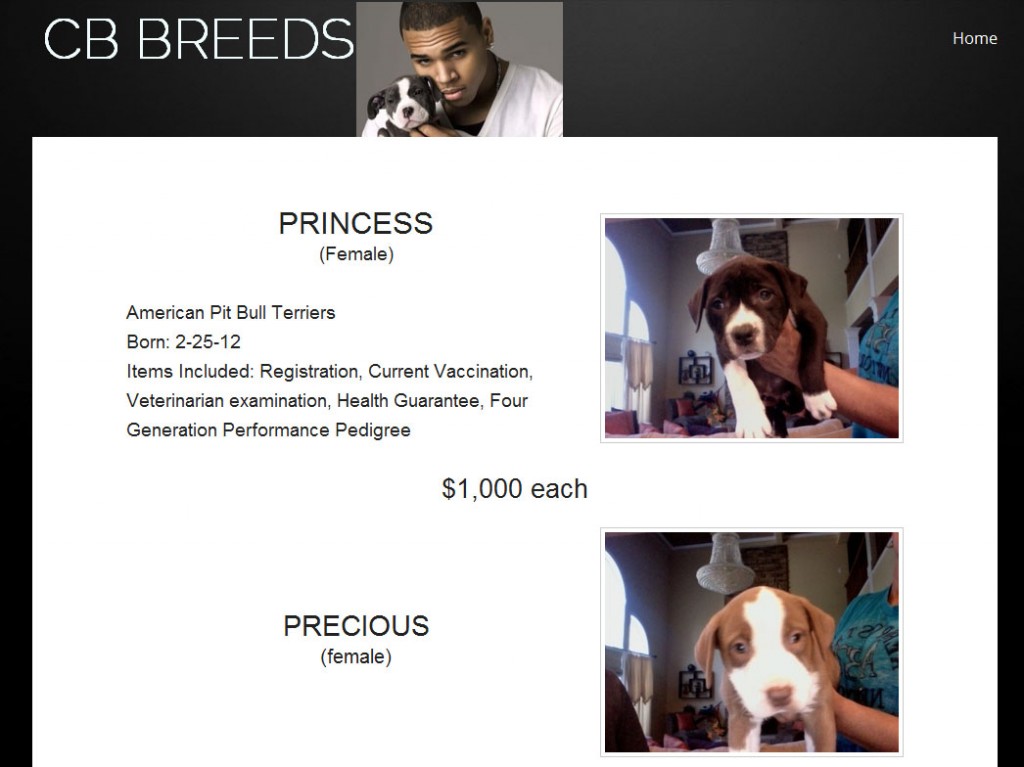 Huffpo is reporting on this tweet by Chris Brown's mother, @mombreezy, which points us to a website called "CB Breeds" featuring Chris Brown holding up an adorable pure bred pit bull puppy and looking pouty. Several four month-old pit bull puppies with papers are featured on the website at a cost of $1,000 a piece. (Which sounded steep to me, but is actually on par with what other breeders are charging. The one big fail on that website is that they don't mention where the dogs are actually located.) It's probably a venture by Chris' mom that her son is lending his celebrity to, and it's not a terrible idea for his image, as Huffpo points out. Everyone looks softer with an adorable puppy, don't they? This may backfire on him though. Here's more: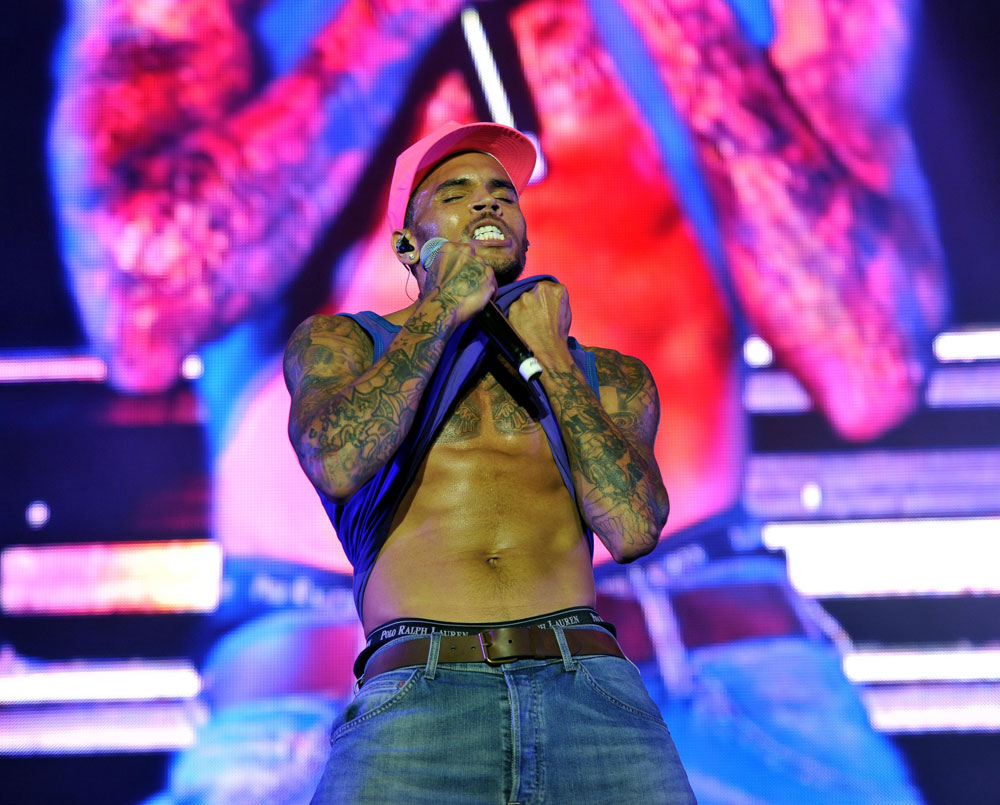 In surprising celebrity business ventures news, it appears Chris Brown is putting his assets into a little bit of adorableness.

The entertainer's mother, Joyce Hawkins, tweeted an announcement of the new business on Sunday night, along with a link to the new "CB Breeds" web site:

On the site, Brown is seen posing with a puppy above a list of named, adoptable pets, all of which are priced at "$1,000 each."

If this is some sort of ploy to get us to associate Chris Brown with cute puppies, we're just not going to fall for … — oh gawwwwd look at 'Freedom's' little wrinkles!
[From Huffington Post]
This is spurring a whole debate in the comments on HuffPo about the issue of buying from a breeder vs. adopting rescue dogs that need homes. I think as long as you don't support puppy mills, it's a personal choice, but many animal advocates are outraged. Here's a sample of the negative comments on Huffpo:
Yes, the puppies are adorable …. so are the thousands upon thousands of similar "Wrinkly" puppies in the Shelters that are desperately waiting for new homes or facing death!! – JCNash1

I volunteer as an animal rescuer for a local no-kill shelter in my city and this incenses me beyond belief. I have seen the effects of animal over-population, cruelty, neglect and abuse; things done to animals that would make the strongest soul weep. Anyone who breeds MORE animals in an over-burgeoning world of homeless cats and dogs is useless, greedy and ignorant. – boppills

Anyone with a lick of sense knows better than to buy a dog from a breeder. There are too many animals already without homes. I think that this will hurt his image, especially with educated animal lovers – cracker88
[From comments on Huffpo]
I'm not a dog owner due to my living situation, but this is tugging at my heartstrings a little bit. We went to a dog event over the weekend with my parents' rescue dog and there were so many sweet puppies there without homes. I was actually grateful when this pug I had my eye on wouldn't come to me.
Pit bulls have a reputation as aggressive dogs, but that's often due to improper training and owner neglect. There are countless pit bulls in need of homes, and if you'd like to adopt one The Pit Bull Rescue Center is a good place to start. I was reading some of the dogs' stories on that site and found them very touching. I've always had a soft spot for pit bulls though. They have such attractive, expressive faces.
So will this do damage to Chris' already well-deserved bad reputation? He does that well enough himself in his spare time on Twitter. His Instagram handle is "f*ckyopictures," no asterisk, and he recently tweeted a photo of his pants on the ground with the title "taking a sh*t before the show."
Here's Chris performing on 4-15-12 in Australia. You may think I used only the bad photos of him, but he pretty much looks like this in all of them. Credit: WENN.com