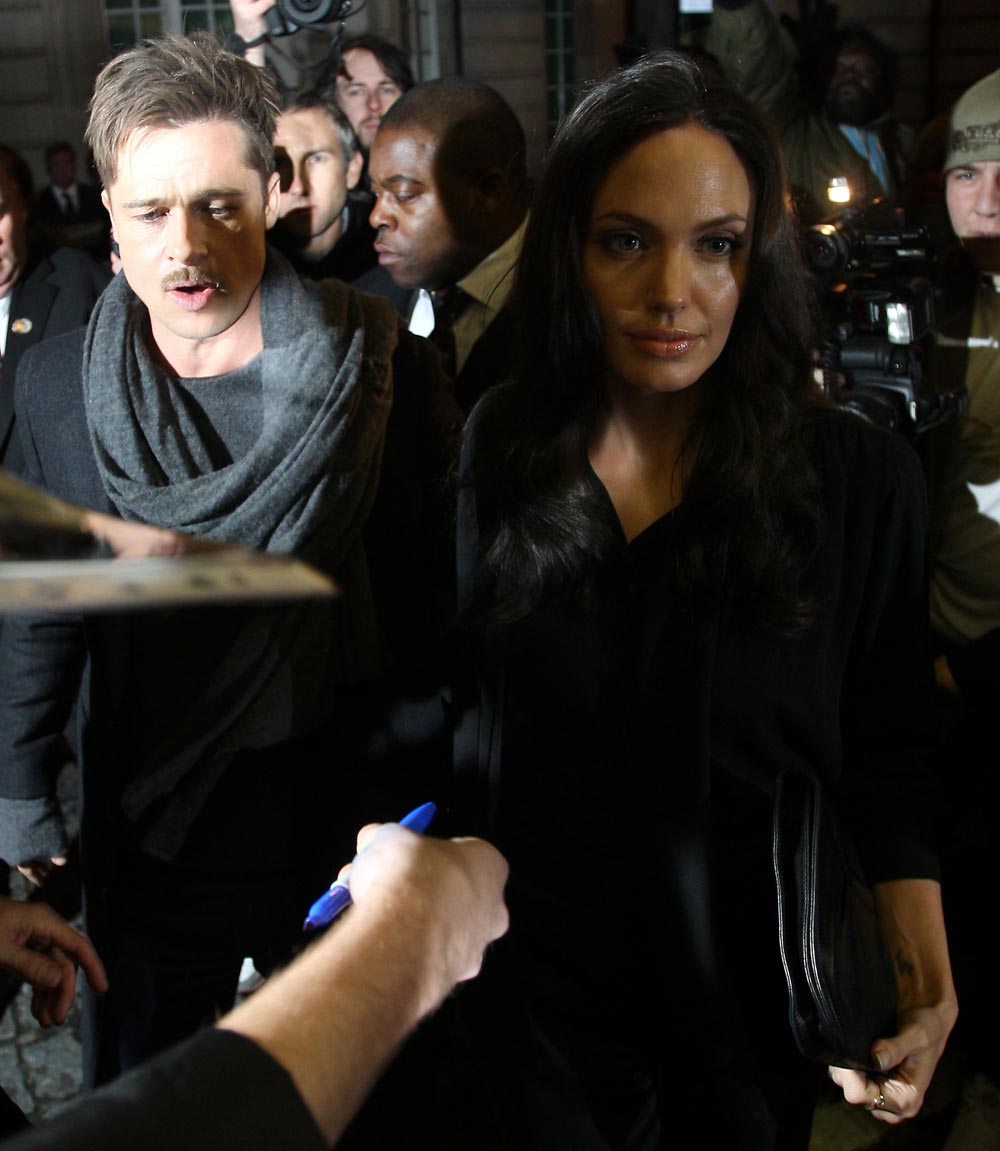 Brad Pitt and Angelina Jolie were not looking happy to face the pap firestorm that greeted them as they emerged from a screening of Changeling in London last night. British star Hugh Grant was even seen "lashing out a photographer," according to photo agency WENN, although pictures just show him looking characteristically grumpy. You can kind of see how Brad and Angelina would get annoyed once you get a glimpse of the crowd. It's like a solid wall of paparazzi and they're probably all shouting their names along with a few rude comments.
Yesterday Angelina Jolie confirmed the news that she is set to star in thriller Salt. She will be replacing Tom Cruise as the lead after talks fell through. In an interview with BBC radio, Angelina said Salt was the only project she had lined up. The announcer asked her about "the predictions of a little award or two coming down the track," and Angelina said "anytime people are talking about that you just feel like you did your job ok."
In Touch: Angelina told Salt producers she was pregnant
Angelina's camp denied pregnancy rumors after she wore a short but loose dress to the DVD launch of Kung Fu Panda last week. She was wearing stretch pants last night which looked pretty flat. The woman just had twins four months ago and if she does have a slight tummy it's to be expected. In Touch says she's pregnant though, and instead of just relying on photos they claim to have insider information that she broke the news to the producers on her upcoming film:
During an early November meeting in LA, Angelina confirmed her pregnancy to producers of her upcoming action movie Salt, says an insider. The $90 million spy flick was scheduled to being filming in March in NY, LA, Denver and Russia. Production of the film (for which Angelina could earn $20 million) will likely be pushed up to accommodate her.
[From In Touch print edition, November 24, 2008]
We'll have to wait and see although it wouldn't be out of the question. Angelina did say she was taking a break after her latest film and that "I'm ready to do a few things now and fade away and get ready to be a grandma one day." She said "First and foremost, I have a lot of children, and I need to make sure they're growing right and they've got us there for them." In May, 2007 she also said she was taking a year long break. Twins Knox and Vivienne were born 11 months later, which means they were conceived shortly afterwards.
Here's the interview with Angelina from BBC radio. The first 11 minutes are about Changeling and she only mentions Salt briefly at the end.

And here's a press conference she gave for Changeling in which she was talking about her mom as inspiring her character and started crying around 1:20 in. She said "oh f'ck" because she knew she was about to start crying.

Photo credit: Bauergriffin (photo names start with '8′) and WENN (photo names include WENN)