Megan Fox shuts down ET interview after fielding pregnancy questions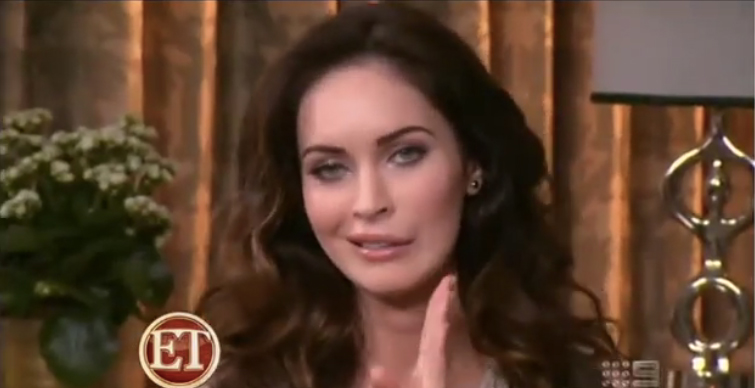 Megan Fox appeared on Entertainment Tonight to promote her new role as the thumbs spokesperson for Sharper Image, and I promise that I'm honestly not being cruel by posting these particular screencaps of the interview. Instead, I am aiming to illustrate that Megan is able to move her face like a relatively normal human being, which is a relief because I've been quite worried about her filler use of late. She's such a pretty girl and really doesn't need all that cosmetic enhancement, but anyway.
When we last spoke of Megan, she was busily ignoring a March report that originated in Star about an alleged pregnancy. In late April, E! news even reported that Megan was totally pregnant, but she never came out to confirm or deny this report either. So now Megan has been tasked with talking with Entertainment tonight about some new Sharper Image products, and the topic has come up again. In all fairness, interviewer Steve Jones was strictly forbidden to ask any personal questions but decided to work one in anyway. Here's a bit of a transcript of the ET interview and a video clip as well: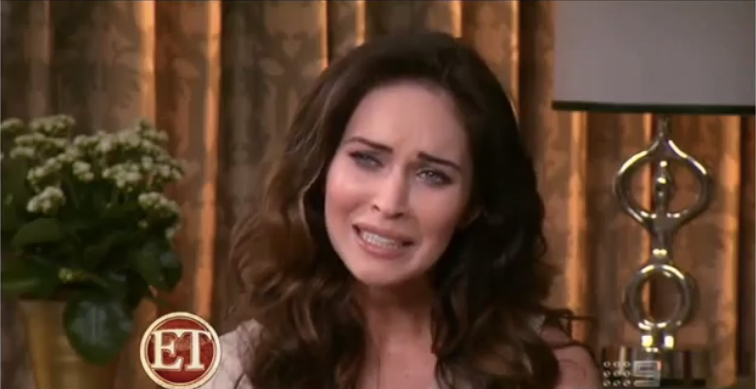 Jones: "Do you know the ultimate gadget that every man wants? A baby."

Fox: "A baby? Oh, I know where you're going with this. Alright, go. What do you want to know?"

Jones: "Any plans to give anybody a baby?"

Fox: "You hear the grumbles… No, no."

Fox's publicist: "Stop, stop."

Jones: "Okay well, either way, Megan, it was a pleasure talking to you."

Jones: (later) "I'd like to formerly apologise to Ms. Fox for attacking her with the word baby. Thankfully, there was a publicist there to stop me."
[From ET]
I can see why Megan would be uncomfortable with such questioning when she was specifically there to shill for her new endorsement, and Jones really shouldn't have gone there when her publicist was on hand and had already explicitly requested that no personal questions be asked. I think Megan handled it well, and if she doesn't want to discuss her womb, then she shouldn't have to do so. It's not like she's a member of royalty whose only real job is to provide an heir, right? Leave Megan alone.
Meanwhile, Brian Austin Green has also been asked about his wife's uterus as well while he was discussing his role in an upcoming Fox pilot, "The Asset." He calls the rumors "interesting":
Brian Austin Green has big plans for his upcoming two-year wedding anniversary with Megan Fox. They'll be returning to Hawaii where they tied the knot in June 2010.

"I think we'll be going back to where we got married. That's sort of our thing," the actor told PEOPLE Sunday at the Jaguar ALIVE Driving Experience in L.A. "Last year when we went, they had one tier of the same wedding cake that we had, and they decorated the room the same, so it was special all over again. They do it right."

One thing the actor was less forthcoming about, though: persistent rumors that Fox, 25, is pregnant. "They've been saying that every three months ever since we got married, and it's sort of one of those things that they love to say," Green, 38, said.

"I think it's interesting," he added. "I think there is a part of Megan that people really love that is, at 18 she found a relationship and she stuck with it, and we've been together for coming on eight years now. It will be our two-year wedding anniversary, but we've been together for a long time. She doesn't represent what people are used to seeing in a young actress."
[From People]
I don't know how accurate Brian's belief is that people "really love" Megan for being in a long-term relationship for so long. In fact, for a few years there, Megan all but denied being happy with Brian and had a habit of "breaking up" with him whenever she had a Transformers movie to promote. Now they're married, and maybe Kaiser is right when she suspects that a baby would soften Megan's image. Hey, it's a tactic (intentional or not) that's sort of working for January Jones already.
Here are some recycled photos from a month ago of Megan and Brian out with his son, Cassius, for lunch in Los Angeles. She doesn't look pregnant at all here, but she's been keeping her stomach well hidden for the past month or so, so who knows?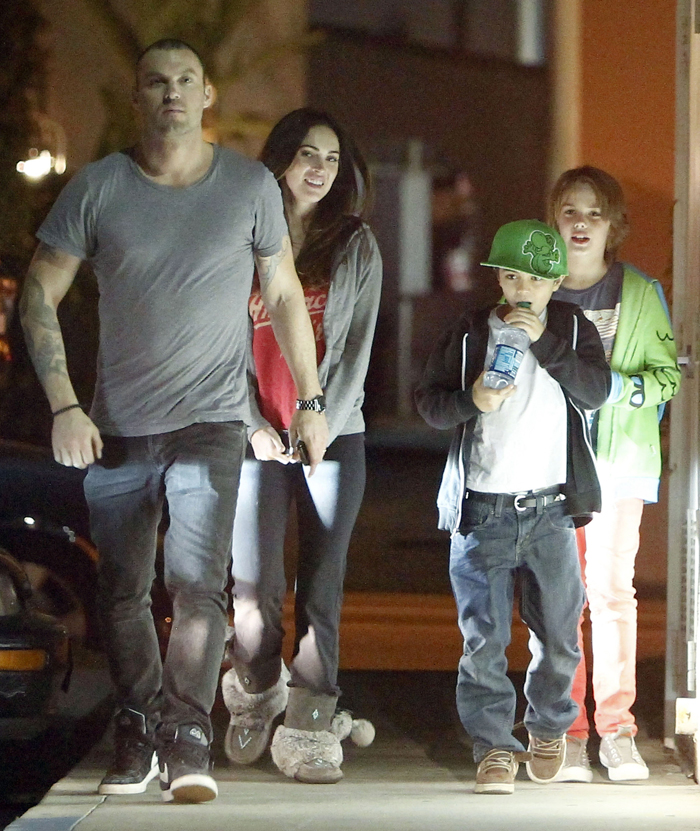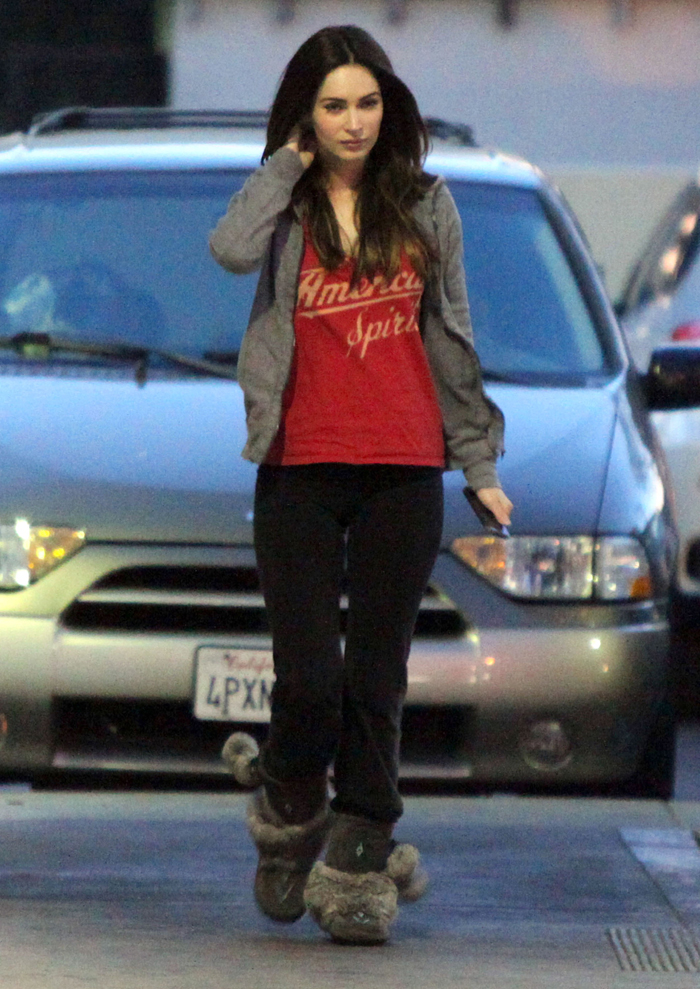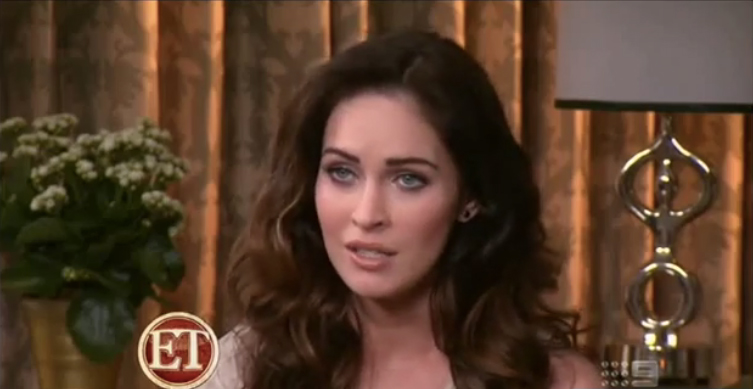 Photos courtesy of Fame/Flynet; screencapts from YouTube
Written by Bedhead

Posted in Brian Austin Green, Megan Fox

- Friends reunion on Ellen [Popsugar]
- Lindsey Vonn watches Tigers kids [Lainey Gossip]
- George Michael fell out of a car going 70mph [D-Listed]
- Real Housewives of Orange County recap [Reality Tea]
- New Man of Steel trailer [Pajiba]
- Jared Padalecki's hot bod [Buzzfeed]
- Doctors confirm Taylor Swift's new boobs [Evil Beet]
- Catherine Zeta-Jones finished treatment [CDAN]
- Anna Paquin hates the paps [Celebslam]
- Lance Armstrong is gross [The Blemish]
- What is Barbara Palvin wearing? [Moe Jackson]
- This is Petra Nemcova? [SVC]
53 Responses to "Megan Fox shuts down ET interview after fielding pregnancy questions"